Lemon and basil is one of my favorite savory flavor combinations. A simple lemon basil sauce could be paired with chicken, fish, or even a simple pasta dish like tortellini! This lemon basil tortellini is ready for the dinner table in under 30 minutes, which is a dinner win in my book!
Recipe at a Glance
Prep time: 15 minutes
Cook time: 15 minutes
Notes: The longest part of this recipe will be waiting for the pot of water to boil!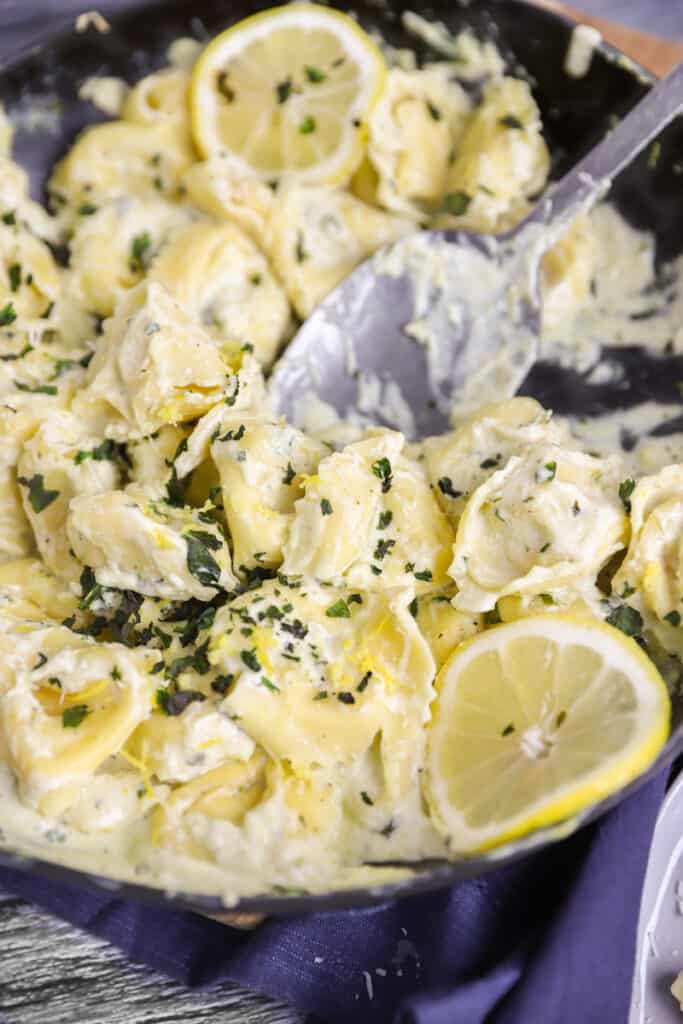 This is one of those easy pasta sauces that whips up in no time, but really elevates dinner and makes it taste extra special!
There's a few things that help make this a fast and easy tortellini dinner.
First, for the finely chopped basil I save time and buy this pre-chopped basil. It's SUCH a time saver! If you prefer chopping basil yourself you can definitely do that, but I love how easy it makes dinner time to have that step already done for me. And don't worry about leftover basil, you can also use it in my Meatballs Subs!
The second thing to make this easy is using fresh tortellini that only takes 4 minutes to boil. This is the tortellini I always use!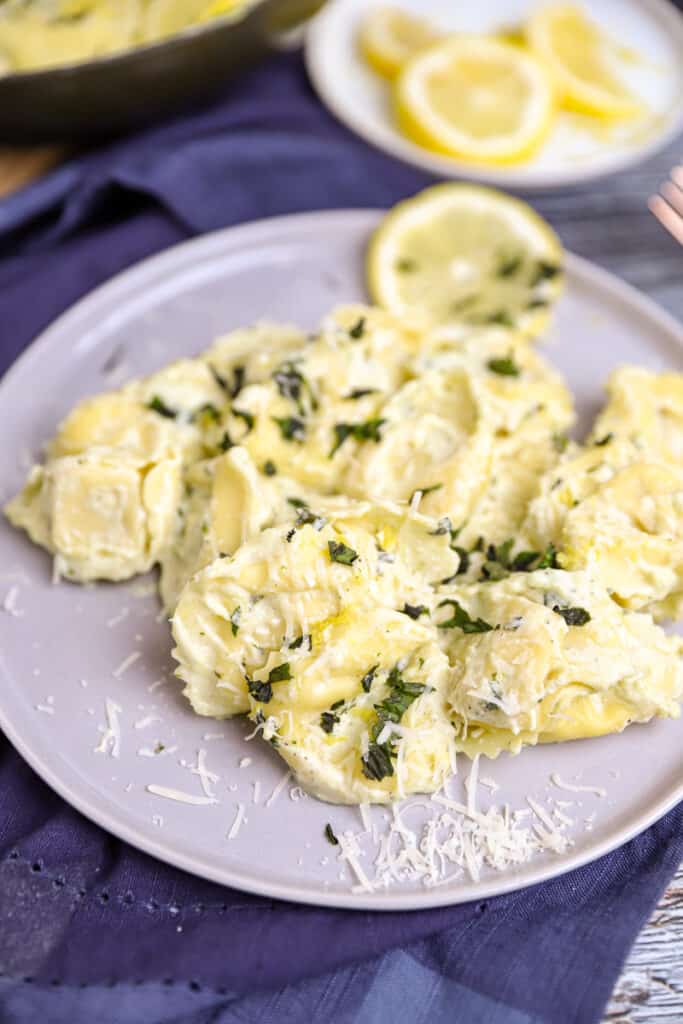 Cooking tips
To make this a quick dinner, while the water is coming to a boil prep the sauce ingredients and begin making the sauce.
I almost always use half & half in my cream sauces. I like that's not quite as thick as cream and helps cream sauces from being a bit too heavy. It's important to note though when you use half & half not to boil the sauce or the sauce could separate.
If you prefer to buy fresh basil you'll need to chop it into very fine small pieces. You want it to blend into the sauce and create an even flavor of basil instead of having large leafy pieces in the sauce.
This lemon sauce would also be delicious on ravioli!
Leftovers can be stored in an airtight container in the fridge for about 3 days for best flavor.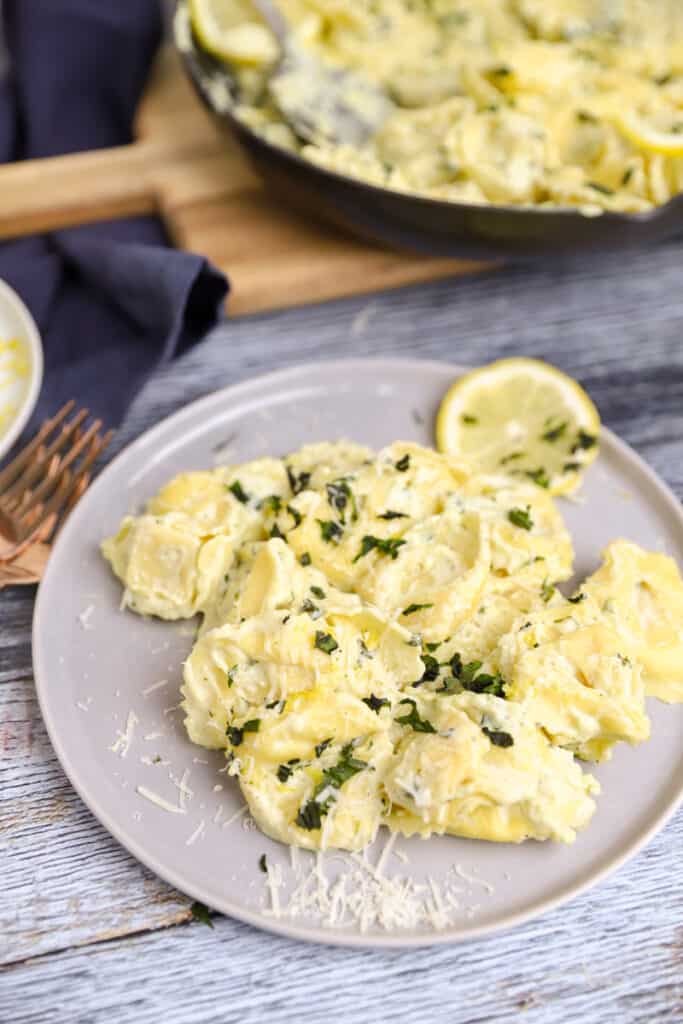 Need more lemon recipes in your life? Here are some more recipes you might like!
Chicken Piccata Meatballs
Creamy Chicken Piccata
Greek Chicken Meatballs
Lemon Almond Green Beans
Limoncello and Vodka Cocktail
Lemon Blueberry Scones
Print
Lemon Basil Tortellini
Lemon Basil Tortellini is an easy and bright pasta sauce that's ready for the dinner table in under 30 minutes!
Author:
Prep Time:

15 minutes

Cook Time:

15 minutes

Total Time:

30 minutes

Yield:

4 servings

Category:

Main Dish

Method:

Saute

Cuisine:

American Italian
20oz bag if tortellini
1 tablespoon butter
1 tablespoon flour
2 cloves of garlic, grated
1 and 1/4 cups half and half
1/3 cup Parmesan cheese
1/4 cup of reserved pasta water
2 tablespoons lemon juice
2 tablespoons very finely chopped basil
1 teaspoon lemon zest
1/2 teaspoon salt
1/4 teaspoon pepper
Instructions
1. Bring a large pot of water to boil.
2. In a medium pan melt the butter then add the grated garlic and the finely chopped basil. Cook for 1 minute then whisk in the flour.
3. Meanwhile, cook the tortellini according to package instructions and carefully reserve 1/4 cup of the pasta water.
4. Pour in the half and half (I prefer this to light cream) then add the salt and pepper to season. Heat for about 3 minutes, then add the lemon zest, lemon juice, and Parmesan cheese. Whisk to melt the cheese completely into the sauce. Add in the paste water and simmer for about 5 minutes.
5. Add the tortellini to the sauce and stir to coat. To serve, garnish with additional chopped basil and a wedge of lemon.
Enjoy!
Notes
I prefer using half & half instead of light cream. If you do use light cream, you may need additional salt and pepper to season.
Keywords: lemon basil tortellini