Chocolate espresso muffins are a rich and decadent muffin that give you the best way to sneak some chocolate into breakfast! Special dark cocoa powder, dark chocolate morsels, and strong espresso make these an irresistible baked treat.
Recipe at a Glance
Prep time: 15 minutes
Bake time: 25 – 27 minutes
Notes: There's no shortage of chocolate here! Cocoa powder, dark chocolate morsels, and even chocolate milk! This is definitely the chocolate espresso muffin for chocolate lovers.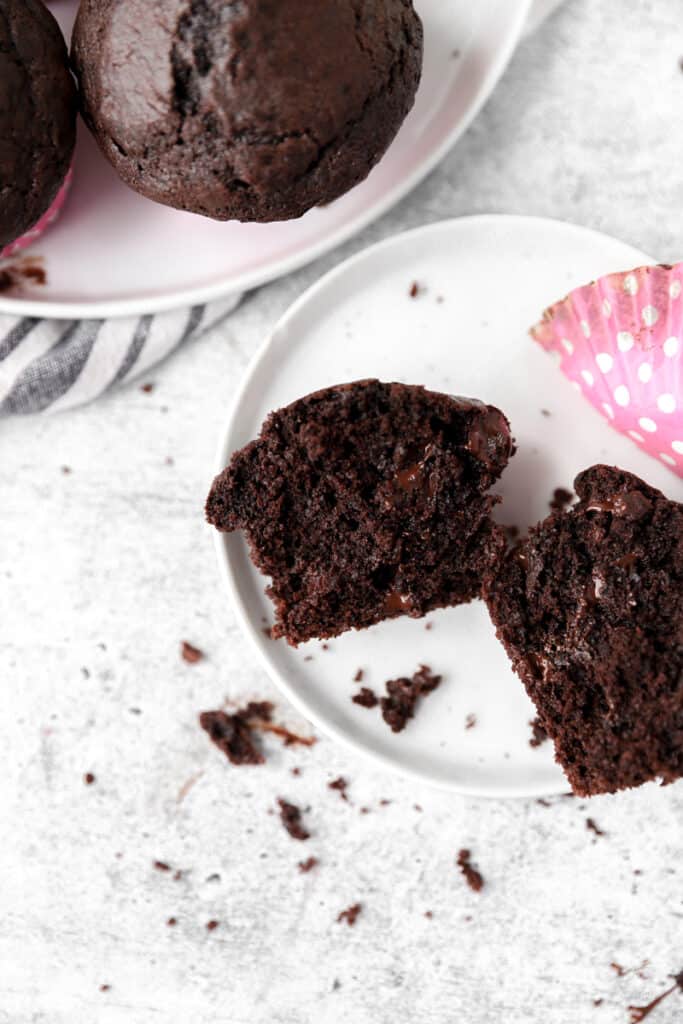 Now, I love a good hearty breakfast like a veggie frittata, maybe an omelet, or even something like my Chorizo Shakshuka. But with that first cup of coffee in the morning I just have to have a little baked treat.
I love a good muffin, scone, or even some sort of fruit pastry. It just hits the spot! Here are some more of my favorite go-to recipes for breakfast baked goods!
Orange Scones
Blueberry Lemon Scones
Pumpkin Chocolate Chip Muffins
Apple Pie Muffins
Pumpkin Muffins

Apple Danishes
Blueberry Danishes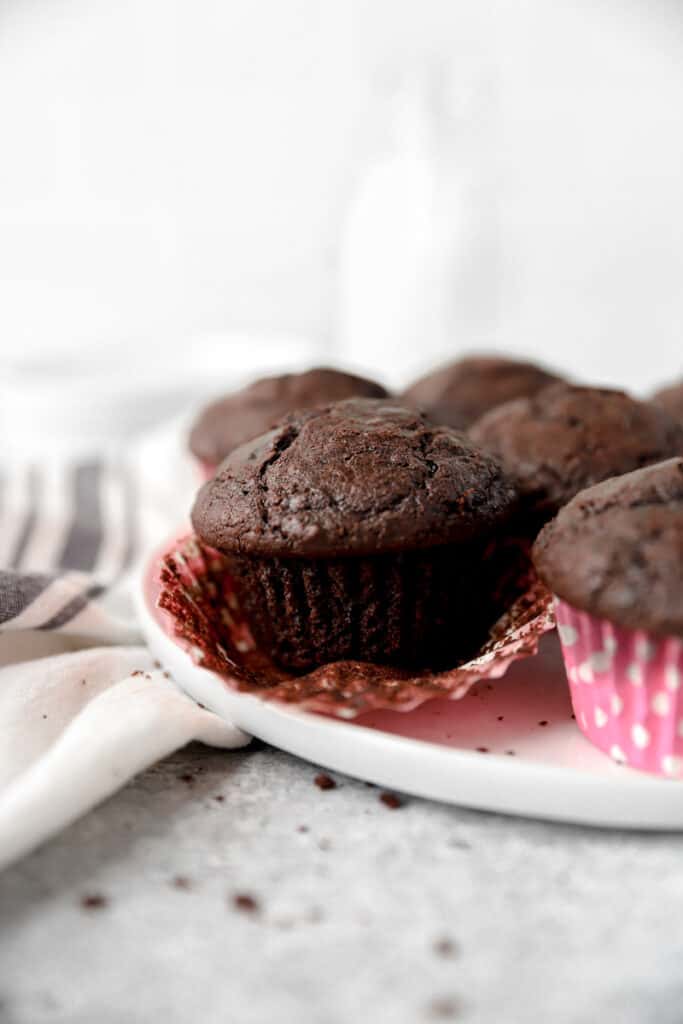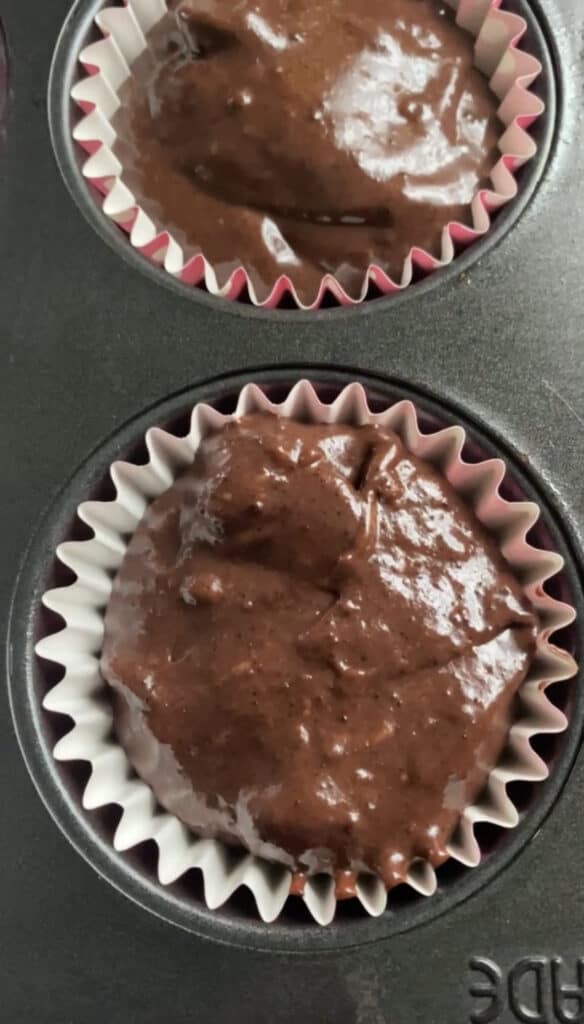 Baking Tips
For the espresso powder I always use Cafe Bustelo. It will definitely give you the nice subtle espresso flavor throughout the muffin.
I don't recommend substituting the espresso with regular coffee. You really need the flavor strength that comes from espresso powder!
I found baking these at 25 minutes was just right! If your knife doesn't come out clean, just add a few minutes to the baking time and test again. I don't recommend baking for longer than 30 minutes or they will get too dry.
If you're using muffin wrappers, allow them to cool for about 15 minutes before trying to remove the wrapper and taste one. If they're hot the wrapper may peel some of the muffin top off.
Make sure you cover these or store them in an air tight container. The more they are exposed to the air the tops could get a little dry.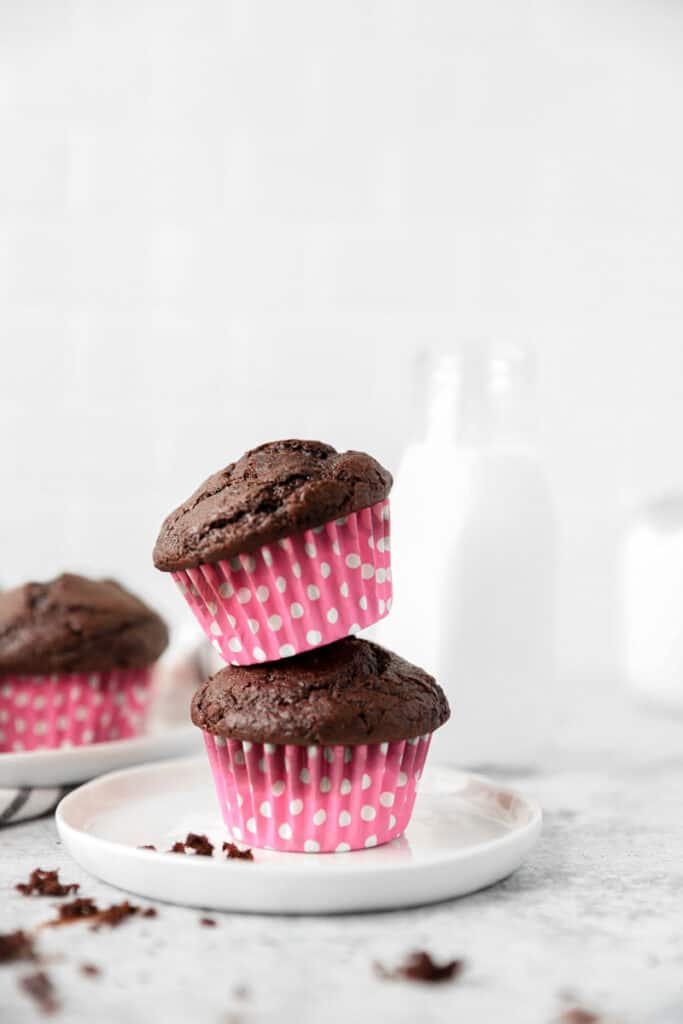 If you made this recipe let me know what you thought in the comments!
And for more food photos, recipes, and cooking tips make sure to follow me on Instagram!
Print
Chocolate Espresso Muffins
A rich and decadent muffin perfectly paired with a cup of coffee! The best way to sneak come chocolate into breakfast.
Author:
Prep Time:

15 minutes

Cook Time:

25 minutes

Total Time:

40 minutes

Yield:

16 – 18 muffins

Category:

Baking

Method:

Baking

Cuisine:

American
2 cups all purpose flour
1 cup white sugar
1 teaspoon baking soda
1 teaspoon baking powder
1 teaspoon salt
1/2 cup special dark cocoa powder
4 tablespoons espresso powder mixed with 4 tablespoons warm water
2 eggs
1/2 cup vegetable oil
2 teaspoons vanilla extract
1/2 cup sour cream
1 and 1/2 tablespoons melted butter
1 cup + 4 tablespoons chocolate milk
4 tablespoons dark brown sugar
1 and 1/2 cups dark chocolate morsels
Instructions
1. Preheat your oven to 350 degrees. Prepare your muffin tin by adding the liners, or spraying it with cooking spray really well. If using muffin tins make sure to spray the top of the pan a bit so the muffin tops don't stick to the pan.
2. In a large bowl mix the flour, white sugar, baking soda, baking powder, salt, and cocoa powder.
3. In another bowl, add the sour cream and gently beat in the eggs. Next add the brown sugar and stir to combine. Lastly gently mix in the oil, vanilla, espresso, melted butter, and chocolate milk.
4. Pour the wet ingredients into the dry and stir to combine. Stir gently and fold the ingredients together so you don't over mix. As you're mixing add in the dark chocolate morsels.
5. Fill each muffin holder to the top (I like a full muffin with a nice muffin top) then bake for 25-27 minutes, until a knife comes out clean.
Enjoy!
Keywords: chocolate espresso muffins