A fun spin on a favorite Italian inspired dinner! Pesto Chicken Parm swaps out marinara sauce with a pesto cream sauce to make an easy dinner for a busy weeknight. Loaded with robust pesto flavor and lots of melted Mozzarella cheese, there's no lack of flavor here!
Recipe at a Glance
Prep time: 10 – 15 minutes
Cook time: 20 minutes
Notes: This recipe is for 2 -3 services. If you're making 4 pieces of chicken I recommend increasing the sauce quantity so you have enough to spread over the chicken and coat all of the pasta generously.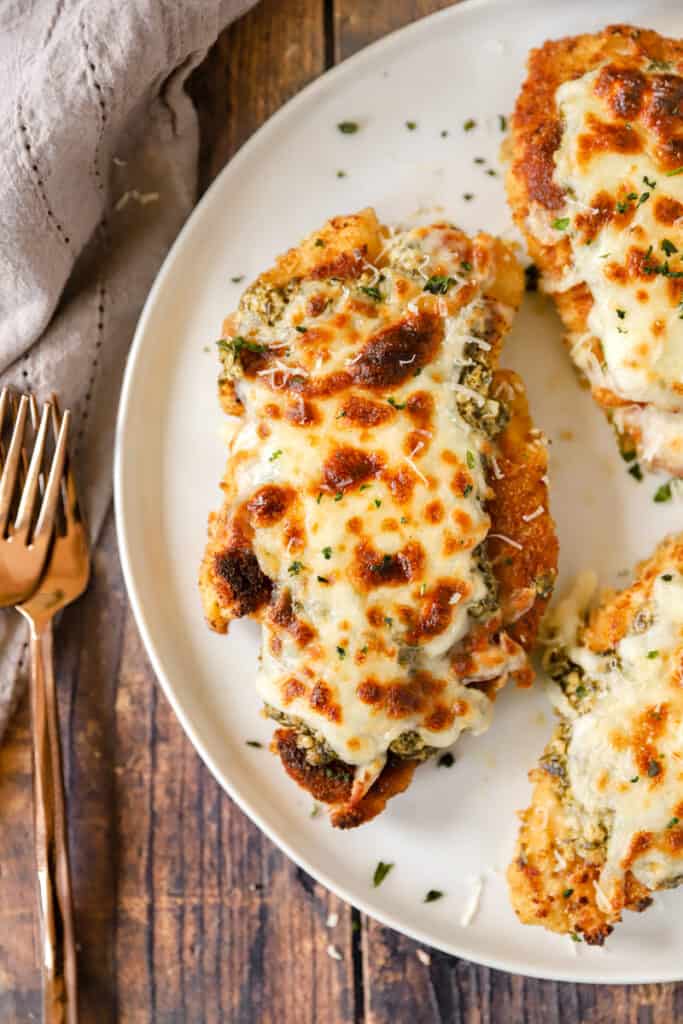 This is one of my favorite types dinner recipes to create. If you love chicken Parm but getting a little bored of the same old same old, this is definitely for you.
We're not reinventing the wheel, or adding a complicated or lengthy cooking process. Nope, just by making a simple ingredient swap you can have an inspired and creative dinner on the table in about 30 minutes.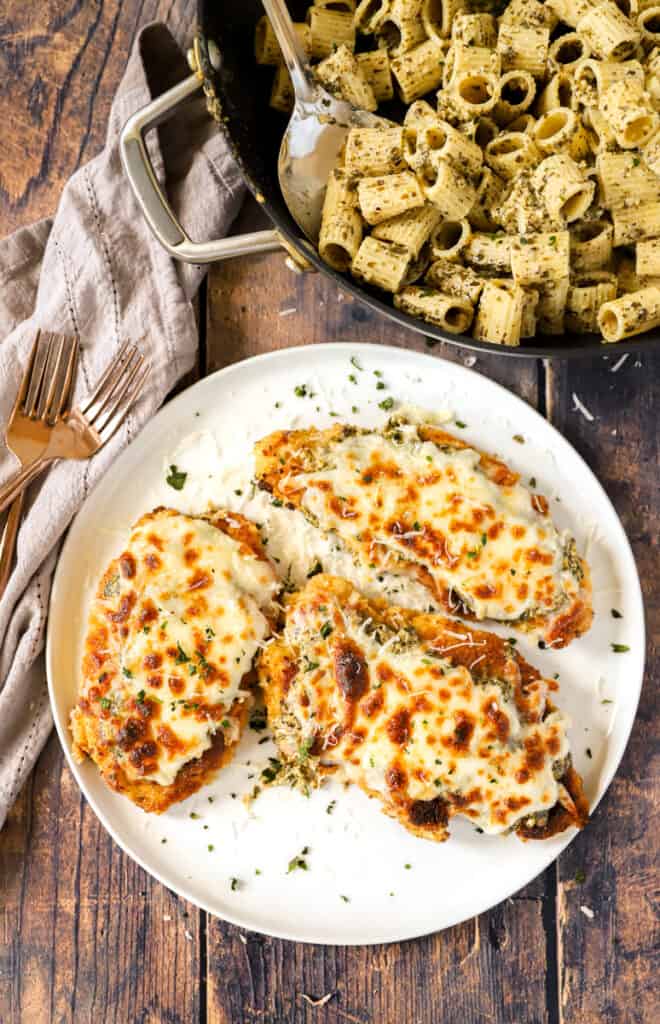 Like recipes like this one? I've got more dinner inspiration for you!
Chicken Parm Meatballs
Roasted Red Pepper Chicken Parm
Meatball Parms
Rigatoni Vodka
Baked Penne Vodka
Penne Vodka
And if you are a pesto love like me, here are some more recipes where pesto is the star:
Chicken Pesto Pasta Bake
Creamy Pesto Pasta
Pesto Mayo
Pesto Pizza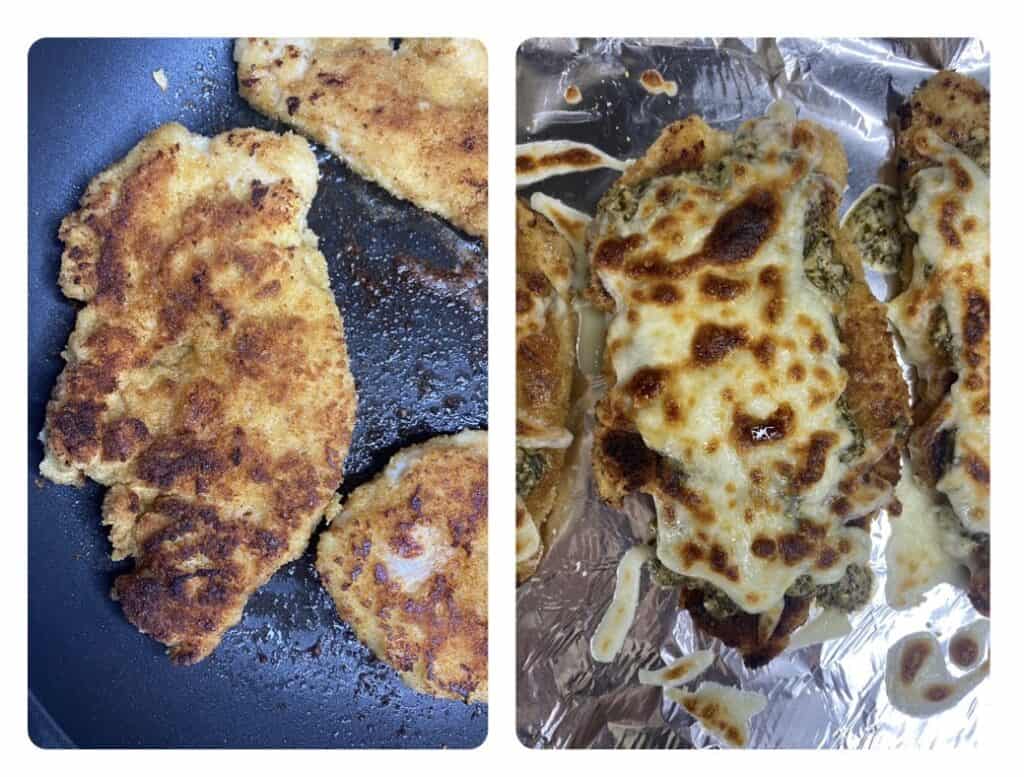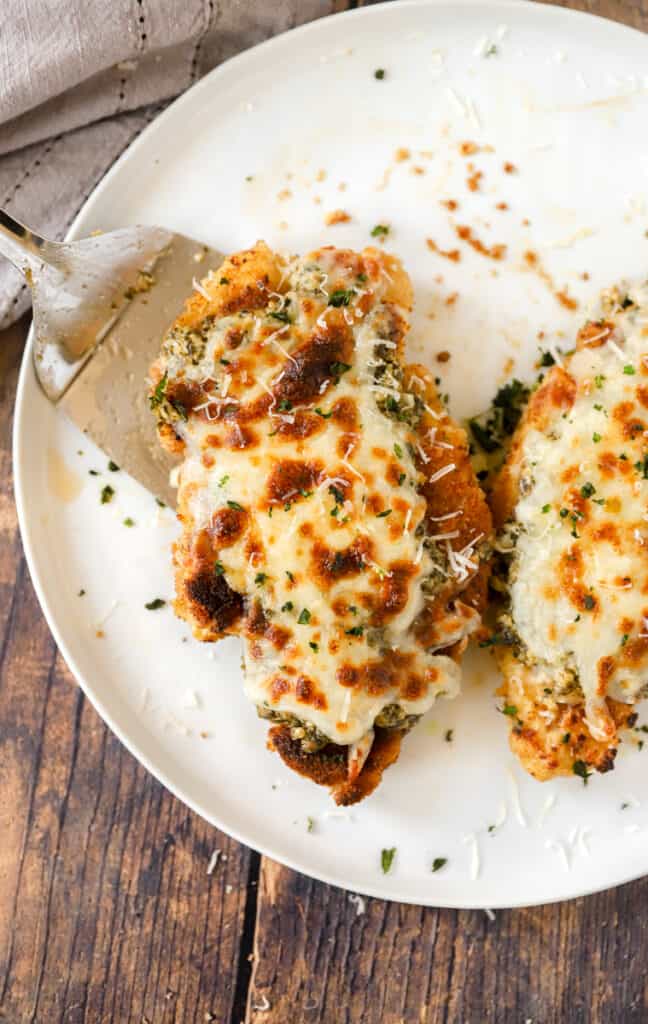 Cooking tips
It's important to make sure you season the chicken even though you'll be adding robust pesto to it. Season the dredging flour, then add some additional salt and garlic powder as it's sautéing.
The cooking time will depend on how thick you've sliced the chicken so I always recommend using a digital thermometer to check the internal temperature. This will help make sure you don't over or under cook it!
If you need 4 or more servings you'll need to double the pesto sauce ingredients so that you have enough to spread over the chicken and also coat all of the pasta.
I'm not a big fan of leftover chicken, so while you can save leftovers in the fridge for up to 3 days this meal is definitely best the first night.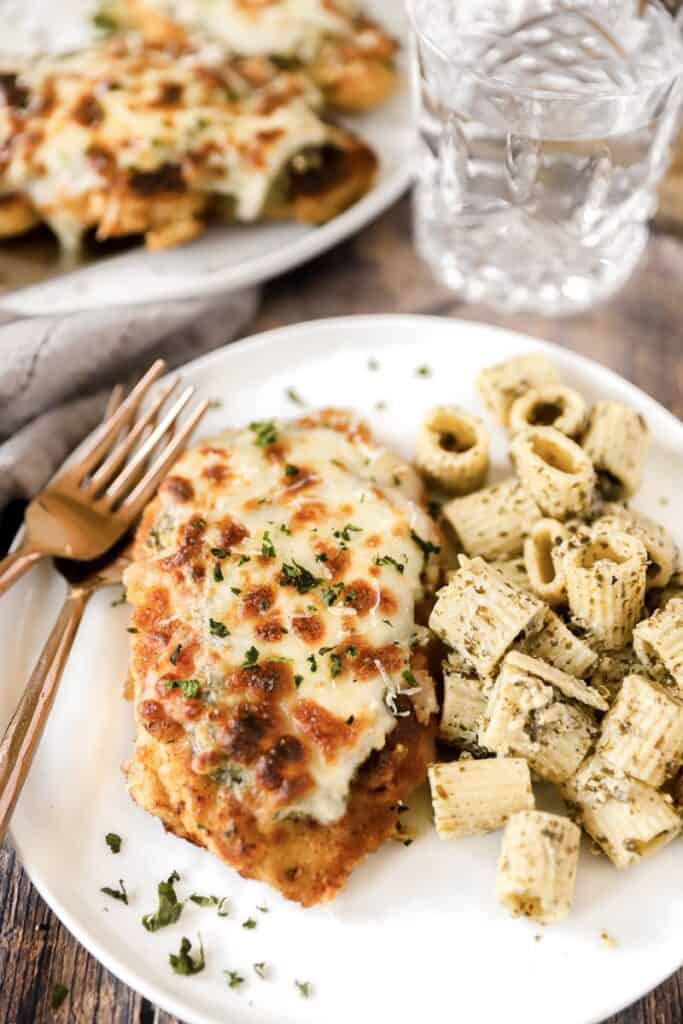 Print
Pesto Chicken Parm
A new take on chicken parm! Pesto chicken parm uses jarred pesto to easily make a flavorful dinner in about 30 minutes.
Author:
Prep Time:

15 minutes

Cook Time:

20 minutes

Total Time:

35 minutes

Yield:

2-3 servings

Category:

Main Dish

Method:

Saute

Cuisine:

American Italian
2–3 thin chicken breasts
2/3 cup bread crumbs
1/2 cup flour seasoned with 1/2 teaspoon salt and 1/2 teaspoon garlic powder
1 egg whisked with water to make the egg wash
1 jar pesto (6.5oz or 8oz), drained of excess oil
1/2 cup half & half
1/4 cup of reserved pasta water
3 tablespoons olive oil
1 tablespoon butter
1 and 1/2 cups Mozzarella cheese
2 cups dried pasta of your choice (I used mezzi rigatoni)
For garnishing: fresh grated Parmesan and finely chopped basil
Instructions
1. Bring a large pot of salted water to boil. Cook the pasta according to box directions. Carefully reserve 1/4 cup of the pasta water, you'll use it to make the pesto sauce.
2. Heat the oil and the butter in a large pan over medium heat. Dredge the chicken breasts in the seasoned flour, then the egg, then lastly the bread crumbs. Season both sides again with additional salt and garlic powder.  Add to the pan and cook for 4:30 – 5 minutes, flip then cook for an additional 4:30 – 5 minutes. Internal temperature needs to read 165 degrees. Cooking time will depend on the thickness of the chicken, so I really recommend using a digital thermometer to avoid over or under cooking it.
3. Once the chicken is cooked, remove from the pan and add to the baking dish. Gently use a paper towel and carefully dab any excess oil from the pan, then add the drained pesto and half & half and heat over low heat. Taste and add salt if needed.
4. Spoon this pesto sauce over the chicken, making sure to leave enough in the pan to coat the pasta. Top the chicken with as much Mozzarella cheese as you'd like, then broil until the cheese is browned and bubbly. For my oven that was just over 4 minutes.
5. While the cheese is broiling, add the reserved pasta water to the pesto sauce and stir, add the pasta and stir to coat all the noodles then turn off the heat. The sauce will thicken slightly as it cools.
6. To serve, top the chicken with grated Parmesan cheese, finely chopped basil, and the pasta.
Enjoy!
Notes
If you're cooking 4 chicken breasts or want a thicker sauce for the pasta I suggest using doubling the pesto sauce ingredients.
Keywords: pesto chicken parm