Rigatoni vodka is an easy pasta dinner made with a homemade vodka sauce, peas and crispy prosciutto! If you live penne vodka, you'll love this recipe too!
Recipe at a Glance
Prep time: 15 minutes
Cook time: 30 minutes
Notes: Preheat your oven and bring the pot of water to boil for the rigatoni as you're prepping the rest of the ingredients! This will help the cooking process go quicker so you'll have dinner on the table in about 40 minutes from prep to finish!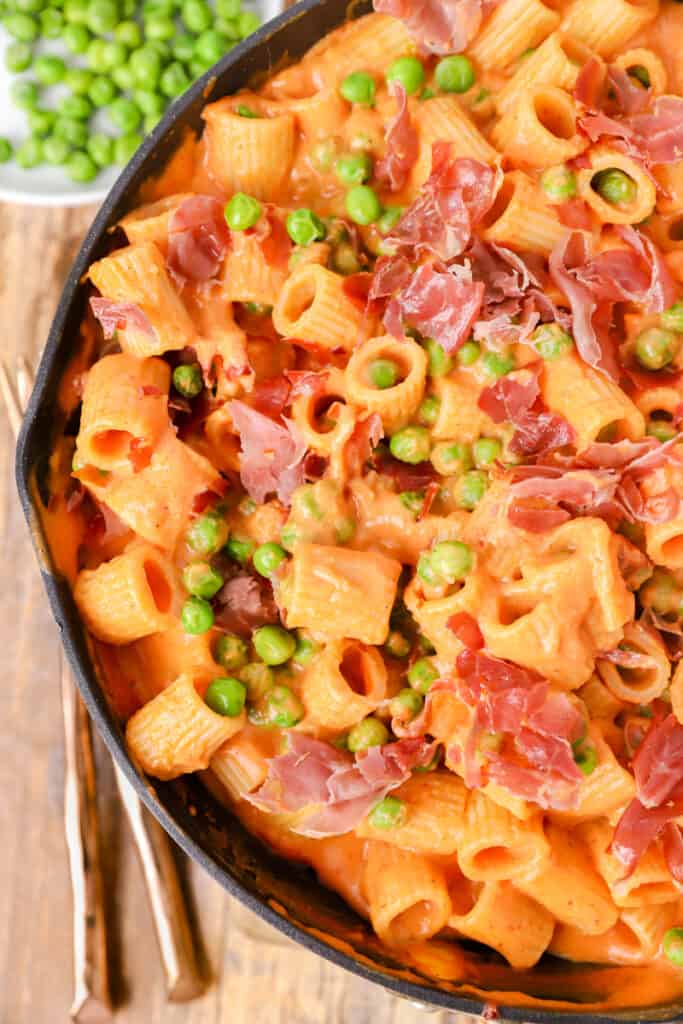 Vodka sauce is one of my favorite pasta sauces to make! Once you make it and see how easy it is, you'll never want to buy the jarred kind again! It really only takes about 15 minutes to whip up. And, the more you make it the faster you'll get at prepping the ingredients and working your way through the recipe.
So this recipe starts with my recipe for vodka sauce which I first used in me Penne Vodka recipe. I loved the sauce so much, I created this Vodka Sauce Pizza and Baked Penne Vodka!
And if you're here looking for more easy pasta dinners to add to your dinner menus I've got you covered! Pasta dishes are one of my favorite to create!
First, you can browse my whole category for Pasta. Or check these out:
Creamy Sun-dried Tomato Pasta This sauce is bursting with sun-dried tomato flavor. One of our all time favorites when you want easy but inspired pasta for dinner!
Sherry Cream Sauce Ravioli I love the flavor that sherry gives to a cream sauce. It helps cut the heaviness and add a level of flavor that makes you want seconds. This recipe also has spinach and mushrooms for a filling dinner.
Alfredo Tomato Linguini Can't choose between red sauce and cream sauce? Boom…Alfredo Tomato Sauce. Two worlds combine into a beautiful creamy dish.
Easy Alfredo Sauce Ok once you see how easy it is to make an Alfredo sauce you'll never buy jarred again. And I know I said that too with this penne vodka, but I mean it here as well!! This sauce takes less than 20 minutes and the fresh flavor will make the whole family happy.
Creamy Roasted Red Pepper Pasta This one really has a light and fresh flavor for a cream sauce. Blend a jar of roasted red peppers until smooth, then add to your cream sauce base. Vibrantly red and delicious!
Fontina Vegetable Pasta Make dinner with all the veggies already in the sauce! A smooth fontina cheese sauce with colorful veggies.
Pesto and Crispy Pancetta Ravioli Do I have your attention? A creamy pesto topped with pan fried pancetta and cool Burrata. Another huge hit here on the blog!
No lack of flavor in this Chicken Fajita Pasta! A super seasoned sauce, rotisserie chicken, and all your favorite fajita fixings!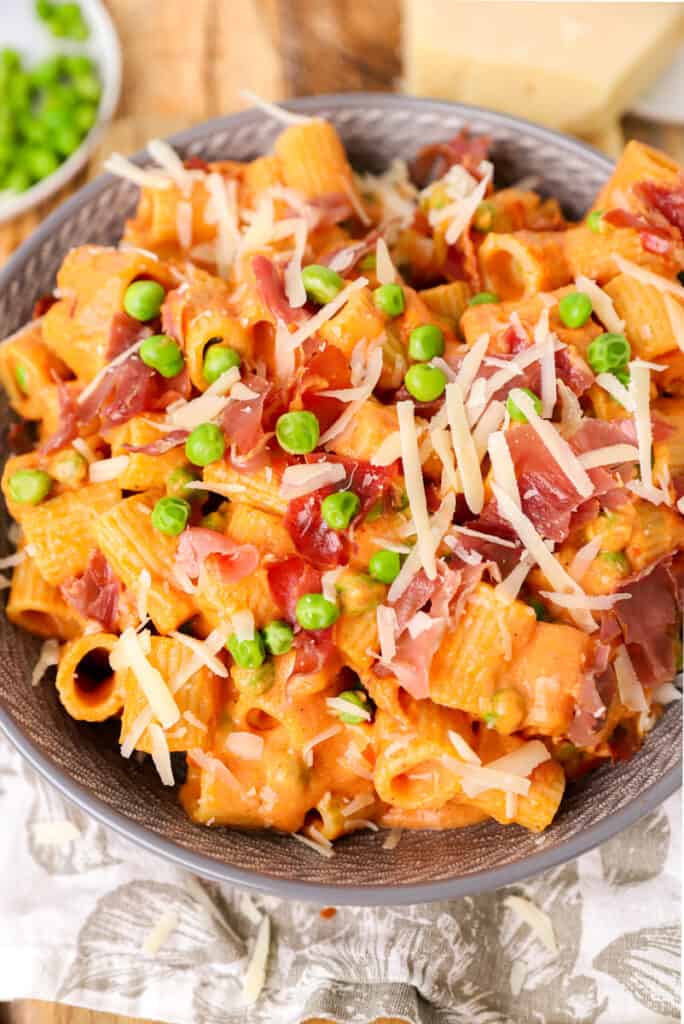 How to make crispy prosciutto
Ok, let's talk about the salty crispy treat in this rigatoni vodka, the crispy prosciutto! Seriously guys, once you've tried this you'll want to think of more recipes that you can top with these prosciutto crisps. And, you only need one ingredients and 10 minutes!
You'll a 4 ounce package of prosciutto, this is the prosciutto I used.
Take a baking sheet and line it with foil, then top it with a baking rack. This is so that as the fat drips off the prosciutto it will stay underneath the meat allowing it to get nice and crispy and preventing it from sitting in the oil.
Spray the baking rack with cooking spray and layer the prosciutto slices on top.
Bake them for 10 -11 minutes in a 400 degree oven. Once they're cooked, carefully place them on a paper towel lined plate to absorb any excess oils. Eat as strips, or crumble them up and use in another recipe!
See how easy that was? And it's a game changer for creamy pastas to add that touch of crunch and salt.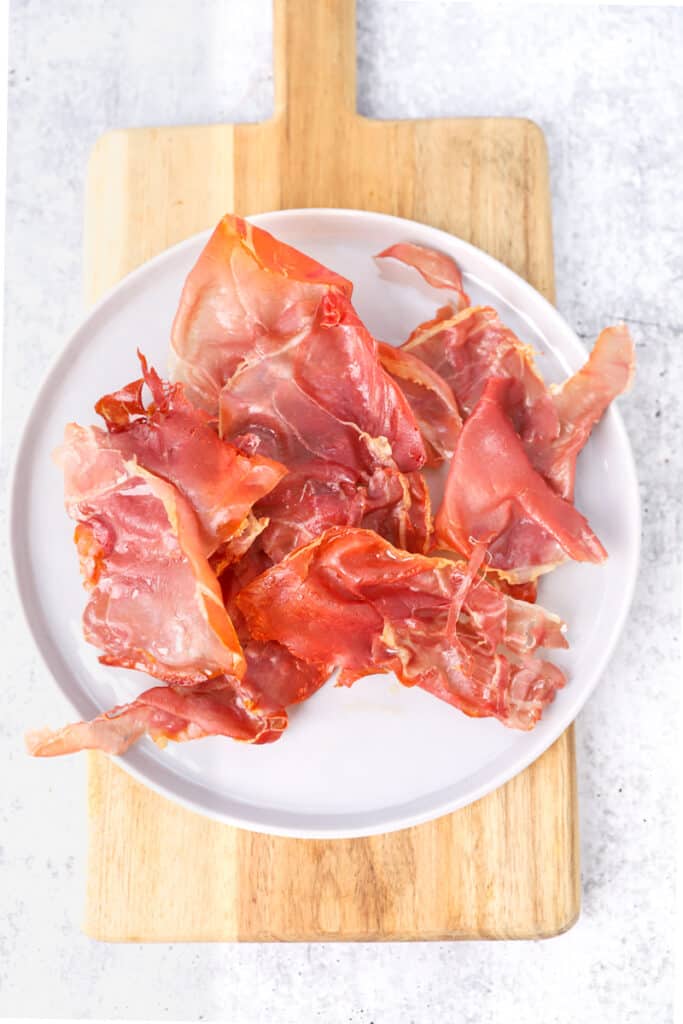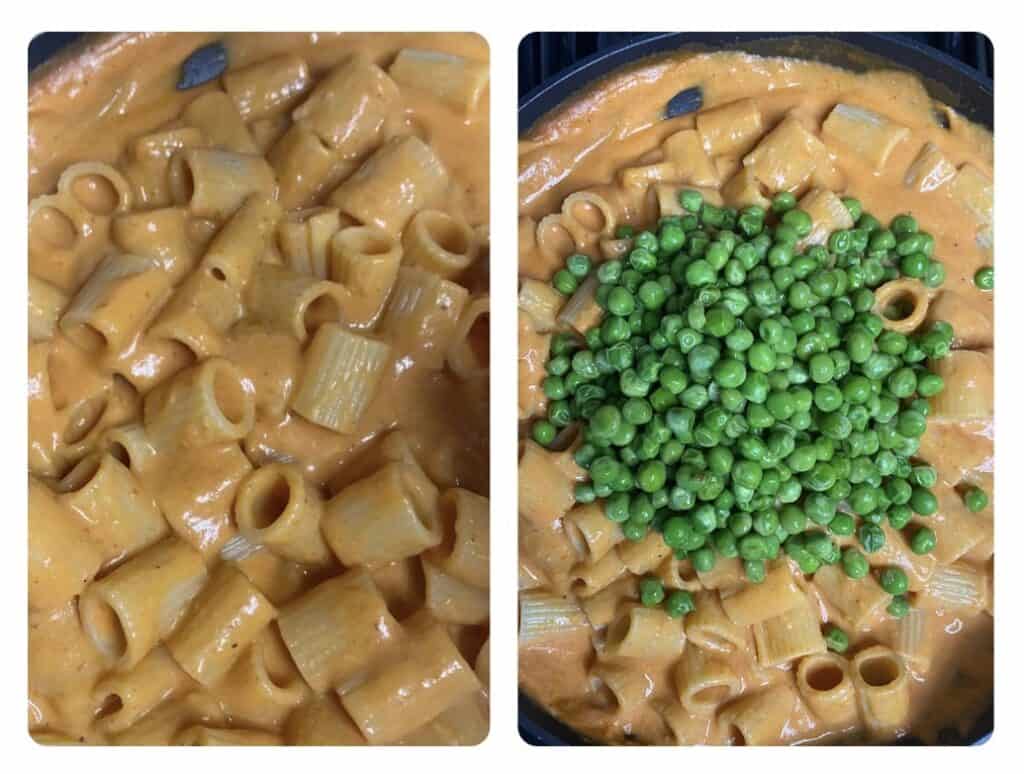 What is the point of vodka in the sauce?
So no, the sauce isn't going to have any taste of vodka whatsoever. But, it does play a role in enhancing the flavor of the tomatoes! So what it's doing in the sauce is helping it get the best robust flavor of the tomato paste.
Is vodka sauce alcoholic?
The sauce uses a small amount of vodka, about 1/4 cup. While simmering the alcohol should evaporate out; however there is the chance that traces of the alcohol could remain in the sauce.

What kind of noodles can I use in vodka sauce?
Really, there are no rules here. Cook what you like! Personally I prefer short noodles like penne and rigatoni in vodka sauce instead of long noodles like spaghetti and linguini.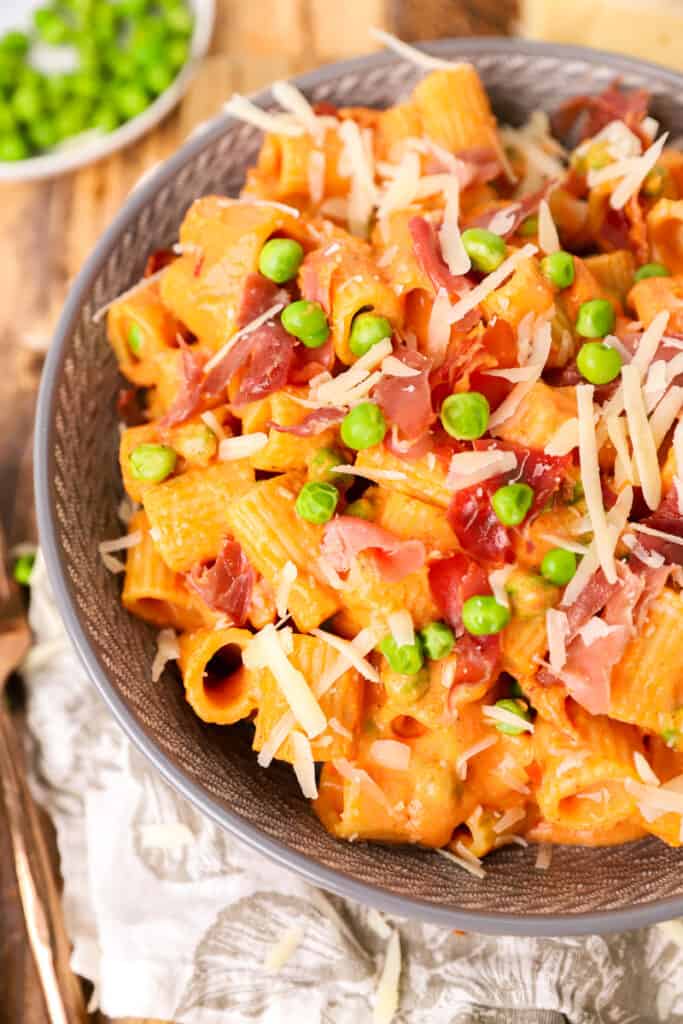 If you make this let me know what you thought in the comments!
Print
Rigatoni Vodka
Rigatoni vodka is made extra delicious with the addition of peas and crispy prosciutto! A creamy pasta sauce with a little added crunch that's ready to eat in about 40 minutes from start to finish!
Author:
Prep Time:

15 minutes

Cook Time:

30 minutes

Total Time:

45 minutes

Yield:

4-6 servings

Category:

Main Dish

Method:

Saute

Cuisine:

Italian American
4 cups mezzi rigatoni pasta
4 ounce package of prosciutto
1 cup frozen peas, cooked
3 garlic cloves, grated
2 tablespoons salted butter
2 tablespoons all purpose flour
2 cups half & half
6oz can tomato paste
1/4 cup vodka (this is just the size of a mini bottle)
1 tablespoon fresh chopped basil
2 tablespoons grated Parmesan cheese
3/4 teaspoon salt
1/2 teaspoon garlic powder
1/4 teaspoon black pepper
1 ladle of reserved boiling pasta water (in case the sauce ever gets too thick)
Instructions
1. Preheat your oven to 400 degrees and bring a large pot of salted water to a boil. To make the crispy prosciutto, line a baking sheet with foil, then top with a baking rack. Lightly spray the rack with cooking spray, then add the slices of prosciutto trying not to overlap any of the slices. Bake for 10-11 minutes. Carefully remove from the oven and place the prosciutto slices onto a paper towel lined plate to absorb excess oil. Once the prosciutto has cooled enough to safely touch, crumble the slices into bite-sized pieces.
2. While the prosciutto is baking, cook the mezzi rigatoni according to box directions. As the pasta is cooking, carefully reserve 1 ladle of water.
3. While the pasta is boiling, begin making the vodka sauce. In a medium pan over medium heat melt the butter then add the grated garlic and cook 1 minute. Add the flour and whisk until combined, cook about 30 seconds. Add the tomato paste and stir to incorporate with the flour…cook another  minutes. Add the half & half and gently whisk to blend the tomato paste into the cream. Then, add the vodka and basil. Bring to light boil, then reduce heat and add the Parmesan cheese, salt, pepper, and garlic powder. Simmer for 8-10 minutes. If the sauce begins to thicken too much, add the reserved pasta water a little at a time.
4. To serve, add the rigatoni a little at a time to the sauce until you have the consistency you like. Mix in the peas. Serve into bowls, top with the crispy prosciutto and extra Parmesan cheese.
Enjoy!
Notes
I always say to add the cooked pasta a little at a time to the finished sauce. If you've made too much pasta and you add it all at once it would mean you don't have enough sauce to cover all of the noodles. So add in stages and stir to make sure all the noodles get enough sauce.