Crispy prosciutto is a super easy snack or topping that you can make in about 10 – 12 minutes! If you love the flavors of bacon or pancetta then you'll definitely love crispy prosciutto. You can eat the crisps on their own, or crumbled them up and add to pastas, pizza, veggies, salads, burgers and more!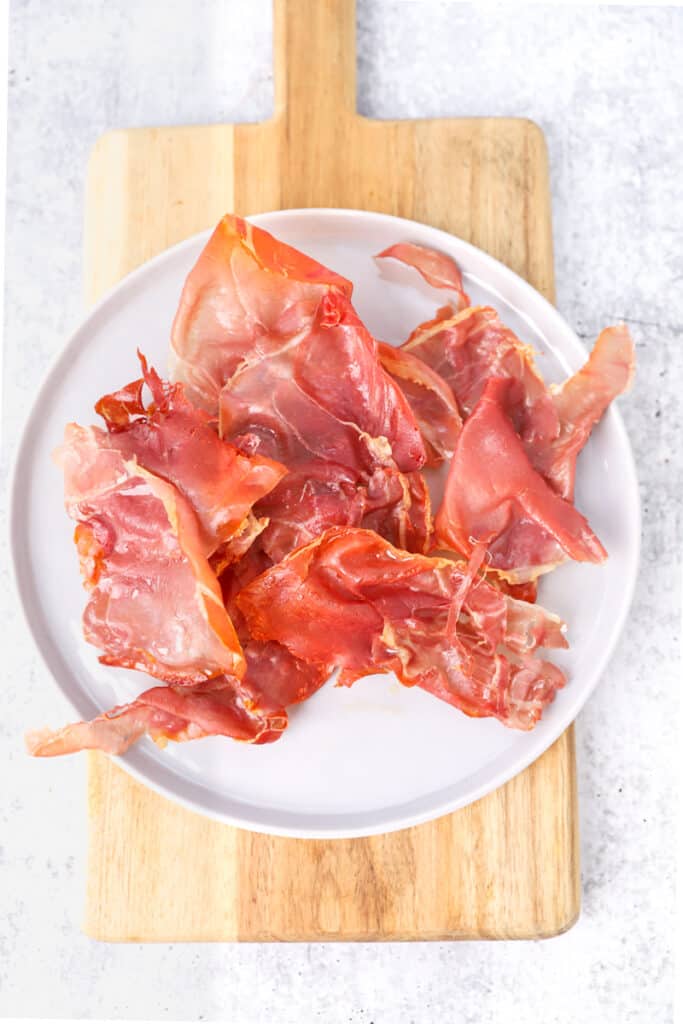 What is prosciutto?
Pronounced as "pro-shoo-tow", in it's simplest definition is an Italian meat. It's a pinkish red color with a small amount of marbled fat throughout the meat and on the edges. It's a dry-cured ham and usually is served as paper-thin slices. That flavor is salty, but a milder flavor than bacon.
Do you need to cook prosciutto?
While this recipe is for baking it up crispy, prosciutto unlike bacon, does not need to be cooked. You can eat it right from the packaging much like you'd do with salami. It's a great addition to a charcuterie board.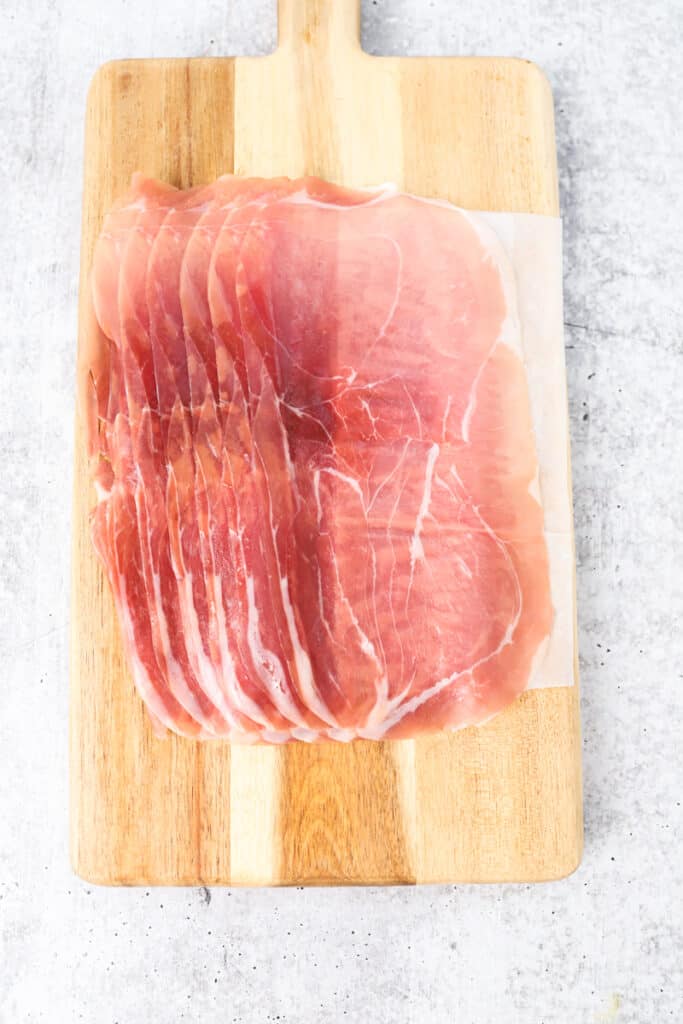 What's the difference between prosciutto and pancetta?
You may have also heard of pancetta and wondering what the difference is between these two Italian meats.
First, they come from different of the pig. Pancetta comes from the belly, while prosciutto comes from the hind leg.
The second big important difference is that pancetta needs to be cooked before it's safe to eat, while prosciutto is salt-cured and air-dried so it is safe to eat without needing to cook it or apply heat. Read more about prosciutto here!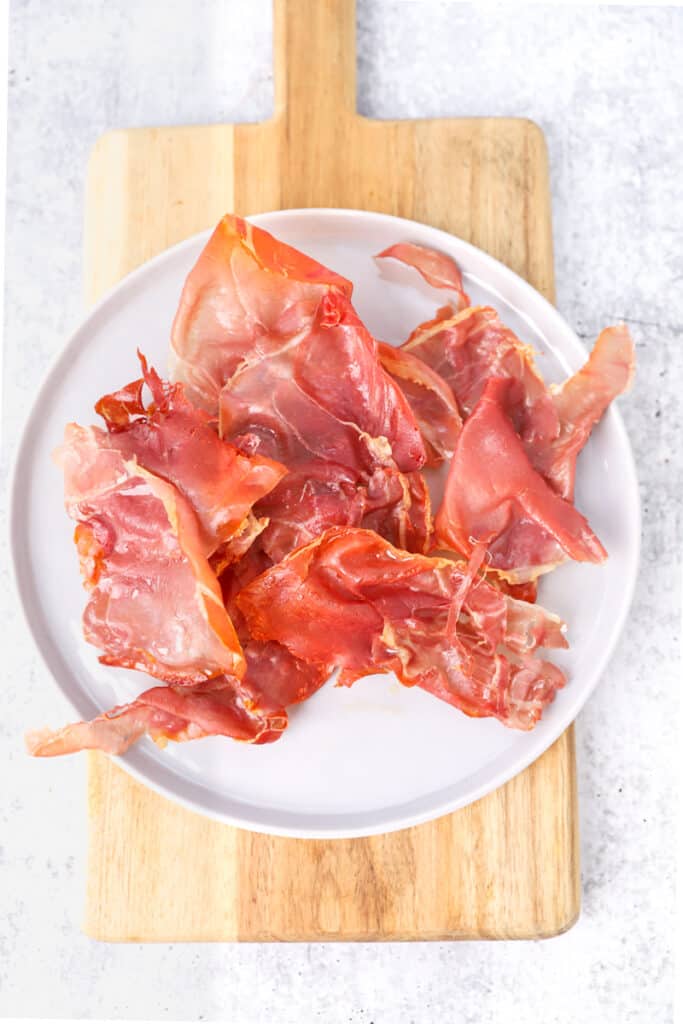 How to make crispy prosciutto in the oven
Get ready for how easy this is! Just one ingredient and only 10 minutes in the oven.
You'll a 4 ounce package of prosciutto, this is the prosciutto I used.
First. Take a baking sheet and line it with foil, then top it with a baking rack. This is so that as the fat drips off the prosciutto it will stay underneath the meat allowing it to get nice and crispy and preventing it from sitting in the oil.
Then. Spray the baking rack with cooking spray and layer the prosciutto slices on top.
Last. Bake them for 10 -11 minutes in a 400 degree oven. Once they're cooked, carefully place them on a paper towel lined plate to absorb any excess oils. Eat as strips, or crumble them up and use in another recipe!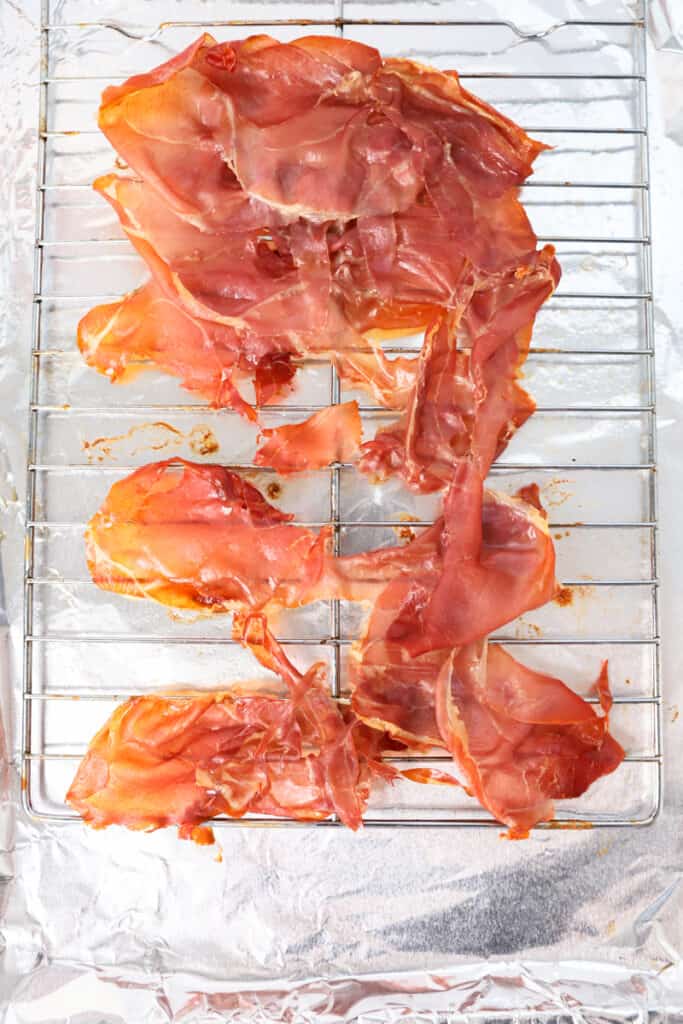 Recipes to make with crispy prosciutto
So now that we know how to make it, let's talk about how you can starting incorporating these perfectly crisp prosciutto pieces into more meals!
So first, the most basic answer is to eat it all on it's own, just like bacon! Honestly, this stuff is so good it's perfectly fine to eat without adding it to another recipe.
Oven baked crispy prosciutto is the perfect crunchy addition to pastas, especially a creamy pasta! I have this rigatoni vodka sauce pasta recipe and the crispy prosciutto adds a welcomed crunch and hint of salt that helps cut through the rich vodka sauce.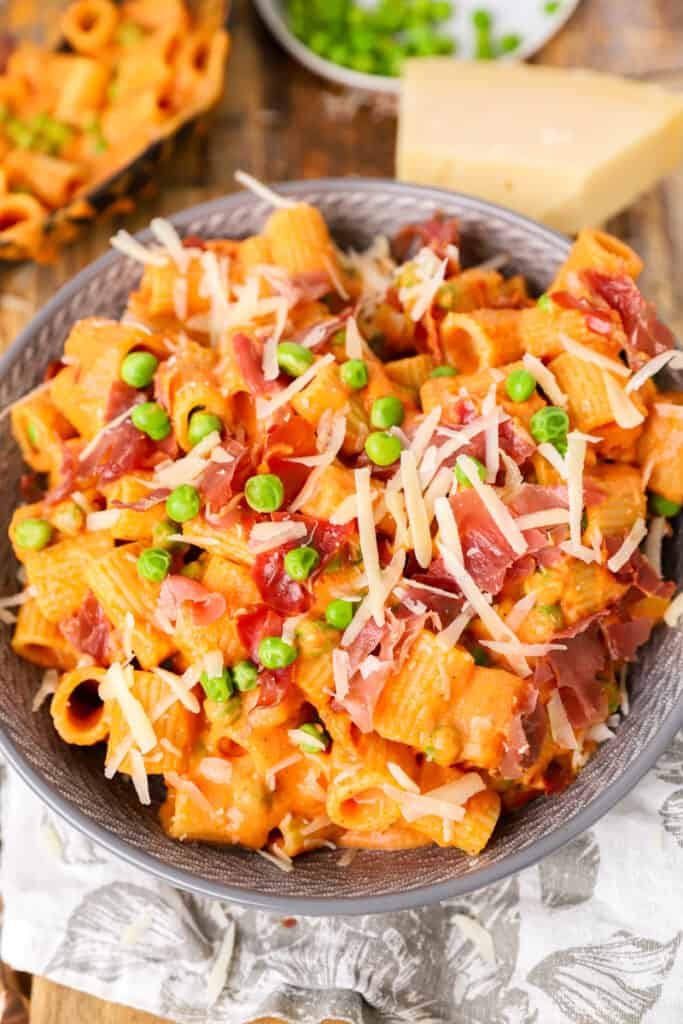 Or one of my favorite homemade pizza recipes is my Vodka Sauce Pizza. You'll top this with the crispy baked prosciutto before baking the whole pizza! It's a delicious blend of homemade vodka sauce, cool ricotta cheese, and the salty crispy prosciutto.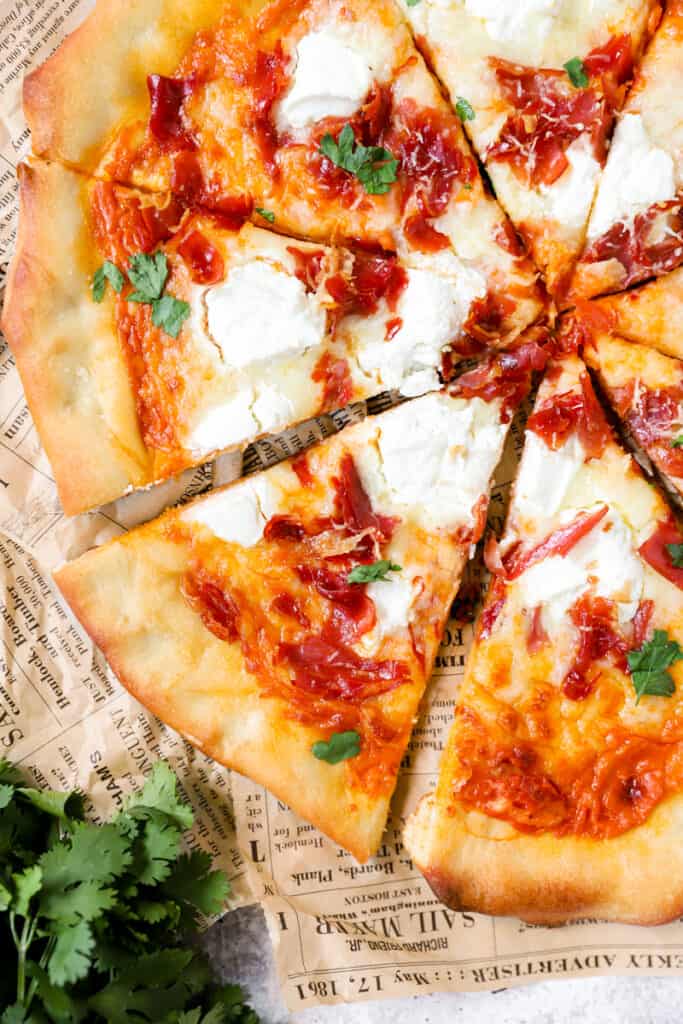 Recipe tips
While this recipe is for the crispy baked prosciutto, Prosciutto di Parma does not need to be cooked before consuming! You'll frequently find it on a charcutière board fresh out of the packaging.
This crispy prosciutto is best eaten right when you make it. Once it's been stored in the fridge and it will lose some of the crispness and can become more rubbery.
You can find prosciutto in your grocery store near the specialty cheese area. So it's not going to be with the turkey and ham deli meats, but more towards where you'd find Italian cheeses.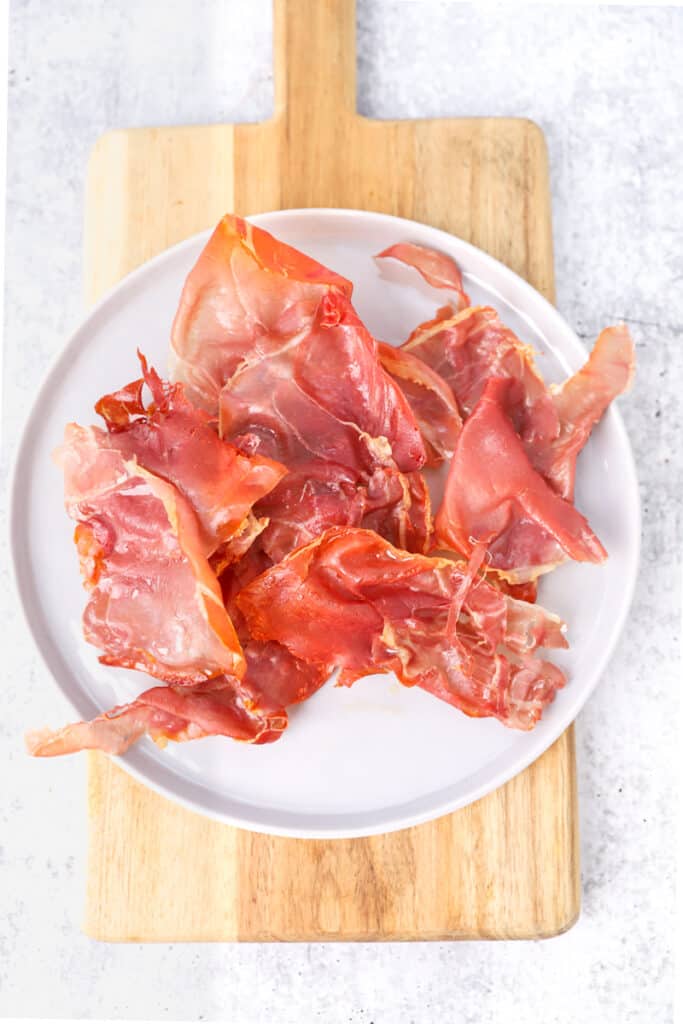 Print
Crispy Prosciutto
Crispy prosciutto is quick and easy to make in the oven! Just 10-11 minutes and you've got a crispy snack or a crispy addition to pizza, pasta, and more!
Author:
Prep Time:

5 minutes

Cook Time:

10 minutes

Total Time:

15 minutes

Yield:

4-6 servings

Category:

Side Dishes

Method:

Baking

Cuisine:

American Italian
4 ounce package of prosciutto
Instructions
1. Preheat your oven to 400 degrees.
2. Line a baking sheet with foil, then top with a baking rack. Lightly spray the rack with cooking spray, then add the slices of prosciutto trying not to overlap any of the slices.
3. Bake for 10-11 minutes. Carefully remove from the oven and place the prosciutto slices onto a paper towel lined plate to absorb excess oil. Once the prosciutto has cooled enough to safely touch, crumble the slices into bite-sized pieces.
Enjoy!
Keywords: Crispy prosciutto