Want an easy pasta dish to sneak more veggies into your diet? Then this Creamy Vegetable Pasta is for you! A creamy sauce made with Fontina cheese, then loaded with red peppers, yellow squash, and zucchini! Just roast the veggies and add it into the cheesy cream sauce, super easy and kids and adults will love this!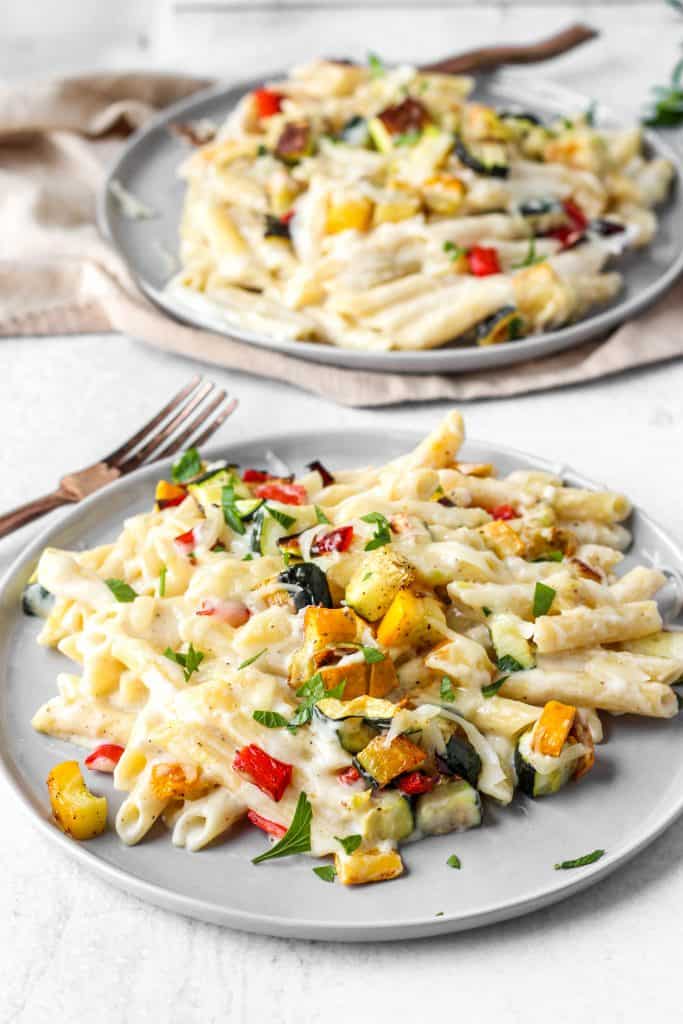 What is Fontina Cheese?
Fontina cheese is a semi-hard Italian cheese. It's softer than something like Cheddar cheese, but harder than a cheese like Brie. The flavors are rich, somewhat buttery, and mild. It makes a good cheese for a sauce or for a macaroni and cheese since it's soft flavor doesn't overwhelm the dish or become too powerful. It also melts easily so would be great in a fondue. Want to learn more about this delicious cheese? Read this article on Cook's Illustrated.
We all know the saying that "you eat with your eyes" and as a food blogger that's something I always need to be considering in a recipe and in the food styling. Green, red, and yellow all pop in the creamy sauce and create a beautiful colorful bowl. At home, this is something you can keep in mind when your serve dinner. If a dish looks too bland, throw some fresh parsley on top for a pop of green. Trust me, it instantly takes something that looks unappetizing into a dish you can't wait to dig into!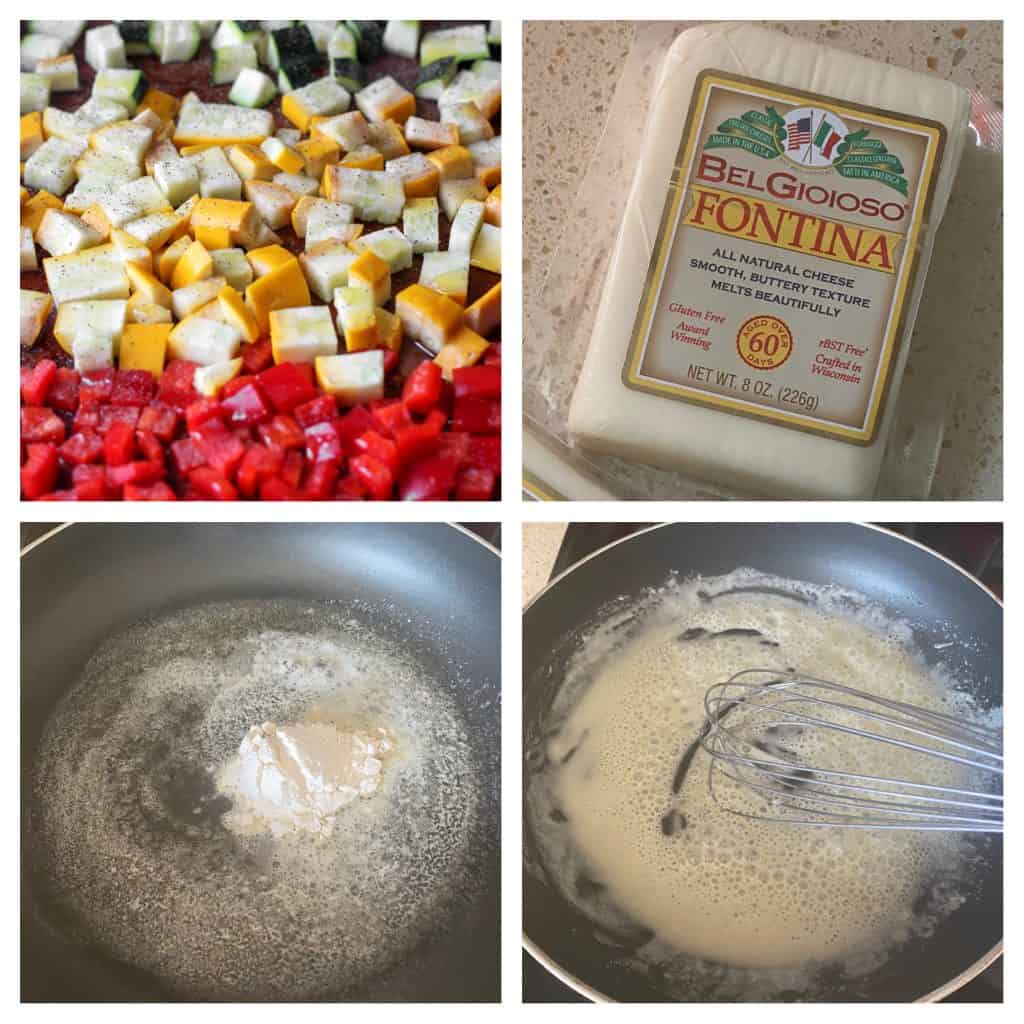 Other Vegetables to Add
Since this is a vegetable pasta, you can really add anything you'd like! I think it's important to have a variety of colors, so I wouldn't recommend choosing 3 green veggies. Here are some other ideas:
Roasted broccoli
Carrots
Peas
Spinach
Orange peppers
Create your own colorful creamy vegetable pasta! It's really a beautiful plate to sit down to, and feel good that you're getting your serving of veggies in while you enjoy a cheesy sauce too.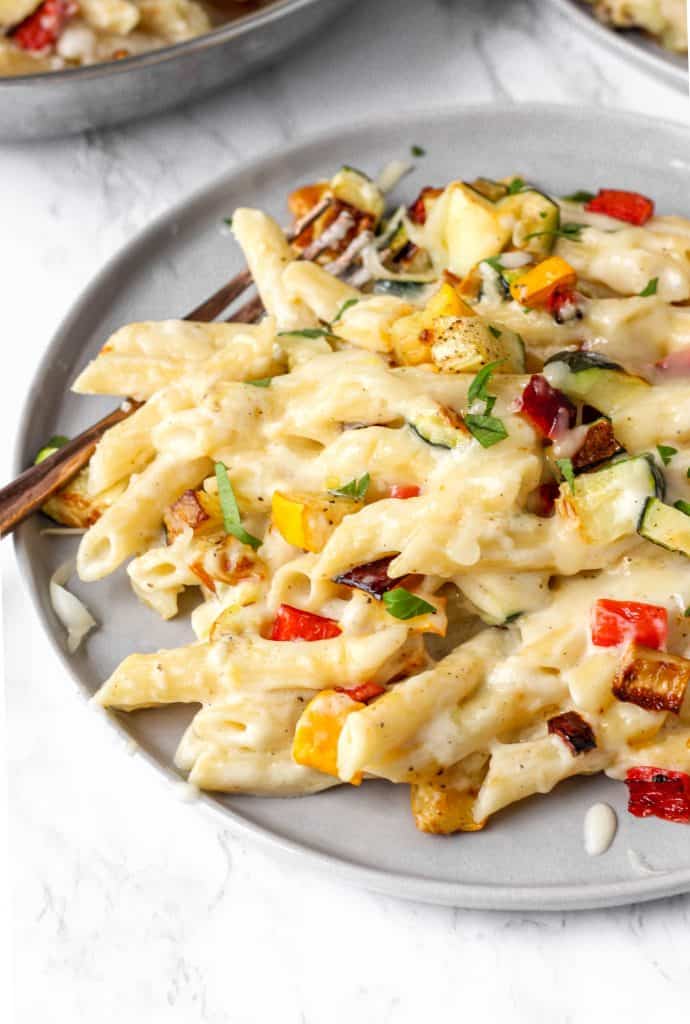 If you like this pasta dish you might also want to check out:
Baked Macaroni and Cheese
Beer Cheese Macaroni and Cheese
Sherry Cream Sauce Ravioli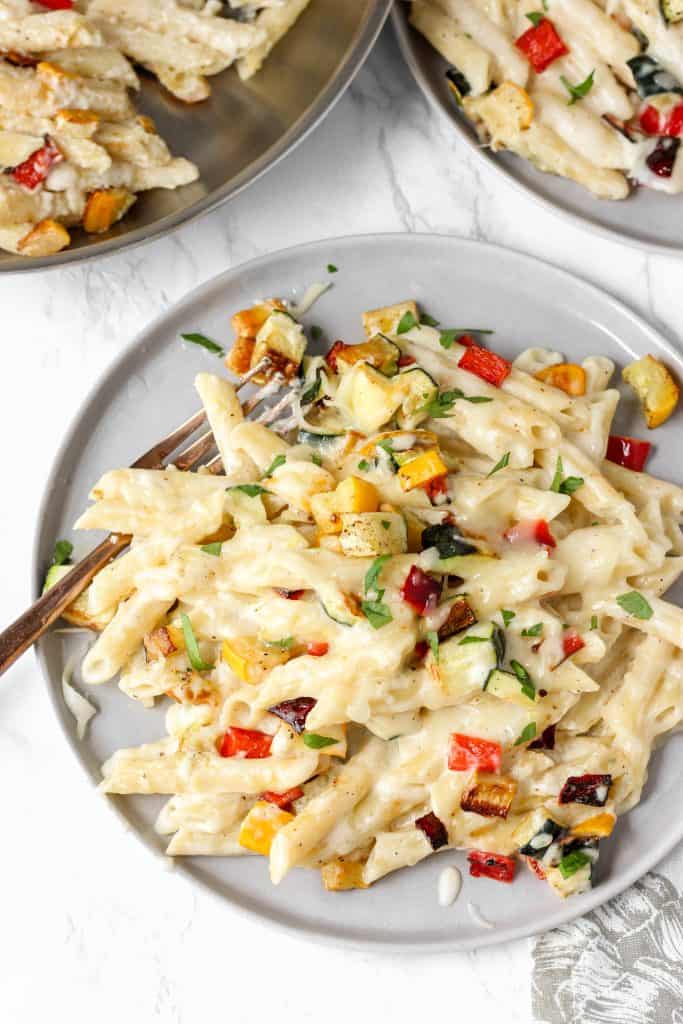 Print
Creamy Vegetable Pasta
This creamy vegetable pasta dish is loaded with roasted red peppers, and yellow squash, and zucchini! The Fontina cheese sauce makes it creamy and a crowd pleasing dinner!
Author:
Prep Time:

15 minutes

Cook Time:

25 minutes

Total Time:

40 minutes

Yield:

4 servings

Category:

Main Dish

Method:

Saute

Cuisine:

American
2 and 1/2 cups dry penne pasta
1 zucchini, diced
1 red pepper, seeded and diced
1 yellow squash, diced
Olive Oil
2 cloves garlic, grated
2 tablespoons butter
2 tablespoons all-purpose flour
1 and 1/2 cups half & half
1/3 of the boiling pasta water reserved
8oz block of Fontina cheese, grated
1/4 teaspoon salt
1/4 teaspoon pepper
1/4 teaspoon garlic powder
Instructions
1. Heat the oven to 425 degrees. Pour all of the diced veggies onto a large baking sheet, drizzle with olive oil and bake for 25 minutes.
2. While the veggies roast, bring a large pot of water to boil and cook pasta. Carefully reserve 1/3 cup of the boiling water for the cheese sauce.
3. While the pasta cooks, prepare the cheese sauce. First, melt 2 tablespoons of the butter and add in the grated garlic, cook for about 1 minute then add the 2 tablespoons of flour and whisk to combine. Slowly pour in the 1 and 1/2 cups of half & half and cook over medium heat for 2-3 minutes until slightly bubbly. Season with the salt, pepper, and garlic powder.
4. Next, reduce heat to low and pour in all of the grated Fontina cheese. Whisk to melt the cheese into the sauce, adding in some of the reserved pasta water if the sauce needs to be thinned.
5. To assemble, pour the cooked penne into the cheese sauce, then add in the roasted veggies. Serve and enjoy!
Notes
I like to pour in the pasta to the sauce a little at a time, that way you can get the consistency you like of pasta-coated noodles. If you made too much pasta and add it all in at once you might not have enough sauce to cover the noodles.
Keywords: creamy vegetable pasta