Need a fast and easy dinner idea for those busy weeknights? Creamy pesto pasta is here to save dinner time. Whether you have a long commute, short commute, kids, no kids, gym sessions or no gym sessions…at the end of the day we're all tired and recipes like these can be the difference between ordering takeout and eating something homemade and satisfying.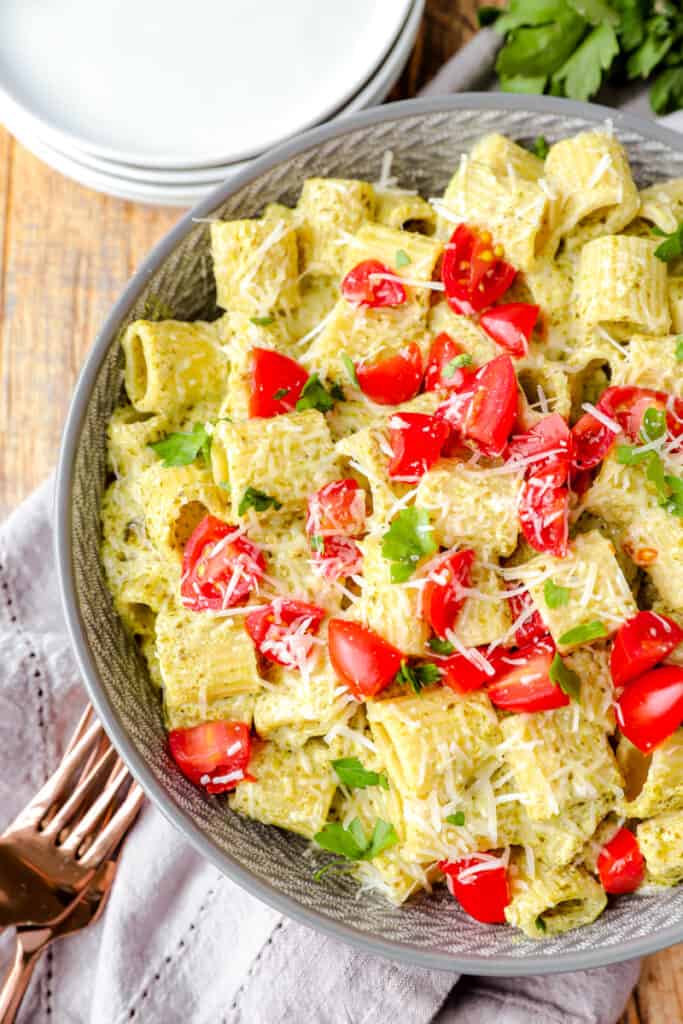 Ingredients
I love this pasta recipe because you only need simple 5 ingredients! Here's what you need:Light cream or half & half
Pesto. You can use your favorite jarred pesto, or use homemade! To keep this recipe super easy, I use jarred. You'll need 1/2 cup.
Pasta. I love using Mezzi Rigatoni. You can also penne, or your favorite short pasta.
Cream. You'll need light cream or half & half. I use half & half all the time in my cream sauces and they come out just as good as using light cream! So use whichever is more convenient for you.
Parmesan cheese. I recommend buying a block of Parmesan and grating it yourself, you'll get a softer cheese that melts a bit better in the sauce.
Grape tomatoes. The tomatoes add a burst freshness to a creamy pasta.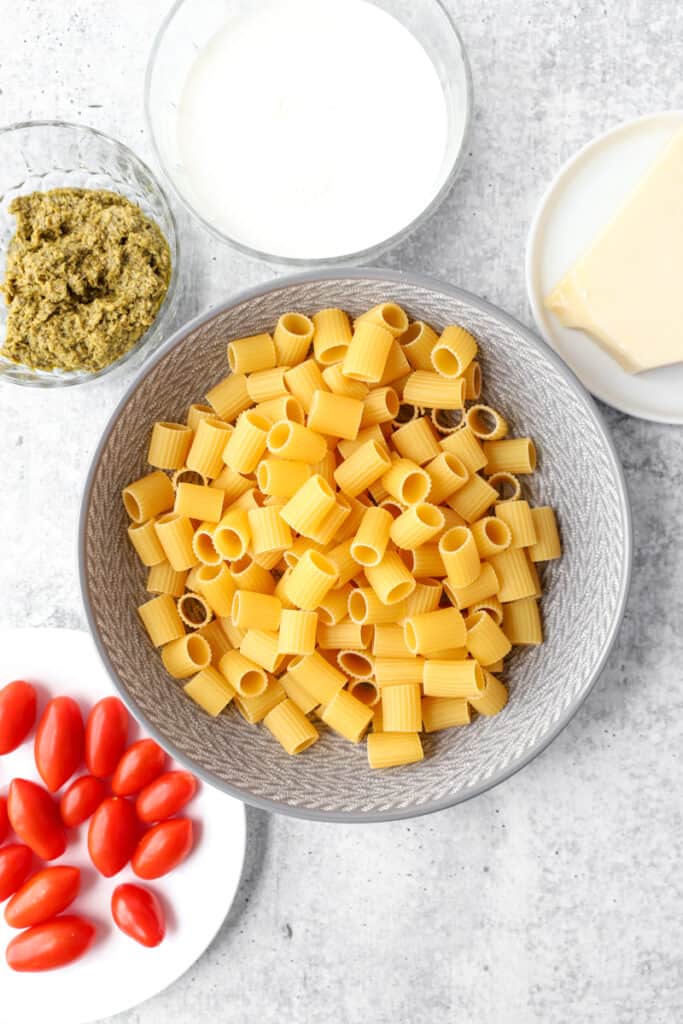 Only 5 ingredients, and it's super easy to whip up this sauce!
First, cook your pasta to your liking.
After the pasta has cooked, strain it and set it aside. To the pot, add the cream, pesto, and Parmesan cheese and bring to a boil, then reduce the heat and simmer for about 5-7 minutes until it's thickened.
Once the sauce has thickened, add your noodles and stir until they're all coated with the creamy pesto sauce.
Once served in your bowls, top with the diced tomatoes and extra Parmesan cheese.
Dinner from start to finish in less than 30 minutes!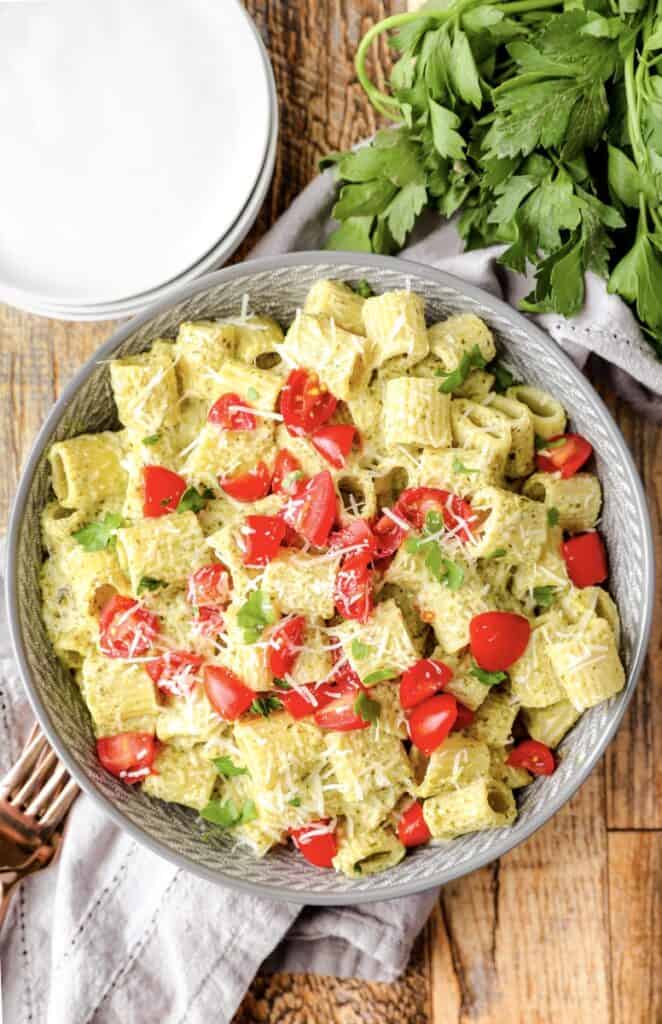 Cooking Tips
When you're cooking the pasta, reserve some of the pasta water in case you need it to thin out your sauce. The best way to thin a sauce that's gotten too thick is to use some of the water that the pasta is cooking in!
Sauce too thin? Add a teaspoon or two of cornstarch, bring sauce to a boil then reduce to a simmer. That will thicken up a watery sauce!
You can add diced fresh Mozzarella too. Although, I feel like the sauce has enough flavor on it's own and doesn't really need more cheese. But, if you're wanting more cheese, choose a fresh Mozzarella since the flavor is mild and won't compete with the pesto.
The leftovers taste just as good the next day! Save any leftovers and you've got the next day's lunch or dinner taken care of.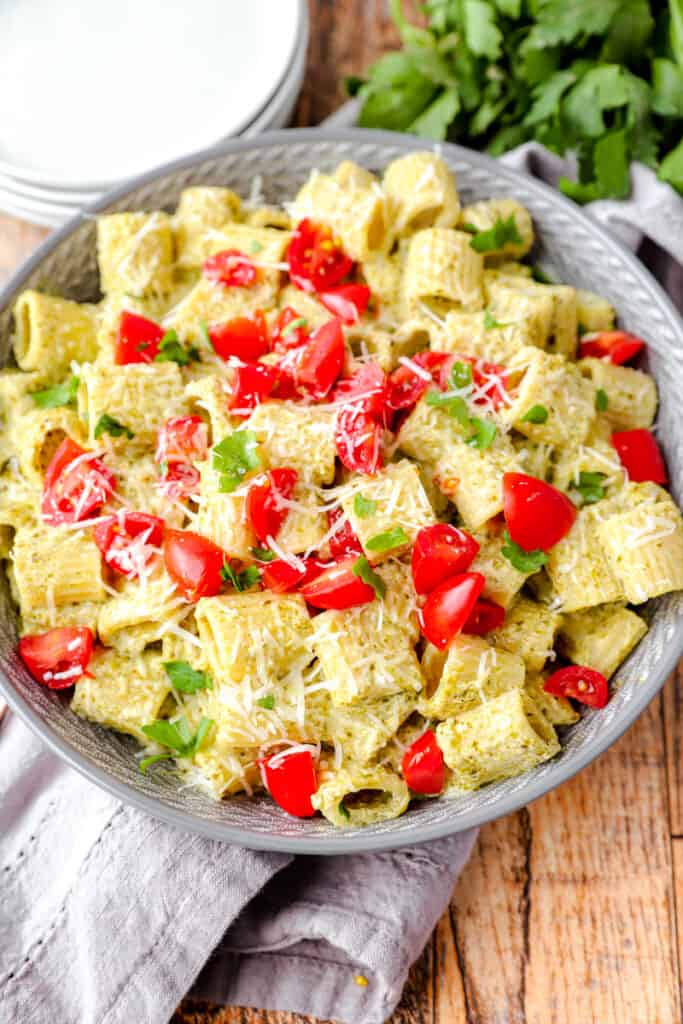 Like pesto? Checkout some of my other recipes where pesto is the star of the show!
Creamy Pesto Ravioli with Crispy Pancetta is another easy pesto pasta dinner with irresistible pancetta!
And easy spread for sandwiches and wraps? Try some Pesto Mayo!
What's better than homemade pizza? Pesto Pizza will be an upgrade to your next pizza night.
A play on baked ziti, Pesto Pasta Bake is loaded with chicken, ricotta, and lots of cheese.
Looking for more quick and easy pasta dinners? Oh boy, do I have you covered!
More cream sauce pastas Creamy Roasted Red Pepper Sauce, Easy Alfredo Sauce, Marsala Pasta, Penne Vodka, Creamy Sun-dried Tomato Pasta, and Alfredo Tomato Sauce. These are some of my best and most popular pasta recipes!
And last, two of my favorite baked pastas are this Fajita Pasta Bake and my Baked Penne Vodka.
Want more recipes, behind the scenes, and cooking tips? Follow me on Instagram!
Print
Creamy Pesto Pasta
A 30 minute dinner recipe, creamy pesto pasta is easy and quick! Topped with diced grape tomatoes, this will be a recipe you'll make again and again.
Author:
Prep Time:

10 minutes

Cook Time:

20 minutes

Total Time:

30 minutes

Category:

Main Dish

Method:

Saute

Cuisine:

American
3 cups dried mezzi rigatoni or penne pasta
1 cup diced cherry tomatoes
1/2 cup jarred pesto sauce (try to avoid adding too much oil from the pesto)
1/2 cup grated Parmesan cheese
1 and 1/2 cup light cream or half & half
Salt to taste


Instructions
1. Cook pasta according to desired texture, I cooked mine for 12 minutes. Pour into your strainer, give a few drizzles extra virgin olive oil and stir in the strainer so that the noodles don't stick.

2. In the large pot where you cooked your pasta, pour in the cream or half & half, pesto, and Parmesan cheese. Bring to a boil, then reduce heat to simmer for 5-7 minutes. Salt to taste, pesto is robust to start with a little salt and add more as needed.

3. When the sauce is finished, pour in the pasta and stir to coat. I like to pour in the pasta a little at a time and stir instead of adding all the pasta at once. Garnish with the diced cherry tomatoes and more Parmesan cheese. Serve immediately.
Keywords: creamy pesto pasta
Adapted from Tasty