I love dips. Like seriously love a good dip. And sitting at the top of the list of my absolute favorite dip to snack on is Buffalo Chicken Dip. All the spicy savory flavors of Buffalo wings in a easy to make and crowd pleasing dip!
All you need to make this is about 30 minutes and 6 simple ingredients! Service this with your favorite chips, crackers, celery, pita, naan, even cucumbers or carrots!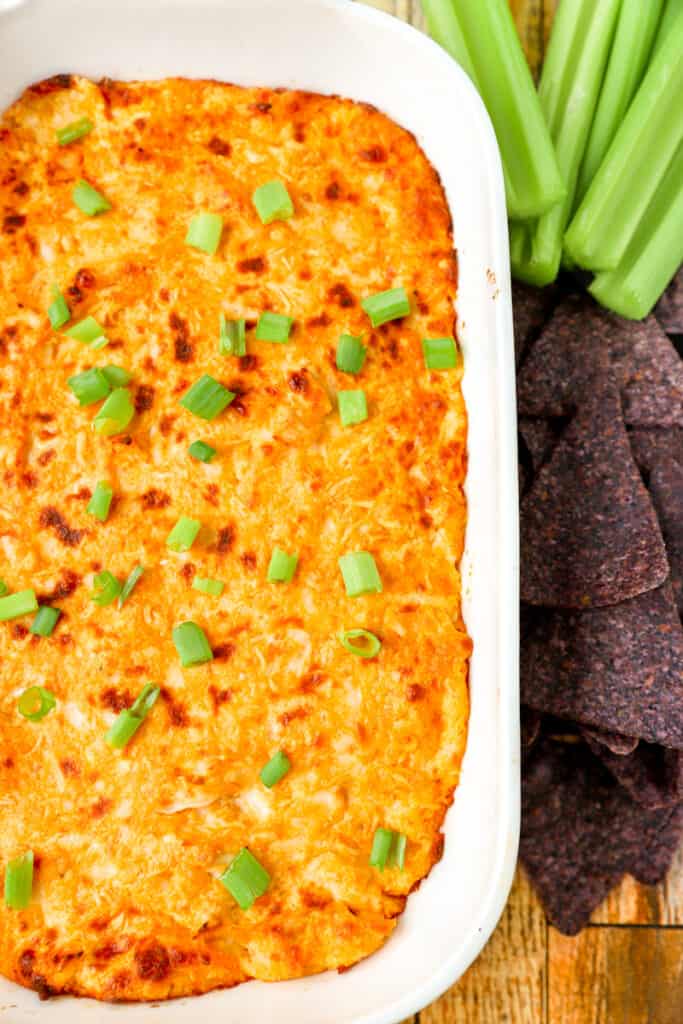 Ingredients
This dip is easy to make! You only need 6 ingredients, and usually I have all these on hand with the exception of the rotisserie chicken.
Cream cheese. You'll need an 8 ounce block of cream cheese, softened. You want to make sure it's soft so that it blends easily into the dip and you don't end up with large clumps of cream cheese that don't break down.
Mozzarella cheese. Just a full 8 ounce bag of shredded Mozzarella.
Rotisserie chicken. You'll need 2 and 1/2 cups of the shredded chicken. Using rotisserie chicken makes this SO easy! No extra steps of cooking chicken breast, just grab a rotisserie up to 2 days before you want to make the dip.
Ranch dressing. Your favorite brand, you'll need 1/2 cup.
Hot sauce. Again, your favorite brand is OK! I use 1/3 cup for this recipe. If you want it extra spicy you can add more, just keep in mind the more liquid you add to the dip the looser it will become.
Garlic powder. I use 1/2 teaspoon, but you can add more if you want a bigger garlic kick! I like the little extra flavor the garlic powder gives.
And there you have it! 6 ingredients, nothing too complicated.
Now let's get to making the Buffalo Chicken Dip.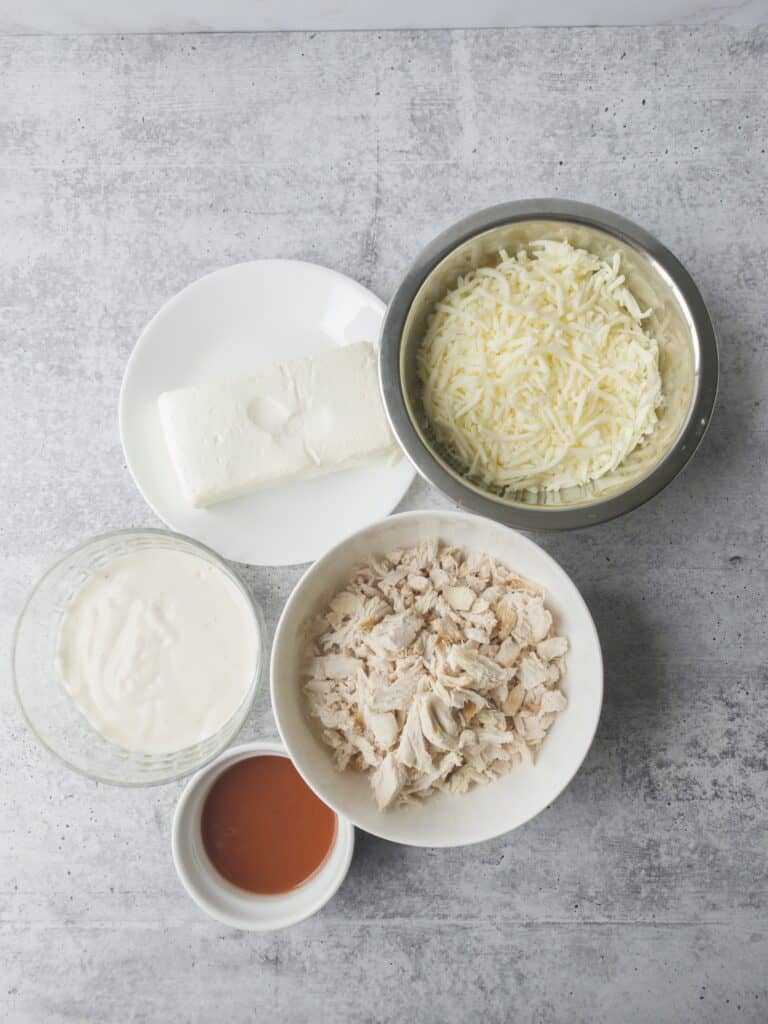 How to make the dip
This really is just mix, bake, eat! So easy, and nothing complex!
First. Preheat your oven to 375 degrees. Blend the softened cream cheese and the rotisserie chicken. This is why it's really important the cream cheese is nice and soft. If it's not, it won't blend smoothly and you could risk having a clumpy cream cheese.
Second. Add in the ranch, hot sauce, Mozzarella, and garlic powder. Stir well so everything is combined. It should look like this photo below.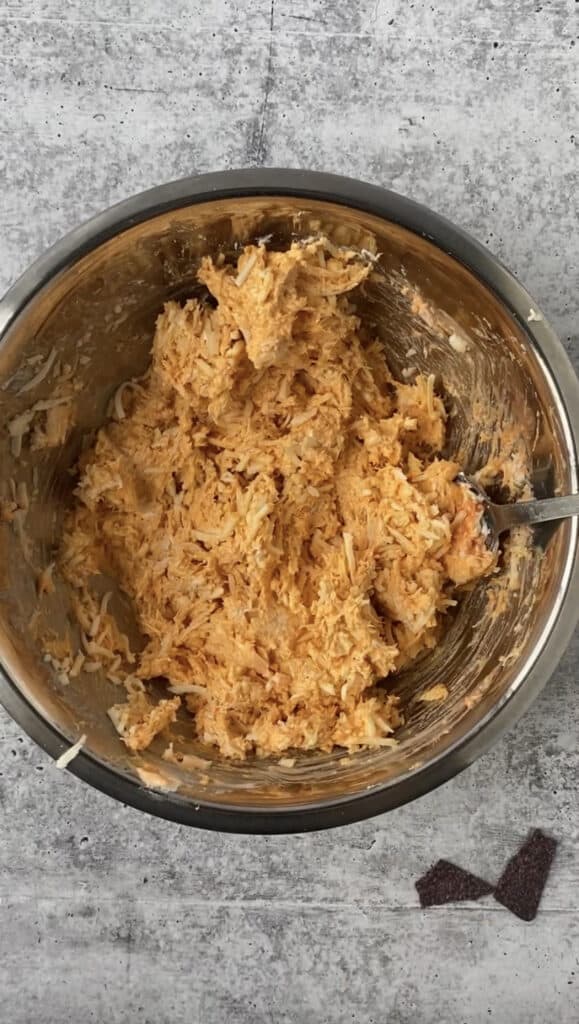 Next. Add the dip to your baking dish and bake for 20 minutes.
Last. After the 20 minutes, place the baking dish under the broiler for 1-2 minutes or until the top of the cheese is browned and bubbly.
That's it! Obviously is will be very hot coming out from under the broiler, so allow to cool a bit then you're ready to dig in.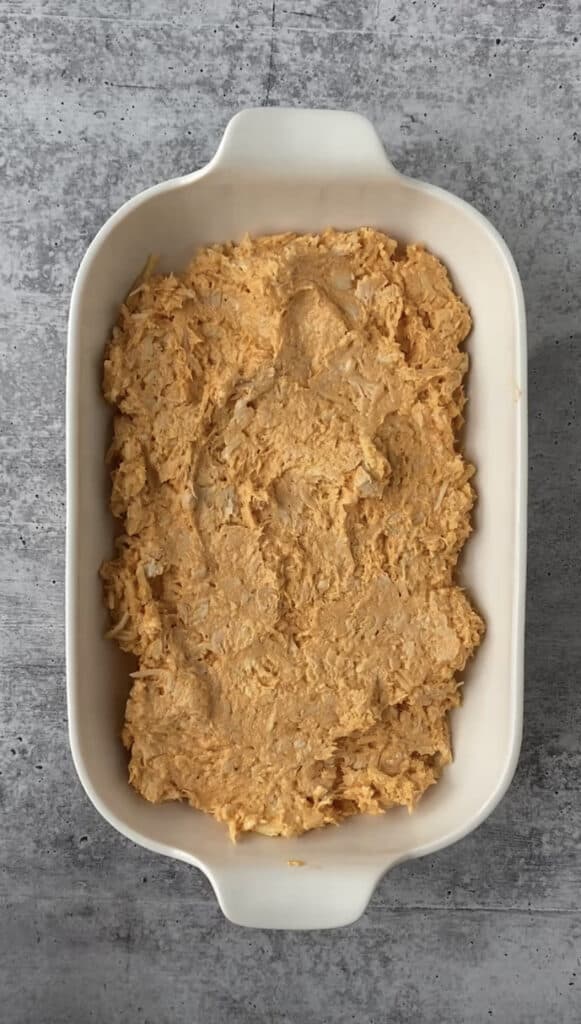 Now, if you know me you know this isn't my first Buffalo chicken recipe.
I LOVE almost anything Buffalo chicken. Allow me to prove it to you.
Need a crowd please pasta salad? Buffalo Chicken Pasta Salad is the perfect blend of spicy, cheesy, and crunchy celery.
Or, enjoy the flavors of Buffalo chicken wings with less mess and no bones with Buffalo Chicken Burgers or Buffalo Chicken Meatballs.
These crunchy Buffalo Chicken Taquitos are an easy dinner recipe using ground chicken.
Last, Buffalo Chicken Pasta is an easy pasta dinner topped with crunchy bacon.
Or do you need dips on dips on dips? No problem!
Cream Cheese Salsa Dip only needs 5 ingredients but is perfect for a party, or if you need a last minute recipe.
Hot and cheesy Taco Dip is loaded with all your favorite taco fixings!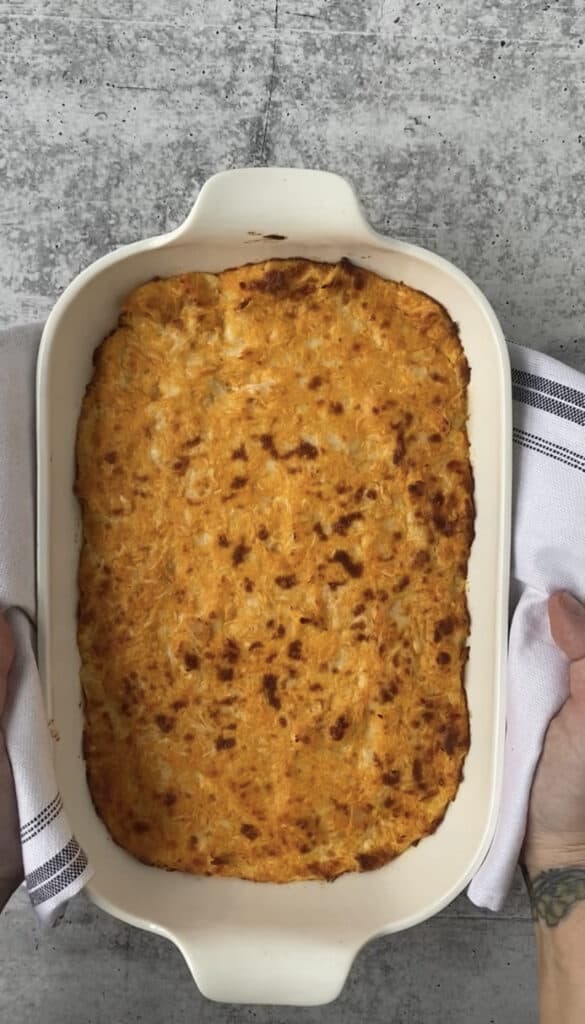 Cooking tips
How spicy is the dip?
This is actually what I'd consider a mild dip. There's a kick from the hot sauce, but nothing that will make your eyes start watering. If you want a really spicy dip, you can increase the hot sauce. Just keep in mind the more liquid you add the runnier the dip could become.
What type of chicken can I use?
The absolute easiest way to make this dip is to use rotisserie chicken. If you really want, you can cook and shred your own chicken breast, but the rotisserie is so easy and has so much moist flavor. I don't recommend changing this part of the recipe.

Can I reheat this?
Short answer: yes. Longer answer: the dip is definitely best fresh, right out of the oven. After it's been in the fridge it will loose some of the creaminess if you try to reheat it. The flavors are still delicious, but the texture will change a little.
Do I have to buy the rotisserie chicken the same day?
Nope! Again, fresh is best but I've bought the chicken up to 2 days before and kept it in the fridge. I wouldn't keep it longer than that, but it does add to the convenience of the recipe that you can pick this up a day or two before.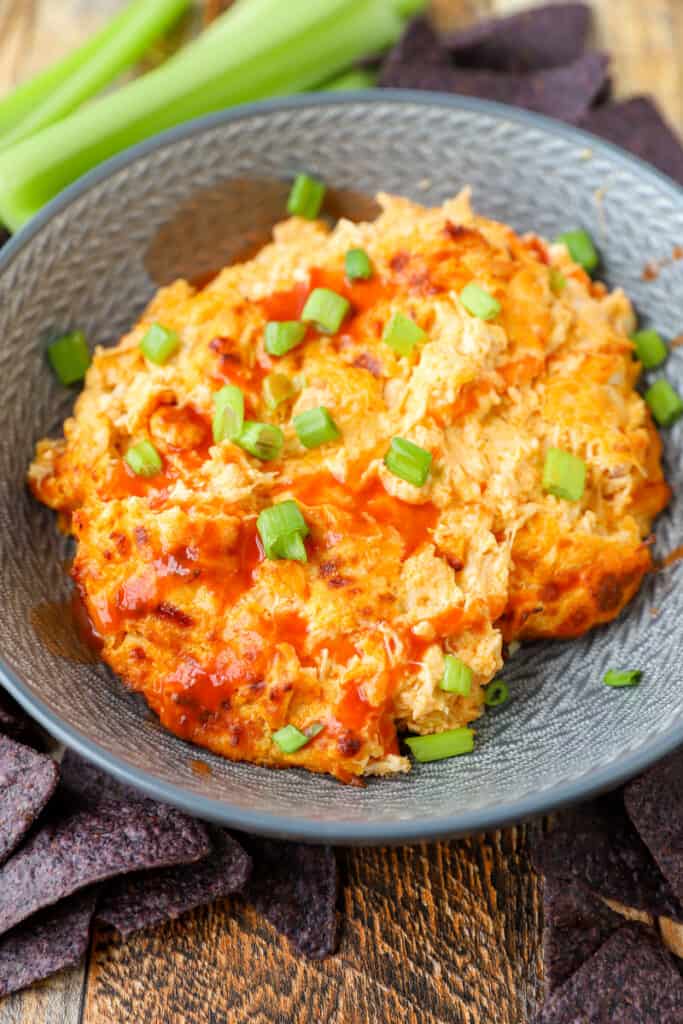 If this is your first time visiting my blog, let me say "Welcome!" Thanks for visiting, and I hope you're finding more recipes that are calling your name.
If you've been here before, nice to see you again! My goal is to make easy and inspired recipes that keep you coming back for more.
Looking for more recipes, cooking tips, and behind the scenes? Follow me on Instagram!
Print
Buffalo Chicken Dip
Buffalo chicken dip is a classic party dip! Use shredded rotisserie chicken to make this dip extra easy. Top with scallions, more hot sauce, and blue cheese if you'd like!
Author:
Prep Time:

15 minutes

Cook Time:

25 minutes

Total Time:

40 minutes

Category:

Appetizer

Method:

Baking

Cuisine:

American
2 and 1/2 cups shredded rotisserie chicken
8 ounce block of cream cheese, softened
8 ounce bag of shredded Mozzarella cheese
1/2 cup ranch dressing
1/3 cup hot sauce
1/2 teaspoon garlic powder
Optional toppings: scallions, blue cheese
Instructions
1. Preheat your oven to 375 degrees.
2. In a large mixing bowl, add the cream cheese and chicken and stir until blended together and there are no large clumps of the cream cheese. Add the ranch, hot sauce, garlic powder, and Mozzarella cheese. Stir until everything is well blended together.
3. Add to you baking dish, then bake for 20 minutes. Then, place under the broiler for about 1-2 minutes to make the cheese browned and bubbly.
Top with any extra toppings you'd like then enjoy!
Keywords: buffalo chicken dip