There are a few food items that just go hand in hand with watching a football game. Chips and French onion dip, burgers and hot dogs, and of course… Buffalo chicken wings.
Buffalo wing sauce and chicken is such a classic game day flavor combo and you can find countless recipes that are Buffalo chicken themed. So with that I give you my recipe for Buffalo Chicken Taquitos!
These oven baked chicken taquitos are crispy, spicy, and easy to make! Make these for your next game day food! In about 40 minutes you can have these taquitos ready to eat.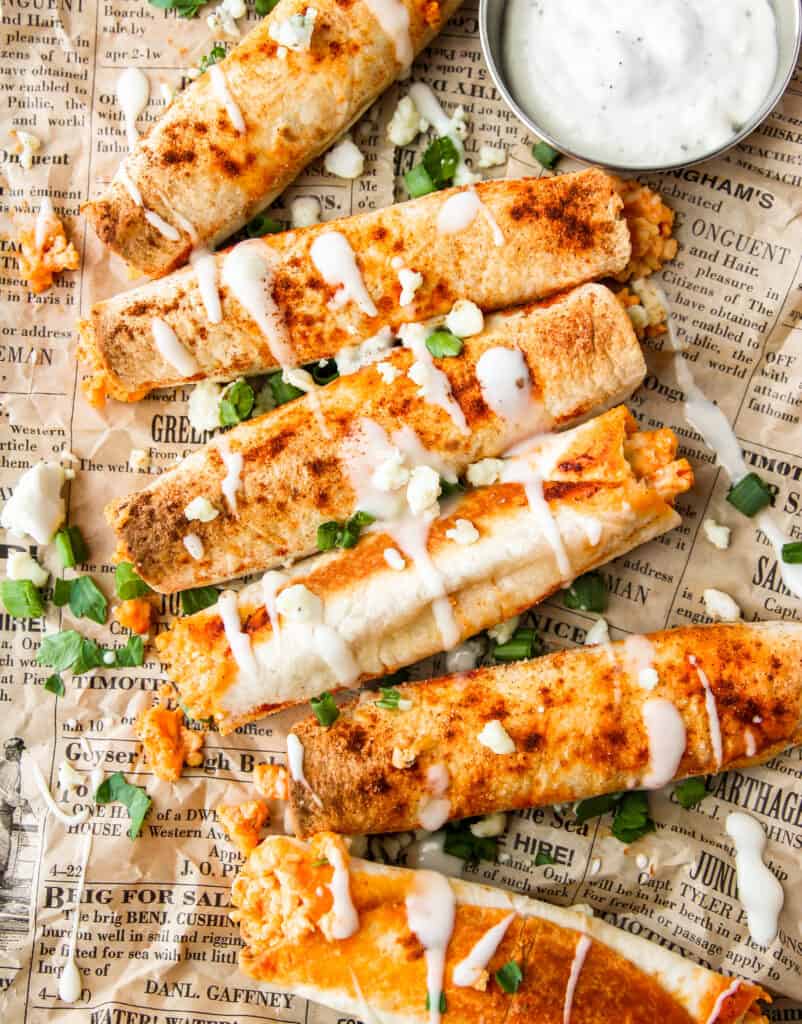 Random fact time, ever wonder how Buffalo sauce got it's name? I'll admit it, I did!
So it's not a reference to buffalos the animal, but to Buffalo, NY! A bar in Buffalo, NY is credited with serving the first Buffalo wing. If you like traveling to famous food spots add this one to your list! Check them out, they're called Anchor Bar. Go grab a Buffalo wing where it all began!
I love Buffalo chicken anything. So in addition to these Buffalo Chicken taquitos I also have these recipes you can check out!
Buffalo Chicken Meatballs let you enjoy all the flavors of a wing without the mess!
Buffalo Chicken Burgers are topped with crispy bacon and blue cheese sauce. Add these to your burger menu!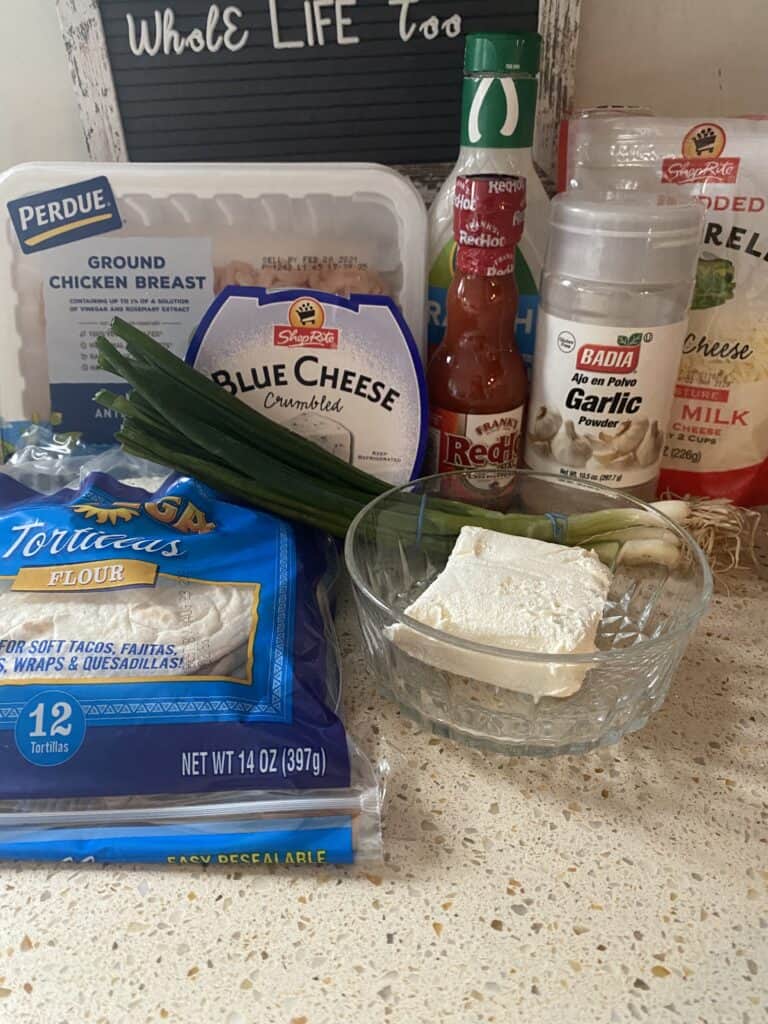 Let's talk about the recipe!
I chose to used ground chicken in this recipe for a few reasons!
First, even if I haven't just bought some ground chicken I usually have some in my freezer I can thaw out. So super convenient! Second, I think it makes an easy to eat chicken taquito! The ground chicken is breaks down into crumbles as you cook it which will give you a chicken flavor throughout the whole taquito. So here's what you'll need to make these:
Ingredients
Ground chicken
Scallions
Cream cheese
Hot sauce
Ranch dressing
Garlic powder
Crumbled blue cheese
Flour tortillas
Oil, salt, paprika
And for kitchen tools or supplies you'll need:
Large baking sheet and a medium pan
Bowl and spoons
Basting brush
Foil if you want to foil line your baking sheet for easy cleanup!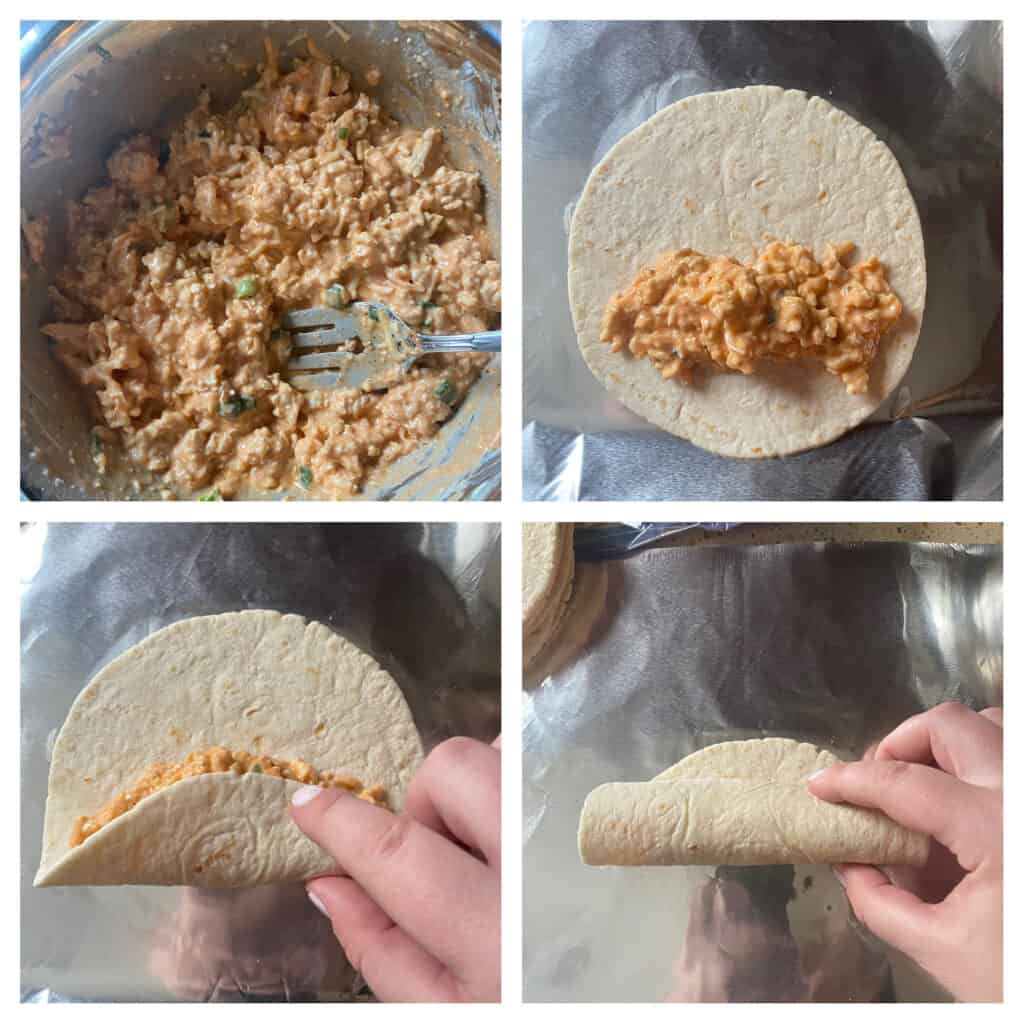 Cooking Tips
I use flour tortillas here. I find that flour tortillas crisp up better than corn tortillas in the oven!
This recipe will make 15-17 taquitos depending on how full you make them. If you want fewer taquitos, you can cut the recipe in half to make just how many you need.
Brush the taquitos with a little olive oil before baking to help them get crispy.
Make sure when you place them on the tray that the taquitos have space and they're not touching, so you may need to use two trays! If they are too close or touching the sides won't get as crispy and will stay kind of soft.
I like my taquitos CRISPY! I baked these at 425 degrees for 25 minutes.
Before baking them, sprinkle the rolled taquitos with a little salt, garlic power, and paprika for extra flavor.
If any of the mixture has spilled out of the taquito during baking, just use a fork or spoon and scoop it back in and push it in a bit before serving them.
Serve these with ranch or my favorite a blue cheese dipping sauce, I've included my recipe for a blue cheese dipping sauce below!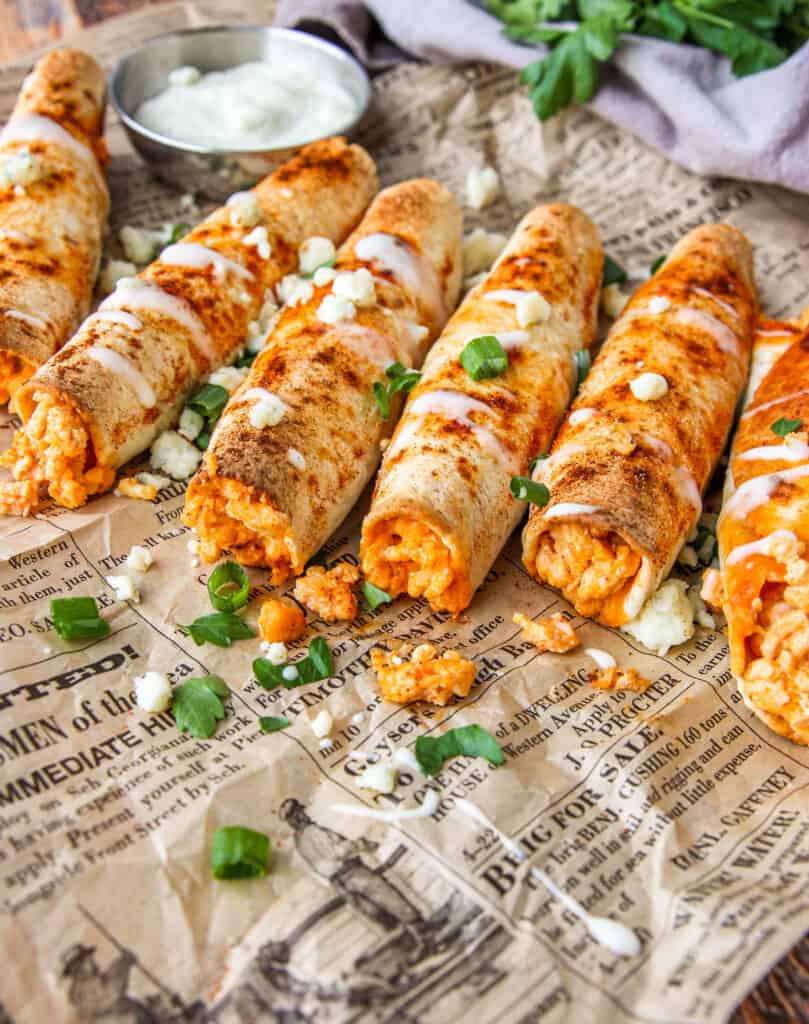 Are you here looking for more game day recipes? I've got you covered! Here are some more of my recipes that you can add to your game day menu:
Hot Taco Dip would be a crowd pleaser! All the flavors of tacos in a hot and cheesy dip!
Need quick and easy? Cream Cheese Salsa Dip only needs 5 ingredients, is inexpensive, and quick! Soften the cream cheese in the microwave and you only need about 10 minutes to make this cold dip.
Game day wouldn't quite be complete without some mac and cheese to go with those wings and burgers, right? I've got a recipe for an easy stove top mac and cheese that can be ready in 20 minutes, that includes the time to boil the water!
We all know fried Mozzarella…but let me introduce you to Fried Brie Bites. Little bites of buttery Brie cheese, fried, then serve with a raspberry dipping sauce. I promise these will disappear at your party, they are SO good!
Lastly, one of my most popular recipes is this Whipped Feta with Lemon. Cool, creamy, and easy. Everyone will love dipping crackers or pita into this!
If you make these Buffalo Chicken Taquitos let me know what you think!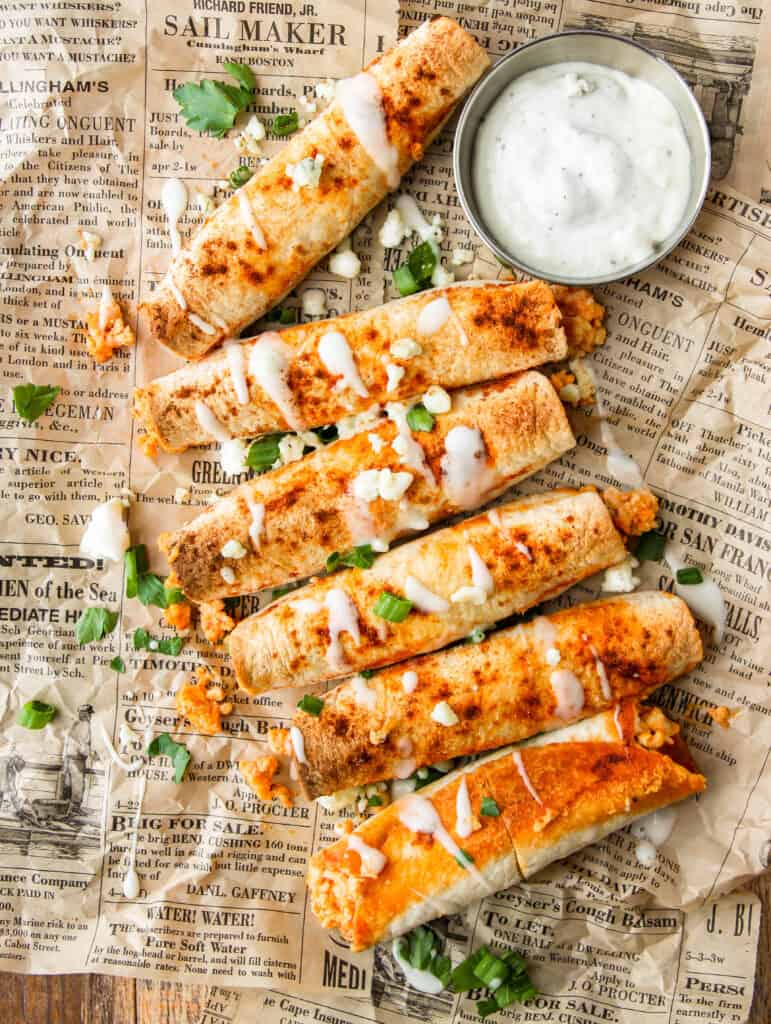 Print
Buffalo Chicken Taquitos
Buffalo chicken taquitos are a spicy and crispy snack! Made with hot sauce, ranch, and blue cheese then baked until crispy. Serve with a blue cheese dipping sauce or more ranch.
Author:
Prep Time:

10 minutes

Cook Time:

25 minutes

Total Time:

35 minutes

Yield:

15-17 taquitos

Category:

Appetizer

Method:

Baking

Cuisine:

American
1 pound ground chicken
3 scallions, diced (the green and the white part)
4 ounces softened cream cheese
1 teaspoon garlic powder
1/2 cup hot sauce
1/4 cup ranch dressing
1 cup shredded Mozzarella cheese
1/4 cup crumbled blue cheese
Salt and fresh cracked pepper
15-17 flour tortillas
For the Blue Cheese Dipping Sauce
3/4 cup crumbled blue cheese
1/2 cup half & half
3 teaspoons all purpose flour
4 teaspoons lemon juice
Fresh cracked pepper
Instructions
1. Preheat your oven to 425 degrees. In a medium pan over medium heat, add your ground chicken and cook until no longer pink and fully cooked. Use your spatula or large spoon to continuously breaking up the ground chicken into crumbles. If there is excess oil or water, drain so this doesn't make the taquito filling too wet.
2. In a large bowl, add the softened cream cheese, diced scallions, and crumbled blue cheese and stir to combine. Add in the cooked ground chicken and stir, then lastly add in the hot sauce, ranch, garlic powder, and Mozzarella cheese. Season with salt and pepper to taste. If you want it even spicier, add more hot sauce. 
3. Make the taquitos by laying your flour tortillas flat and adding a few tablespoons of the Buffalo chicken mixture inside. Roll the tortilla close then place seam side down on your baking sheet. See photos above. Repeat until you've used all the Buffalo chicken mixture. Make sure the taquitos are not touching on the baking sheet and have room between them. If they are too close the sides won't get as crispy as the tops. 
4. Brush the taquitos with a little olive oil making sure to get the tops as well as the sides. Sprinkle with a little salt, garlic powder, and paprika then bake for 25 minutes. Allow to cool a bit before serving. 
5.  Make the blue cheese sauce while the taquitos are baking. In a medium pot over medium heat, add the half & half and heat until you see a little steam coming off the cream. It doesn't need to be bubbling, you just want it hot enough to melt the cheese. Whisk in the flour, then add the blue cheese and lemon juice. Season with salt and pepper. Pour into a serving bowl and dip your taquitos!
Notes
Make sure the taquitos are not touching on the baking sheet so they get crispy all the way around. 
If some of the Buffalo chicken mixture spills out during baking, just use a spoon or fork and spoon it back into the taquito before serving. 
Keywords: buffalo chicken taquitos