Danishes are one of my favorite morning treats. Flaky dough, sweet fruit filling, and a smooth cream cheese base. And what danish is better than apple danishes!
Almost like a mini apple pie that's acceptable to eat at breakfast, these apple danishes are spiced with cinnamon and nutmeg, and sit on a creamy blend of vanilla cream cheese.
Puff pastry needs about 40 minutes to fully thaw before you can use it, so make sure you pull that out of the freezer first thing in the morning so it's ready when you're ready to whip these up!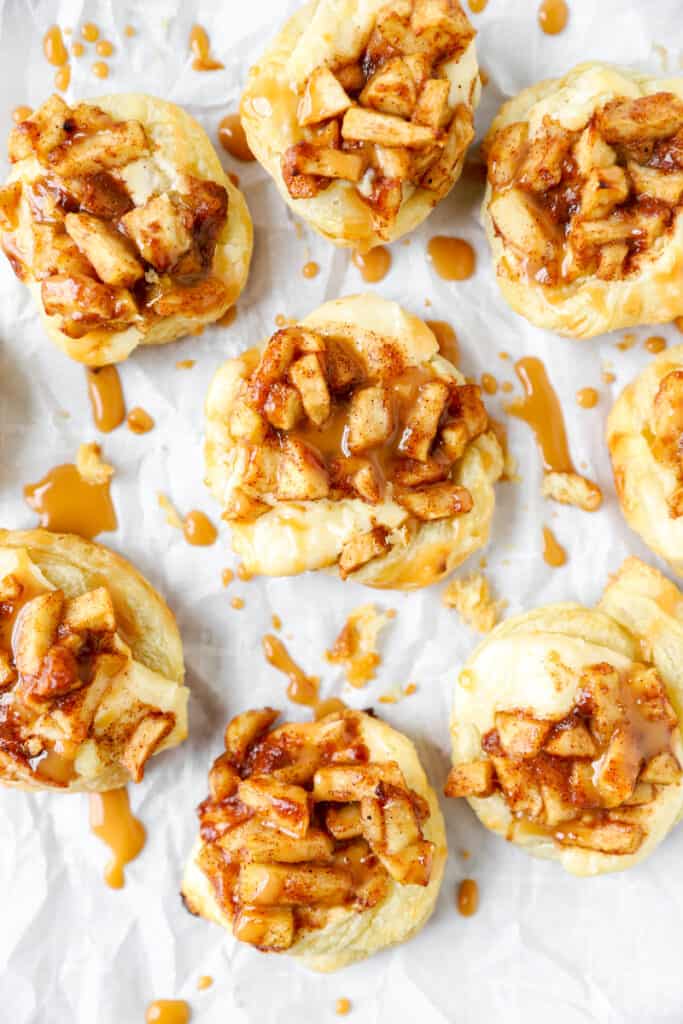 You'll be amazed with how easy it is to make danishes! I've included some step by step photos below so you can see exactly how to make these adorable swirled apple danishes! But first, let's go over what you need!
Ingredients
Apples. It's best to have apples that are crisp, so I use Granny Smith apples just like I do for apple pie! Granny Smith will keep their texture and not get too soft or mushy during baking.
Puff pastry. You'll need one sheet. Keep in mind, it takes about 40 minutes to thaw out. So plan ahead and pull the sheet out of the freezer first thing in the morning so it's ready to use when you're ready to whip up these danishes!
Cinnamon and nutmeg. For perfectly spiced apples!
Butter and flour. You'll add these to the pot with the apples. The flour will help the mixture thicken to reduce the amount of juice.
Cream cheese, powdered sugar, and vanilla extract. These mix together to make the vanilla cream cheese. Make sure the cream cheese is softened before trying to mix everything together. If it's no softened you can end up with a clump mixture.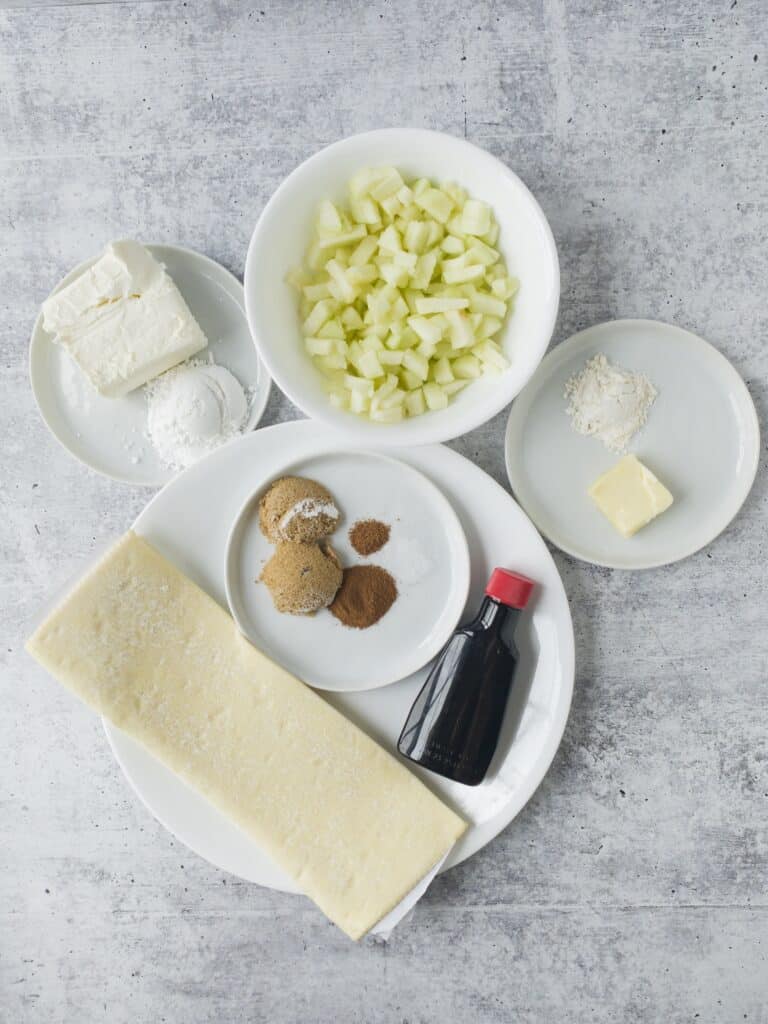 How to make danishes with puff pastry
I love using puff pastry for danishes. It adds an extra little flakiness a lightness, these definitely aren't heavy doughy danish! I included the photos below to help you make these perfectly! It's definitely a technique that's easier to show than to explain! Let's get started.
Measure the puff pastry
First, unfold the sheet of puff pastry onto your clean counter. Using a tape measure, mark off strips just under 1″ wide.
Slice into strips
Next, using a pizza cutter slice the strips. I was able to get 14 strips from me sheet, but if you get 13 that's ok too. You'd rather have fewer strips than more. If you cut more than 14 strips they will be too thin and you won't be able to roll the danish shape big enough.
Twirl corkscrews
Now, take each strip and twirl it into a corkscrew.
Make the danishes
Last step! Take each corkscrew and spin into into a circular danish shape. Make sure that you tuck the end underneath the danish so it doesn't unravel when it's baking and also make sure the edges are a little higher than the center so that you'll have a little well to place the vanilla cream cheese and apple filling. Press the center down a bit to help form the well.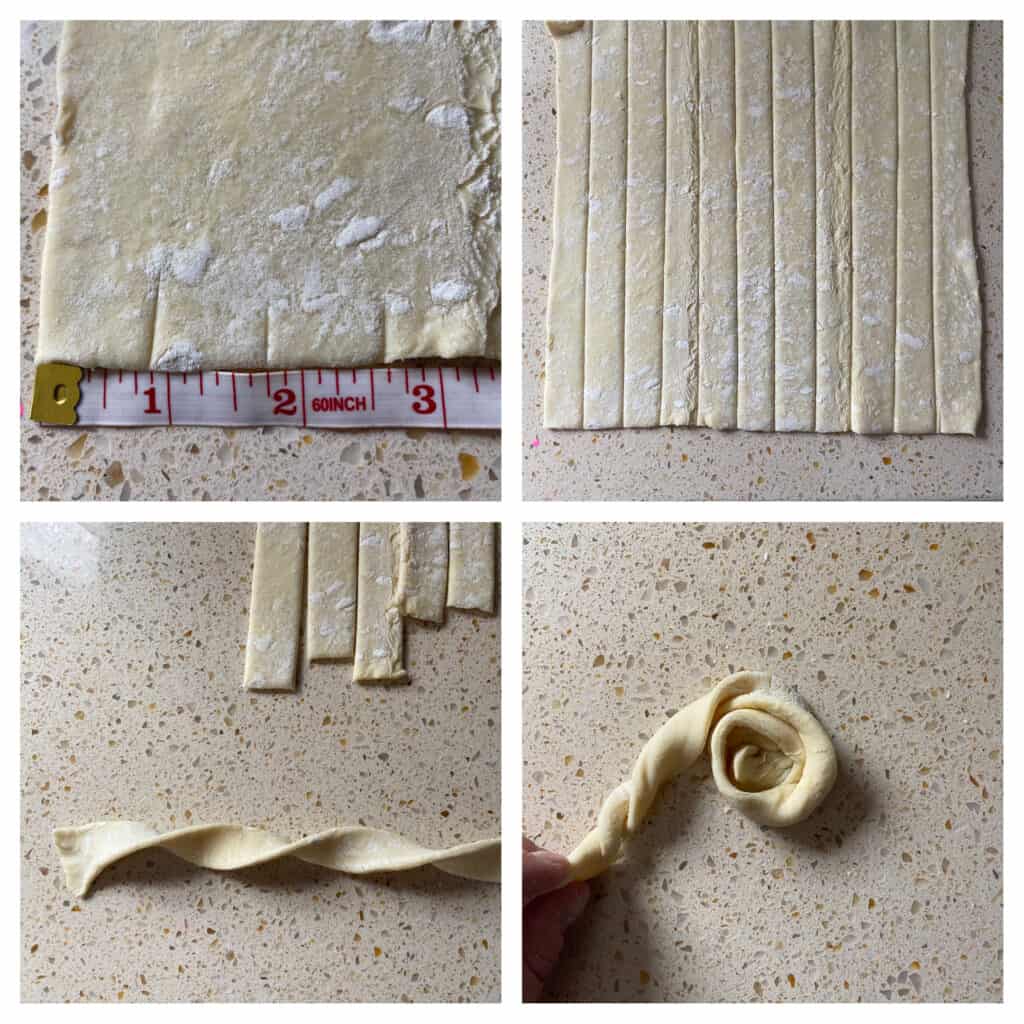 When you're all done they should look just like this!
See how the end of the puff pastry strip is tucked underneath? That way as they bake it won't pufff out the side and start to unravel.
And also notice how the edges are high, and the center is lower with a little area that the cream cheese and apples can sit in.
Now you're going to bake these for 5 minutes before you fill them. Prebaking them helps the center cook evenly so it doesn't stay too doughy once you add the fillings!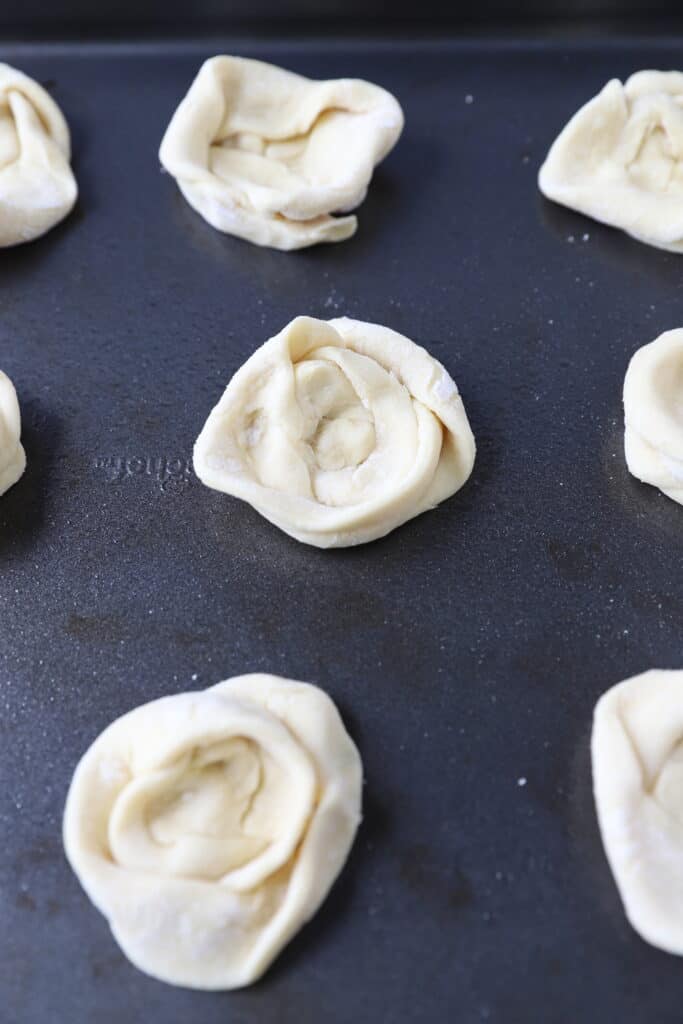 After the puff pastry danishes have pre-baked, you'll add some of the vanilla cream cheese, then top with some of the cinnamon spiced apples.
Bake again for 15 minutes!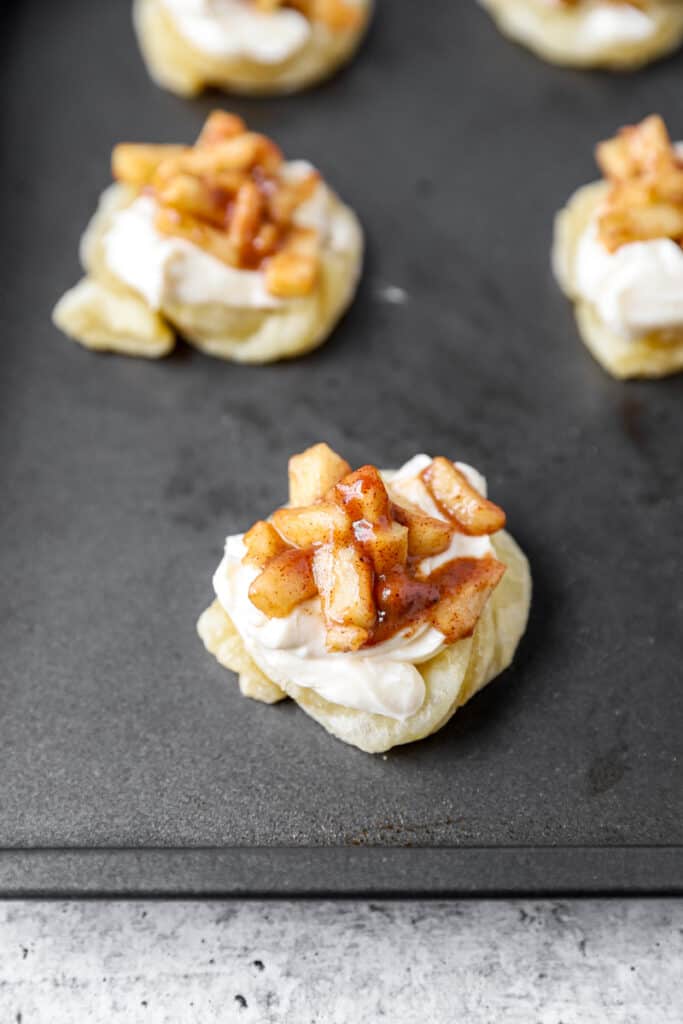 Baking tips
Since puff pastry takes about 40 minutes to thaw, you'll want to plan ahead so you take it out of the freezer with enough time to thaw!
There's no perfect way to form the mini danishes. The most important part is to tuck the loose end underneath the pastry, and to make sure the edges are higher than the center. Other than that there's not need for perfection here.
I like to use Granny Smith apples because they're firm and won't get too soft when they bake. That being said, use whatever apples you like the most!
Cinnamon and nutmeg was the perfect combination for me. I tested a version where I added cloves too and it wasn't a hit.
The recipe calls for pre-baking the danishes for 5 minutes before you add the cream cheese filling and the cooked apples. This helps the center puff pastry cook so it doesn't stay too soft and doughy.
You can add a drizzle of caramel sauce before serving if you'd like!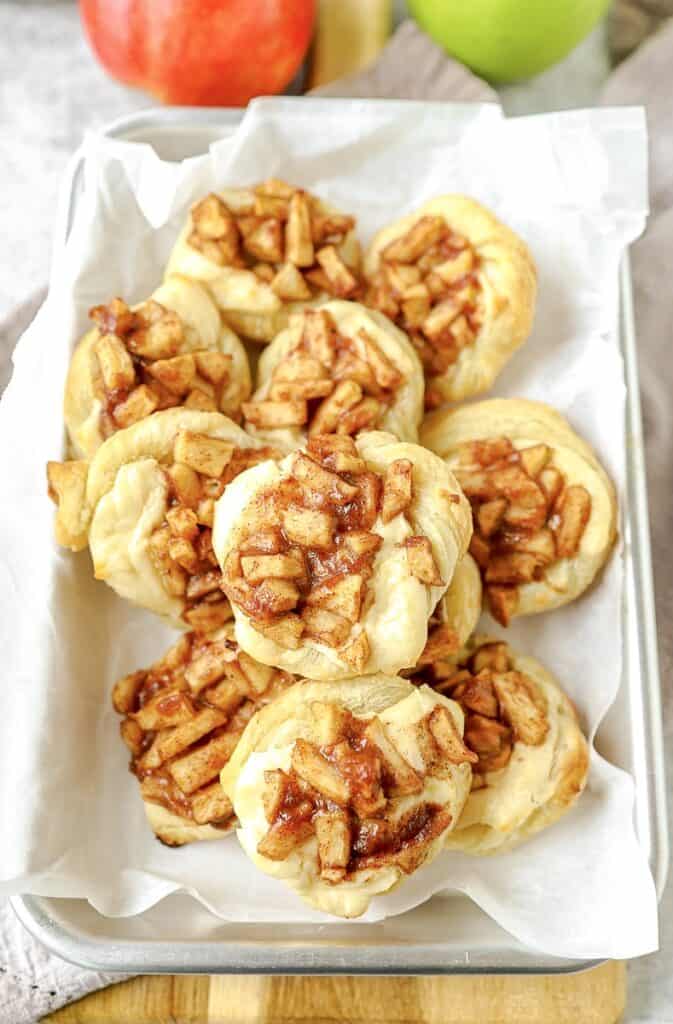 Planning a brunch? Check out some of my other breakfast and brunch recipes!
I love a good scone for brunch! I've got a few of my best scones that would look beautiful on a brunch spread!
Lemon Blueberry Scones, Copycat Panera Orange Scones, and Raspberry White Chocolate Scones are all easy and delicious!
Blueberry Amaretto Danishes are another beautiful danish that uses puff pastry! If you're a blueberry fan, add some Blueberry Compound Butter to morning biscuits.
Pumpkin Pancakes are a warm spiced pancake that can be eaten any season, and Walnut Granola takes boring yogurt and makes it perfectly crunchy!
The best side dish for brunch? Definitely Sweet Potato Home Fries!
Maybe you're in the mood for something a little new and different? Chorizo Shakshuka puts a spicy spin on shakshuka and Mangu is a Dominican dish of mashed plantains that's typically served with fried cheese and dried salami.
Last, let's finish off with something to drink! I've got Peach Mimosas or a fun breakfast shot that tastes like French Toast.
Print
Apple Danishes
Bakery quality apple danishes right from your oven! Filled with cinnamon and nutmeg spiced apples and a vanilla cream cheese. Puff pastry makes these deliciously flaky!
Author:
Prep Time:

40 minutes

Cook Time:

20 minutes

Total Time:

1 hour

Yield:

14 danishes

Category:

Breakfast

Method:

Baking

Cuisine:

American
1 puff pastry sheet, thawed (takes about 40 minutes to thaw)
1 cup diced Granny Smith apples (about 1 large apple, or 2 small apples)
1 tablespoon butter
1/2 tablespoon flour
2 tablespoons dark brown sugar
1/2 teaspoon cinnamon
1/8 teaspoon nutmeg
1/8 teaspoon salt
For the vanilla cream cheese
4 ounces cream cheese, softened
2 tablespoons powdered sugar
1 and 1/2 teaspoons vanilla extract
Instructions
1. Preheat your oven to 400 degrees. Begin to prep your puff pastry sheet into the strips for the mini danishes. See photos above for step by step tutorial! First cut strips slightly less than 1″ wide. I was able to cut 14 strips. Twirl each strip into a corkscrew. To make the mini danish, take one corkscrew and form into a circle, making sure to tuck the end of the strip underneath the danish and making sure the edges are slightly higher than the center to create a well in the middle. Place on the baking sheet and repeat with the remainder of the strips.
2. Bake the danishes (without any filling) for 5 minutes.
3. While the danishes are prebaking, make the apple filling. In a medium pot, melt the butter. Add the small diced apples and stir til they are coated in the butter.  In a small bowl, combine the flour, brown sugar, cinnamon and nutmeg then add to the apples and stir to coat. Cook on medium low for 5 minutes.
4. Make the vanilla cream cheese by combine the softened cream cheese, powdered sugar, and vanilla. Set aside until you're ready to assemble the danishes.
5. Fill the prebaked danishes with some of the vanilla cream cheese, then top with the apple mixture. Bake the danishes for 15 minutes.
Enjoy! You can add a drizzle of caramel sauce if you'd like!
Notes
Please refer to the photos in the post for instructions on how to make the danish swirls from the puff pastry strips.