Breakfast is about to get a little better with with these breakfast sweet potatoes. In my humble opinion, sweet potato home fries are way better than your typical breakfast potato. And, they have such a warm and slightly sweet flavor, and pair that with sauteed white onion and red peppers you've got yourself the breakfast side dish that became the star.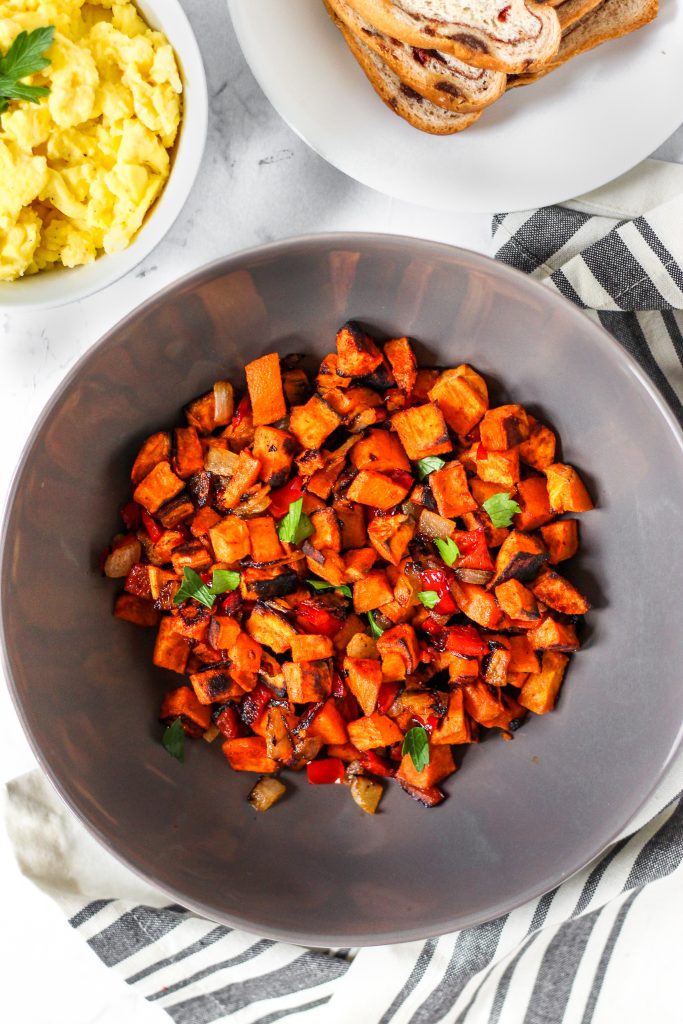 I think the sweet potato is an over looked item when it comes to brunch and breakfast. What probably comes to mind first is that typical Thanksgiving side dish of mashed sweet potatoes with the marshmallow topping, maybe sweet potato fries or chips.
But they belong on the breakfast table too! They have an extra depth of warm flavor that you just won't get in baking potatoes! There's an extra layer of savory, a little more dense texture and that little hint of sweetness. Once you have these breakfast sweet potatoes you won't want to have baking potato home fries again!
The ingredients you'll need
The great thing about this recipe is all the ingredients are pretty basic! You'll need:
4 Sweet Potatoes
Olive Oil
Paprika
Garlic Powder
Salt
1 White Onion
1 Red Pepper
Pretty easy, right? Grab these during the week on a grocery run so you have them for the weekend when you're ready to whip up a hearty brunch!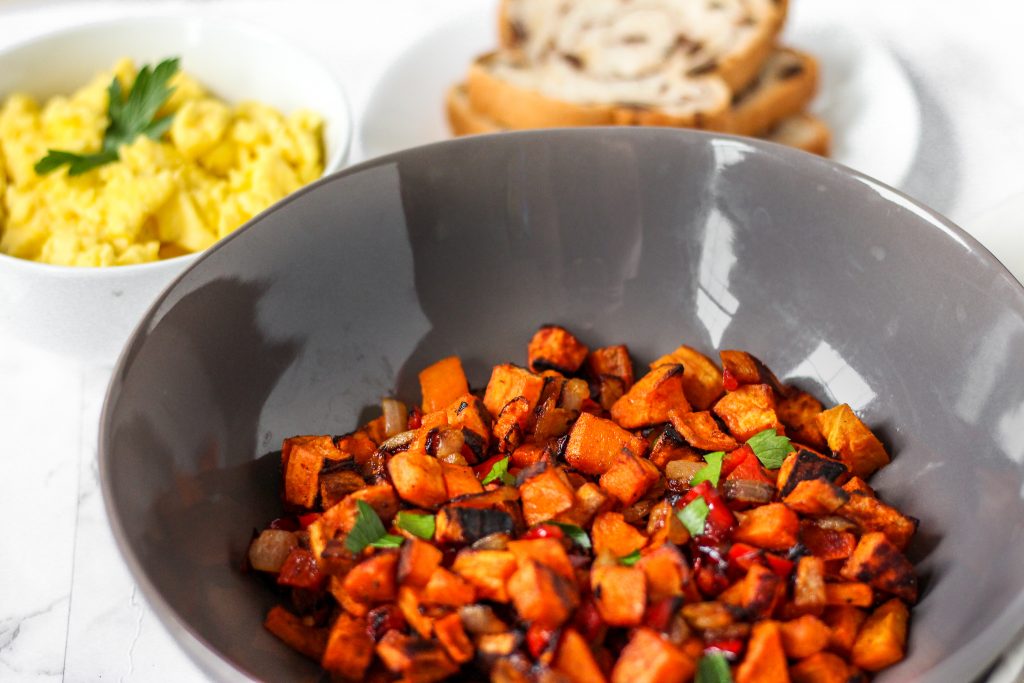 I've gone on and on about the flavor of these and why these are going to change your breakfast potato game. But can we talk about this color??
Ok let's talk about it. This COLOR! I mean, that's a POP of color on your breakfast table and I'm all about that. Vibrantly orange sweet potatoes, sunny scrambled eggs, rich toast…this is the tablescape I want to wake up to on the weekend. How about you?
Planning a weekend brunch? I have a few other recipes you should check out to add to the menu!
Copycat Panera Orange Scones
Brunch Shots
Iced Caramel Latte
Or, check out the breakfast category of the website for all my breakfast recipes!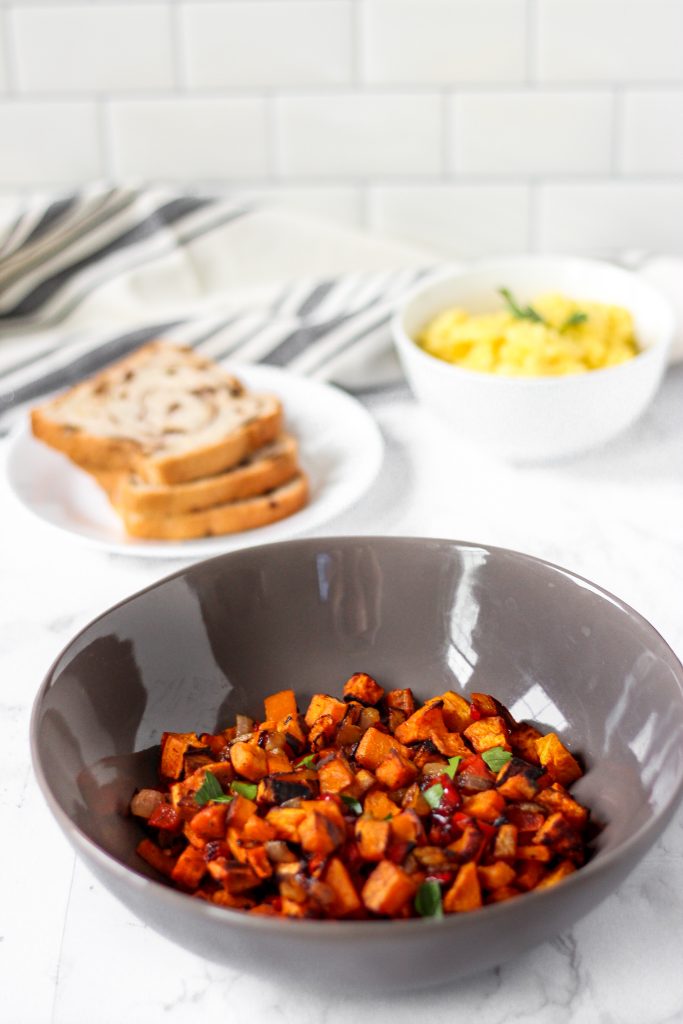 Print
Sweet Potato Home Fries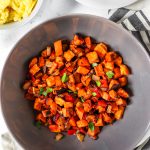 Sweet Potato Home Fries is a welcomed twist on traditional home fries. The roasted Sweet potatoes have a warm and sweet flavor and the sauteed peppers and onions add a robust taste to the finished recipe. An easy breakfast side dish the whole family will love!
-4 sweet potatoes, peeled and diced (try not to go too small or they will burn)
-2 tablespoons of olive oil
-1 teaspoon paprika
-1/4 teaspoon garlic powder
-1/4 teaspoon salt
-1/2 cup diced white onion
-1/2 cup diced red bell pepper
Instructions
1.Heat your oven to 450 degrees. In a bowl combine the diced sweet potatoes, 1 tablespoon of the olive oil, paprika, garlic powder and salt. Spread into an even layer on a baking sheet and bake for 28-30 minutes. About half way through baking, using a large spoon or spatula give them a stir so they don't burn on one side.
2. While the potatoes are baking, heat the other 1 tablespoon of the olive oil in a saute pan and add the onions and peppers. Saute on medium-high heat for 10-15 minutes until they softened and get slightly browned. Don't over stir, you want them to get nice and browned on all sides so let them sit for a bit each time before stirring again.
3. When the potatoes are done, add them into the peppers & onions pan and stir combine everything together. Serve with eggs.