Pumpkin Pancakes are the best breakfast for any weekend morning, and not just in the Fall! These pancakes are a spiced blend of cinnamon, nutmeg, allspice and pure pumpkin in a fluffy pancake.
These pancakes are not overly sweet like pumpkin pie. They're spiced with all the perfect warm spices you'd expect from pumpkin spice, and just a little hint of sweet from brown sugar and molasses. But the real sweet is added with a nice drizzle of real maple syrup.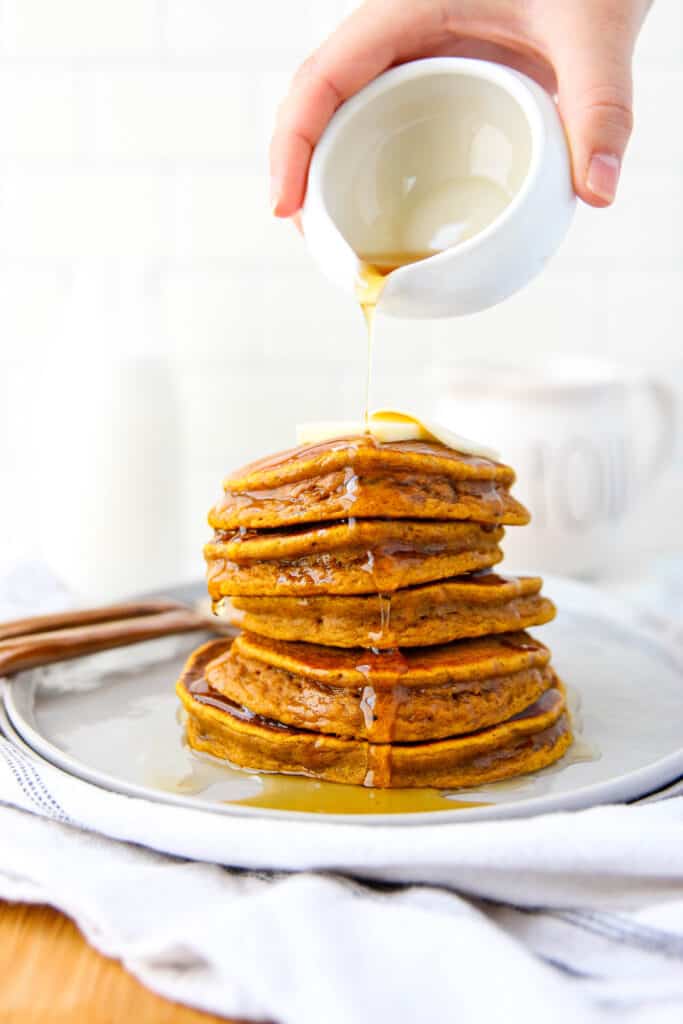 These will become your new family favorite pancake. And, these are kid approved…my toddler loves these just as much as we do!
Just look at the gorgeous stack of deep orange pancakes and how the maple syrup cascades down the sides. Now this is a plate of pancakes I'd love to wake up to!
And, they're so easy! Just mix the dry ingredients, mix the wet ingredients, combine them together and then start making pancakes!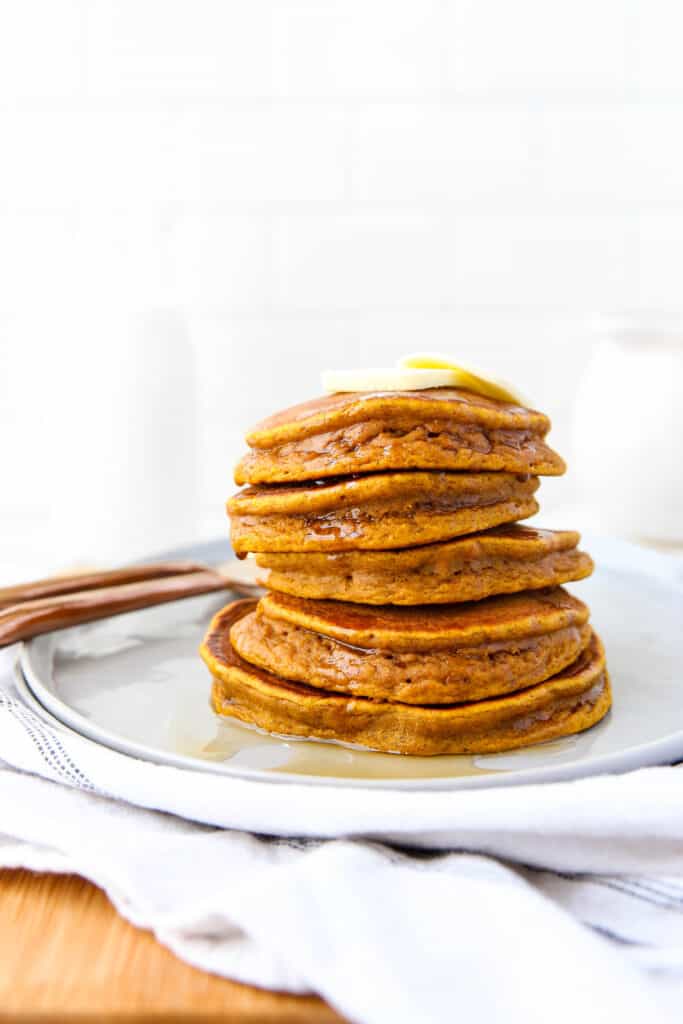 How to make pumpkin pancakes
These really are so easy and no more complicated than making traditional breakfast pancakes. The only difference here is you're adding some pumpkin puree and all of those deliciously warm pumpkin spices.
Combine the dry ingredients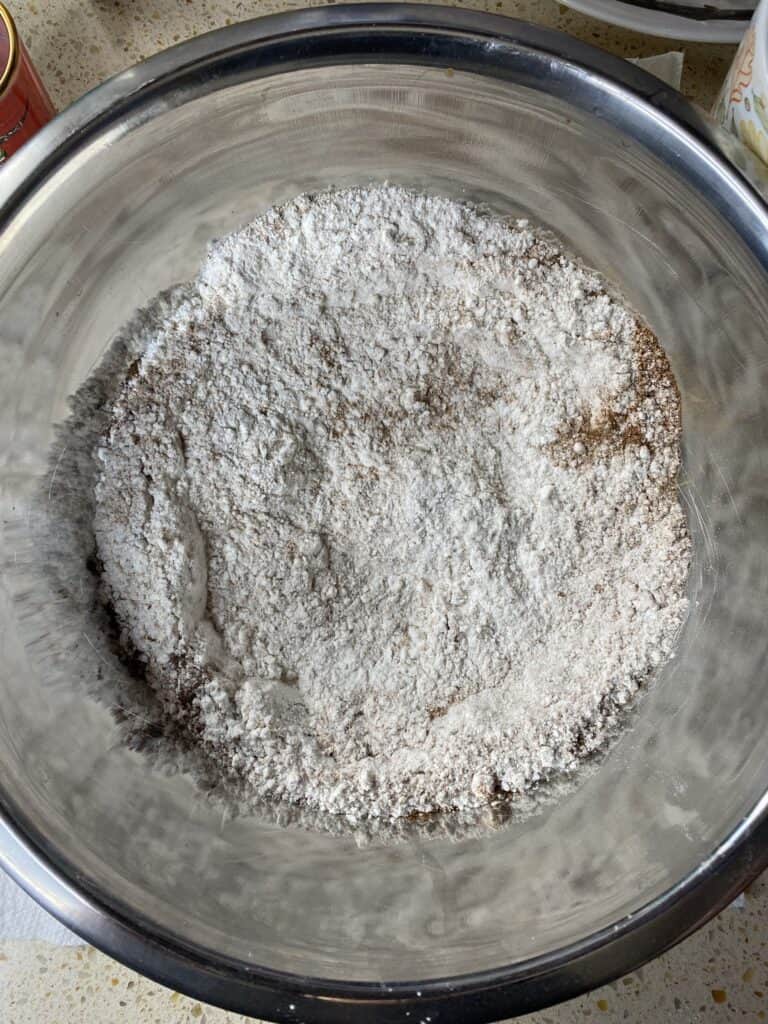 Combine the wet ingredients
The only thing to note here is that the brown sugar goes into the wet ingredients, not the dry! I've found that if I mix it into the dry it can stay a little too clumpy. But if I add it into this step with the wet ingredients it blends in perfectly!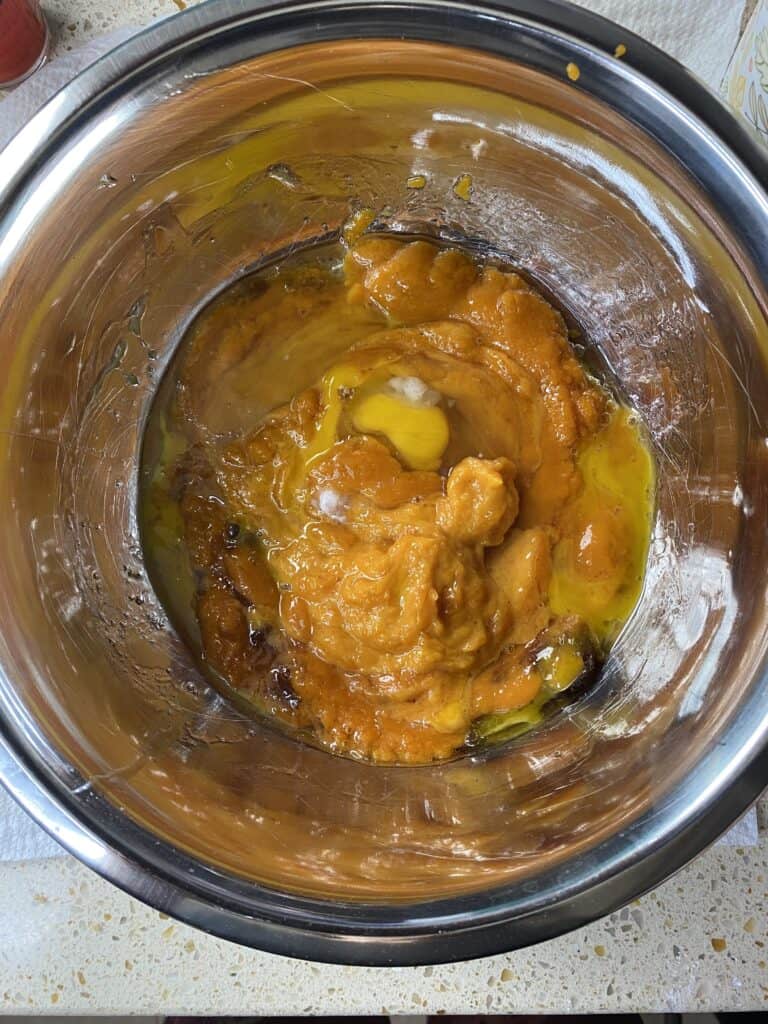 Combine the wet and dry
Now just add all of the wet ingredients into the dry and mix well to combine everything and you've got your pumpkin pancake batter!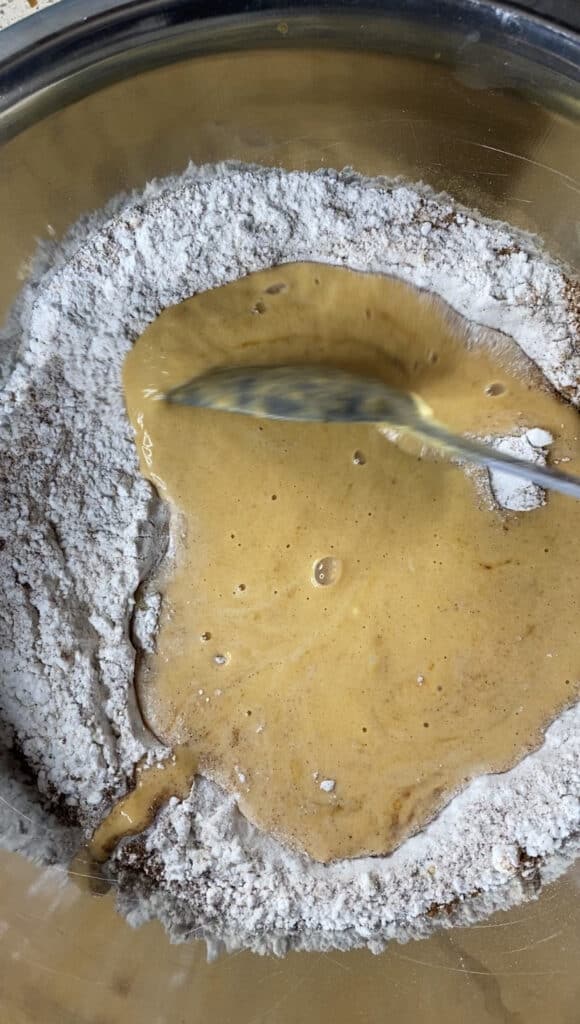 Make the pancakes
I like to cook the pancakes for 2 minutes on the first side, flip then cook an additional 2:45 – 3 minutes!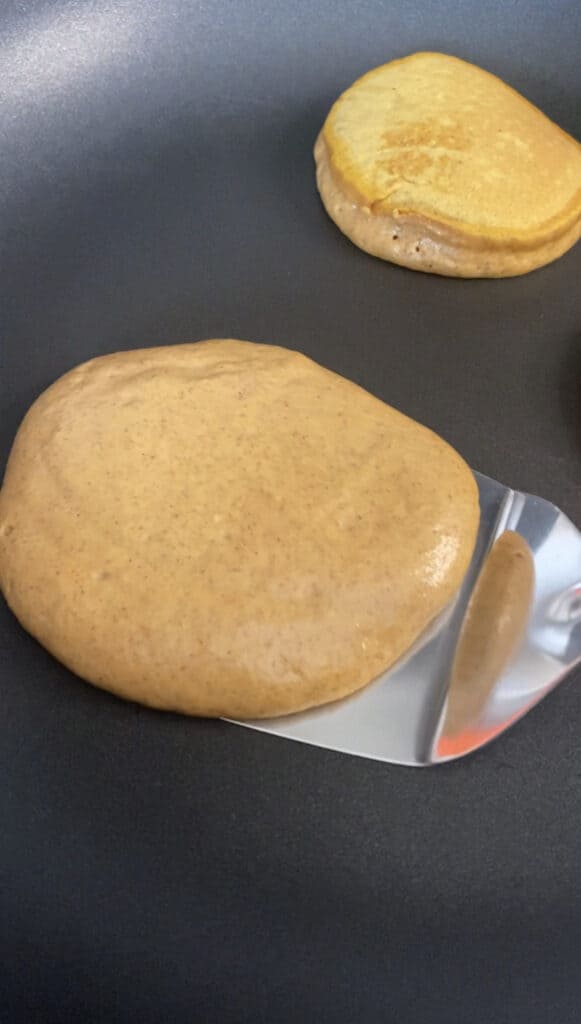 Don't wait until the Fall to make these, make them this weekend!
That's right, even it's 90 degrees, or a cool spring morning. You don't need to wait September, October, or November. And once you make them, you'll see why I make them all the time!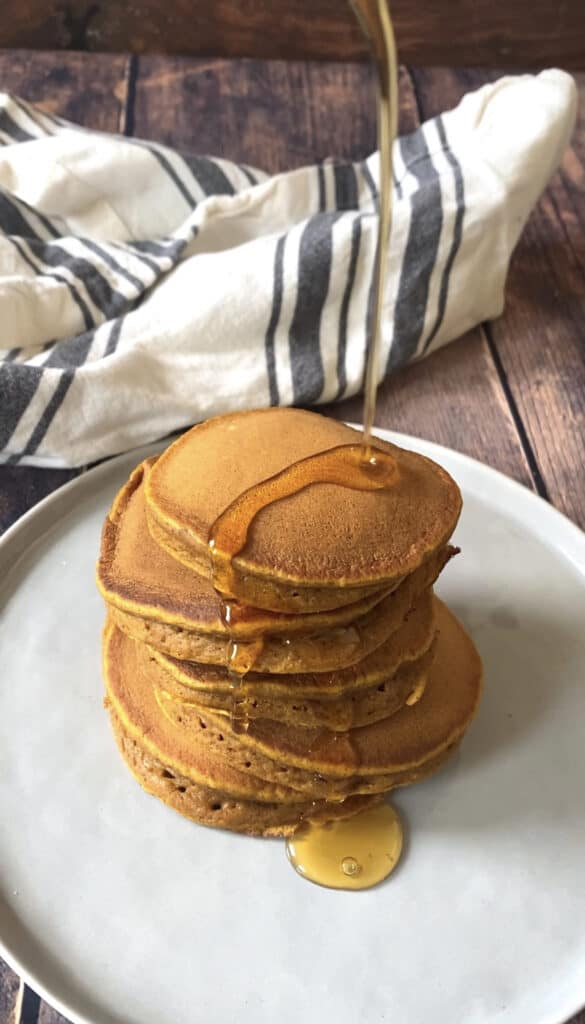 Cooking Tips
Make sure you use pure pumpkin, not pumpkin pie mix that looks like this. They aren't the same thing, and you want the puree.
I add the brown sugar to to the wet ingredients instead of the dry. I've found that if I add it to the dry mix you can get lumps, and no one wants lumpy pancakes!
These aren't not supposed to be too sweet. This isn't like pumpkin bread or pumpkin pie. There's just enough sweet from the sugars and molasses, and the the maple syrup you add is the kick of sweet for the perfect bite!
I cook my pancakes between 1:45 – 2 minutes on the first side, then 2:45 – 3 minutes on the other side. Check the first batch of pancakes and make sure they are fully cooked and adjust heat as needed.
Want more pumpkin in your life? Molasses Pumpkin Muffins are a soft bakery worthy muffin. And did you know you can add pumpkin into dinner? Try this Pumpkin Cream Sauce Pasta
How about some more breakfast baked treats. Scones are one of my favorite breakfast baked good! Try any of these and see which you like the best!
Raspberry White Chocolate Scones
Lemon Blueberry Scones
Copycat Panera Orange Scones
How about some of the easiest breads recipes EVER? Soda breads are so easy!
Cinnamon Raisin Soda Bread
Irish Soda Bread
Orange Cranberry Soda Bread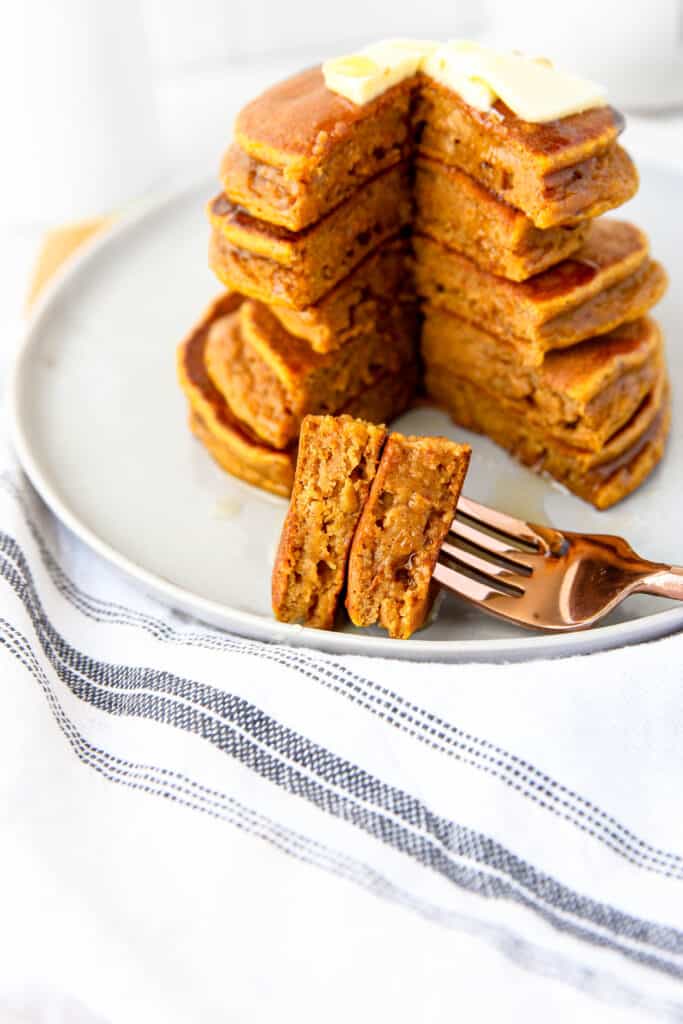 Did you make these? Let me know what you thought in the comments!
Print
Pumpkin Pancakes
Pumpkin Pancakes are a warm and comforting way to start any morning, and not just in the Fall! A blend of sugar and spices, these have the perfect amount of pumpkin slice flavor in a pillowy pancake!
Author:
Prep Time:

10 minutes

Cook Time:

5 minutes per pancake

Total Time:

34 minute

Yield:

About 12 pancakes

Category:

Breakfast

Method:

Saute

Cuisine:

American
1 and 1/2 cups all-purpose flour
2 teaspoons baking powder
2 tablespoons brown sugar
2 tablespoons white sugar
3 teaspoons cinnamon
2 teaspoons allspice
1 and 1/4 teaspoons salt
1/4 teaspoon nutmeg
1 cup half & half
1 cup pumpkin puree
2 tablespoons vegetable oil
2 eggs
3 teaspoons molasses
1 teaspoon vanilla extract
Instructions
Mix 1 and 1/2 cups of all purpose flour with 2 tablespoons white sugar, 2 teaspoons baking powder, 3 teaspoons cinnamon, 2 teaspoons allspice, 1/4 teaspoon of nutmeg, and 1 and 1/4 teaspoons salt. Whisk so everything is combined.
In another bowl, combine the 1 cup of pumpkin puree, 2 tablespoons of brown sugar, 2 tablespoons vegetable oil, 2 eggs, 3 teaspoons of molasses, and the 1 teaspoon of vanilla extract.
Add the pumpkin batter to the dry ingredients and stir until everything is combined.
To cook the pancakes, heat a large non-stick pan over medium heat. Pour the batter to form pancakes, about 1/3 cup is what I use for the pancake size. Cook the first side about 1:45 – 2 minutes, until the edges of the pancake have cooked and the top of the batter has air bubbles. Use your spatula to check underneath to be sure they are done, you want them lightly browned. Flip and cook an additional 2:45 – 3 minutes until the center has fully cooked. 
Keywords: pumpkin pancakes