There are certain foods that come to mind when you say 'comfort food'. Baked Macaroni and Cheese is definitely at the top of my comfort foods list.
And the best part is, a baked macaroni and cheese is so easy to make! Whip up a velvety cheese sauce, add your cooked macaroni, then top with this smoked paprika and garlic Panko bread crumb topping and bake! Perfect as a side dish, or make this the main meal for dinner!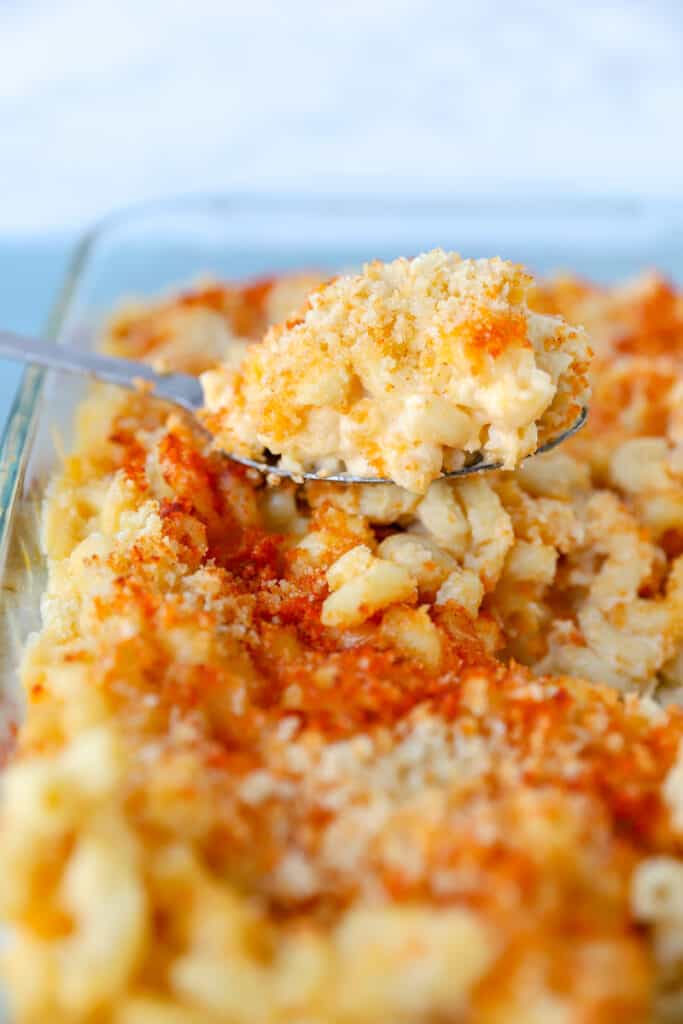 Getting the right cream sauce consistency
I'm going to give you the most important thing you need to keep in mind when making a macaroni and cheese sauce.
Make sure the cream sauce base has thickened before adding the grated cheese!
Trust me, this is really important here. If you add the cheese too early and don't let the sauce thicken up enough you're going to end up with a baked mac and cheese that's kind of thin. And we definitely don't want thin, we want a creamy and hearty cheese sauce coating every single noodle!
For me I had to cook the cream sauce over medium heat for about 5 minutes until it got to just the right consistency. It should be thick like that of canned condensed soup, and completely coat the back of your spoon.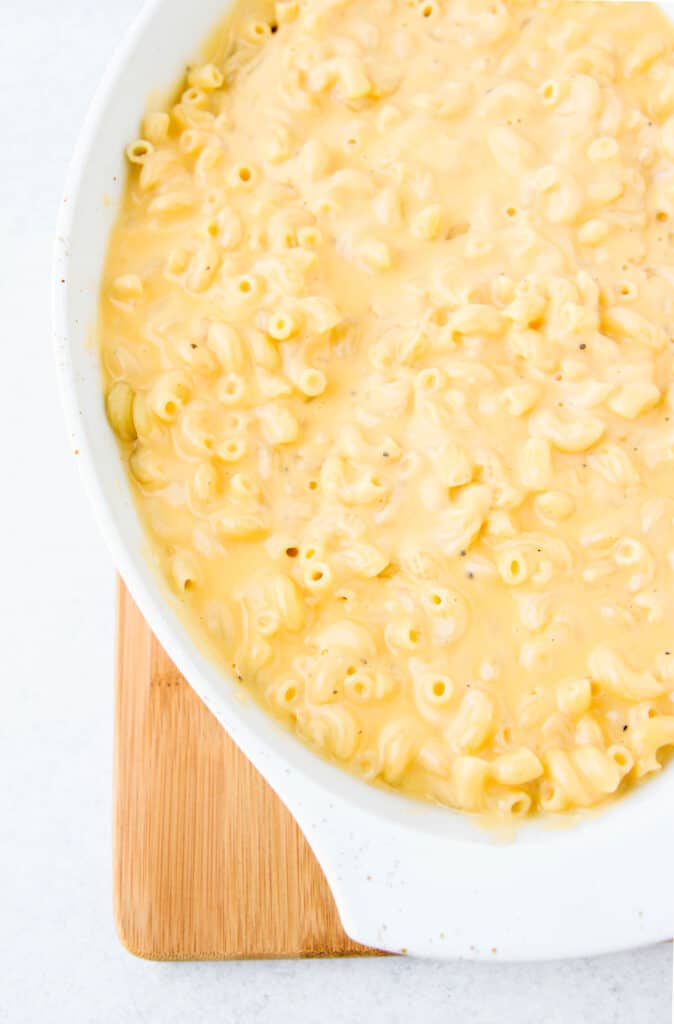 What to serve with baked mac and cheese
Well first let me say, baked mac and cheese is a meal in itself for me. I'll happily sit down to a big plate of this with no sides necessary. But, if you wound to round this out for a bigger fuller meal here are a few recommendations!
Easy Baked BBQ Chicken
Toasted Almond and Lemon Green Beans
Spinach Strawberry and Goat Cheese Salad
Blue Cheese Hot Dogs
BBQ Chicken Burgers
Nothing better than some oven baked BBQ chicken, a bright green veggie, and this comforting baked mac and cheese!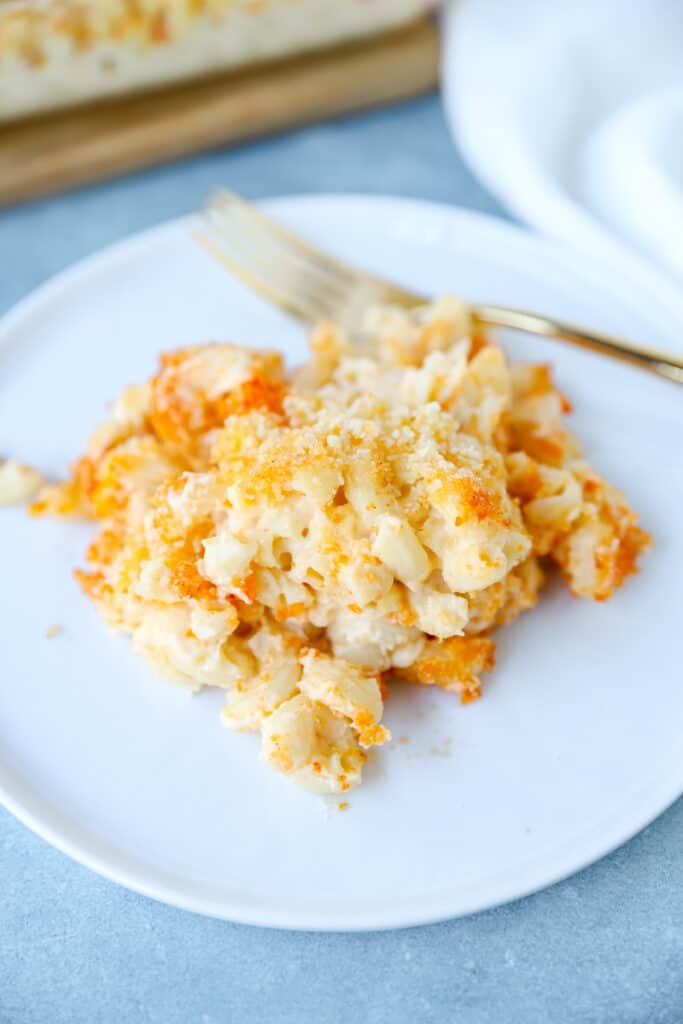 Cooking tips and FAQ
What type of Cheddar cheese should I use?
I always like to use a sharp Cheddar or even an extra sharp Cheddar. In my opinion, anything less just doesn't have that strong cheese flavor I want in a macaroni and cheese.

Can I use packaged shredded cheese?
I really recommend buying the blocks of Cheddar cheese and doing the grating yourself. First, the packaged cheese will have an anti-caking agent which means it might not melt as smoothly into the cream sauce as you'd like. Second, block cheeses have way more varieties so you can really have fun with this and find the Cheddar cheese you like the most! I use a box grater like this one for my grating!

Can I make this ahead of time?
Here's the thing, mac and cheese is amazing if it's eaten soon after you make it. Once you've chilled it in the fridge and reheated it, it's just not going to be the same and going to lose a lot of that creaminess to the sauce. So this dish best made right before you want to serve it.
What can I eat with the macaroni and cheese?
You can serve this with green veggie sides like green beans, zucchini, or a Caesar or garden salad. Or of course, this is the perfect side dish at any cook out!

Can I add anything to the macaroni and cheese?
You can have fun with this recipe and make it your own! Add cooked bacon, peppers, other cheese, peas, or other veggies! There's no rules here.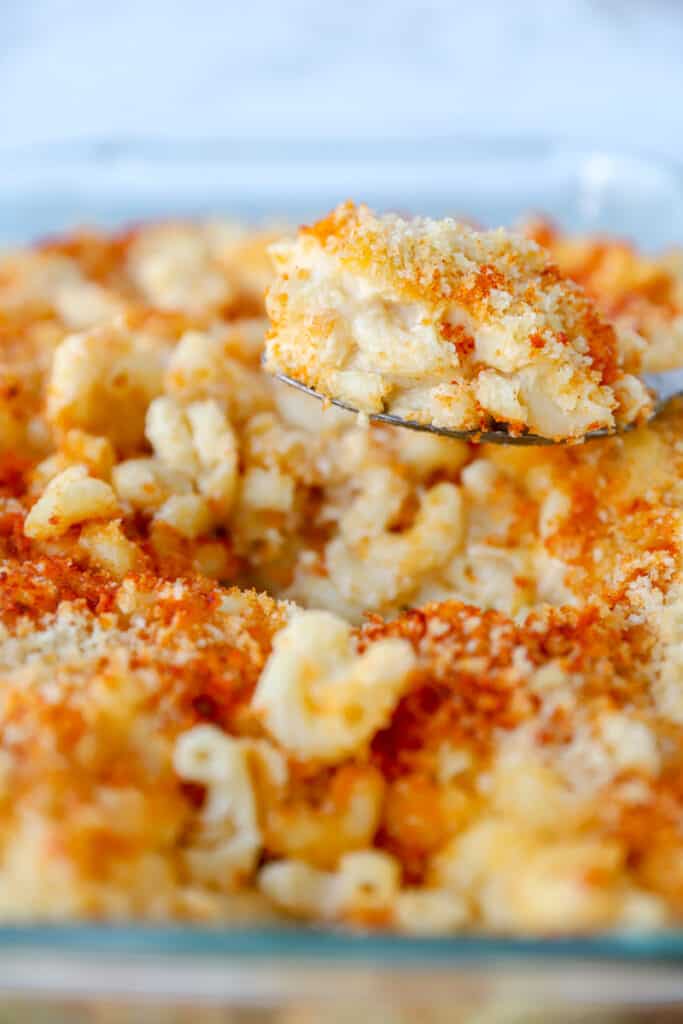 Do you like a good mac and cheese recipe? Well, I've got a few more you can check out!
Cajun Seasoned Mac and Cheese
Stove Top Mac and Cheese
Beer Cheese Mac and Cheese.
Print
Easy Baked Macaroni and Cheese
Easy baked macaroni and cheese is a classic comfort food perfect for adults and kids! Super cheesy with a crispy baked Panko crumbs on top. Make this a new family favorite!
Author:
Prep Time:

20 minutes

Cook Time:

20 minutes

Total Time:

40 minutes

Yield:

9×13 casserole

Category:

Main Dish

Method:

Saute

Cuisine:

American
2 and 1/2 cups uncooked elbow noodle pasta
2 8oz blocks sharp Cheddar cheese, grated (you'll use 5 cups in the sauce, and the rest for the topping)
2 and 1/2 cups light cream
6 tablespoons butter (3 tablespoons will go in the Panko, and 3 tablespoons will be for the sauce)
3/4 cup Panko crumbs
3 tablespoons all-purpose flour
1 teaspoon salt
1/4 teaspoon garlic powder
1/4 teaspoon dry mustard
Smoked paprika for topping
Instructions
1. Preheat oven to 350. Cook the elbow noodles according to package, and spray a 9×13 baking dish with cooking spray.
2. Season the Panko with the garlic powder. In a small pot, melt 3 tablespoons of butter, then pour over the Panko crumbs and stir to coat.
3. In the same pot, over medium heat melt the remaining 3 tablespoons of butter, then stir in the flour, salt, dry mustard, and pepper…stir until everything is blended. Slowly stir in the half & half, and cook thickened. You want it to coat the back of a spoon and be creamy. See above for a photo example, for me it took 6 and 1/2 minutes to get the right consistency. Lower the heat, then pour in 5 cups of the shredded cheese, pouring in one cup at a time and blending completely until adding each cup. Once the cheese sauce is made, remove from the heat.
4. Place the cooked and drained elbow noodles in your baking dish. Then, pour the cheese sauce over top and stir together to make sure all noodles are coated, even the noodles on the edges of the dish. Top with the remaining shredded cheese, then the Panko, and finally sprinkle with smoked paprika. Bake for 20 minutes.
Enjoy!
Keywords: easy baked mac and cheese