Move over traditional macaroni and cheese, Beer Mac and Cheese is here!
That's right, I said Beer Mac and Cheese, and it's everything you need in comfort food. Combine your favorite beer into your sharp Cheddar cheese sauce to make this rich and flavorful spin on mac and cheese! And that pretzel topping? It's the perfect finishing touch!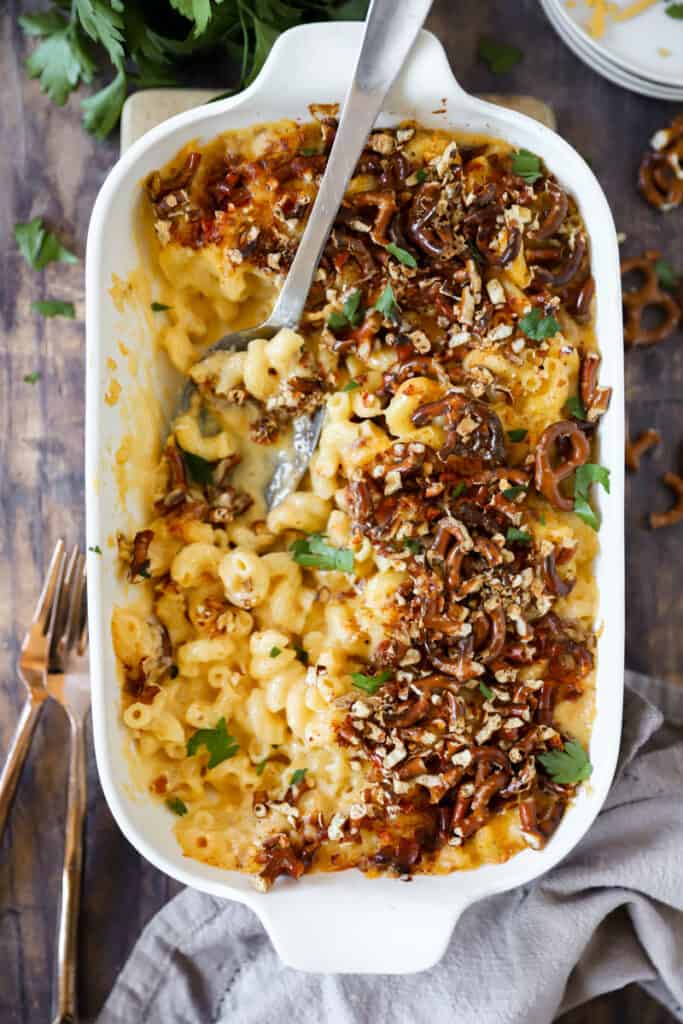 Traditional mac and cheeses usually have some type of bread crumb topping. But for this recipe, I was inspired by the appetizer of beer cheese dip which is usually served with some kind of dipping pretzel.
So this mac and cheese gets topped with crunchy mini pretzels!
Trust me on this, if you like beer cheese dip and pretzels and you also like macaroni and cheese then you're going to love this. The pretzels add the right amount of crunch and a little extra hint of salt to each bite. All you need to do is crush them up then sprinkle them on top before baking, super easy!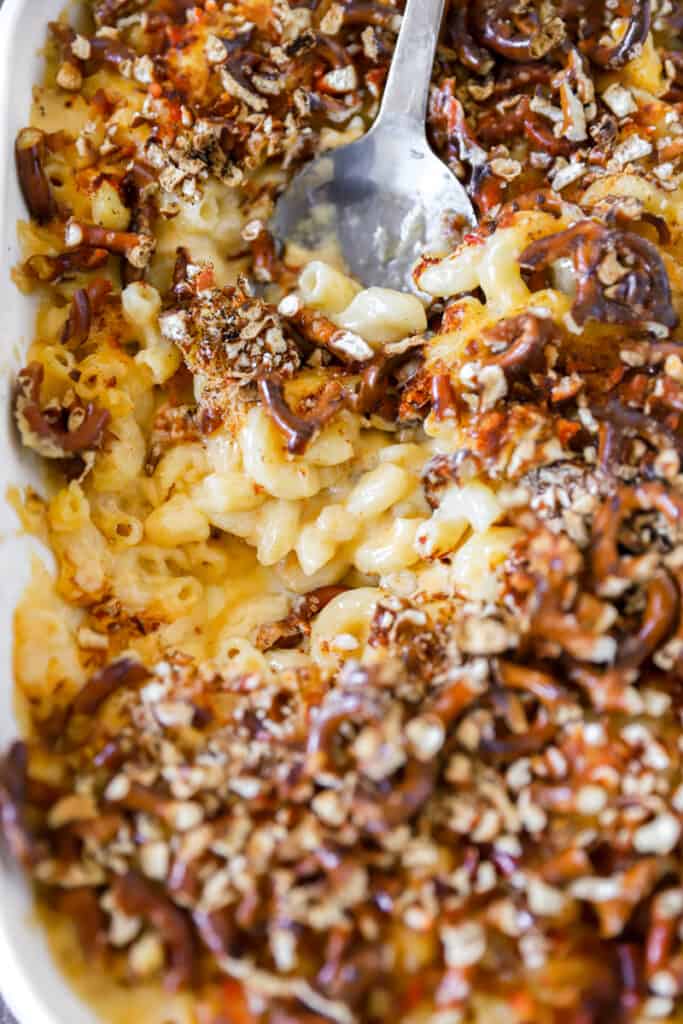 What kind of beer for beer cheese sauce
While you can use your favorite beer for the sauce, I recommend sticking with a light beer and something that you actually enjoy drinking.
So if it's a brand and type you would enjoy sipping on during a football game, that's what to use!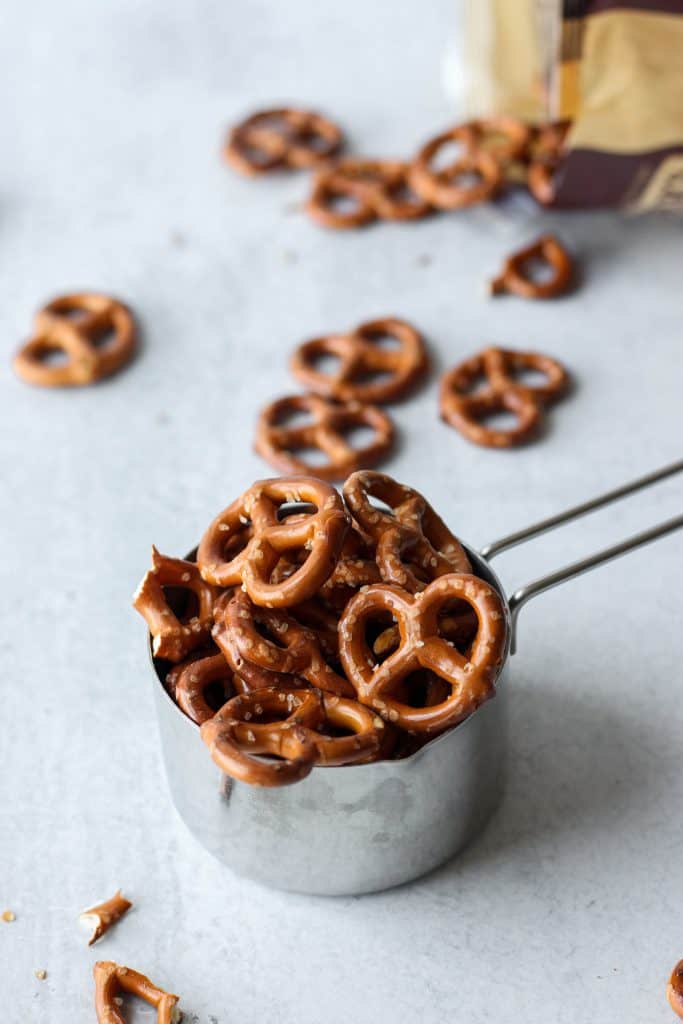 Cooking tips
You can use whatever beer is your favorite! You'll need 3/4 cup of beer to make the cheese sauce. I recommend sticking with a light beer.
Use sharp or extra sharp Cheddar cheese! This will give you that super cheesy mac and cheese flavor. Anything too mild will leave you missing our on flavor!
For the pretzel topping get mini pretzels, measure out a cup and a half of them, then crush them up for the topping. You want to have a consistency of some large pieces and some pieces that smaller and more powdery.
If the cheese sauce doesn't thicken enough for you, you can add a teaspoon or two of cornstarch to help it thicken.
Want to make it even more decadent? Add cooked bacon!
You can store any leftovers in the fridge, but the pretzels will lose the crunch effect! When you eat any leftovers just garnish it with more crushed pretzels to bring back that crunch.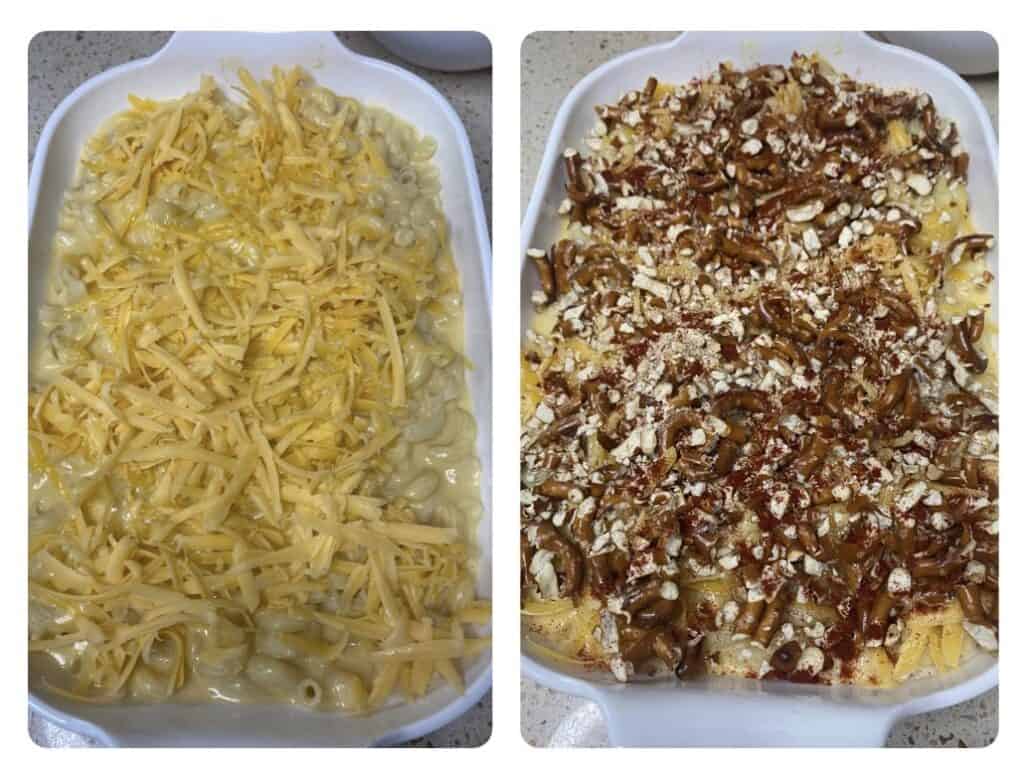 The best shredded Cheddar cheese
So we've talked about what kind of beer you should use, now we need to talk about the cheese to get the best results for the sauce!
Ok, so you need to be grating your own from the block of extra sharp Cheddar and not buying the pre-shredded bagged cheese.
Why?
There's extra freshness you'll get from grating your own cheese and block cheeses come in many more varieties than bagged kind so there's lots of options for making your own shredded cheese!
Bagged shredded cheeses usually have a little corn starch added to prevent the pieces from sticking together in the bag. This can also cause the cheese to melt a little differently.
Check it out for yourself! Compare some fresh grated cheese to the bagged kind and you'll see the cheese you grated is softer, and a little more moist. It just adds only a little amount of type to preparing a recipe to grate your own but it's worth it!
If you don't have a box grater, you can pick one up like this box grater.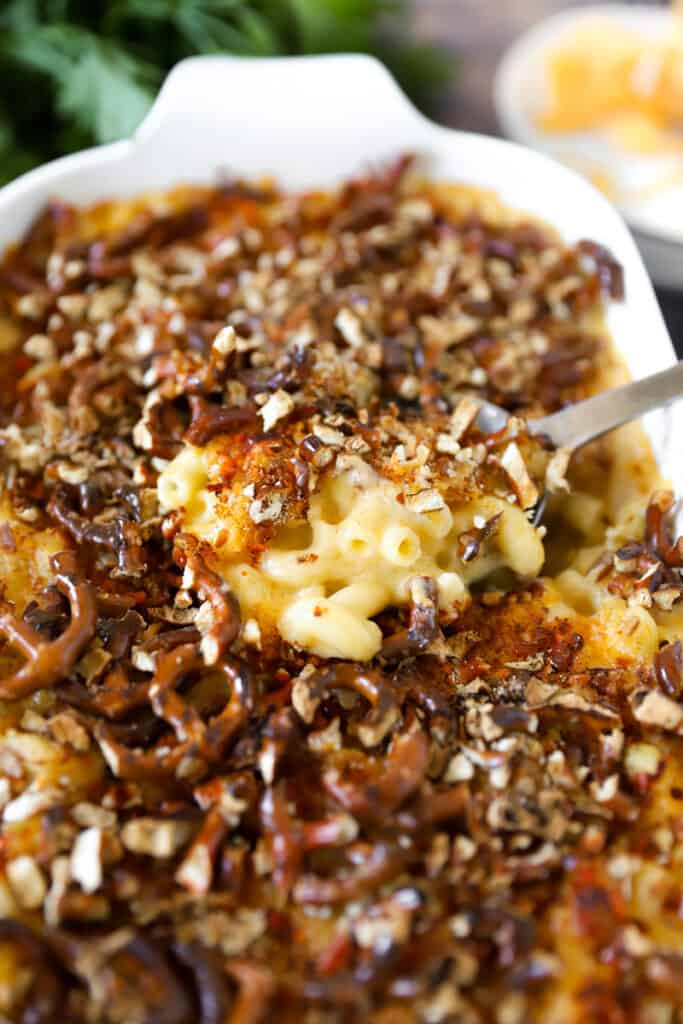 Are you here looking for an epic mac and cheese recipe? You're in luck, because I have a few more recipes you might want to check out! First, I have this roundup of 25 mac and cheese recipes I've gathered!
Want an easy baked mad and cheese? Take a look at my Classic Baked Macaroni and Cheese.
Something spicy? Then Cajun Mac and Cheese is for you.
Or if you need something super fast, I've got this Stove Top Mac and Cheese that's ready for the table in 20 minutes.
Or if you want some appetizers to add to your game day menu I've got lots to choose from like easy dips Cream Cheese Salsa Dip , Hot Taco Dip, and Whipped Avocado.
Football classic Buffalo Chicken Dip, or this fun spin on fried cheese with these Fried Brie Bites!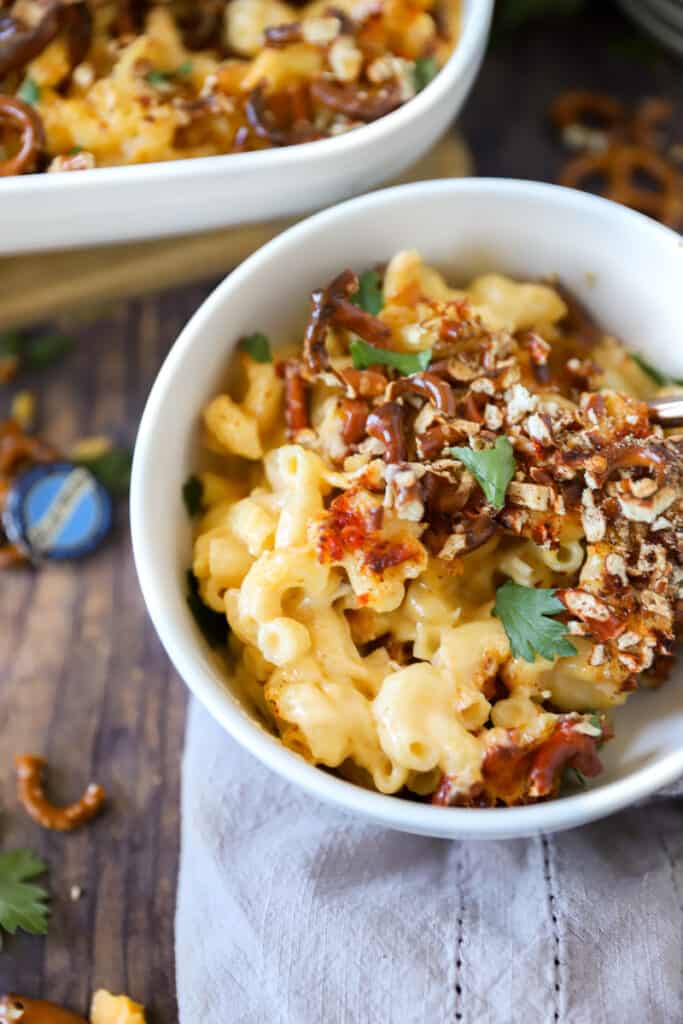 If you make this recipe let me know in the comments!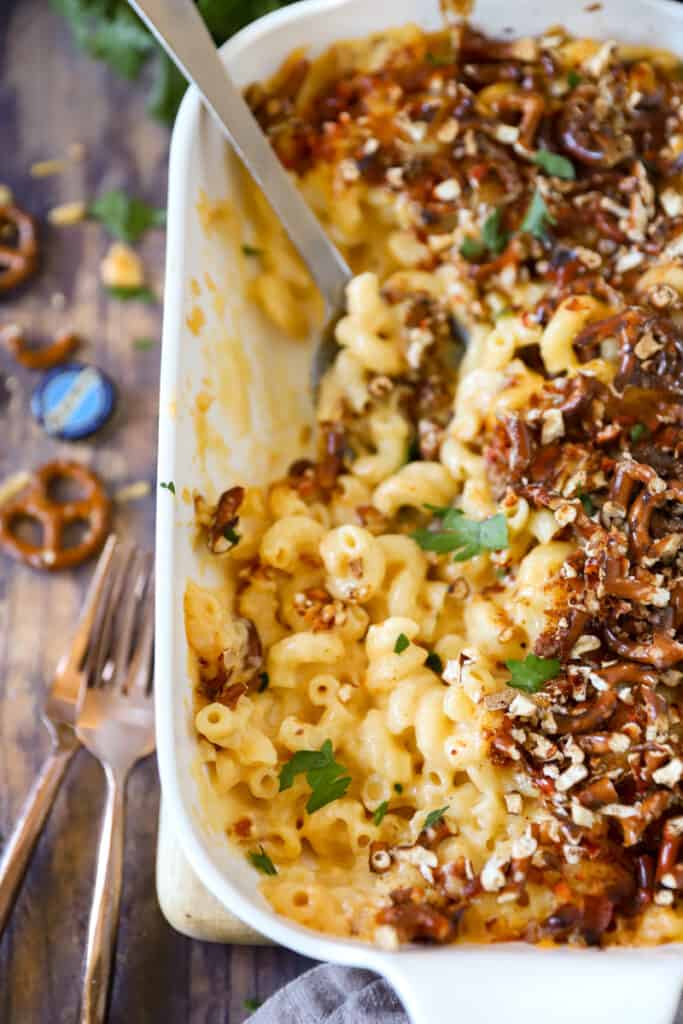 Print
Beer Mac and Cheese
Beer Mac and Cheese combines the classic comfort food of macaroni and cheese with the adult twist of beer flavor in a beer cheese. Topped with crunchy pretzels, this makes a great game-day dish!
Author:
Prep Time:

15 minutes

Cook Time:

35 minutes

Total Time:

35 minutes

Category:

Main Dish

Method:

Saute

Cuisine:

American
2 tablespoons butter
2 cups uncooked elbow noodle macaroni pasta
1 and 1/2 cups mini pretzels
2 tablespoons all-purpose flour
4 and 1/2 cups grated sharp Cheddar cheese (I buy two 8oz blocks and shred it myself. You won't use all of the second block)
3/4 cup beer (see note below)
1 cup half and half
3/4 teaspoon salt
1/2 teaspoon garlic power
1 and 1/2 teaspoons Dijon mustard
1 and 1/2 teaspoons Worcestershire sauce
1/4 teaspoon black pepper
A few dashes of paprika to add color to top layer
Cornstarch if needed to thicken sauce
Instructions
Bring a large pot of salted water to boil, then cook the macaroni pasta. Preheat oven to 350.
Pour 1 and 1/2 cups of mini pretzels into a resealable bag. Use a meat tenderizer (or a hammer like I did) and pound to crush the mini pretzels. You don't want to make a powder out of all the pretzels, you still want some chunky pieces in there. Pour into a bowl.
Melt the 2 tablespoons of butter in a medium pot over medium heat. Next, add 2 tablespoons of flour and stir to combine. Cook for about 30 seconds.
Pour in the 3/4 cup of beer, cook for 30 seconds then add the 1 cup of half and half. Cook over medium heat for 3 minutes to slightly thicken the sauce. Next add the 1 and 1/2 teaspoons of Dijon mustard, the 1 and 1/2 teaspoons of Worcestershire sauce, 1/2 teaspoon of salt, 1/2 teaspoon of garlic powder and stir so all of the seasonings have blended into the sauce.
Next, pour in the 4 cups of shredded sharp Cheddar cheese (1 cup at a time) and whisk until the cheese has melted into the sauce.  Simmer an additional 2 minutes. If the sauce is too watery, add 1 or 2 teaspoons of cornstarch and bring the sauce to a simmer to thicken.
Pour in the cooked macaroni and stir to coat all of the noodles, then pour into a 9×13 baking dish. Top with the crushed pretzels, then sprinkle with paprika (for color). Bake for 20 minutes.
Notes
When it comes to the beer, you can choose your favorite beer. I haven't tested this recipes using dark beers and usually use Blue Moon.
Keywords: beer mac and cheese