We love guac. We pay extra for a dollop of it on our taco bowls. But what if I told you there's an avocado spread that's just as good as guac? Whipped avocado is a smooth dip that's perfect for tortilla chips, crackers, or even as an avocado spread on bread! Only 5 ingredients needed, just blend them all together until completely smooth. Chill in the fridge for about an hour then serve!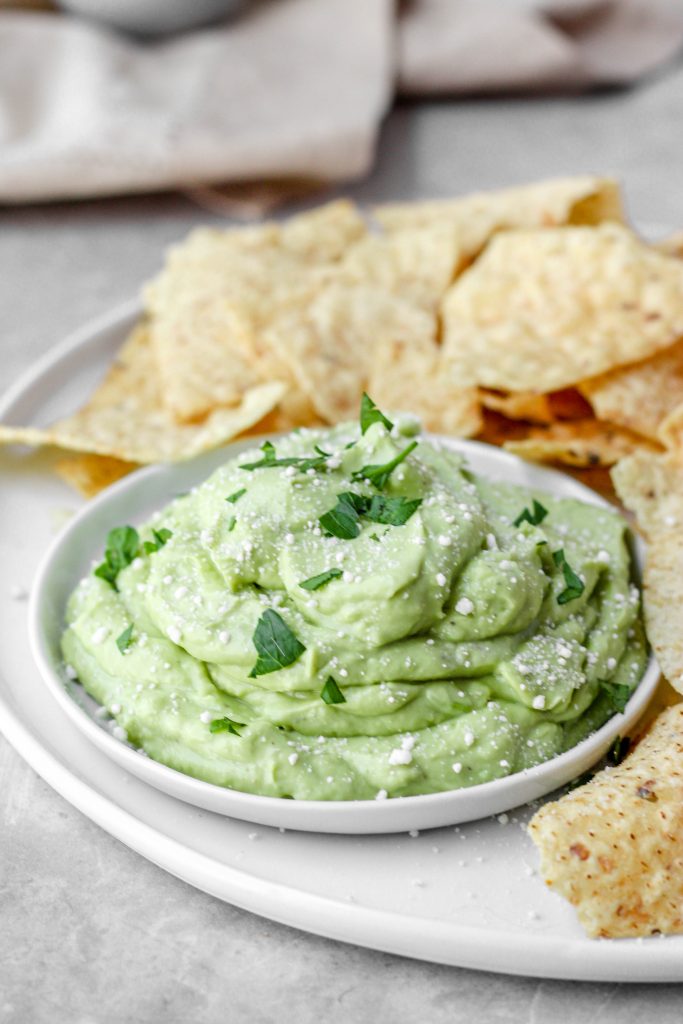 How is This Different from Guacamole?
Whipped avocado is definitely not the same thing as guacamole.
For one, guacamole is usually chunky. It's usually made my mashing the avocado and adding in the other ingredients like tomatoes, red onions, and cilantro.
Whipped avocado is completely smooth and isn't supposed to have any additional ingredients, since the goal is to have a smooth creamy spread or dip! If you start adding in ingredients it takes this away from being a whipped dip and starts getting into guacamole territory.
You only need 5 ingredients to make this!
2 Avocados
1 Lime
Sour Cream
Salt
Pepper
So easy! Just throw everything into your food processor or other blending device and blend until super smooth and creamy. That's it! From start to finish it's less than 10 minutes.
I do like to serve this chilled. So while the recipe is really fast I like to throw this in the fridge for at least an hour and then serve it. You don't have to, but I prefer a chilled dip.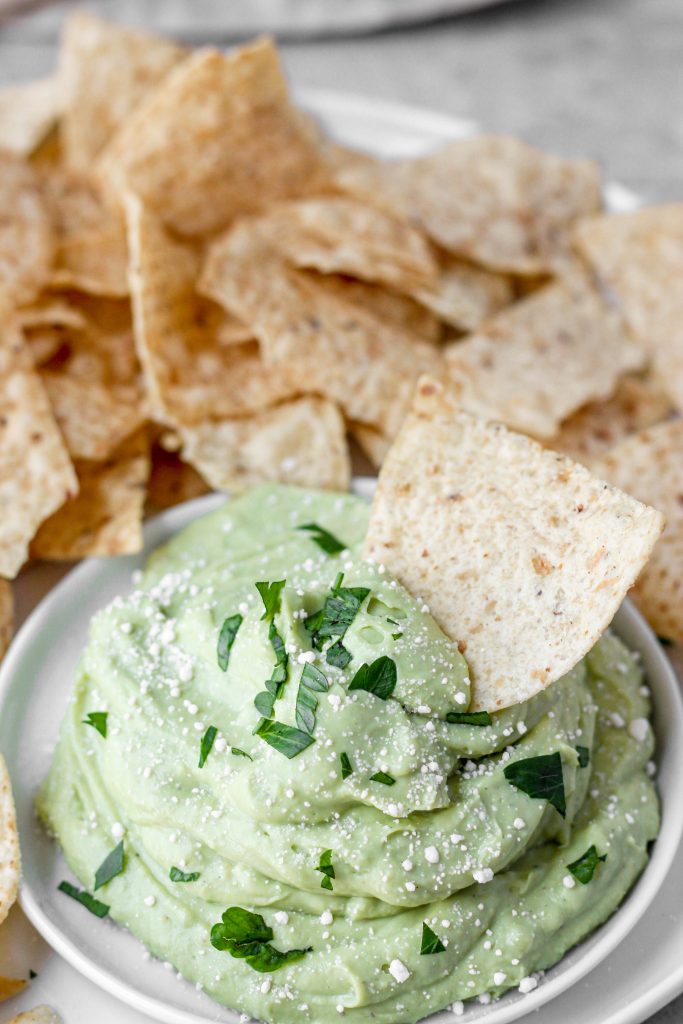 Other Ways to use Whipped Avocado
This is great as a dip! Just set out your chilled bowl with corn tortilla chips or crackers, but it doesn't have to just be a dip! Here are some other ideas on how to eat this!
It's such a versatile dip! How do you think you'll eat it first?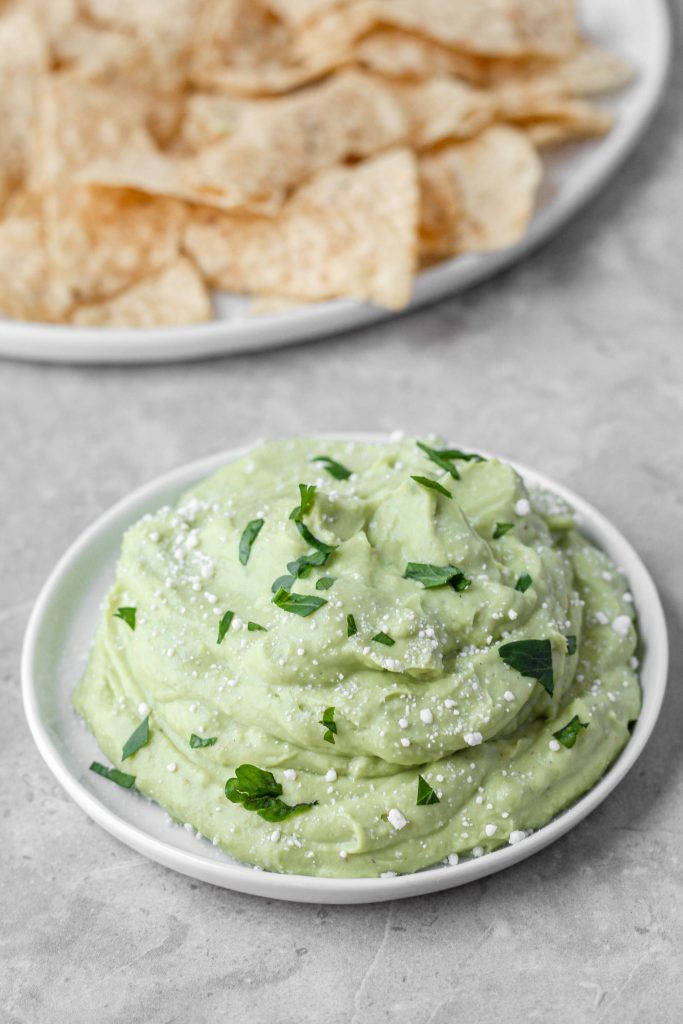 Cooking Tips
It's really important that the avocados are ripe. If you use avocados that aren't quite ripe enough it's not going to taste good. You know how a banana that isn't ripe enough has kind of a planty raw taste? Same here, so make sure your avocados are ready to use!
I sprinkled a little Cotija cheese on top of mine, but I wouldn't recommend adding anything else! Whipped avocado is supposed to be smooth! If you're looking for something chunky with more fixings you might want a guacamole recipe instead
You don't have to chill this, but I think it tastes better slightly cooled! Just pop it in the fridge for about an hour then serve!
Because this has the juice of a whole lime in here, this dip won't brown like a typical guacamole will! This means you can make it a day ahead, or enjoy leftovers and it will still retain it's bright green fresh color.
If you like this recipe you'll love my Whipped Feta! It's one of my blog's most popular recipes!
Find me on Instagram at ASeaonedGreeting for more food, recipes, and cooking tips!
Print
Whipped Avocado
Whipped avocado is a super smooth dip of avocados, sour cream, and lime juice. Serve with chips or crackers as a dip, spread on toast, or use as a dip for tacos and burritos! This will be your new favorite avocado recipe!
Author:
Prep Time:

10 minutes

Total Time:

10 minutes

Category:

Appetizer

Method:

Blend

Cuisine:

Mexican
2 ripe avocados
1 lime, juiced
1/4 cup sour cream
1/2 teaspoon salt
1/8 teaspoon pepper
Instructions
1. Combine all ingredients in a food processor and blend until super smooth. Serve right away, or pour into a bowl and chill for 1 hour, then serve.
Notes
Chilling the dip is optional, you could serve right away if you want! I like my dip chilled so I'll pop it in the fridge for an hour.
Keywords: Whipped avocado