You don't need a grill to enjoy the savory flavors of BBQ chicken! This easy baked BBQ chicken recipe only needs your oven and the broiler. About 45 minutes and dinner is done!
Combine a dry rub made with common pantry spices with your favorite BBQ sauce and you're ready to cook! Once you pop this in the oven to bake you can sit back and relax, or whip up a side dish.
Recipe at a Glance
Prep time: 10 minutes
Cook time: About 45 minutes
Notes: You'll bake the chicken for 40 minutes, then pop it under the broiler for between 90 seconds and 2 minutes to get that deep BBQ chicken appearance.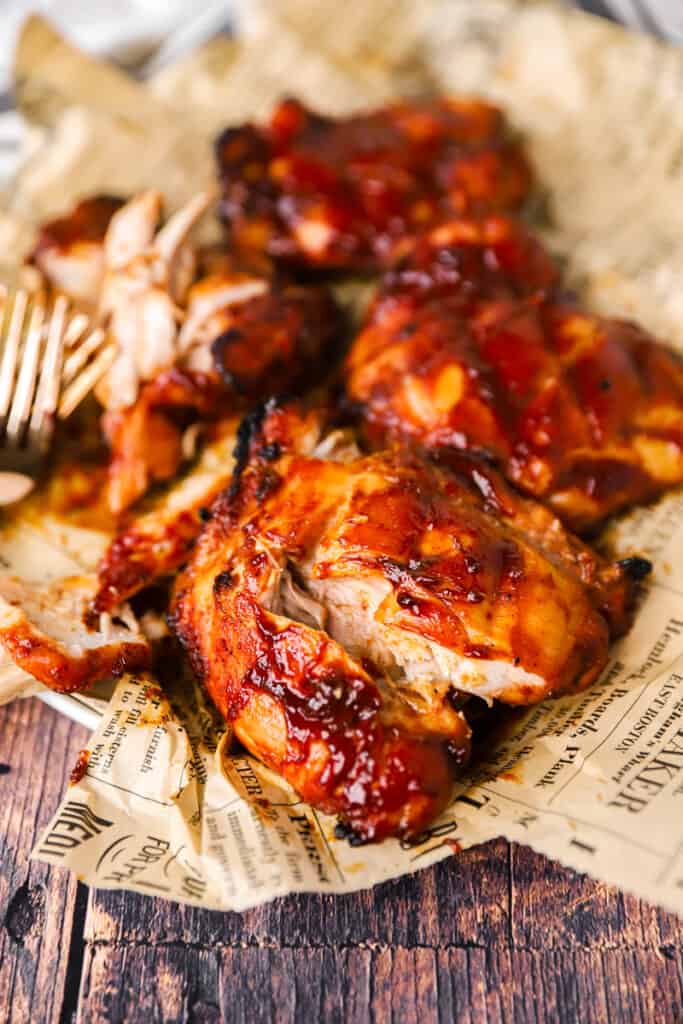 Maybe you already have a favorite BBQ sauce, but my recommendation is to with with the best quality that you can. Since this recipe is made super easy by using bottled sauce and not making a homemade BBQ sauce, you really want to make sure this main ingredient is top quality.
If you need a recommendation for a good sauce here are two of my favorites! First, the sauce I actually used for this recipe is this Sticky Fingers Carolina Sweet my second favorite is this one from Dinosaur BBQ.
I also recommend if you have a local BBQ restaurant you love to see if they sell their sauce bottled! Nothing beats the fresh flavor of a locally made ingredient.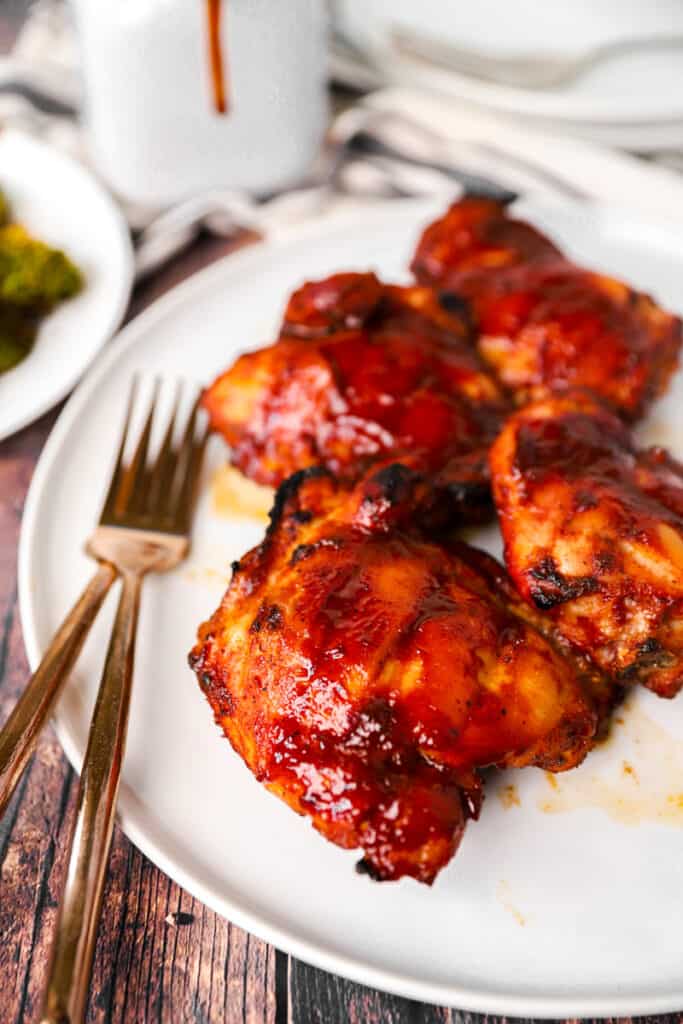 Let's talk side dishes. You could keep it super simple and serve with fries or a potato salad or pasta salad you can buy at the grocery store.
Or, if you want to cook up some side dishes here are some ideas!
On the subject of pasta salad, I've got a recipe for this Mexican Corn Pasta Salad and this spicy Buffalo Chicken Pasta Salad. Both are delicious options to pair with this chicken!
What better BBQ side is there than some mac and cheese? This stove top mac and cheese is ready to eat in 20 minutes!
And for something green, these vibrant Green Beans with Lemon and Almonds will definitely brighten up your dinner plate.
Lastly, have some BBQ sauce you need to use up? These Baked BBQ Chicken Taquitos would be perfect!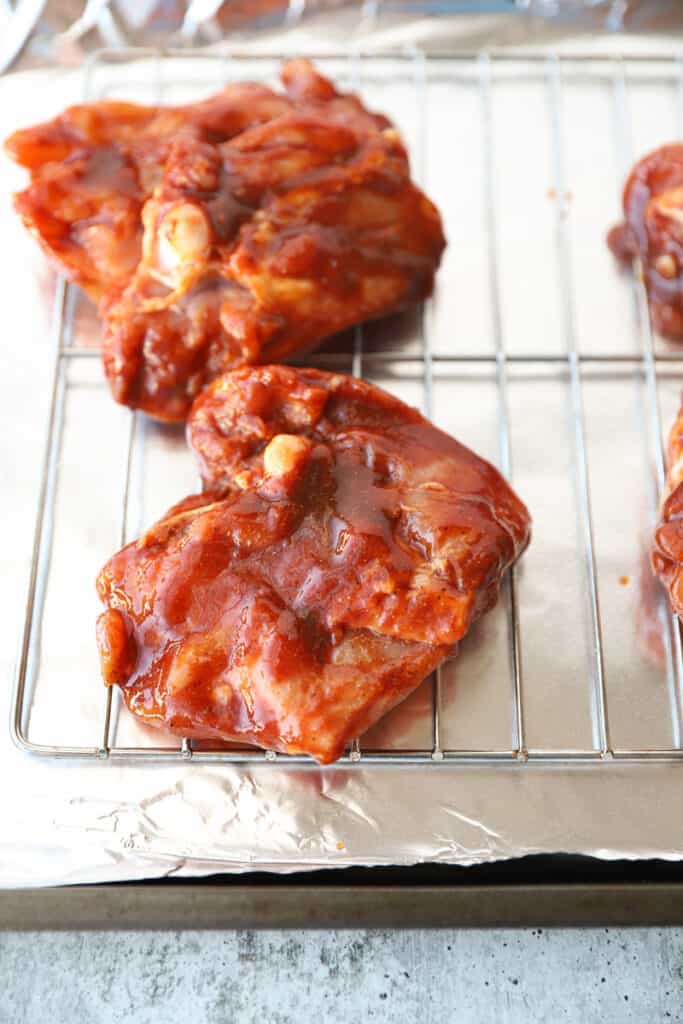 Cooking tips
I like to score the tops of the chicken thighs with two slices, that way I can make sure the dry rub and BBQ sauce really get into the chicken.
These bake slightly elevated on a baking rack. I prefer this method since some fat and juices will bake off of the thighs, and if the chicken is sitting flat in a casserole dish it gets a little watery.
After these bake for 40 minutes, you'll pop these under the broiler for about 90 seconds – 2 minutes. This final step really helps get the tops of the chicken a tad charred with the ideal caramelized BBQ sauce flavor.
That's it! It's really as easy as season, sauce, then bake!
And of course the most important final step…enjoy!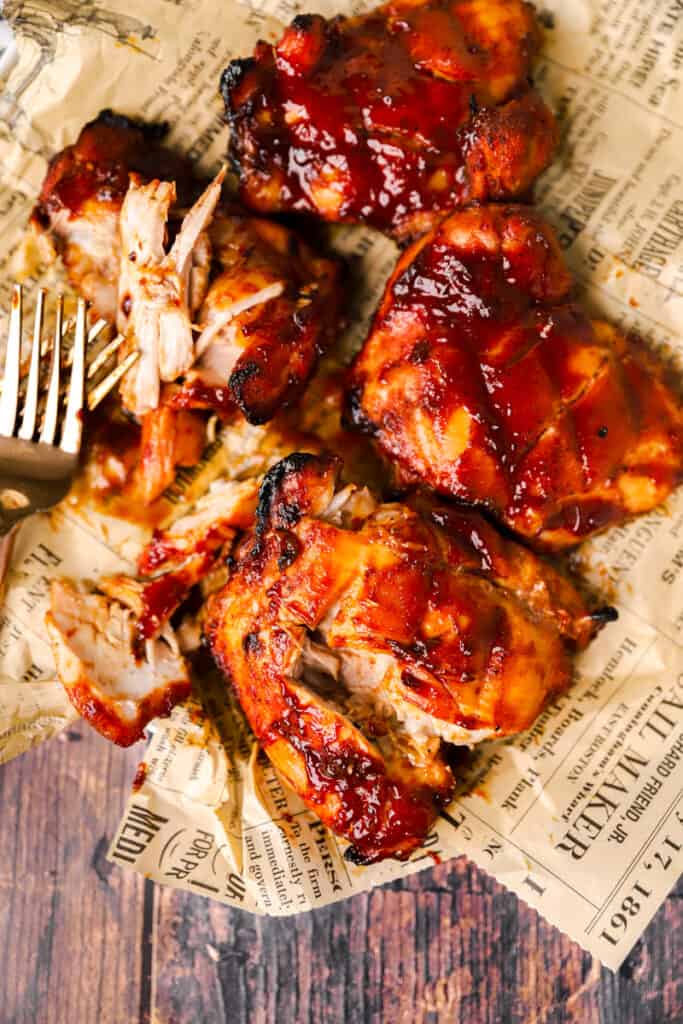 If you made this recipe let me know what you thought!
And check out more main dish recipes for dinner ideas for the week.
Print
Easy Baked BBQ Chicken
Get the taste of BBQ chicken from your oven! This easy baked BBQ chicken is made with a dry rub then combined with your favorite BBQ sauce. Bake then broil for oven BBQ perfection!
Author:
Prep Time:

10 minutes

Cook Time:

45 minutes

Total Time:

55 minutes

Yield:

4 servings

Category:

Main Dish

Method:

Baking

Cuisine:

American
4 bone-in chicken thighs, skin removed
1/3 cup BBQ sauce, plus more for basting and serving
1 tablespoon dark brown sugar
1 teaspoon garlic powder
1 teaspoon smoked paprika
1/2 teaspoon onion powder
1/4 teaspoon salt
1/4 teaspoon pepper
Instructions
1. Preheat your oven to 400 degrees. Prepare your baking sheet by lining it with foil, and topping with a baking rack that's been sprayed with cooking spray. In a small bowl combine the dry ingredients: the brown sugar, garlic powder, smoked paprika, onion powder, salt and pepper.
2. Lightly score the chicken thighs by cutting one or two slices into the top, then place in a large bowl. Sprinkle both sides of the chicken with the dry rub and make sure the chicken is well coated (use all of the dry rub!!). Next, pour in the 1/3 cup do BBQ sauce and massage well into the chicken.
3. Place the chicken top side down onto the baking rack, bake for 20 minutes. After 20 minutes, flip the chicken, baste the top with additional fresh BBQ sauce, then bake another 20 minutes. Internal temperature of the chicken should be 165 degrees. Lastly, place under the broiler for 90 seconds – 2 minutes.
Serve and enjoy!
Notes
Use your favorite BBQ sauce. If you need a recommendation I like Sticky Finger's Carolina Sweet and Dinosaur BBQ.
With these baking elevated on a baking rack, the juices and sauce beneath the rack will burn onto the foil. If the burn is smoking or becomes too strong you can swap the chicken onto a new baking sheet with fresh foil. (I haven't needed to do this but wanted to provide an alternative)
Keywords: baked BBQ chicken