Change up your burger menu with these BBQ Chicken Burgers! A super seasoned ground chicken burger smothered with BBQ sauce and Gouda cheese. Make it the perfect bite with slices of red onion and vibrant butter lettuce.
Recipe at a Glance
Prep time: 15 minutes
Cook time: 15 minutes
Notes: These are anything but dry and boring. A sauce made from Worcestershire, ranch, and BBQ sauce keep this moist and never dry and crumbly!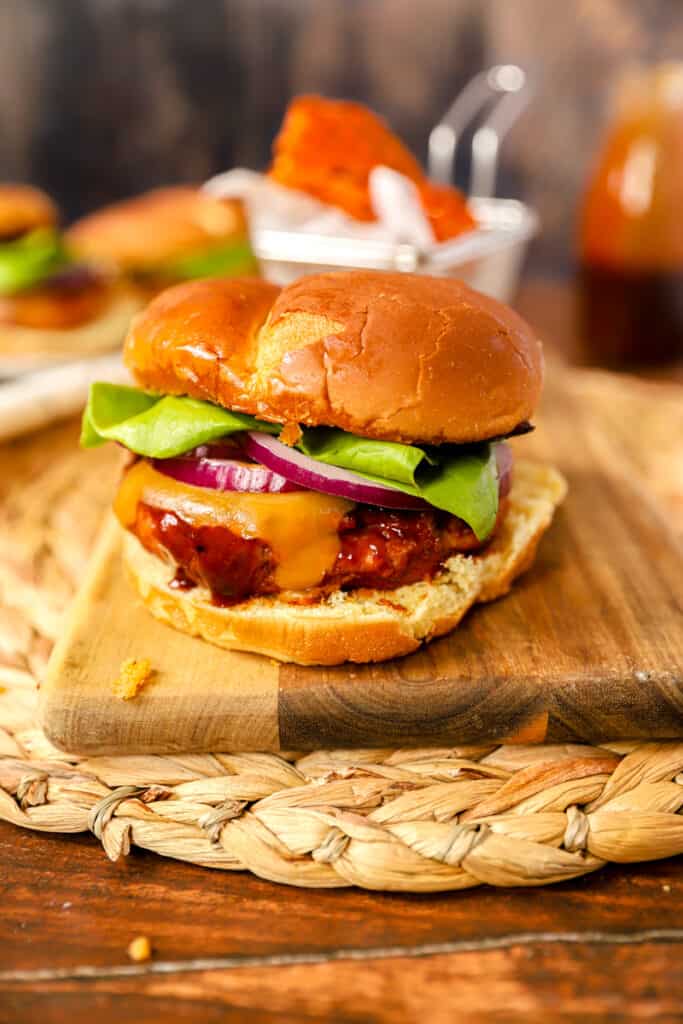 As much as a love a juicy beef burger, there's just something special about a chicken burger. A little bit lighter and less grease, these BBQ Chicken burgers will be a favorite with even the red meat lovers!
And here's the two secrets to making the best most epic chicken burgers:
Season the ground chicken way more than you think is necessary. Seriously, ground chicken needs A LOT of seasoning to bring the flavor out. So when you read the ingredient list just trust me on this, don't scale any of that back!
You need to add some moisture to the mix. If you just season the chicken, make the patties and cook them they are going to be so sad and dry. For this recipe I use the BBQ sauce and a bit of ranch to really keep these moist.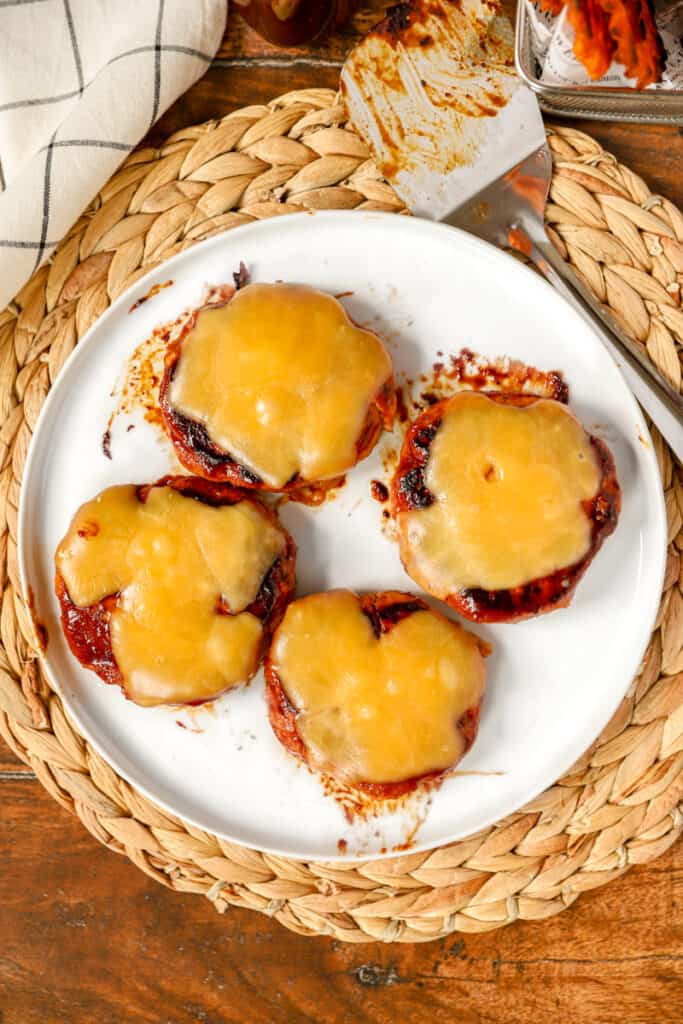 How to make perfect chicken burgers
So as I mentioned, the trick is in the seasoning blend and the added sauce.
I tested this recipe several times and this spice mix is the perfect balance for me! You've got smoked paprika, garlic powder, onion powder, salt, pepper, and a bit of chicken bouillon to really hit home with the flavor.
Next, the sauce that's going to keep these from being dry! Mix up some BBQ sauce, I've been loving this Carolina Sweet sauce lately, some ranch, and a dash of Worcestershire sauce.
This dynamic duo of spices and sauce make the perfect chicken burger!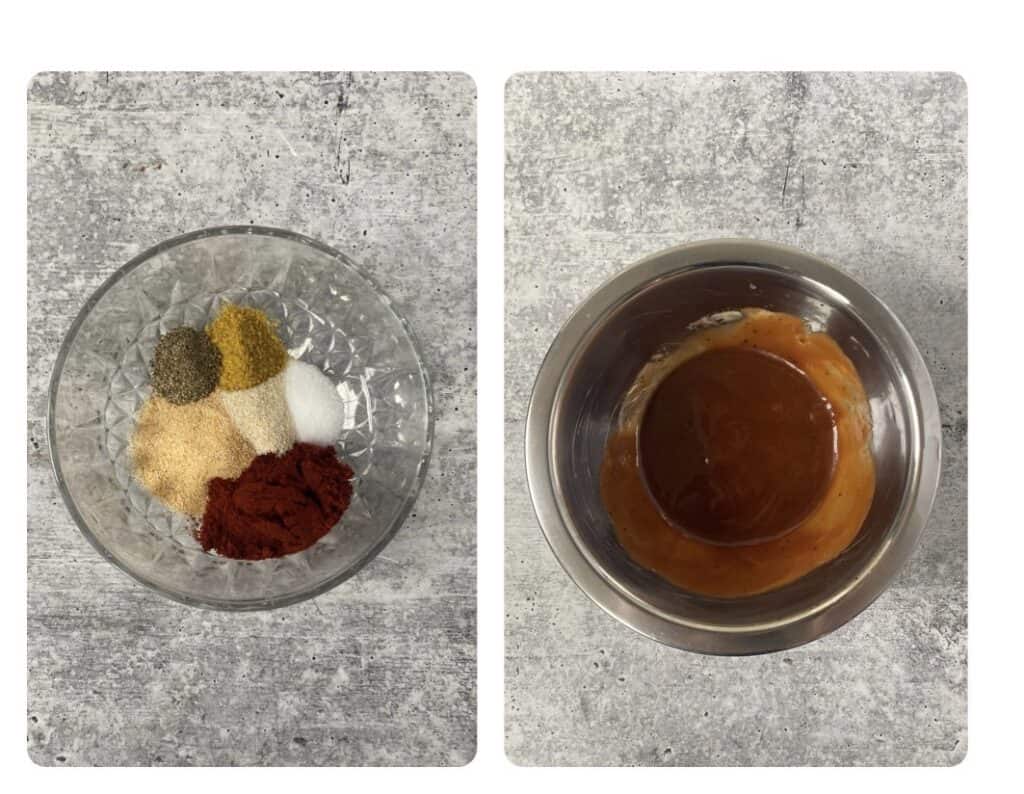 Once you add the spices, sauce, egg, and breadcrumbs just form the burger patties. It will be a wetter mixture than typical ground beef burgers, but shouldn't be so sticky you can't work with it. If the mixture is being problematic you can add additional breadcrumbs, or wet your hands with warm water and that will prevent the ground chicken from sticking to your hands!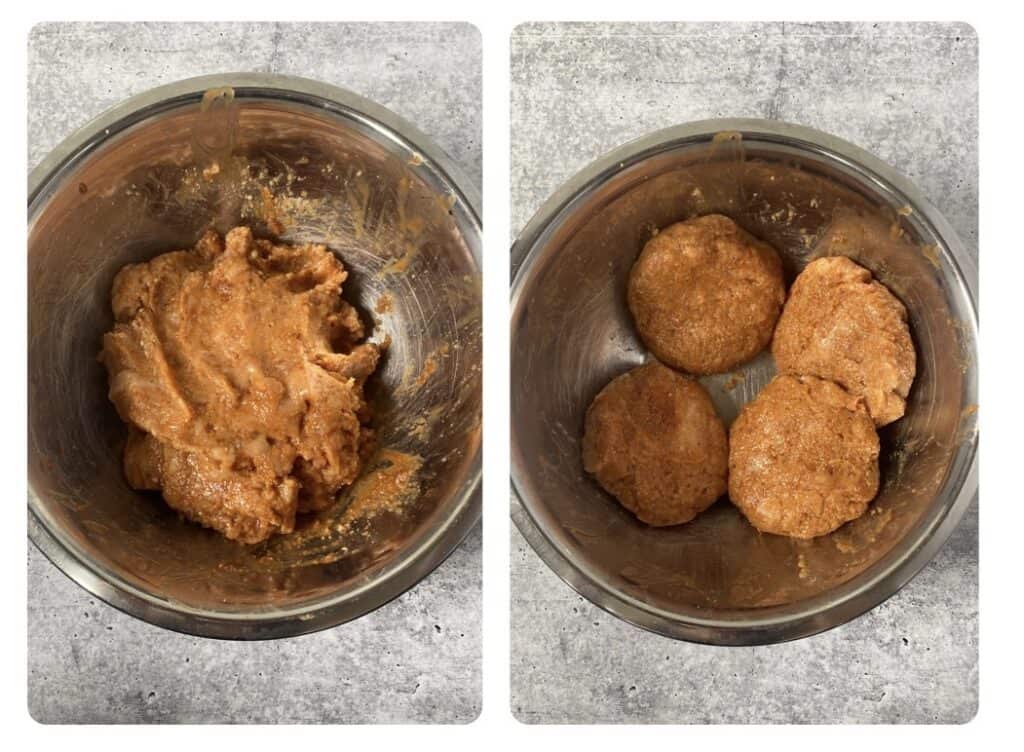 Now just cook them up, adding some more BBQ sauce as you flip them.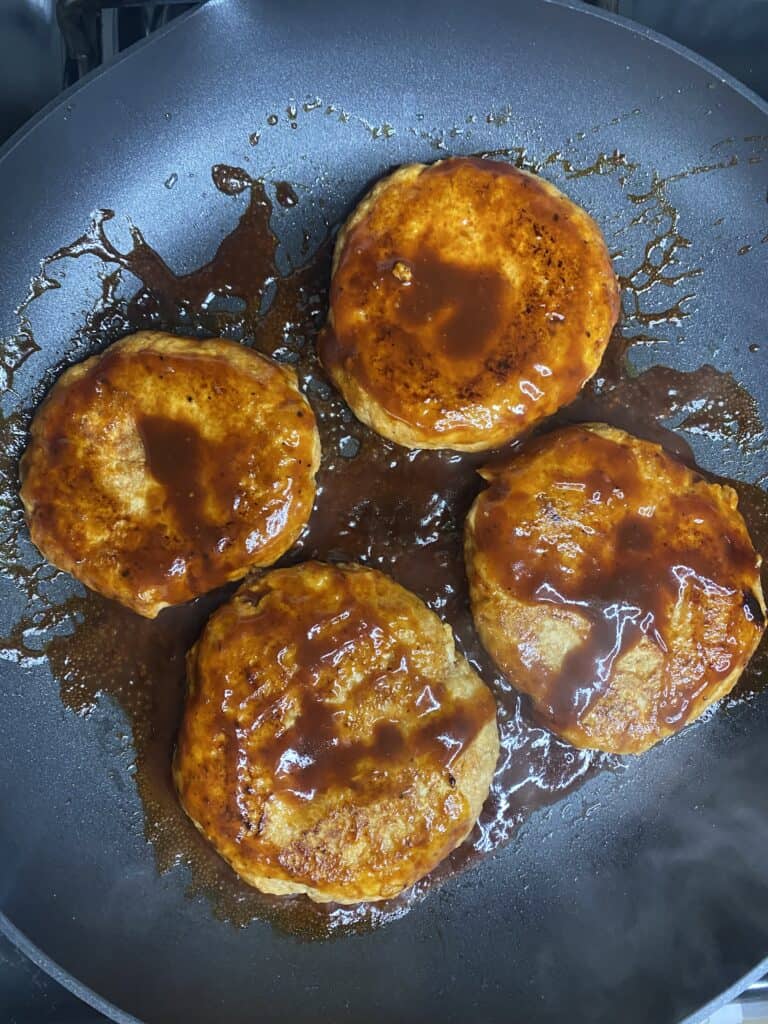 Then lastly add as much Gouda as you want and cover the pan until the cheese is nice and melty.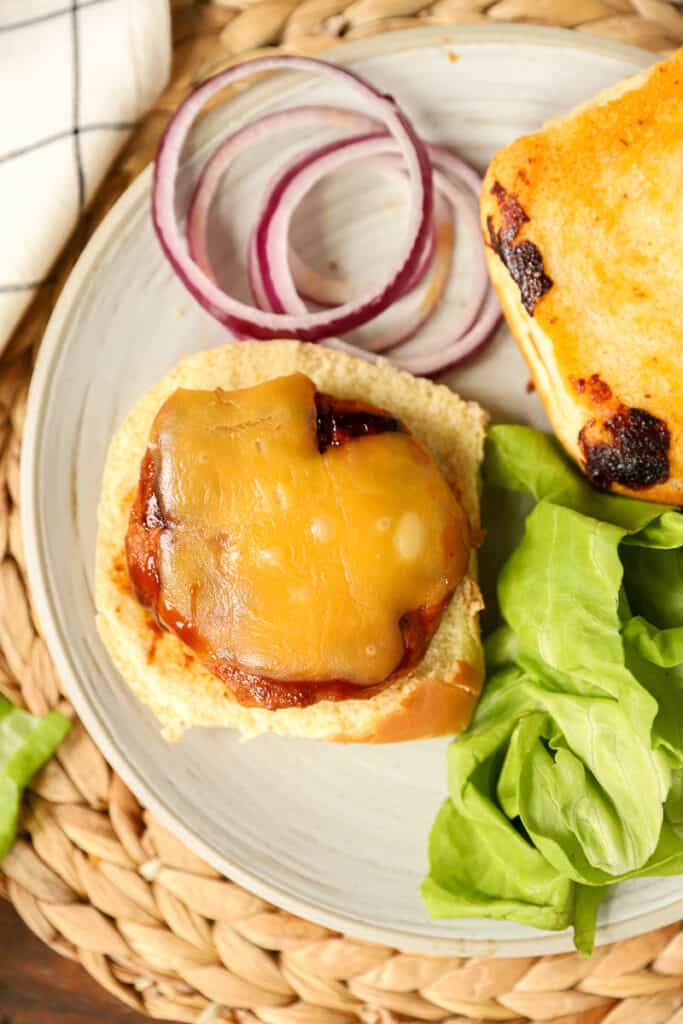 Cooking tips
I know the spice mix might look like a lot, but trust me on this and don't scale it back! Ground chicken needs a lot of love from seasonings and after testing this recipe multiple times I found that this was the perfect seasoning level!
If the mixture is sticking to your hands too much while you're trying to form the burger patties, you can either add more breadcrumbs or just wet your hands in warm water and that should do the trick.
The internal temperate of cooked chicken should be 165 degrees. Take the guess work out of it can get a digital thermometer, I use mine all the time to avoid overcooked or undercooked meats!
I loved the flavor of Gouda on these! You could also try Swiss, Havarti, or sharp Cheddar.
These are definitely best the first day, but if you have any leftovers you can save them in the fridge in an air tight container for up to 3 days. When I reheated mine it was still pretty moist and made an easy lunch!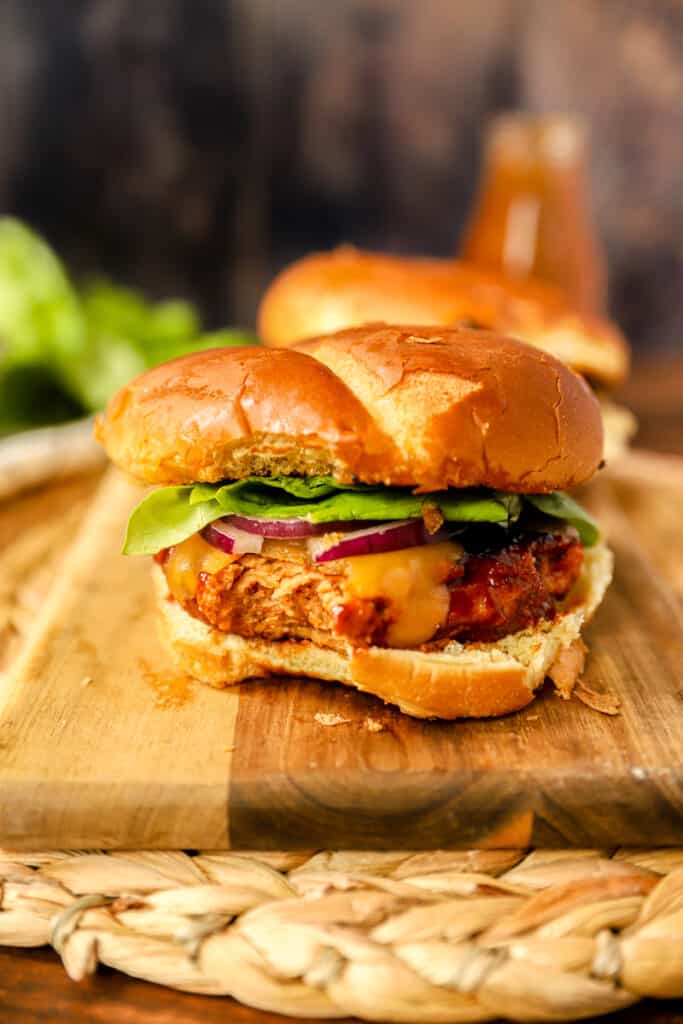 Love ground chicken? Check out my other recipes featuring ground chicken!
Chicken Piccata Meatballs
Chicken Parm Meatballs
Chicken Burrito Bowls
Greek Chicken Meatballs
More burgers is what you need? I got you!
French Onion Burgers
Buffalo Chicken Burgers
Print
BBQ Chicken Burgers
BBQ Chicken Burgers are loaded with seasonings and BBQ sauce for a flavorful chicken burger. Top with Gouda cheese, red onions, and crisp lettuce for the perfect bite!
Author:
Prep Time:

15 minutes

Cook Time:

15 minutes

Total Time:

30 minutes

Yield:

4 burgers

Category:

Main Dish

Method:

Saute

Cuisine:

American
1 pound ground chicken
3 teaspoons garlic powder
2 teaspoons smoked paprika
1/2 teaspoon salt
1/2 teaspoon chicken bouillon powder
1/4 teaspoon pepper
1/4 teaspoon onion powder
5 tablespoons BBQ sauce
2 tablespoons ranch dressing
1 teaspoon Worcestershire sauce
1 egg
1/2 cup breadcrumbs
Gouda cheese
Burger buns, sliced red onion, butter lettuce
Olive oil
Instructions
1. To make the spice mix combine the garlic powder, smoked paprika, chicken bouillon, salt, pepper, and onion powder. Add the pound of ground chicken to a larger bowl, then add the spice mix and hand mix into the chicken.
2. In another small bowl, mix the BBQ sauce, ranch dressing, and Worcestershire sauce. Pour over the seasoned ground chicken and mix to combine.
3. Crack the egg into a small bowl and pour most of it into the chicken mixture. I usually only add the yolk and about 3/4 of the egg white. Lastly, add the breadcrumbs and use your hands to combine everything together. It will be a wet mixture, but shouldn't be so sticky that you can't manage it. Form into 4 round burger patties.
4. To a large fry pan, add about 1 tablespoon of oil and heat over medium heat. Add the burger patties, pressing down slightly in the center of each patty so the center doesn't puff up while it's cooking. Cook for 5 minutes, then flip the burgers and press down slightly on them with a spatula. Pour some additional BBQ sauce onto the burgers allowing some to fall into the pan and cook for an additional 6 minutes.
5. During the last minute and a half of cooking, add slices of Gouda to each burger, then cover your pan with the lid or a sheet of tin foil to allow the cheese to melt. The burgers are done when the internal temperature reaches 165 degrees.
To serve, top the burgers with slices of red onion and lettuce. Dip in more BBQ sauce, ranch, or both!
Keywords: BBQ Chicken Burger