Chicken baked meatballs in a piccata sauce with fried capers is a light and refreshing dinner the whole family will love! Enjoy a light meatball using ground chicken breast, bake until golden, then add to a creamy piccata sauce. The best part? This baked meatball dish gets topped with fried capers, yes fried capers!
Tips for making baked meatballs with ground chicken
So here's the thing, ground chicken needs a lot of help. It needs a lot of help to be a flavorful savory bite and not just a bland ball of meat. Ground turkey is the same way. Chicken overall isn't inherently flavorful in the same way that beef is. So if you don't properly season the ground chicken it will be painfully boring. But don't worry, that's not a problem in this recipe! The baked meatballs are seasoned with:
Garlic Powder
Onion Powder
Lemon Zest (yes, in the baked meatball!)
Parmesan Cheese
Salt & Pepper
The lemon zest in the ground chicken really makes these baked meatballs extra special. By doing this, you're also getting that lemon flavor in the meat and not just relying on the sauce to bring home the lemony element.
Another tip when you're baking meatballs is I like to place a cooling rack on the baking sheet and bake the meatballs sitting on the cooling rack. Why? This keeps the meatball elevated just enough so that any fat that bakes out will pool underneath the meatball, and the meatball won't be sitting in the excess fats getting soggy. While I didn't grab a photo this time, I have a picture of what that looks like here, in the Baked Taco Meatballs recipe. Make sure to spray the cooling rack with cooking spray first to prevent meatballs from sticking.
You can fry capers?
Yes! Capers are typically served in a piccata dish, but in many cases they are just added to the sauce or as a garnish. I wanted to give them a little more texture and savory flavor by first frying them in a bit of olive oil.
A caper is actually the little bud from a caper bush. These little buds are then pickled and you can buy them in little jars, usually in the same area of your grocery store where you'd find the roasted red peppers and pickles.
While a caper is usually described as tasting salty, which is does, it also has a peppery almost mustard-like aftertaste. I think you'll enjoy the enhanced flavor and texture that frying the capers in olive oil ads!
What to serve with chicken baked meatballs
You're going to want a starch to go along with these, here are a few suggestions:
Mashed Potatoes
Spaghetti or thin spaghtetti
Orzo
Jasmine Rice
And don't forget something that side veg! We need to be eating our veggies. Some vegetable side items that would go will with the baked chicken meatballs would be:
Zucchini
Spinach
Yellow Squash
These are kid-friendly and toddler-friendly too! I easily cut up some meatballs for Lilly to eat.
What's the secret to moist meatballs?
We all want moist not dry meatballs. And while watching an episode of Diners, Drive-ins, and Dives I learned of one technique to make moist meatballs: water! Yupp, a super simple ingredient that you have right now, and always have on hand in never ending supply. Water from the faucet. I've tried this method in both these chicken meatballs and a traditional beef meatballs and is does make a difference. The meat stays much more soft and tender and really helps to avoid that crumbly dryness than can happen in a meatball.
So when you want a moist meatball, just add water!
Print
Chicken Baked Meatballs in Piccata Sauce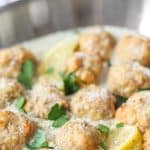 Chicken baked meatballs in a piccata sauce are a light and zesty baked meatball. Lemon zest and lemon juice add bright flavor and the fried capers add a touchy of salt. Kid friendly, a dish the whole family will love.
Author:
Prep Time:

15 minutes

Cook Time:

30 minutes

Total Time:

45 minutes

Yield:

17-20 meatballs

Category:

Meatball

Method:

Baking

Cuisine:

Italian American
For the Baked Meatballs
1lb ground chicken
2 teaspoon lemon zest
1 egg
1/4 cup plain breadcrumbs
1/4 cup water
1/2 teaspoon garlic powder
1/4 teaspoon onion powder
1/4 cup grated Parmesan cheese
1/2 teaspoon dried thyme
For the Piccata Sauce
1 and 1/4 cup chicken broth
3 garlic cloves, grated
1 tablespoon butter
1 tablespoon flour
1/4 cup half & half
1/4 cup grated Parmesan cheese
5 tablespoons fresh squeezed lemon juice
1/2 teaspoon lemon zest
1/4 teaspoon salt
1/4 teaspoon pepper
For the Fried Capers
3.5oz jar capers
1 tablespoon olive oil

Instructions
1. Preheat oven to 400 degrees. Drain the capers and place the capers on a paper towel lined plate to dry them even more. Pat them with a paper towel to remove excess moisture from their tops. In a large bowl combine the ground chicken, lemon zest, egg, breadcrumbs, water, garlic powder, onion powder, Parmesan cheese and thyme. Stir to combine into your ground chicken mixture. Form into small to medium sized meatballs, place on a cooling rack on a baking sheet (it's ok if you don't have cooling racks, you can place the meatballs directly on the baking sheet). Spray the cooling rack with cooking spray first to prevent meatballs from sticking. Bake for 30 minutes.
2. While the meatballs are baking, start frying the capers. In a small pan, add the olive oil and heat over medium high heat. Add the dry capers and cook for 5-6 minutes until lightly browned. Remove from the oil and place on another paper towel lined plate. Set side until you're done with the rest of the dish.
3. To make the piccata sauce, heat the butter in a large pan over medium heat. Add the grated garlic and cook for 1 minute. Add the flour and stir to combine, cook for another 30 seconds, then add the chicken broth, half & half, Parmesan cheese, lemon juice, lemon zest, salt & pepper. Stir to combine, reduce heat to low and simmer until the meatballs are done, or about 10 minutes. If the sauce thickens too much, add a little broth to thin it out.
4. To serve, plate your dish with the chicken meatballs, cover with the piccata sauce, and lastly top with fried capers. Serve with pasta, mashed potatoes, or rice.
Keywords: baked meatballs, chicken meatballs, piccata sauce