This creamy lemon chicken orzo soup is going to be your new favorite for soup season! A super flavorful broth with plenty of fresh lemon, orzo, rotisserie chicken, then topped with fried capers. This tastes just like chicken piccata in soup form!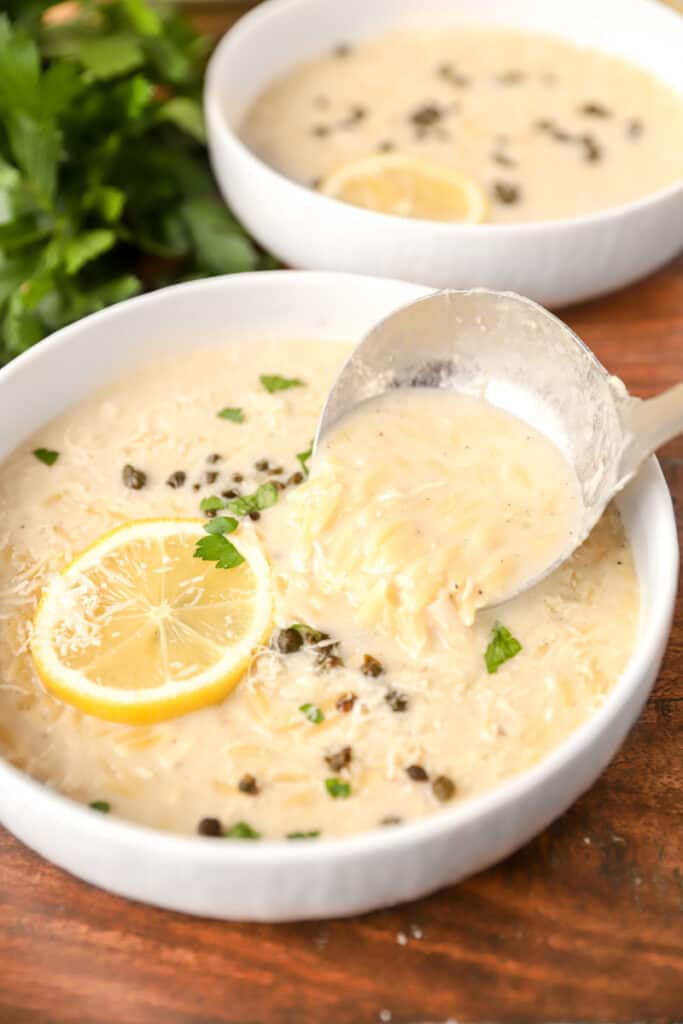 It's no surprise here that I'm obsessed with the flavors of chicken piccata. That fresh lemon, salty capers, and savory cheese is just *chef's kiss*. So I got to thinking one night, maybe I can take all of those flavors and combine them to make a restaurant-worthy soup!
After a few tests, I've perfected a soup I think you'll love too! The best bite includes these fried capers as the garnish. Add a few extra lemon wedges and some Parmesan cheese and you're ready to enjoy some irresistible creamy lemon chicken orzo soup!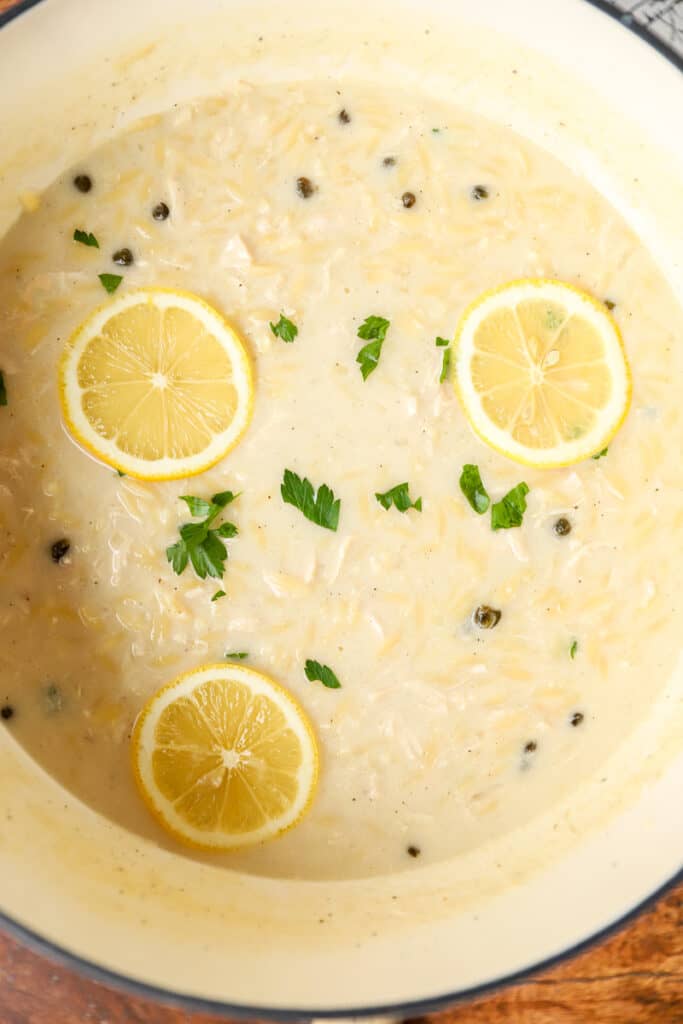 How to make fried capers
Let's talk capers. To me, they are the essential finishing touch to a piccata dish…setting it apart from just a regular old lemon dish! Capers are small, greenish pea-sized buds. Yes, these are actually the little buds of the the flowers from a caper bush! So they aren't a vegetable, a fruit, or a berry! They are very unique in flavor. Mostly salty with slightly mustard-like undertone. Whether you cook, fry or eat them right out of the bottle the strongest flavor will be the big hit of salt.
While you can eat capers right out of the bottle, I much prefer the texture and flavor of eating them pan fried and crispy. So here's how to prepare them:
Heat about 1 tablespoon of olive oil in a medium pan.
Drain the bottle of capers and add them to the hot oil. Cover the pan with foil and cook for 5 minutes, occasionally stirring the capers.
Remove them from the pan and let them drain on a paper towel lined plate until you're ready to serve!
Here is my blog post about fried capers if you want to read more!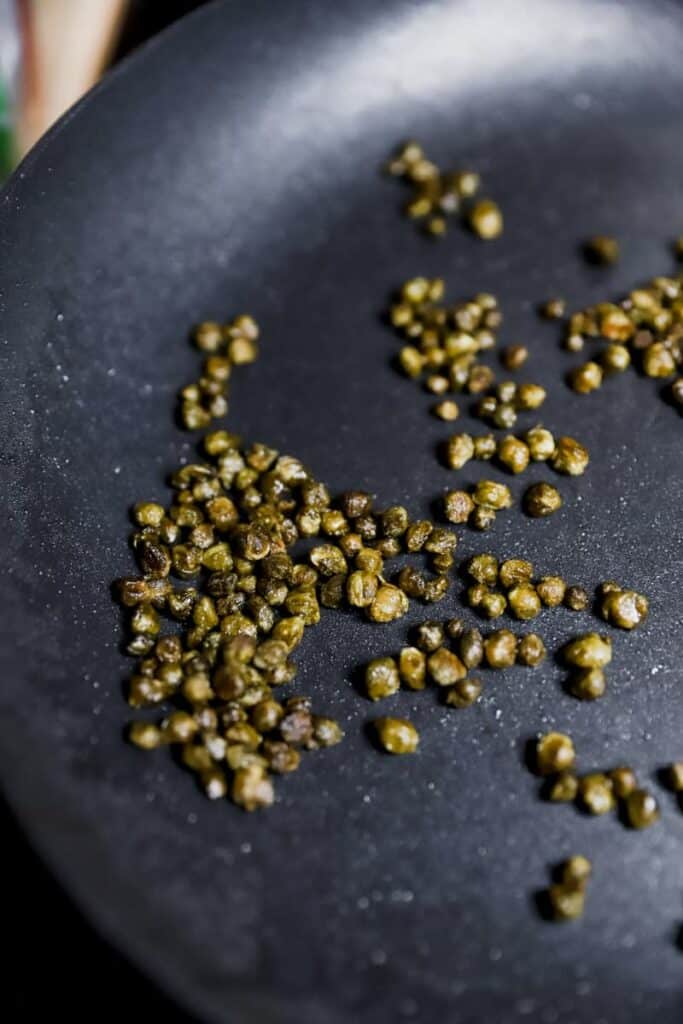 Soup making tips
I want you to love this soup as much as I do, so here are some tips and tricks to help you along the way!
Shred or chop the rotisserie chicken thin. I find it works better to not have large chunks, but instead to have smaller, finer pieces of chicken that blend more evenly throughout the broth.
Stir stir stir! Once you add the orzo you need to be on top of the stirring. If not, the pasta noodles can stick to the bottom or get all clumpy together.
How much lemon do you like? Now I LOVE a strong lemon flavor, but I've scaled it back just a bit here. I think the 1/3 cup of lemon juice and 1 teaspoon of lemon zest is a nice lemon-forward flavor, and then you can squeeze a lemon wedge over top has a garnish if you want an extra dash of lemon!
Saving the leftovers. Just add any leftovers to an airtight container and store in the fridge for up to 3 days for the best freshness and flavors.
You can use a larger pot, but I used a Dutch oven for mine. You can find them at various price points like this Amazon Dutch oven, or this one that's a bit more expensive.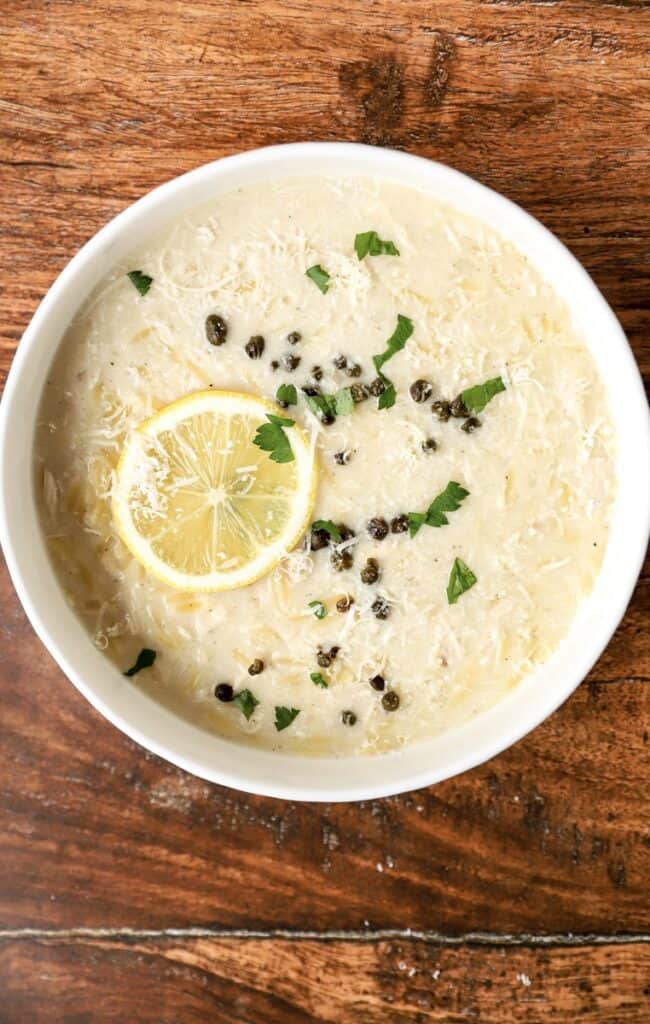 How to reheat the soup
You're going to be happy you have leftovers, this soup is THAT good! But once this sits in the fridge and cools it's going to get much thicker, so don't be surprised when you dig into this the next day and it's lost it's soup-like consistency!
Here are tips on how to reheat the orzo soup and bring it back to a nice creamy soup consistency!
Add water. This is the easiest cheapest way to reheat the soup! Just add water, reheat in the microwave or pot and that's it! You'll want to add a bit more cheese and garnish with a lemon wedge since adding straight water can tone down the other flavors a bit.
Add water and chicken broth. If you happen to have another can of broth, or leftover broth you can add equal parts water and broth! I wouldn't go too heavy on the broth since you'd be adding extra salt from the broth, you don't want to make the soup overly salty!
I don't recommend adding more cream, so stick with the water or water and broth combo and just add additional garnishes as needed. If you add cream it really winds up being too heavy and just overly cream tasting.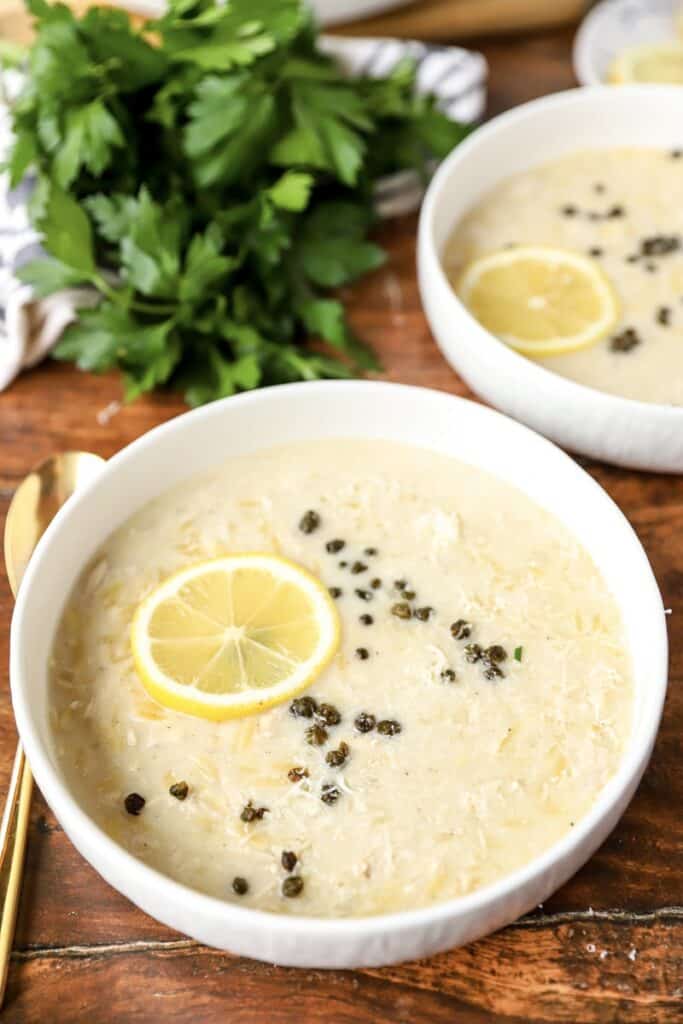 Want more chicken piccata inspired dishes? Here are some other recipes you can try!
Chicken Piccata Meatballs
Creamy Chicken Piccata
And a few more soups to try!
Creamy Chicken Tortilla Soup
Mexican Corn Chowder
Print
Creamy Lemon Chicken Orzo Soup
This creamy lemon chicken soup is going to be your new favorite for soup season! A super flavorful broth with plenty of lemon, orzo, rotisserie chicken, then topped with fried capers. This tastes just like chicken piccata in soup form!
Author:
Prep Time:

15 minutes

Cook Time:

40 minutes

Total Time:

55 minutes

Yield:

6 -8 servings

Category:

Main Dish

Method:

Saute

Cuisine:

American
4 cans (14.5 oz cans) of chicken broth
2 cups shredded rotisserie chicken
1 cup orzo pasta, uncooked
3/4 cup light cream
1/2 cup fresh grated Parmesan cheese
1/3 cup fresh squeezed lemon juice
1/3 cup white wine
4 garlic cloves, grated
1 shallot, finely diced
2 tablespoons butter
2 tablespoons flour
1 teaspoon lemon zest
1/2 teaspoon black pepper
1/4 teaspoons salt
For the fried capers
3 oz jar of capers, drained
1 tablespoon olive oil
Instructions
1. Start by making the fried capers. In a small or medium pan add the olive oil and heat over medium to medium high heat. Drain the capers and add to the hot oil, cover the pan with some foil and cook for 5 minutes stirring occasionally. Dry the fried capers on a paper towel lined plate to absorb any excess oil. Set aside to use as the garnish for the soup.
2. To a dutch oven or large pot, melt the two tablespoons of butter and add the diced shallot. Cook for 2-3 minutes, then add all of the grated garlic and cook for 1 more minute. Add the flour, stir to incorporate all of the butter and cook for an additional 30 seconds.
3. Pour in the chicken broth, wine, and season with the salt and pepper. Bring to a boil, the reduce the heat to a low simmer. Add the Parmesan cheese and cream. Simmer covered for 15 minutes.
4. Remove the lid and add in the orzo pasta, rotisserie chicken, lemon zest, and lemon juice. Cook for 10 minutes uncovered, stirring frequently. The orzo can easily stick to the bottom of the pot so you really want to make sure you stir this often, scraping the bottom and sides of the pan.
5. Once the noodles are cooked, remove from the soup from the heat. Ladle into bowls and top with more Parmesan cheese, the fried capers, and an extra lemon wedge.
Enjoy!
Notes
Since the chicken broth has sodium, I go light on the salt here. You can salt this to taste, or even use low sodium broth and add in extra salt to your liking!
Store this covered in an air tight container in the fridge for up to 3 days for best freshness! Add water to thin the soup when reheating.
Keywords: Creamy lemon chicken soup