Curry chicken meatballs are a tender ground chicken meatball seasoned with curry powder and served with a robust coconut milk curry seasoned sauce! It's loaded with flavor, and one of my favorite warm sauces to make. In fact, I also use this curry powder sauce to make this Creamy Curry Pasta dish!
Recipe at a Glance
Prep time: 15 minutes
Cook time: 30 minutes
Notes: Make the sauce while the chicken meatballs are baking and you'll have this on the dinner table in about 40 – 45 minutes from prep to serve!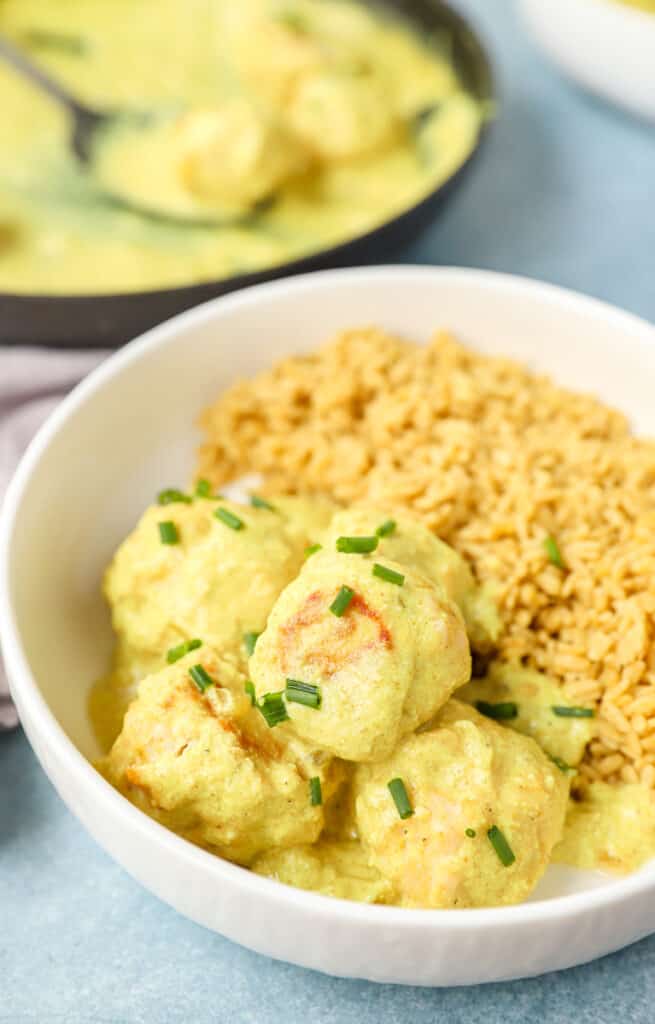 Aside from being loaded with warm spiced flavor, another great thing about this dish is the beautiful golden color. Once that deep orange curry powder combines with the coconut milk it creates this golden hue. My daughter even started calling this golden meatballs!
Top them with some chopped chives or finely chopped scallions for that extra pop of green.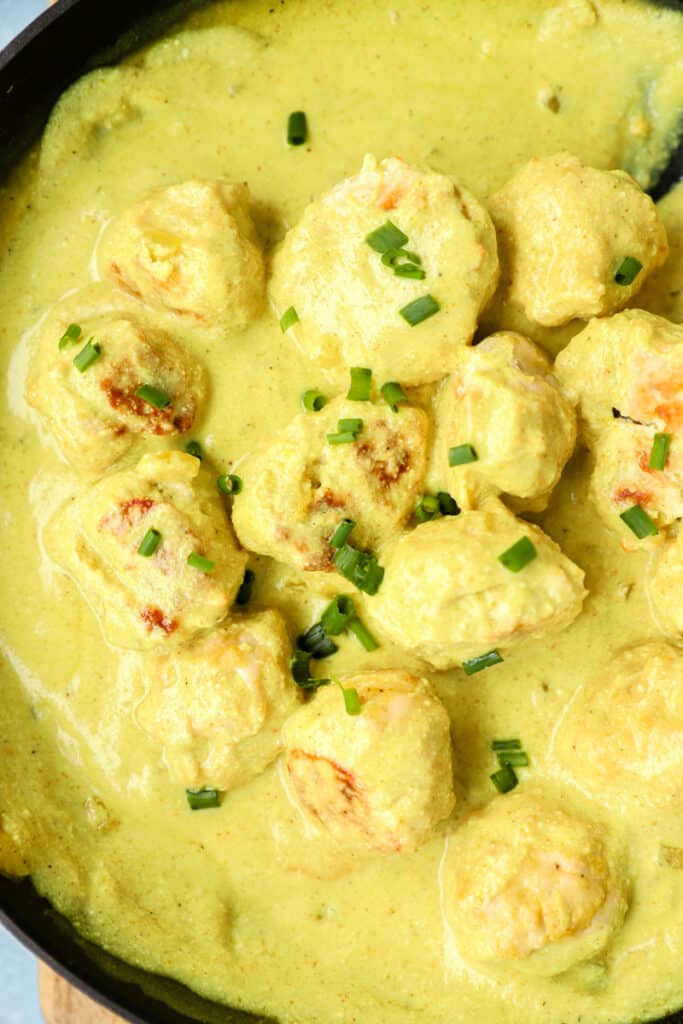 How to make moist meatballs
Ok let's all collectively recover from reading the word "moist" and move on to the important part…
The trick to making meatballs that are NEVER dry is adding one basic ingredient. You have it right now in your kitchen, endless supply, and it never expires. Know what it is?
Water!
Yupp, adding water to the mixture will help those meatballs have the perfect texture that's never dry. (I really tried to go out of my way here to not say moist again.)
Some recipes I'll use 1/4 cup, but I say start with 1/8 cup of water. The ground chicken mixture is probably going to be wetter than you're used to, but you're going to love the end results! To help roll the meatballs keep a bowl of warm water near by and occasionally dip your hands in the water. This will help prevent the meatball mix from sticking all over your hands!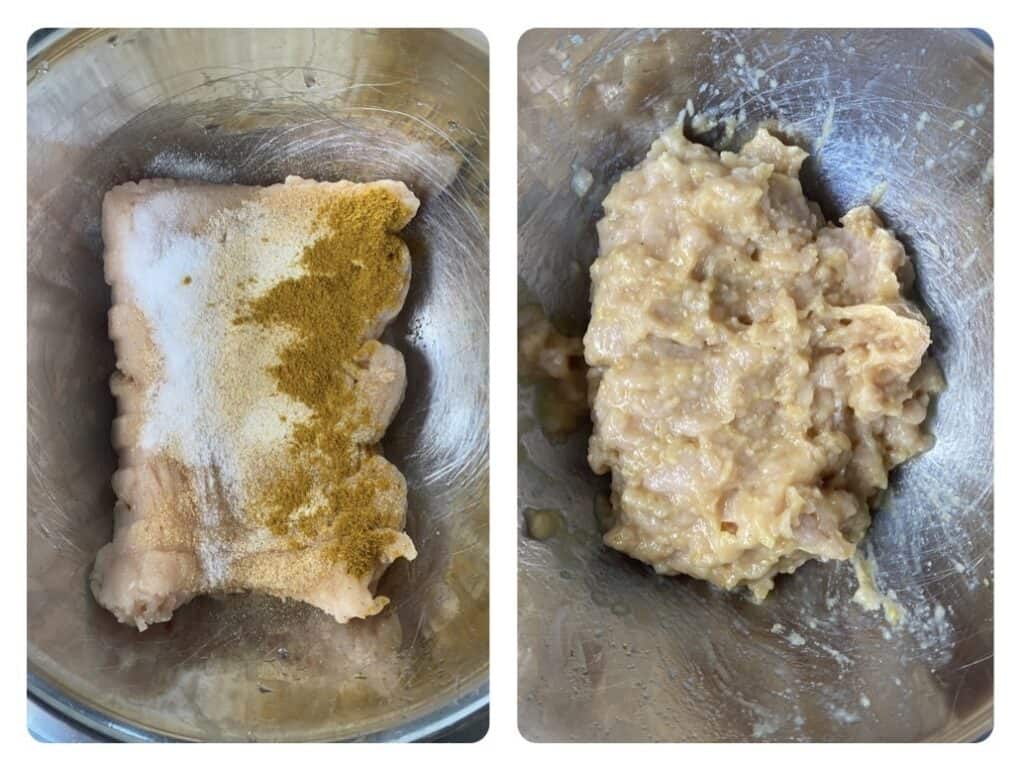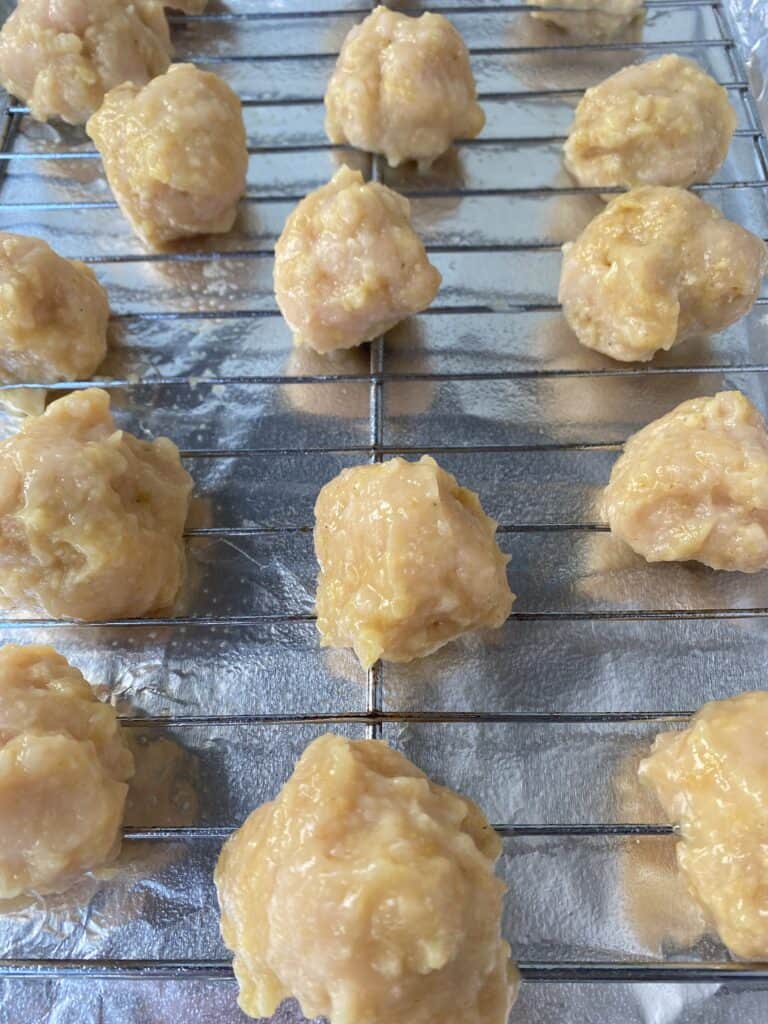 The leftovers of these meatballs are just as good as the first night! These reheat easily and make a good lunch or dinner the next day. Store in an airtight container for up to 3 days.
What to serve with the meatballs
Let's make the full meal, here are some ideas of what to serve with these!
My favorite side for these is this plant based lemon pepper rice. It adds a nice flavor and has a texture that's a little in between orzo and rice.
Couscous
Basmati rice
Mashed potatoes
And let's add a little green with a fresh side salad or some zucchini!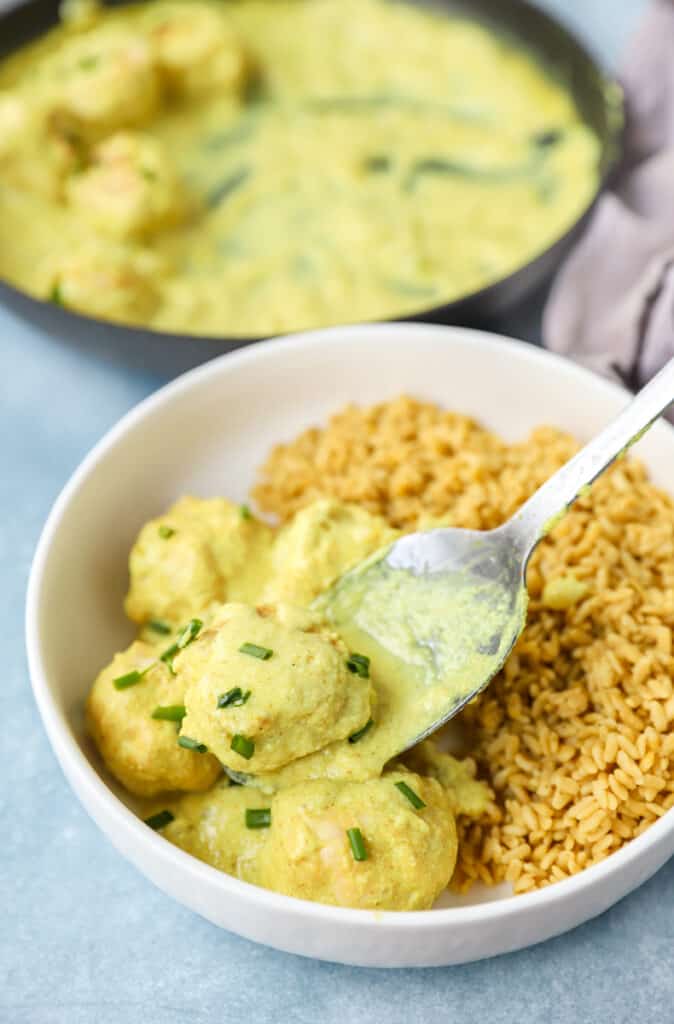 Want more meatballs? Checkout some of my other favorite recipes!
Chicken Parm Meatballs
Greek Chicken Meatballs
Orange Teriyaki Meatballs
Chicken Piccata Meatballs
And a few other ideas to use curry powder!
Roasted Sweet Potato and Broccoli Bowls
Stuffed Roasted Sweet Potatoes
Print
Curry Sauce Chicken Meatballs
Chicken meatballs seasoned with curry powder then drenched in a creamy sauce made with coconut milk, curry powder, and sesame oil. An inspired dinner that's loaded with flavor, and the leftovers are just as good as the first night!
Author:
Prep Time:

15 minutes

Cook Time:

30 minutes

Total Time:

45 minutes

Yield:

19 – 20 meatballs

Category:

Main Dish

Method:

Saute
For the meatballs
1 pound ground chicken
1/2 cup Panko
1/8 cup water
1 egg
2 and 1/2 teaspoons garlic powder
1 teaspoon salt
1 teaspoon curry powder
1/2 teaspoon onion powder
For the sauce
1 can coconut milk (13.5 oz)
1/3 cup finely diced white onion
3 garlic cloves, grated
2 teaspoons sesame oil
2 teaspoons white sugar
2 teaspoons curry powder
1/2 teaspoon salt
2 tablespoons water mixed with 3 teaspoons cornstarch to create a slurry
1/4 teaspoon garlic powder
Chopped chives for garnishing
Instructions
1. Preheat the oven to 400 degrees. Add a baking rack to a foil-lined baking sheet, and spray the baking rack with cooking spray.
2. In a large bowl combine the ground chicken, garlic powder, salt, curry powder, and onion powder. Add the egg, Panko, and water and gently mix. Form the meatballs and add them to the baking rack. To help roll the meatballs keep a bowl of warm water near by and occasionally dip your hands in the water. This will help prevent the meatball mix from sticking all over your hands!
4. Bake for 25-27 minutes, internal temp should be 165 degrees.
5. While the meatballs are baking prepare the sauce. In a medium pan over medium heat add the sesame oil then add the onion. Sauté for 4 minutes until the onions are soft, then add the grated garlic and curry powder, stir to coat the garlic and onions in the curry and sauté for an additional minute.
6. Next add the coconut milk, salt, garlic powder, and sugar. Stir to combine, then add the slurry. Raise the heat to a rapid simmer, then reduce heat to low and simmer 10-15 minutes until slightly thickened. You don't want it to be runny like a soup, you'll want it thick enough to cover the meatballs.
7. Once the meatballs are cooked, remove the sauce from the heat and add the meatballs to coat them in the curry sauce.
Top with chopped chives then serve with rice, orzo, or mashed potatoes!
Notes
You don't want the pan to be scalding hot when you add the coconut milk, have it at a low heat so the coconut milk doesn't separate.
Keywords: curry chicken meatballs