Orange teriyaki chicken meatballs add a refreshing hint of citrus to your homemade teriyaki sauce! And orange seasoned chicken meatball baked in an orange teriyaki sauce and topped with sesame seeds, an easy and light dinner!
Recipe at a Glance
Prep time: 15 minutes
Cook time: 40 minutes
Notes: Make rolling the chicken meatballs by keeping your hands wet! Keep a bowl of warm water nearby and occasionally wet your hands, no more sticky meatballs!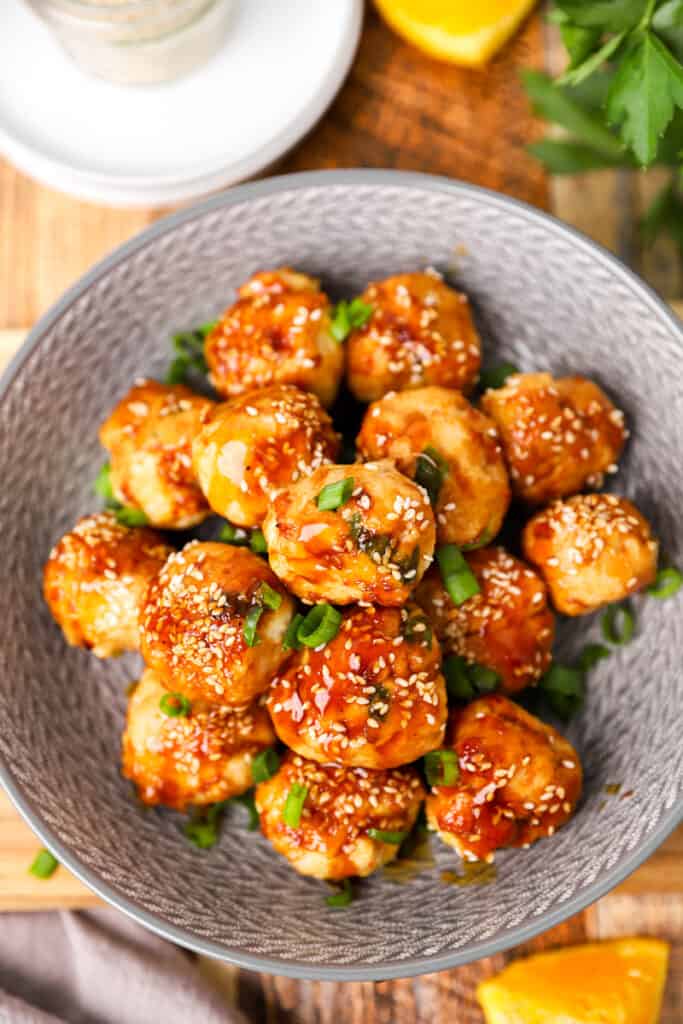 This recipe is a bright and light dinner with the additional flavor that the fresh orange adds. The chicken meatball is perfectly seasoned with a teaspoon of orange zest, and the homemade teriyaki sauce has just enough citrus flavor from the orange zest and fresh squeezed orange juice!
Garnish with some extra scallions and serve with rice for an easy dinner perfect for a weeknight. And, toddler approved! Lilly ate this up so that's a big win in my book!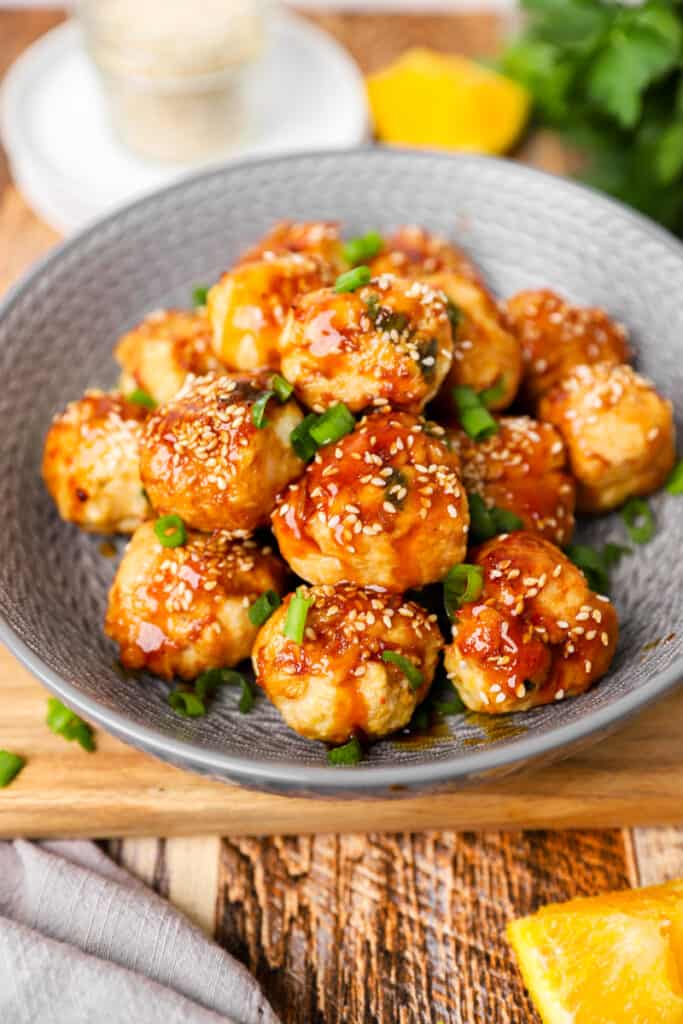 You know I love a good chicken meatball. For me, it's just a little bit easier than dealing with chicken breasts and on a bust weeknight I need anything easy.
I've got a few other chicken meatball recipes you might want to checkout and add to your dinner menus!
These Greek Chicken Meatballs are another light dinner seasoned with lemon zest, feta, and garlic. Chicken Parm Meatballs are one of my best recipes that people make again and again!
Like lemon? These Chicken Piccata Meatballs are a fun spin on the traditional chicken piccata.
And you know I can't leave out my Buffalo chicken. Buffalo Chicken Meatballs are a perfect game day snack, all the spicy flavor without the mess of wings.
And one of my newest creations, Curry Chicken Meatballs!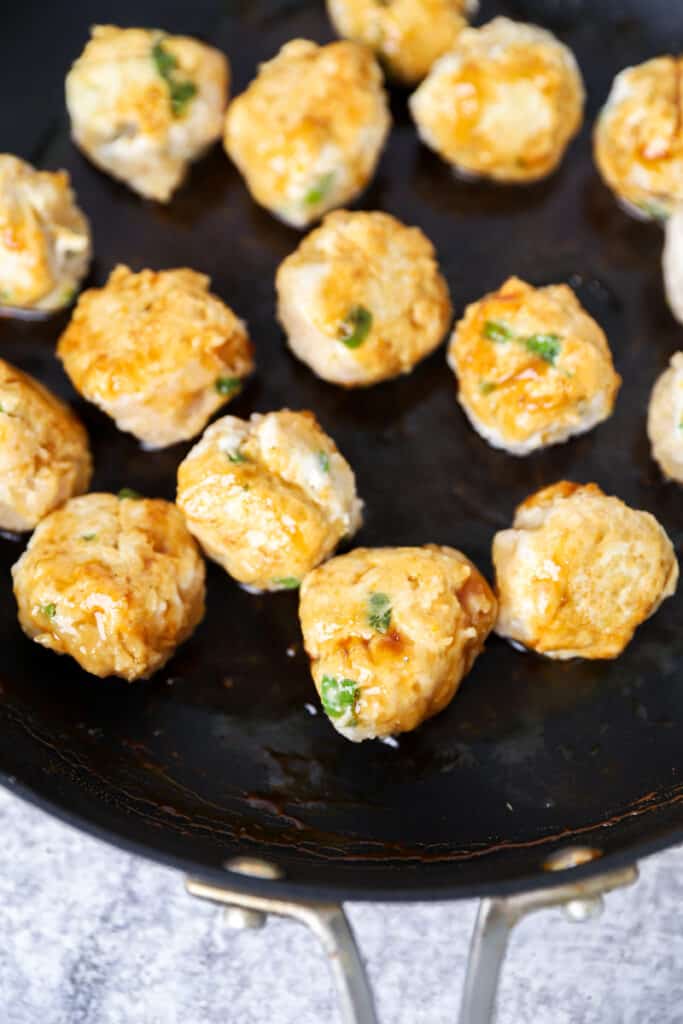 What to serve with these meatballs
I served mine with Jasmin rice, but here are some other ideas for side dishes to complete the meal!
Mashed potatoes
Fried rice
Roasted or steamed broccoli
Zucchini
Green beans, asparagus, or spinach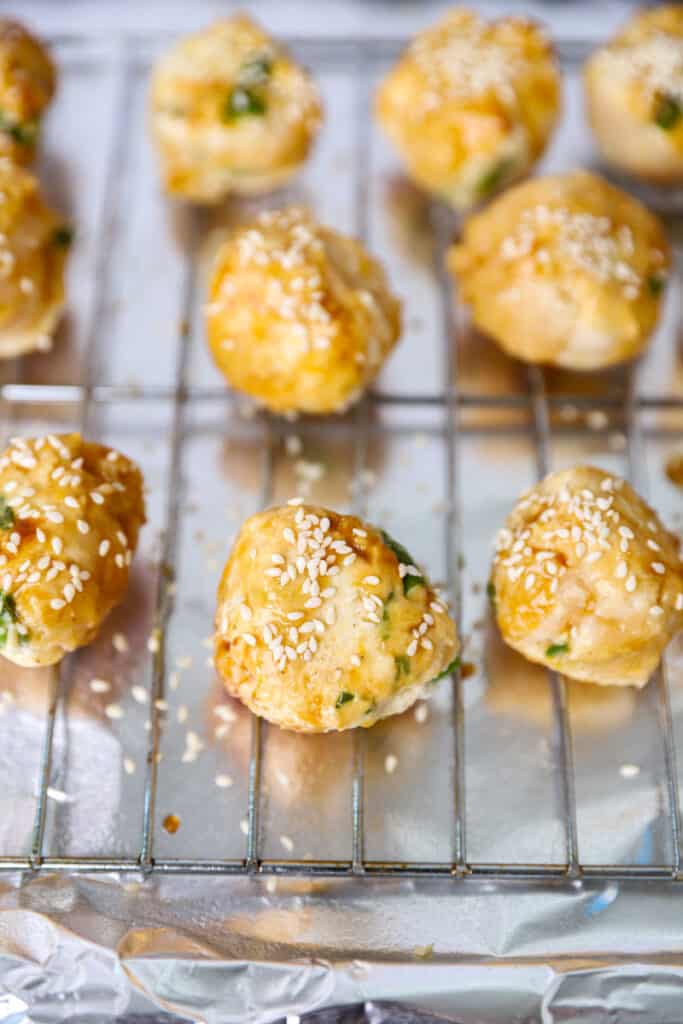 Cooking tips
I recommend splitting the orange teriyaki sauce into two bowls. Once bowl will be reserved for the end to garnish the finished meatballs, and one you will use to baste and brown the meatballs. By splitting the sauce into two bowls you take away the risk of accidentally touching your spoon the the raw chicken and putting it back in the bowl.
You'll need one large orange for this recipe. You'll need 2 teaspoons of the zest, and 3 teaspoons of freshly squeezed juice.
I recommend using the fresh squeezed orange juice and not trying to substitute with bottle OJ. There's a huge difference in quality, consistency, and color.
I like to brown the meatballs for 3 minutes before baking them, I like the additional color it adds! If you want to skip the browning you'll need to increase the baking time in the oven. Internal temperature of the meatballs needs to reach 165 degrees. I like to use a meat thermometer to make sure I've reach safe cooking temperature!
You can save any leftovers in an air tight container in the fridge. Personal preference is I recommend eating within 3 days for best freshness and flavors.
When I reheat the meatballs in the microwave I cut them in half first, this will lessen the amount of reheating time needed.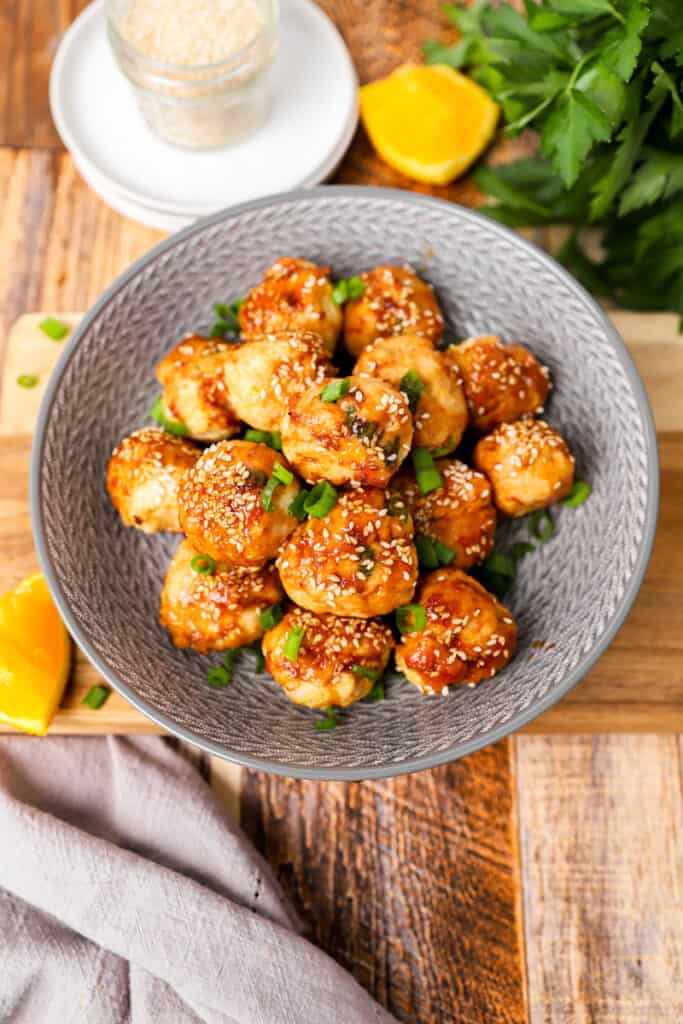 Want more recipes, cooking tips, and food photography? Follow me on Instagram!
If you make this recipe, or any of the recipes from the blog, make sure to tag me! I love seeing your delicious creations.
Print
Orange Teriyaki Chicken Meatballs
A fun spin on teriyaki sauce, the sauce is infused with orange zest and fresh orange juice for a citrus flavor! Serve over a chicken meatballs for an easy and light dinner.
Author:
Prep Time:

15 minutes

Cook Time:

40

Total Time:

55 minutes

Yield:

15-15 meatballs

Category:

Main Dish

Method:

Bake
For the orange teriyaki sauce
1/2 cup light sodium soy sauce
1 cup water
2 tablespoons dark brown sugar
2 tablespoons honey
3 tablespoons fresh squeezed orange juice
1 tablespoon olive oil
1 teaspoon orange zest
2 cloves garlic, grated
1 teaspoon ground ginger
4 teaspoons cornstarch combined with 4 teaspoons water
For the chicken meatball
1 pound ground chicken
1/2 cup Panko bread crumbs
1 egg
1 teaspoon ground ginger
1 teaspoon garlic powder
1 teaspoon orange zest
1/2 teaspoon salt
3 tablespoons diced scallions
Sesame seeds
Instructions
1. Preheat the oven to 400 degrees. Prepare your baking sheet by lining it with tin foil, then adding a baking rack, spray the baking rack with cooking spray so the meatballs don't stick.
2. To make the sauce heat the olive oil in a large pan. Add the grated garlic and cook for 1 minute. Add the soy sauce, 1 cup of water, brown sugar, honey, ground ginger, orange juice and orange zest. Whisk well to combine. Make a slurry by mixing together the 4 teaspoons corn starch and 4 teaspoons water in a small bowl, pour into the soy sauce and whisk immediately to combine. Simmer on low for about 5-8 minutes as you make the chicken meatballs, whisking occasionally.
3. To make the chicken meatballs, in a large bowl combine the ground chicken, egg, Panko, ground ginger, garlic powder, orange zest, salt, and scallions. Mix well. To easily roll this mixture into meatballs, keep a bowl of water nearby and occasionally wet your hands, it will prevent the ground chicken from sticking to your hands! You should get 15-16 meatballs.
4. Carefully pour the orange teriyaki sauce into two bowls, splitting the sauce about evenly between the two, setting aside one of these bowls for the finished baked meatballs. Pour a little olive oil into the pan, about a tablespoon, and heat over medium high heat. Add the meatballs and brown on one side for 90 seconds. Pour in about 1/3 cup of the teriyaki sauce from one bowl, flip the meatballs and brown the other side for an additional 90 seconds. Using tongs, remove the chicken meatballs from the pan and place on the baking rack. Sprinkle each meatball with as much sesame seeds as you'd like.
5. Bake the chicken meatballs for 12 minutes, then carefully pour additional teriyaki sauce over each meatball, then baking an additional 8 minutes. Total bake time for the meatballs will be 20 minutes, internal temperature should be 165 degrees.
To serve, garnish with additional scallions, and sauce from the reserved bowl. Enjoy!
Notes
As you're adding teriyaki sauce to the chicken meatballs, be sure you don't cross containment the bowl of sauce by touching a utensil to uncooked chicken, then placing it back in the bowl.  That's why I recommend splitting the sauce into two bowls, one being reserved for the garnishing sauce, and one that will be used for the browning and baking of the meatballs.
Keywords: orange teriyaki chicken meatballs