These baked BBQ Chicken Taquitos make a quick and easy dinner! By using rotisserie chicken, you can get this on the dinner table from prep to finish in about 30 minutes. These taquitos also make a fun party snack! Serve with additional BBQ sauce and ranch for dipping.
Recipe at a Glance
Prep time: 10 – 15 minutes
Cook time: 18 – 20 minutes
Notes: By using rotisserie chicken you can get these taquitos prepped and ready for the oven in under 15 minutes. Adding cream cheese gives these the perfect smooth texture to the BBQ chicken mixture. Just mix, roll, and bake!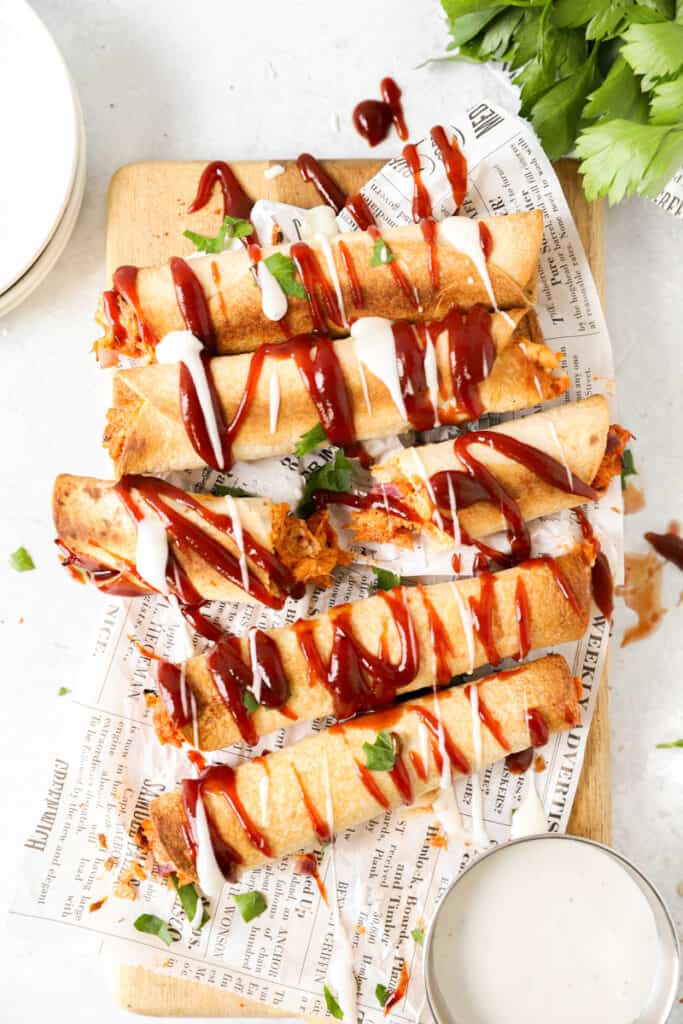 Taquitos are typically made with corn tortillas, but I've always been a bigger fan of the texture of flour tortillas. For me, flour tortillas are a bit softer and also get a bit crispier especially when baked.
Which leads us to our next topic of conversation: baked or fried?
A traditional taquito will be fried. You can use that cooking method if you prefer the taste and texture of a fried taquito. Here, I've chosen to bake them!
First, for me it's just easier. I do a few fried dishes like my Fried Brie Bites, but for the most part I prefer to bake any recipes that need to get crispy. No pot of oil to watch. Once I pop these taquitos in the oven they'll cook up on their own in about 20 minutes!
Second, you can reduce the amount of oil you need to use if you skip the frying method. Just brush the tortillas with a little vegetable oil and that will do the trick to get them crispy in the oven!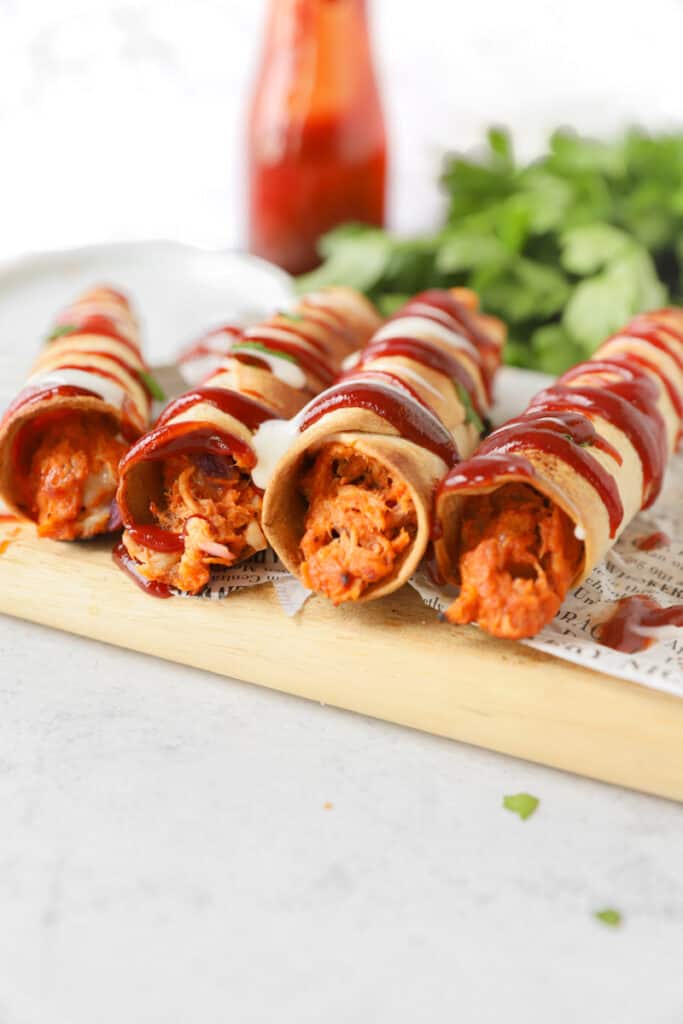 I love how easy these are. 30 minutes from start to finish and you can have dinner ready to eat. If you want more quick and easy dinners to add to your weekly menu, check out my section on 30 minute meals!
Some of my favorites are this Oaxaca and Bacon Grilled Cheese, and this Easy Stove Top Mac and Cheese that's perfect for kids and adults!
Two of my all time favorite easy pasta dinners are my Creamy Pesto Pasta and this Alfredo Tomato Linguini.
Or if you're here because you're looking for quick and easy appetizer recipes, here are some of the best recipes here on the blog!
This Cream Cheese Salsa Dip needs only 5 ingredients and will be a huge crowd pleasing dip! Buffalo Chicken Pasta Salad will be the perfect spicy side dish at a cookout. And this Whipped Feta is great as a dip or as a spread on a wrap!
Lastly, Brie and Bacon Bites are one of my favorite appetizers to make again and again. Buttery brie, crispy bacon, and a homemade raspberry compote.
Even more appetizers can be found here in my Appetizer Recipes!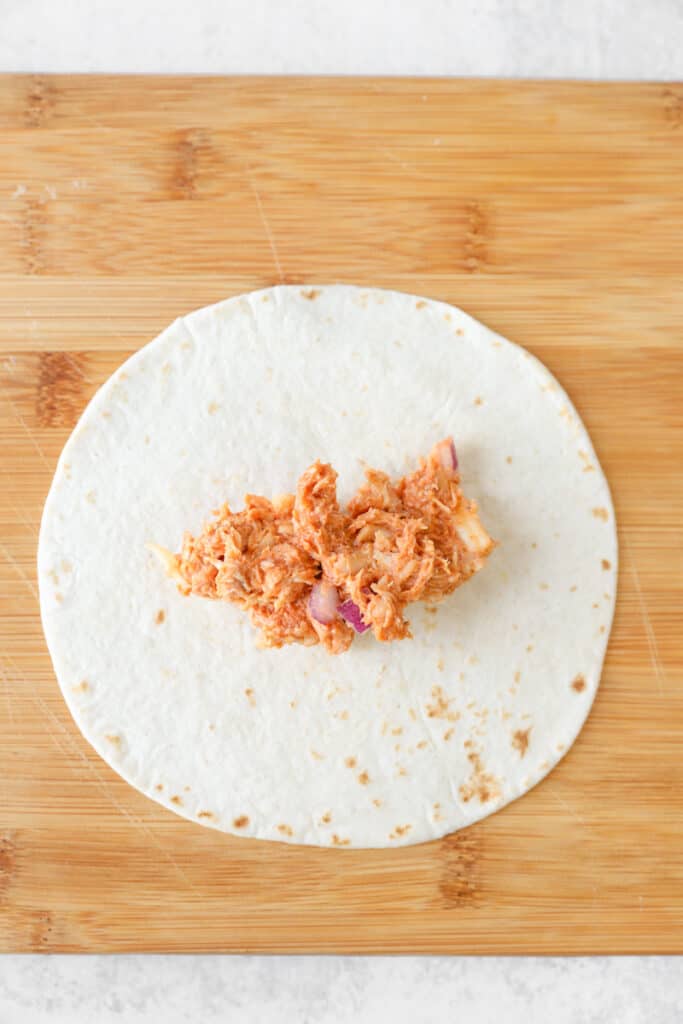 Cooking tips
Rotisserie chickens have the best texture and quality the day you buy them, but I've used them a day or two after I've bought them and kept them in the fridge. The meat will lose some moisture but the BBQ sauce will help add it back.
My flavor preference is to use the white meat of the chicken for this.
Use your favorite BBQ sauce! I used Sweet Baby Ray's here, but you use whatever brand and flavor you like the best.
When you add the mixture to the flour tortilla I recommend keeping it towards the center. As you roll the tortilla and as it bakes the mixture will spread out towards the ends giving you an even BBQ mixture throughout.
This recipe used vegetable oil for the basting oil. If you use any other oil you'll need to keep an eye on them and adjust the baking time or temperature as different oils will brown the tortillas faster.
If any of the BBQ chicken mix has baked out onto the pan, just carefully use a spoon or a knife to press it back into the taquito.
Store any leftovers in an air right container in the fridge. For best results, reheat them at a low temperature in the oven.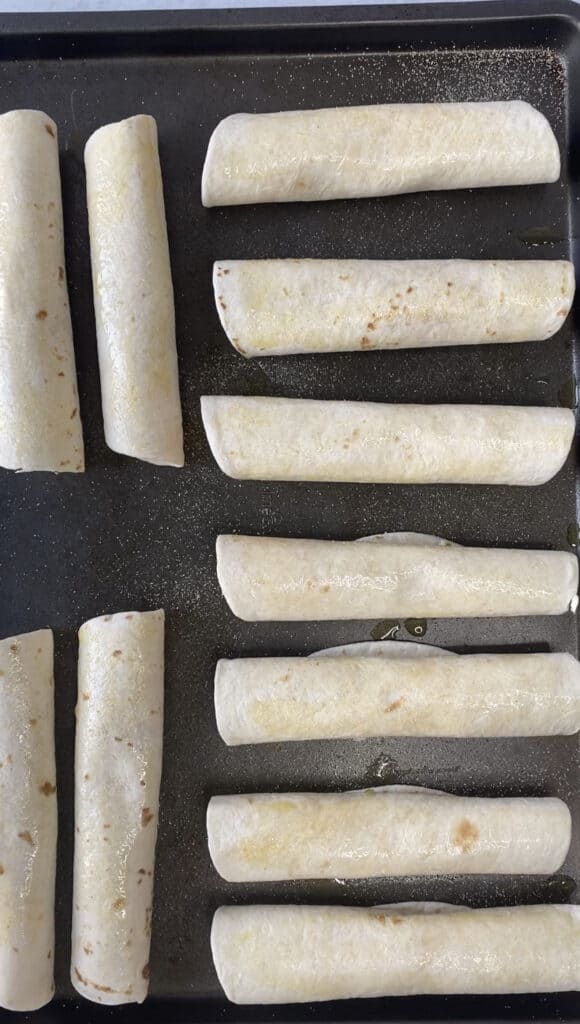 What to serve with BBQ chicken taquitos
These are great on their own, but if you want to make these part of a bigger meal here are some side dish ideas!
Potato salad
Pasta salad (check out my Mexican Corn Pasta Salad)
Sweet potato fries or waffle fries
Garden salad
Corn on the cob
Baked potato
Corn and tomato salad
Grilled pineapple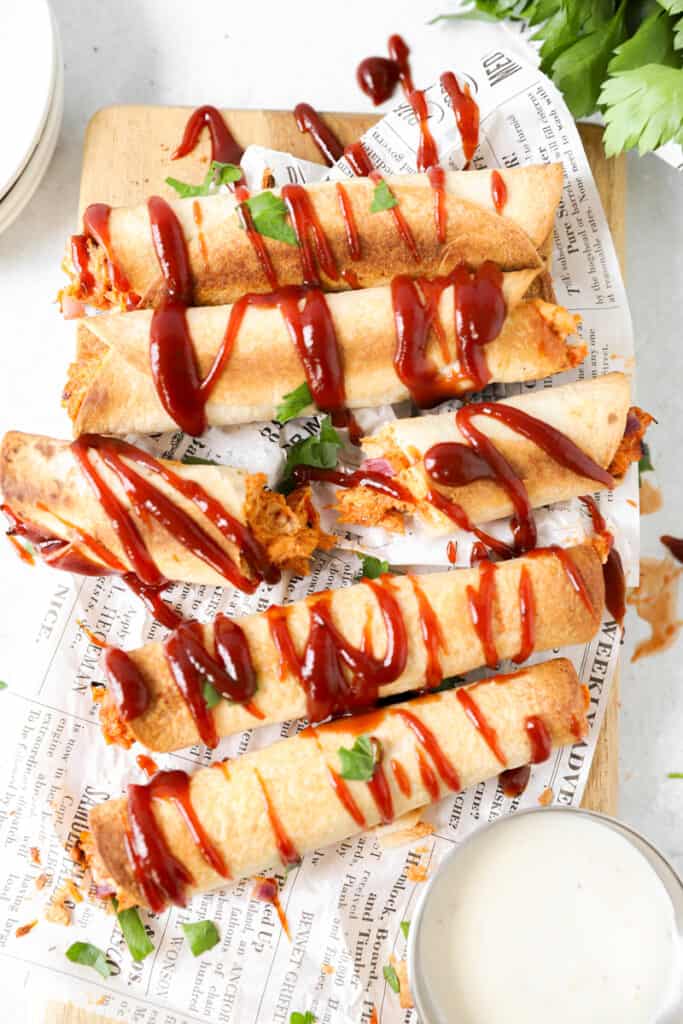 Want more recipes, cooking tips and food photography? Follow me on Instagram!
If you make this recipe, or any recipes from the blog, make sure to tag me! I love seeing all your delicious creations.
Print
BBQ Chicken Taquitos
BBQ chicken taquitos use your favorite BBQ sauce and rotisserie chicken for a quick and easy dinner or snack! Just mix, roll, and bake!
Author:
Prep Time:

15 minutes

Cook Time:

20 minutes

Total Time:

35 minutes

Yield:

15 -16 taquitos

Category:

Main Dish

Method:

Baking

Cuisine:

American
2 cups shredded rotisserie chicken, recommend using white meat only
4 ounces softened cream cheese
1/2 cup BBQ sauce
1/2 cup shredded Mozzarella cheese
1/3 cup diced red onions
1/2 teaspoon garlic powder
1/2 teaspoon smoked paprika
1/4 teaspoon chicken bouillon powder
1/4 teaspoon salt
1/4 teaspoon black pepper
Vegetable oil for brushing the tortillas
Flour tortillas, taco sized
Instructions
1. Preheat the oven to 425 degrees. In a large bowl combine the chicken and the cream cheese. Next, add in the BBQ sauce and stir to combine. Last, add in the Mozzarella, onions, garlic powder, smoked paprika, chicken bouillon, salt and pepper. Stir well until everything is incorporated.
2. Begin making the taquitos by placing about 2-3 tablespoons of the BBQ chicken mixture into the center of the flour tortillas. See post above for instructional photo! Roll the tortillas closed and place seam-side down on a baking sheet. Repeat until all the chicken filling has been used, should make approximately 15 taquitos.
3. Brush the tops and sides of the tortillas with vegetable oil, sprinkle with additional garlic powder and a bit of salt. Bake for 18-20 minutes.
To serve, let cool for a few minutes…these will be HOT on the inside. Serve with ranch and extra BBQ sauce for dipping.
Notes
If you use any other oil than vegetable oil it will affect how fast the tortillas brown. If you're not using vegetable oil keep an eye on them and you may need to adjust the cooking time down.
Keywords: BBQ chicken taquitos