If you're a grilled cheese lover, this recipe is going to be right up your alley. Let me introduce you to the Oaxaca Grilled Cheese with Bacon.
Perfection in every bite. Smooth melted Oaxaca, crispy bacon, and the finishing bite of a chipotle crema. Cheesy, crispy, and spicy…do I have your attention?
This is a paid sponsorship by Tropical Cheese. All thoughts and opinions are my own.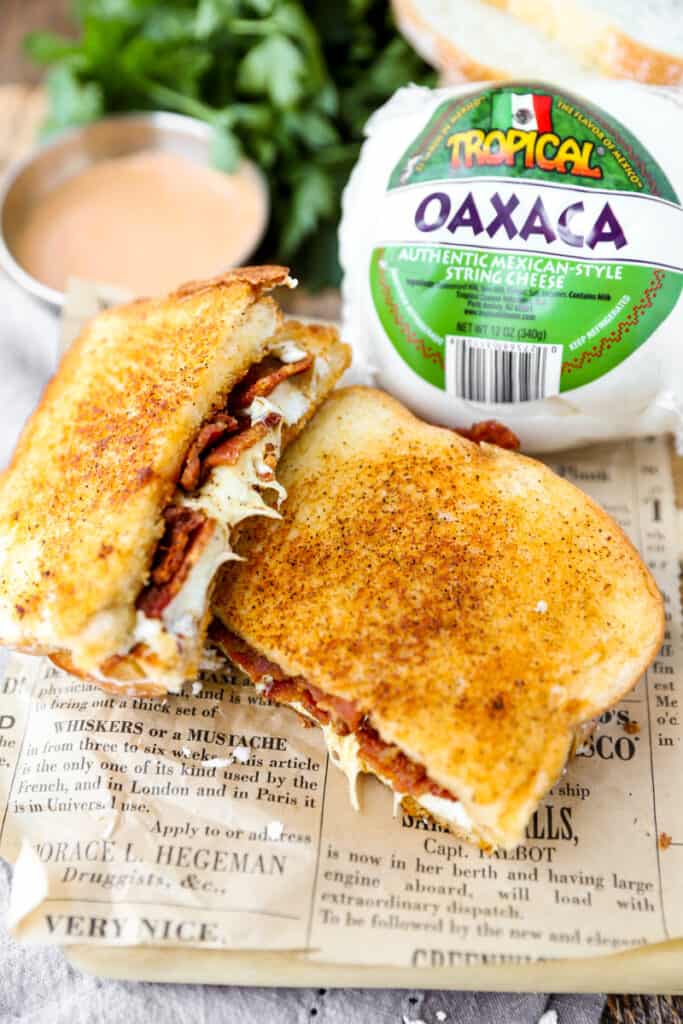 Ingredients
Oaxaca. The star of the show here, Oaxaca cheese! When you're ready to make this, look for Tropical Oaxaca!
Bacon. I like to use a thick cut bacon, cooked crispy!
Bread and Butter. Go ahead and use whatever bread you like, but I recommend something sturdier and not too soft. You want something that can hold the weight of the bacon and Oaxaca! Melted butter is key to getting that golden color on a grilled cheese. Some people reach for the mayo, but I always pick butter!
Garlic powder, salt, chili powder. Trust me on this, seasoning your bread goes a long way in making a perfect grilled cheese. Just a little is all you need! For this recipe I sprinkled a little salt, garlic powder, and chili powder onto both sides of the buttered bread.
Chipotle Peppers in Adobo Sauce and Crema. Make this as spicy as you'd like, but for the dipping sauce you'll mix a few tablespoons of crema with a few teaspoons of the sauce from the chipotle peppers.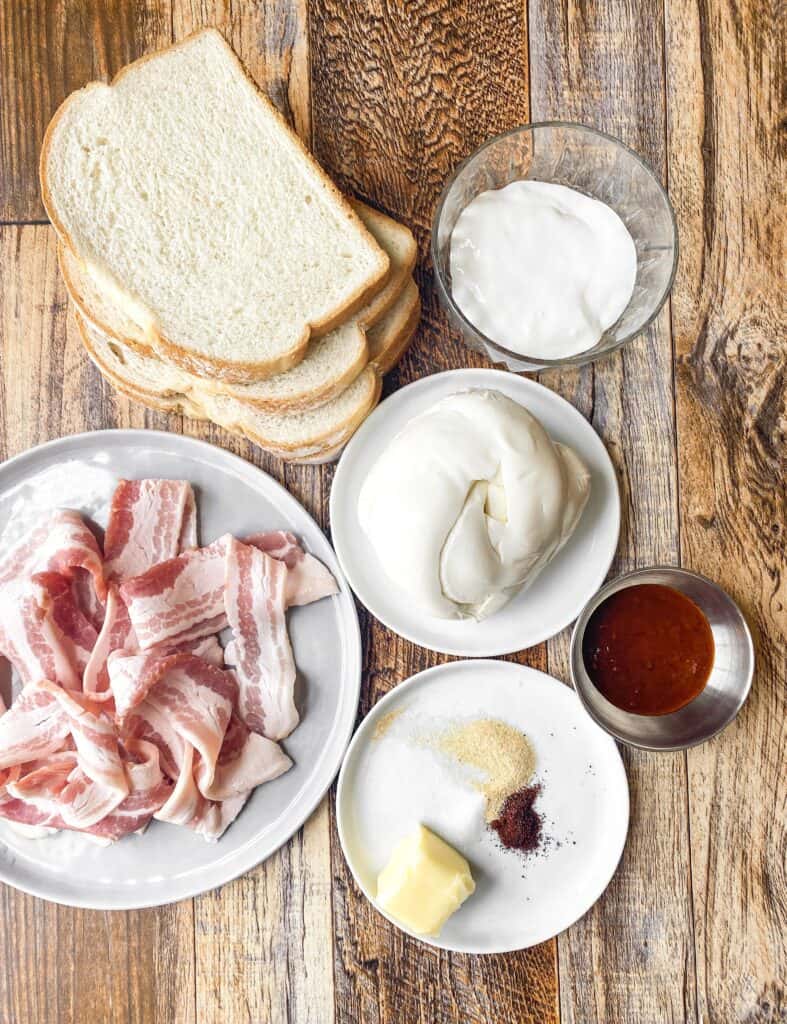 Oaxaca Cheese
Let's talk about the star of the show here, the main event, the ingredients that's make this a grilled cheese: Oaxaca.
Have you ever tried this cheese? If not, let me tell you why this is the cheese you need to add to your list.
Tropical Oaxaca is a semi-soft white cheese that comes in this beautiful circular braided. It's a string cheese, so it will easily pull it apart as you unravel the braided shape.
To grate the Oaxaca for this recipe, you'll want to place the flat bottom of the cheese against your box grater for the easiest way to get this into shredded pieces that will easily melt. If you need a box grater, you can get one like this grater!
The flavor is mild, creamy and a little bit salty. My favorite part? It melts SO easily! This is the cheese you want to add to your tacos, enchiladas, soups, and beans.
What will you try Oaxaca on first?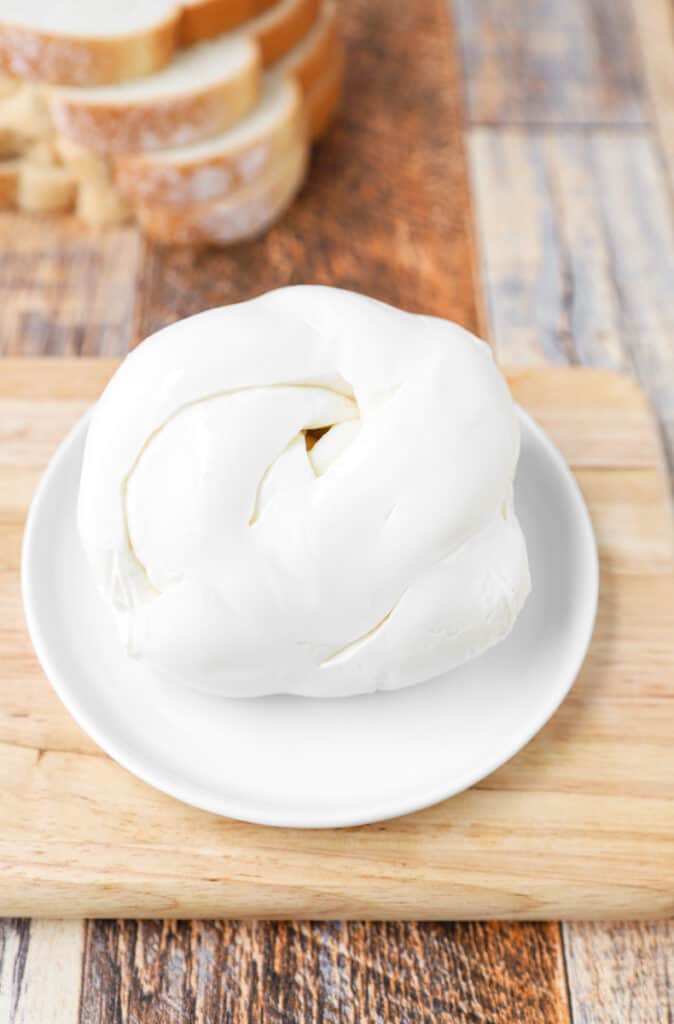 You know I'm all about the perfect dipping sauce, for this grilled cheese I needed the perfectly spicey sauce to pair with the cheese and salty bacon!
A chipotle crema is just the thing!
You can make this as spicy or mild as you'd like, but all you need is crema and chipotle peppers in adobo sauce. Just mix a few tablespoons of crema with few teaspoons of the adobo sauce.
When you're adding the adobo sauce, start small and give it a taste before you add more. You always want to start small when you're working with something that packs a big kick of heat! Once the heat is in, you can't take it out. I like my spicy, but make it to your palette!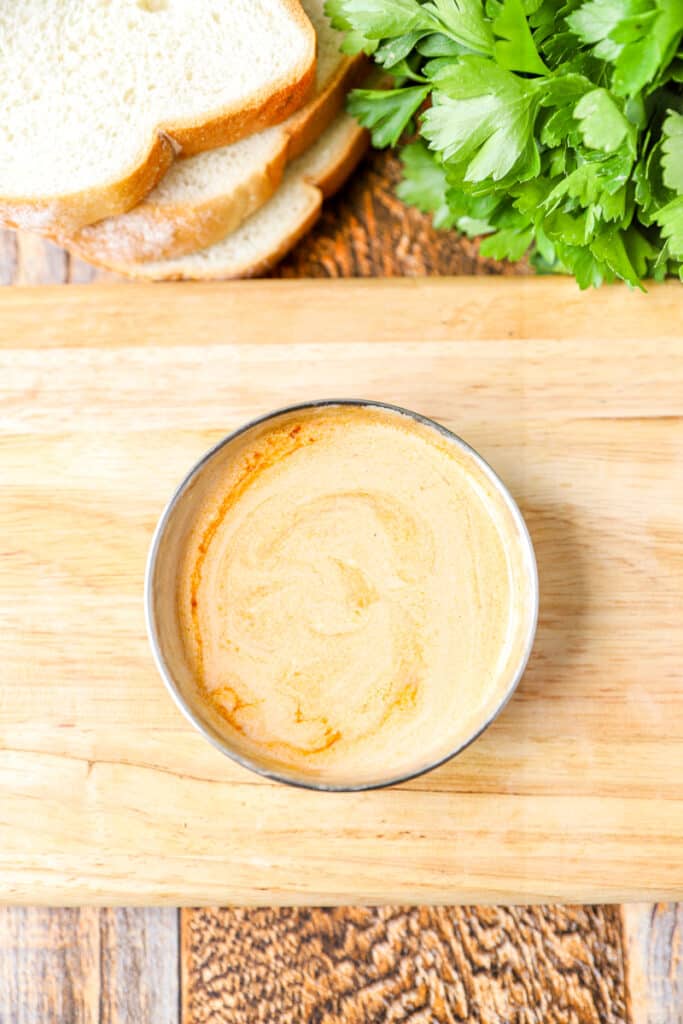 Like this recipe? Then you'll want to check these out!
If you're looking for more spicy recipes check out my Buffalo Chicken Burgers, Buffalo Chicken Taquitos, Buffalo Chicken Meatballs, or these Spicy Pretzel Bites!
More comfort foods? Check out this Creamy Mexican Corn Chowder, Creamy Chicken Tortilla Soup, or Fajita Pasta Bake!
And let's round it out with some snacks and appetizers! Taco Smashed Potatoes, Enchilada Tacos, and Street Corn Waffle Fries will be a hit at any gathering!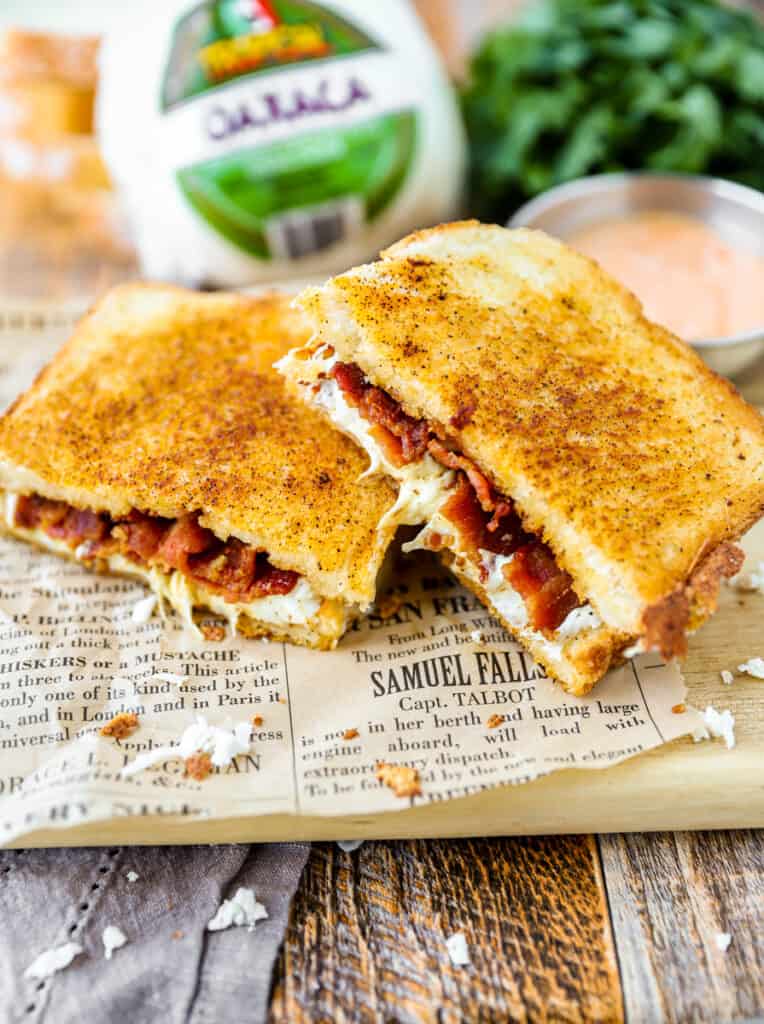 This is a paid sponsorship by Tropical Cheese. All thoughts and opinions are my own.
Print
Oaxaca Grilled Cheese
A fun spin on a grilled cheese, this version is made with Oaxaca cheese and crispy bacon. Dip in a chipotle crema for the perfect spicy bite!
Author:
Prep Time:

10 minutes

Cook Time:

15 minutes

Total Time:

25 minutes

Yield:

4 grilled cheeses

Category:

Main Dish

Method:

Saute

Cuisine:

Mexican
8 slices sturdy bread, like sourdough
12 oz ball of Oaxaca cheese, grated
8 slices thick cut bacon
Butter
Garlic powder
Chili powder
Salt
Crema
Chipotle peppers in adobo sauce
Instructions
1. Prepare the bacon. Cook the bacon strips in a large frying pan over medium heat for 10-12 minutes until crispy. Remove and place on a paper towel lined plate as you make prepare the rest of the grilled cheese.
2. Melt several tablespoons of butter and coat one side of each slice of bread. Sprinkle with garlic powder, chili powder, and salt. Place this seasoned butter side down in large pan over medium heat and cook for 2-3 minutes until browned. While the bread is toasting, brush the face up side with more melted butter and sprinkle with additional garlic powder, salt, and chili powder.
3. Once browned, flip to toast the other side. Top with Oaxaca cheese, I used just a little more than 1/3 cup of grated Oaxaca cheese per sandwich. Add two slices of bacon per sandwich. Combine the two pieces of bread and continue cooking and flipping the grilled cheese until the cheese is melted and the bread is browned. Approximately 2-3 minutes.
4. While the grilled cheese is cooking, mix up your chipotle crema. Mix a few tablespoons of crema with a few teaspoons of adobo sauce from the chipotle peppers. I recommend adding a little of the adobo sauce at a time, and then giving a taste. This can get spicy quickly so start with a little, then increase as you want to turn up the heat!
To serve, dip the Oaxaca grilled cheese in the chipotle crema and enjoy!