So you like pretzels. And you also like Buffalo sauce. What if I told you you could combine those and make Spicy Pretzel Bites? An adorable little round pretzel bite that's been smothered with a homemade Buffalo sauce, topped with coarse salt. Oh but it doesn't end there. Dip these babies in some beer cheese dip for the perfect finish. I believe I have your attention now?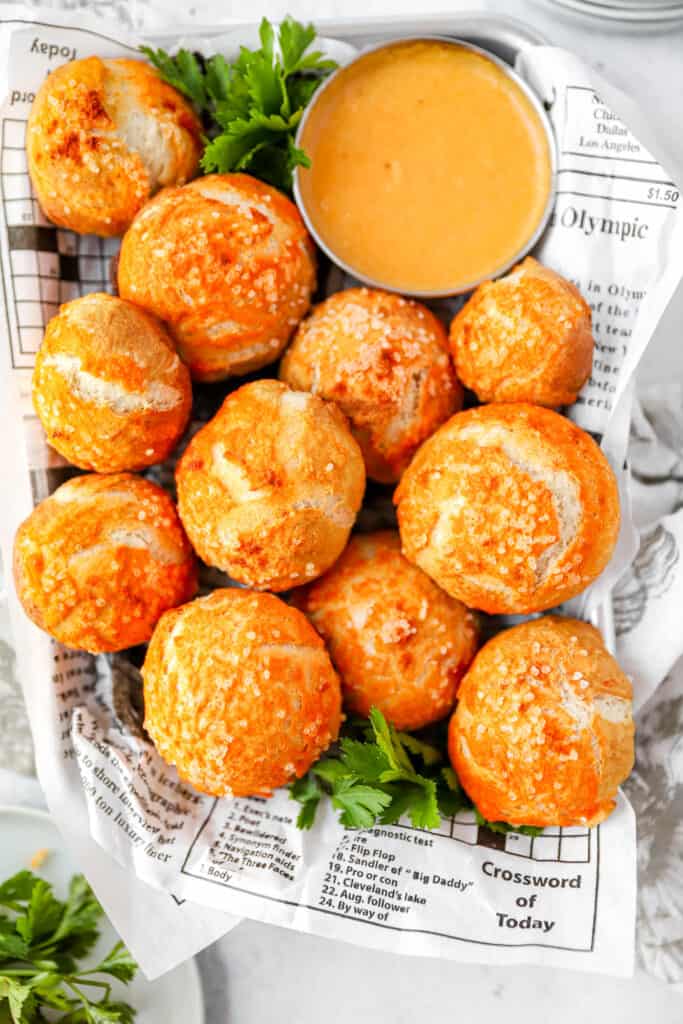 How to make spicy pretzel bites
When I made pretzel bites for the first time a few years ago I was shocked…SHOCKED at how easy it was. I guess I had always just assumed pretzels were complicated, time consuming, and something I'd probably manage to mess up.
But how wrong I was!
Pretzel dough is a few simple steps, giving the dough time to rise, a quick baking soda bath, then baking! Get the flavor of warm fresh pretzels right from your own oven. For this recipe I chose to make fun circular bites!
Alright, let's get to it.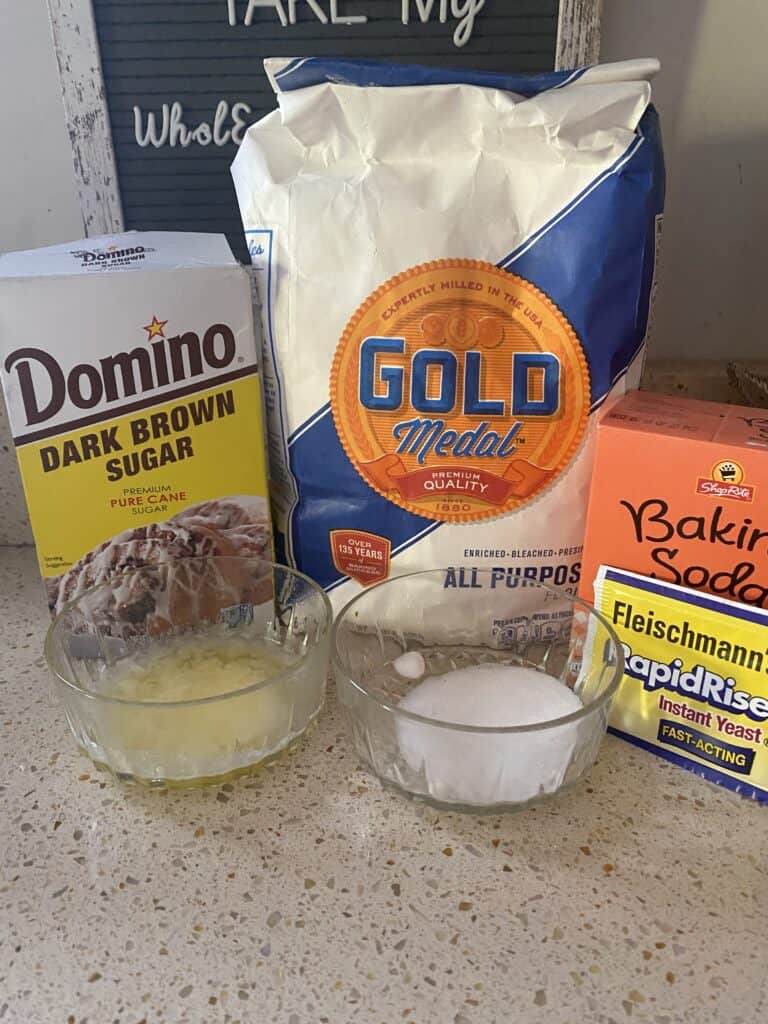 Ingredients
Trust me when I tell you these are so easy! The only thing I need to add to my grocery list is usually just the rapid rise yeast. I don't bake often, especially breads, so it's not something that's usually readily available in my pantry. So here's what you need!
All purpose flour
Brown sugar
Butter
Salt
Baking soda
Rapid rise yeast
6 ingredients, that's it! And nothing that really needs more explanation or substitution ideas. Do you have all of these now or do you need to add anything to your shopping list?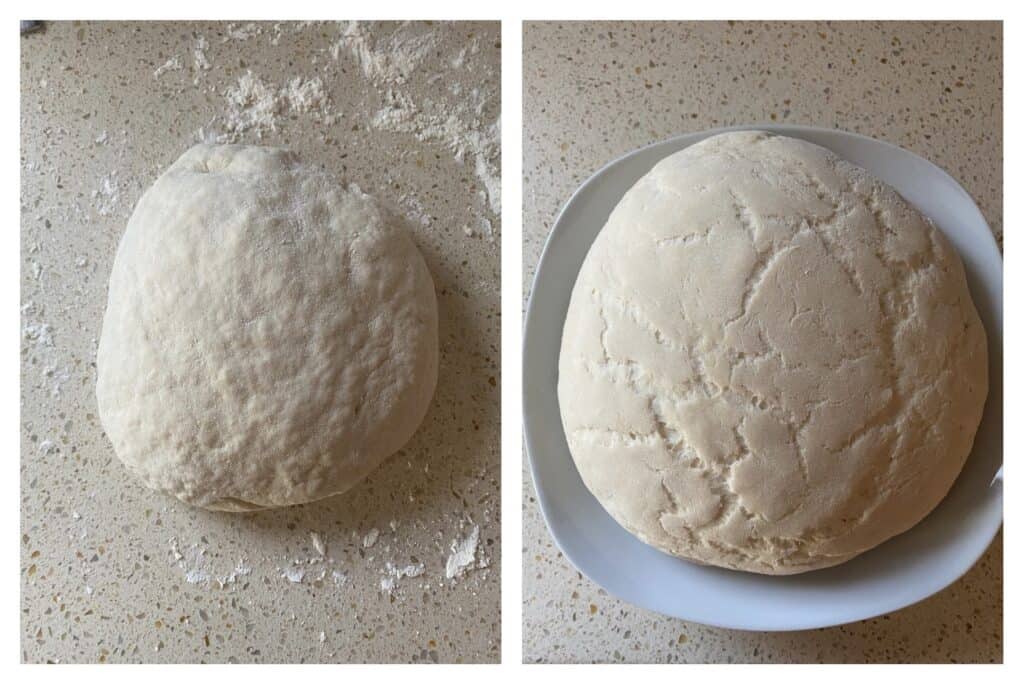 Making the dough
It's as easy as 1, 2, 3!
Mix the yeast with warm water and let it sit for a minute.
Then, mix in the salt, melted butter, and brown sugar. Mix in the flour a cup at a time. Knead the dough into a ball, about 3 minutes, until it bounces back when you press it.
Place the dough in a bowl, cover with a towel, and let it rise for an hour.
See how easy that was?!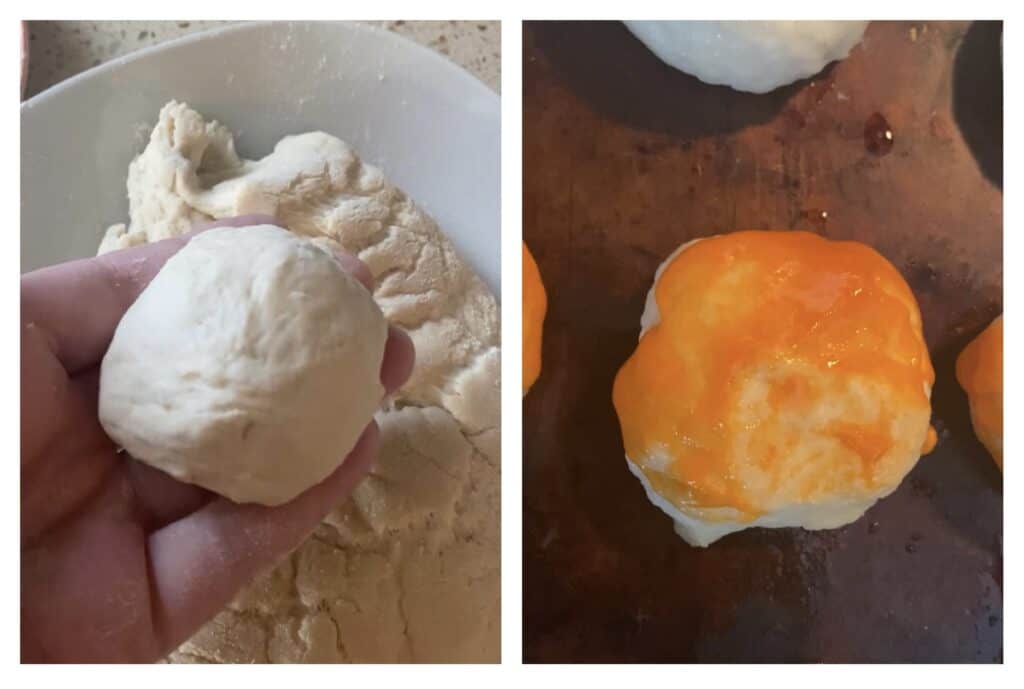 Ok now there are a few more steps to get the final pretzel bite that's ready for the oven.
After the dough has risen, it's time to make them into these pretzel ball bites and get them ready for the baking soda bath!
Don't skip the baking soda bath!!!!
The one crucial step to getting the classic pretzel flavor is to boil them for about 20-30 seconds in a pot of boiling water with baking soda. It's an extra step, but it's not one you can skip. Boiling the dough balls first in the baking soda water helps the pretzels puff up a bit, and will help the exterior get crispier in the oven, while the center stays that quintessential soft and chewy pretzel.
It also helps infuse a little extra flavor to the dough. All you need is 20-30 seconds in the baking soda water, so you'll need to work quickly. I find using a mesh strainer like these is the best! It will allow you to drop the dough in the pot quickly, and scoop them all up super fast! You don't want to leave them in the baking soda water for more than 30 seconds or you'll end up risking a metallic flavor. And no one wants metal tasting pretzels!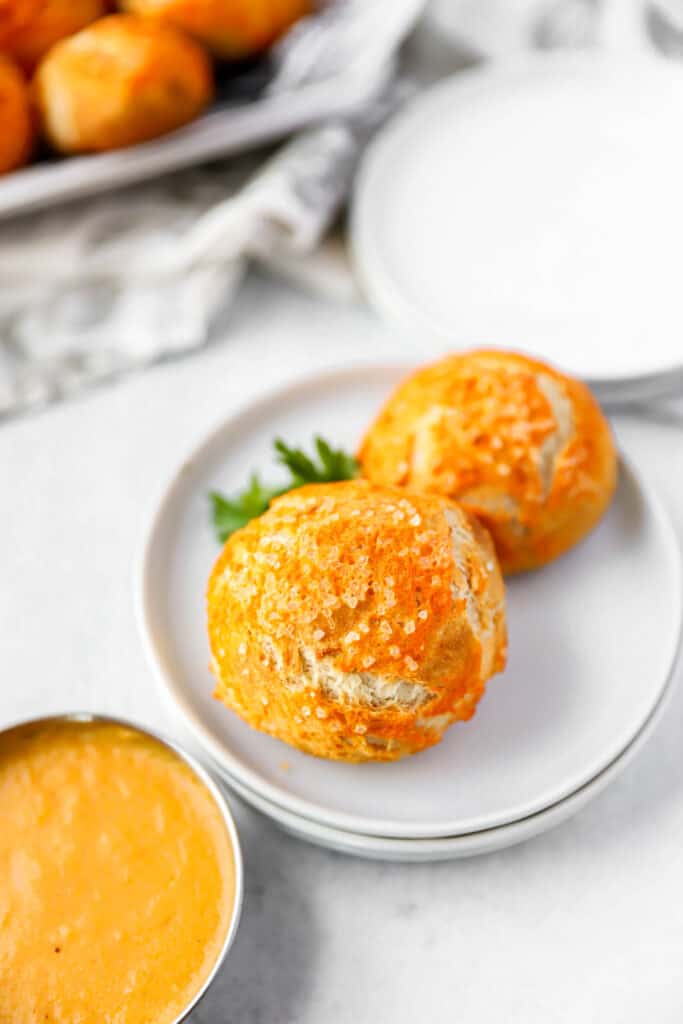 Recipe tips
You can make these ahead of time and store them in an air tight container; however I think pretzels are best eaten fresh the day their made!
I don't use an egg wash on these since you're smothering them with buffalo sauce.
For the dipping sauce, I strongly recommend making the beer cheese dip. Ranch would be good too! I don't recommend mustard. These bites are spicy, and dipping in mustard for me was way too much of a kick. The mustard flavor overpowered the Buffalo sauce flavor. No good!
These don't have to have perfectly smooth tops! I like the look of the creases and lines that form as they puff up when baking!
Like these Spicy Pretzel Bites and ready for more savory bites? The snack table is where you'll find me at any party. Here are some of my most popular snack recipes on the blog! You can also check out my appetizer section.
It's not a party without a good dip! Serve this easy 5 ingredient Cream Cheese Salsa Dip! Or this Hot Taco Dip for a crowd pleasing snack. Or literally one of my favorite easy dips is this cold Whipped Feta. This never lasts long at a get together!
Let's move on to some small bites. Move over fried Mozz, Fried Brie Bites are where it's at! Buttery smooth fried brie is by far one of my favorite cheesy apps! Better than nachos, try these Mexican Street Corn Waffle Fries! Or another Mexican inspired snack, these Taco Smashed Potatoes! Smothered with a chipotle mayo and queso fresco.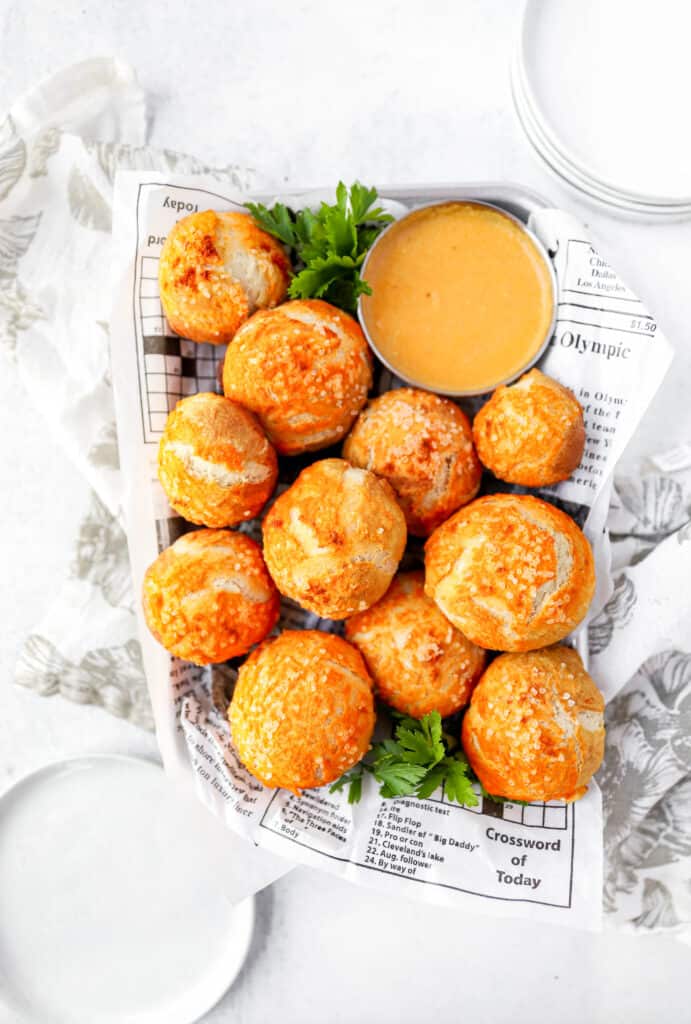 Print
Spicy Pretzel Bites
Take pretzel bites to the next level with Spicy Pretzel Bites. Soft pretzel balls smothered in Buffalo sauce, a dash of cayenne pepper, and coarse sea salt then baked into a crispy pretzel ball! Soft and chewy inside with a salty spicy crust.
Author:
Prep Time:

15 minutes

Cook Time:

1 hour 30 minutes

Total Time:

1 hour 45 minutes

Yield:

About 20 pretzels

Category:

Baking

Method:

Baking

Cuisine:

American
For the Pretzel 
1 and 1/2 cups warm water
1 packet rapid rise yeast
1 teaspoon salt
1 and 1/2 tablespoons melted butter
1 tablespoon brown sugar
3 and 1/3 cups all purpose flour
Sea salt for topping
Cayenne pepper for topping
1/3 cup baking soda
For the Buffalo Sauce
4 tablespoons salted butter
2 tablespoon all purpose flour
1 cup hot sauce
1/2 teaspoon Worcestershire sauce
1/4 teaspoon garlic powder
1 tablespoon dark brown sugar
1 teaspoon white vinegar
For the Beer Cheese Sauce
8oz block sharp Cheddar cheese, grated
2 tablespoons butter
2 tablespoons all purpose flour
1/2 cup of beer (your choice but I used Blue Moon)
3/4 cup half & half
2 teaspoons Dijon mustard
2 teaspoons Worcestershire sauce
1/2 teaspoon garlic powder
1/2 teaspoon smoked paprika
1/2 teaspoon salt
1/4 teaspoon black pepper
Instructions
1. First add the warm water to a large bowl and pour in the packet of rapid rise yeast. Stir and let sit for at least a minute. Whisk in the salt, melted butter, and the brown sugar. Stir in the flour 1 cup at a time, reserving the last 1/3 cup on the side. Flour your hands and begin to knead the dough into a circle.
2. Knead the dough for at least 3 minutes, and as you knead gradually add in the last 1/3 cup of flour so that it isn't sticky. After 3 minutes, place the dough in a bowl, cover and let it rise for an hour.
3. While the dough is rising make the Buffalo sauce. In a small pot melt the butter. Once melted, add the flour and whisk to combine, breaking up any clumps. Next, add the hot sauce, Worcestershire, garlic powder, brown sugar, and vinegar. Stir to combine, making sure the brown sugar has dissolved. Reserve about 1/3 cup on the side for dipping the final pretzels, the rest will be used to brush the tops of the pretzels before baking them.
4. As the hour is coming to an end, bring a large pot of water to boil, preheat the oven to 425 degrees, and lightly spray a baking sheet with cooking spray. Once boiling VERY CAREFULLY add the 1/3 cup of baking soda a little at a time. I can't stress this enough, you must be very careful when adding the baking soda. Make sure the water isn't to high to the edge of the pot because once you add the baking soda it foams up FAST. So go slow, and only add a little at a time. 
5. Once the baking soda bath is ready and the dough has risen, begin making the pretzel bites by breaking off clumps of the dough about the size of a golf ball and gently molding it into a soft circle. The tops don't have to be perfectly smooth. Once you've got all the bites made, working in batches drop them in the boiling baking soda water and boil them for 20 seconds. Using a slotted spoon or strainer spoon, carefully remove the pretzels and place them on the baking sheet. Try not to get too much of the baking soda water on the pan or they could stick when baking. Brush the tops of the pretzels with the Buffalo sauce, sprinkle with a dash of cayenne, and sprinkle with the sea salt. Bake for 16-18 minutes until golden brown.
6. Almost done! While the pretzels are baking, make the beer cheese sauce! Melt the butter and add the flour, whisking to combine. Add in the beer, half & half, mustard, Worcestershire, garlic powder, salt, pepper and paprika. Stir to combine and cook for 3-5 minutes, then add the cheese a little at a time, whisking after each time so that the cheese melts. Simmer another 3-5 minutes until thickened.
Ok we made it, time to eat! Serve the Spicy Pretzel Bites with the beer cheese and the Buffalo sauce that was set aside from step 3. Enjoy! 
Keywords: spicy pretzel bites