Limoncello is one of my favorite liquors. It's light, it's vibrantly colored, and it's the perfect ingredient for a hot weather cocktail. This Limoncello Martini blends together vodka, limoncello, and a surprise addition of thyme simple syrup. Sip on this when the weather heats up, or when you want to feel like Spring is right around the corner!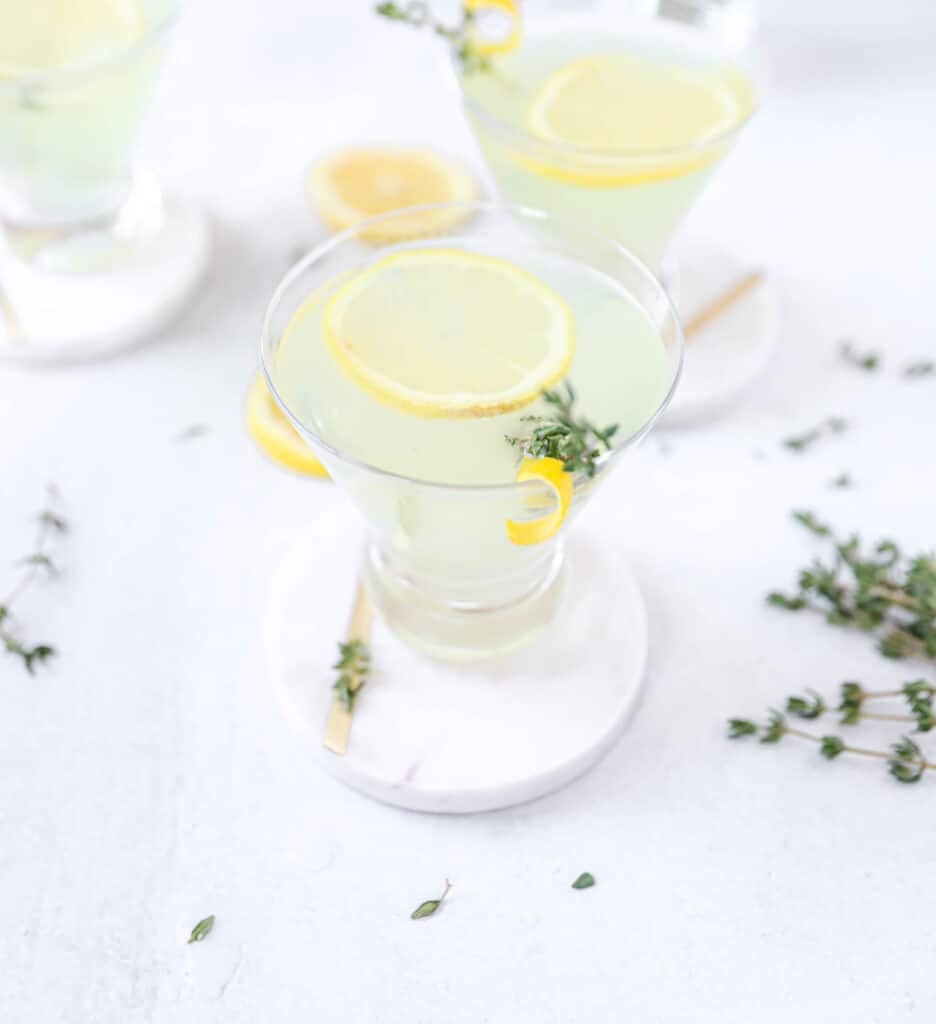 Limoncello is an Italian lemon liquor that really brightens and lightens a cocktail or martini. While it can range between 25%-30% alcohol, limoncello is so smooth and you can even enjoy it on the rocks!
I have another limoncello cocktail you might want to check out! My Limoncello Vodka combines lemonade, vodka, and limoncello for a drink that will refresh you on a hot summer day.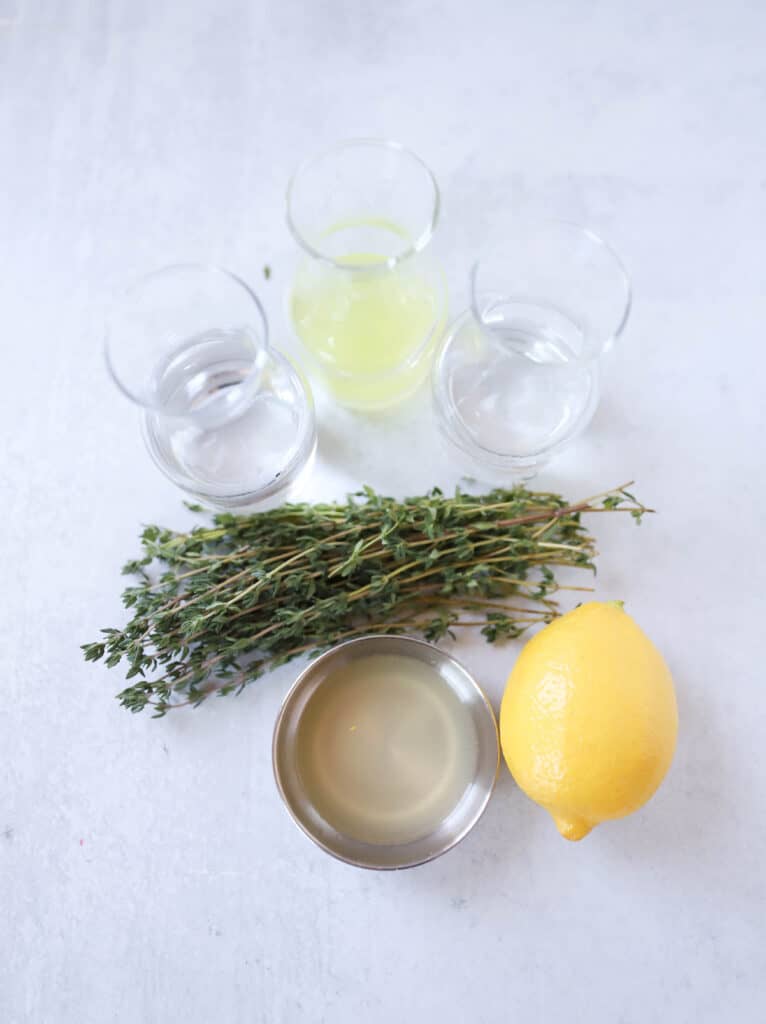 Ingredients
Here's what you need from your cocktail bar and fridge for this recipe!
Vodka. I recommend going with the highest quality you can afford. Lately I've been a fan of New Amsterdam and Tito's.
Limoncello. You'll be able to find this at your liquor store! One of my favorite brands that I use often is Caravella.
Orange liquor. The three main choices here are Triple Sec, Grand Marnier, and Cointreau. I used Triple Sec for this recipe. If you want to learn more about the differences in these orange liquors, you can read more about that here!
Thyme Simple Syrup. You've gotta make this! Don't worry…it's SO easy and really helps elevate this cocktail and add a nice hint of herb flavor to a strong martini. All you need is fresh thyme, water, and sugar.
Fresh Lemon Juice. Nothing to example here, just buy a lemon!
How to make thyme simple syrup
I promise you it's easy! Trust me, if I'm making a cocktail recipe with it it's gotta be easy!
Simple syrups are a 1:1 ratio of water to sugar. This is your basic simple syrups recipe. But, you can also make simple syrups infused with other flavors! Like in my Pomegranate Elderflower Cocktail that uses a rosemary simple syrup.
For this martini, we're make a thyme simple syrup. Here's how to make a batch!
In a medium pot, bring 1 cup of water to boil.
Once boiling, pour in 1 cup of sugar and stir so the sugar dissolves. Once dissolved, turn off the heat.
Add a large bundle of fresh thyme sprigs to the pot, cover, and allow to steep for 30 minutes.
Once the steeping is completed, carefully remove the thyme sprigs. Your simple syrup is ready to use!
It's so easy! You can keep the simple syrup in your fridge for up to 2 weeks, so keep a batch of this on hand for happy hours and cocktail parties.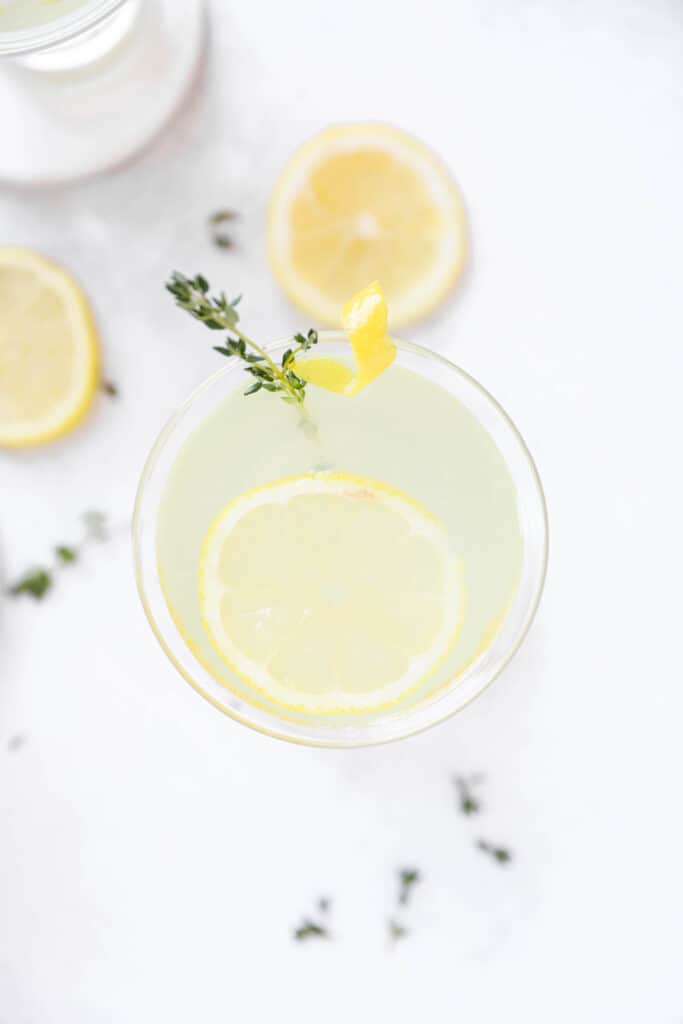 Martini making tips
Make sure you have a cocktail shaker!
I like to use at lease 5 ice cubes in my cocktail shaker. Nothing like a super cold shaken martini! You want enough cubes to make sure the drink gets chilled. Too few cubes and they'll melt quickly and water down the martini.
Once you've added the ice to the cocktail shaker, don't delay making the martini! The ice will start to melt and you don't want to add any excess water to the martini.
When I make the thyme simple syrup I use a large handful of the thyme. You definitely want make than a few sprigs to make sure the flavor gets infused into the simple syrup.
Shake your cocktail for at least 10 seconds! You want to make sure everything is good and blended, and that you've got a super chilled martini.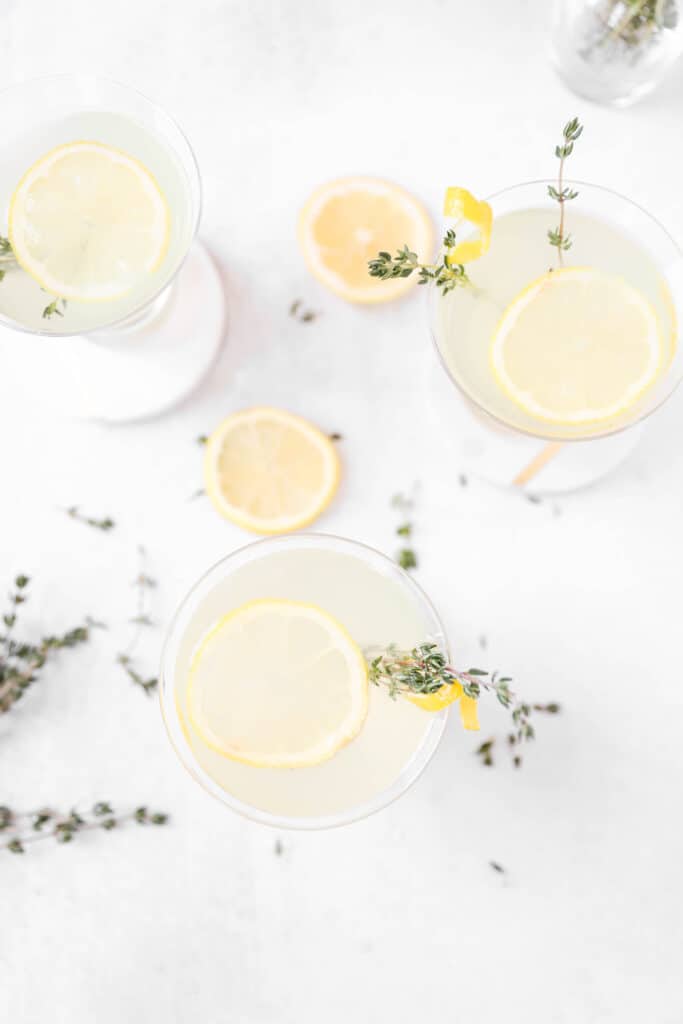 So now that we have a perfectly lemon Limoncello Martini, you'll probably want some snacks to go along with it! Here are a few of my snack recipes that are light and would pair nicely with a crisp martini!
Baked Brie in Phyllo Cups are an adorable little finger food. The raspberry dipping sauce is the perfect finishing touch!
Make crisp Zucchini Fritters…light and fresh and their hint of lemon would go well with a limoncello martini.
Like fried Mozzarella? Then you'll love Fried Brie! Buttery brie bites are my new favorite fried cheese.
You know I'm all about those dips. Dips and chips are my jam. So check out Whipped Avocado, Whipped Feta, or my 5 ingredient Cream Cheese Salsa Dip!
Print
Limoncello Martini
A limoncello martini is a bright and citrusy martini! A shaken blend of limoncello, vodka, triple sec, lemon juice, and a thyme simple syrup. Make this on a warm day and enjoying the refreshing lemon flavors. Recipe below is for 2 martinis.
Author:
Prep Time:

30 minutes

Cook Time:

5 minutes

Total Time:

35 minutes

Yield:

2 martinies

Category:

Beverage

Cuisine:

American
4 ounces vodka
2 ounces limoncello
2 ounces triple sec
4 tablespoons fresh squeezed lemon juice
2 teaspoons thyme simple syrup (recipe below)
Thyme Simple Syrup
1 cup water
1 cup sugar
1 large handful fresh thyme sprigs
Instructions
1. Start by making the thyme simple syrup. Bring the cup of water to boil in a medium pot. Once boiling, add the cup of sugar and stir to dissolve. Once dissolved, remove from heat and add the large handful of thyme sprigs. Cover and allow to steep for 30 minutes. Then, remove the thyme sprigs and you've got thyme simple syrup! Store in the fridge for up to 2 weeks.
2. To make the martinis, fill a cocktail shaker about 3/4 full of ice. Add the vodka, triple sec, limoncello, lemon juice and thyme simple syrup. Shake vigorously for at least 10 seconds. Strain into martini glasses. Garnish with lemon slices and a thyme sprig.
Enjoy!
Keywords: limoncello martini