Ready to add some holly jolly to your Holiday season? Enter the Sparkling Elderflower Pomegranate Cocktail.
Beautifully red and green for the colors of the season, a balanced cocktail with sweet juices and savory rosemary, and a sparkling champagne topper for the perfect bubbly finish. I can sip on one of these and sing Christmas carols all night long!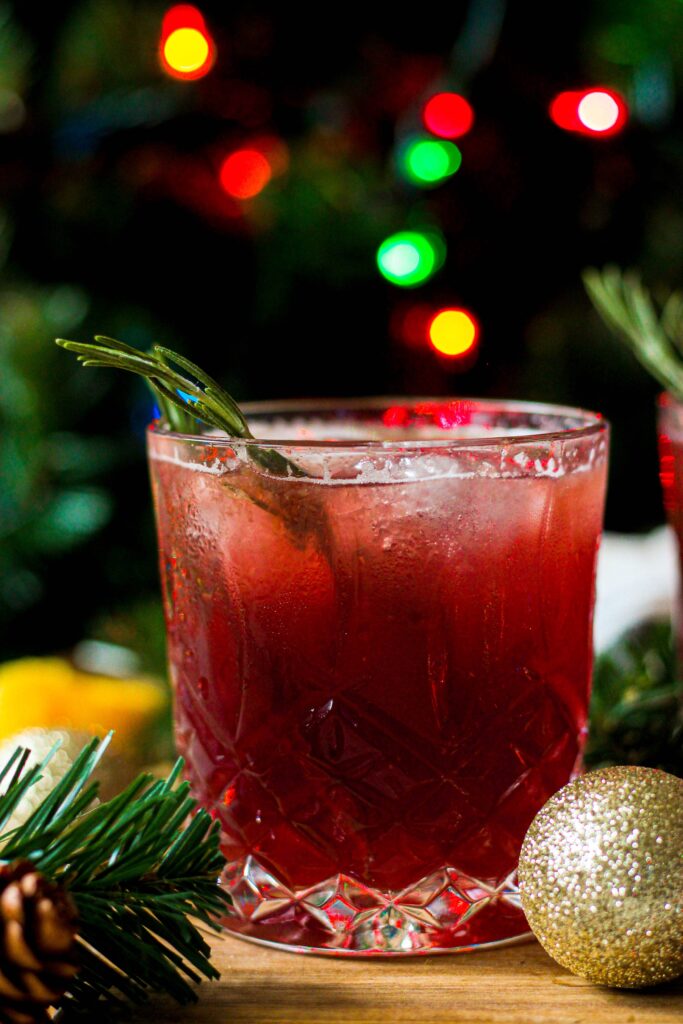 Let's talk about an adult cocktail.
Yes, an adult cocktail.
I'm not talking about our college days drinks that are just a juice and a liquor…mix, pour, serve. Oh no, we've got some refined taste buds now. I'm talking about a cocktail that's got some layers of flavor, a balanced mix of tastes, a drink you savor with each sip.
So let me break it down what we've got going on in this elevated cocktail.
Ingredients
Vodka
Elderflower liquor
Pomegranate juice
Fresh squeezed orange juice
Champagne
Rosemary simple syrup
Ok so let's talk next about three of those ingredients: rosemary simple syrup, fresh squeezed orange juice, and elderflower liquor.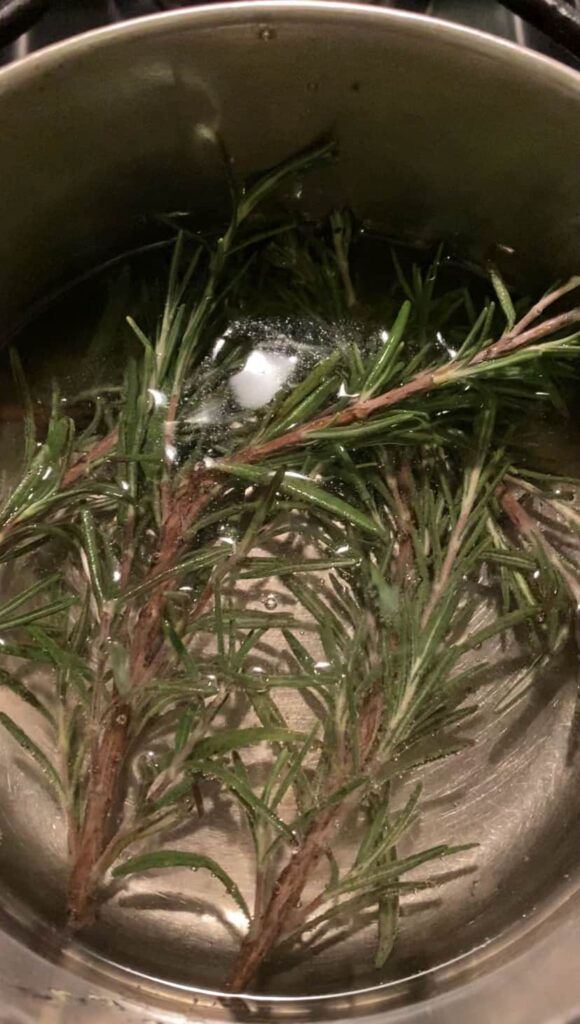 Rosemary Simple Syrup
Here's the first of the important ingredient in our special cocktail. If you've never have a rosemary simple syrup in a cocktail let me tell you, it's amazing! It adds this savory herby note that helps balance the sweetness of the cocktail juices. It's not overpowering, and not even one of the main flavor profiles. It's one of those things where you get the hint of flavor on the back of your tongue.
And, itSO easy to make. Literally so easy. Juice boil 1 cup of water, than add your 1 cup of white sugar and let dissolve in the boiling water. Turn off the heat and add in 4 whole sprigs of rosemary and let that steep for 30 minutes! Last, strain into a container or jar and it's ready to use!
It's also really easy to scale down the recipe since it's just a 1 to 1 ratio. Don't want a whole cup of the simple syrup? Then use 1/2 cup of water and 1/2 cup of white sugar, easy peasy!
Fresh Squeezed Orange Juice
I tested this cocktail recipe a few ways, and one of those tests was comparing using your typical bottled orange juice and fresh squeezed orange juice. The fresh squeezed not only won the taste test but also won the visual test, let me tell you why.
First, visually and consistency wise they are not the same. Your bottled orange juice is more yellow and a bit thicker. The fresh squeezed, while yellow, actually as more orange undertones and isn't as thick as the bottled kind and is less tart.
So why is the consistency and color appearance important? When I used the bottled OJ the cocktail came out looking more like a thicker purple color. But with the fresh squeeze the drink is light, not so heavy, and maintains more of a cranberry red color…which is what I was going for here!
Elderflower Liquor
Now onto this little gem, elderflower liquor.
Oh my goodness this is one of my favorite liquors. It's a sweet floral liquor that is a perfect addition to champagne, sparkling water, or a Holiday cocktail.
Here's the elderflower liquor I used, you may have heard of it! Click here to take a look at St Germain liquor. This is the liquor that let's you know you're drinking an elevated cocktail.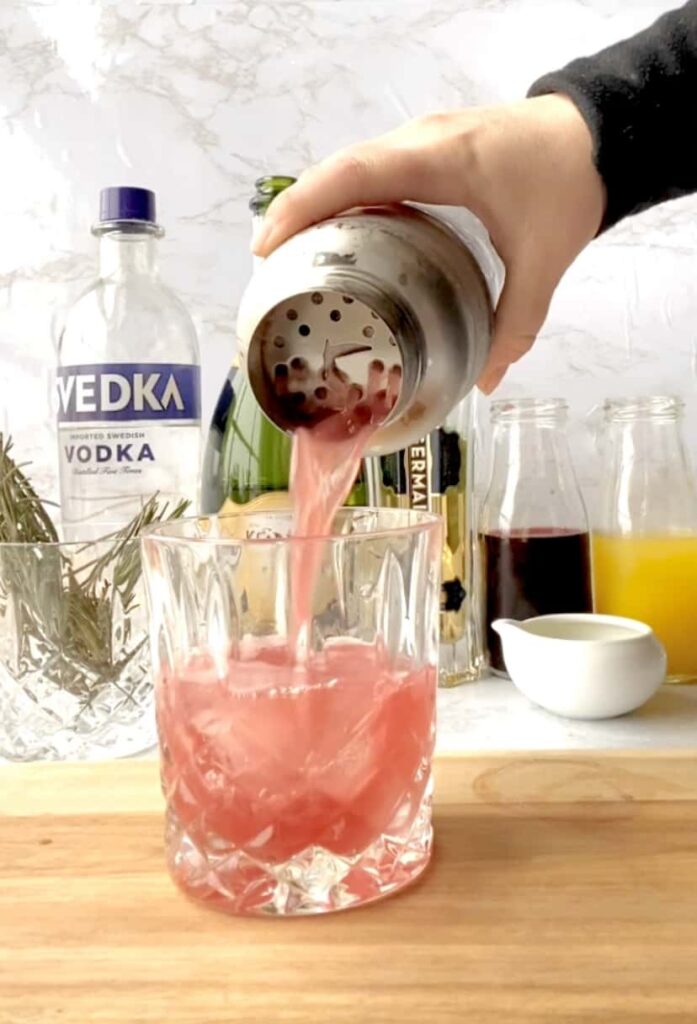 Just look at that pour! This is the sparkling cocktail you need for any Holiday or New Year's Eve Party!
If you're hosting a party, you can premix the juices, simple syrup, vodka, and elderflower liquor and then just have your just self serve and top their own drinks with the champagne!
Enjoy this and drink responsibly!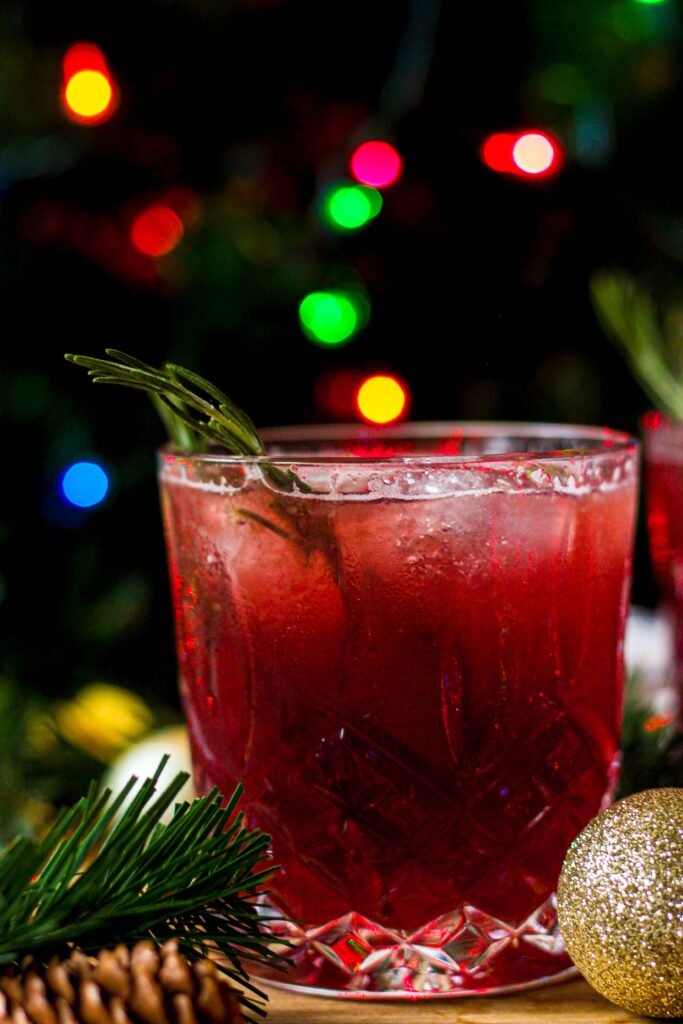 Having a holiday party? I've got plenty of snacks to entertain your guests!
Whipped Feta
Brie Raspberry Bacon Bites
Salsa Dip

Also, check out some of my other fun drinks!
French Toast Shot
Limoncello and Vodka Cocktail
Tequila Sunrise Jello Shots
Tequila Peach Mimosa
Print
Sparkling Elderflower Pomegranate Cocktail
A perfect Holiday cocktail! Juices, vodka, elderflower liquor, rosemary simple syrup and a champagne topper. This will put some holly jolly in your Holiday season!
Rosemary Simple Syrup
1 cup water
1 cup white sugar
4 rosemary sprigs
Sparkling Elderflower Cocktail (makes 2 cocktails)
2 oz vodka
2 oz elderflower liquor
2 oz fresh squeezed orange juice
2 oz pomegranate juice
2-3 teaspoons rosemary simple syrup
Champagne
Rosemary sprigs for garnish
Instructions
1. To make the rosemary simple syrup, to a small pot add the 1 cup of water and bring to a boil, add the 1 cup of sugar and heat until the sugar has completely dissolved into the water. Add the 4 whole rosemary sprigs into the pot, turn off the heat and let steep for 30 minutes. Strain into a jar (removing the rosemary sprigs), use immediately or store in the fridge in an air tight container.
2. Once the simple syrup is ready, it's time to make a cocktail! Set out 2 cocktail glasses and add 2-3 ice cubes to each glass. To a cocktail shaker, add a few ice cubes then add the orange juice, pomegranate juice, vodka, elderflower liquor, and rosemary simple syrup. Shake vigorously then pour an equal amount into each glass. Then, top with champagne and garnish with a few sprigs of rosemary.
Notes
Making simple syrup is a 1 to 1 ratio.  If you want to reduce the amount of simple syrup you just need to add the same amount of water and sugar, so for example 1/2 cup water needs 1/2 cup sugar.
Drink responsibly!