Crunchy or soft baked. Dark chocolate or semisweet. We all have our idea of the perfect chocolate chip cookie.
Want to know mine? It's got rich brown butter, soft baked, filled with huge pools of dark chocolate chunks, then sprinkled lightly with a little salt.
These brown butter chocolate chunk cookies are one of my favorites, and I think you'll love them too! When you need to irresistible chocolate fix, these will definitely do the trick.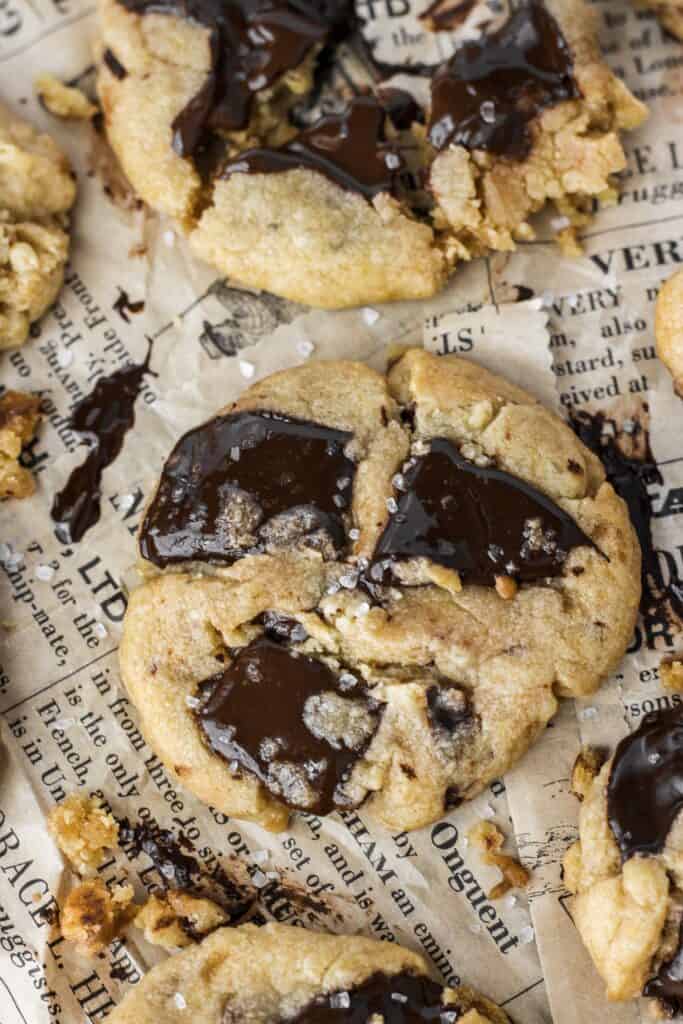 Ingredients
Here's what you'll need to make these cookies! Scroll down for a few notes about brown butter and the best chocolate to use for these perfectly dark chocolate chunks.
Salted butter (you'll use this to make the brown butter)
Vegetable oil
Dark brown sugar
White sugar
Eggs
Vanilla extract
All purpose flour
Bread flour
Baking soda
Sea salt
Lindt chocolate bars 70%-78% Dark Chocolate
What is brown butter
So for these you're going to make browned butter.
I first learned of this when I read this recipe from Two Peas and Their Pod. Brown butter is made from cooking butter to the point where you begin to cook the milk solids in the butter. As the mil participles separate and cook, the melted butter turns a gorgeous amber color, and you'll see the milk solids settle at the bottom!
It's a deep rich caramel color, and the smell is warm and often described as nutty. Once you make it one time it will be easy to spot the smell of color perfectly browned butter!
How to make brown butter
Brown butter isn't hard to make, but it is important you keep a close eye on it towards the end! Brown butter can go very quickly from perfectly browned to burned and unusable.
First melt the butter in a small sauce pan. Once the butter has melted, it's time to turn up the heat!
Raise the heat to medium high to bring the butter to a rapid simmer. It will start to get really foamy!
Whisk, keep whisking! As the butter is getting very foamy, the milk particles are beginning to settle at the bottom of the pan, getting browned. You want to whisk these so they don't burn.
You'll notice the nutty aroma and the butter will be getting …brown! I've found this takes about 4-5 minutes after the butter has been melted to bring it to this perfect browned state.
Pour into a heat safe bowl or measuring cup, then you're ready to use!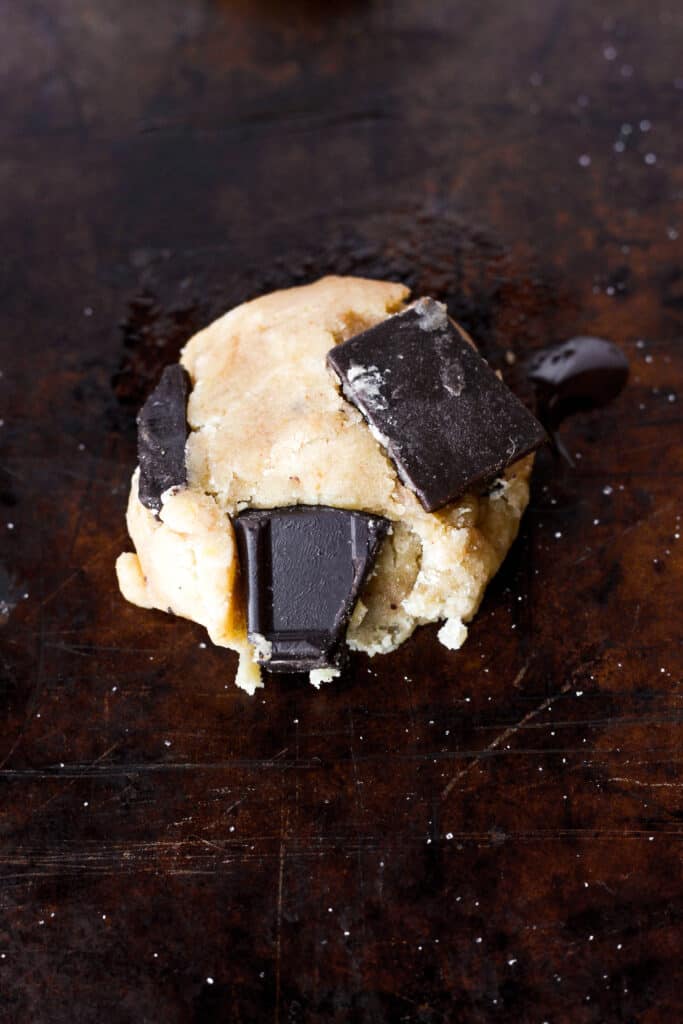 If you noticed in the ingredients, this contains two types of flour: all purpose flour and bread flour. You're probably familiar with the common all purpose flour, but have you ever used bread flour before?
What is bread flour
The difference between bread flour and all purpose flour comes down to the protein levels!
Bread flour has higher amounts of protein. It doesn't change the flavor of whatever it is your baking, but will have effects on textures.
In cookies, adding the bread flour (and thus the higher protein level) will help result in a softer baked cookie. And since I'm all about that soft baked cookie life, that's perfectly fine in my book! So, for this I don't recommend cutting out the bread flour…your cookie won't be as soft!
Lastly, let's talk about the best chocolate to use here! I always reach for a dark chocolate bar that's between 70%-78% dark chocolate. If you go too high on the percentage, the chocolate will be way too unsweet and bitter. Being somewhere in the 70% range has always yielded the perfect dark chocolate flavor!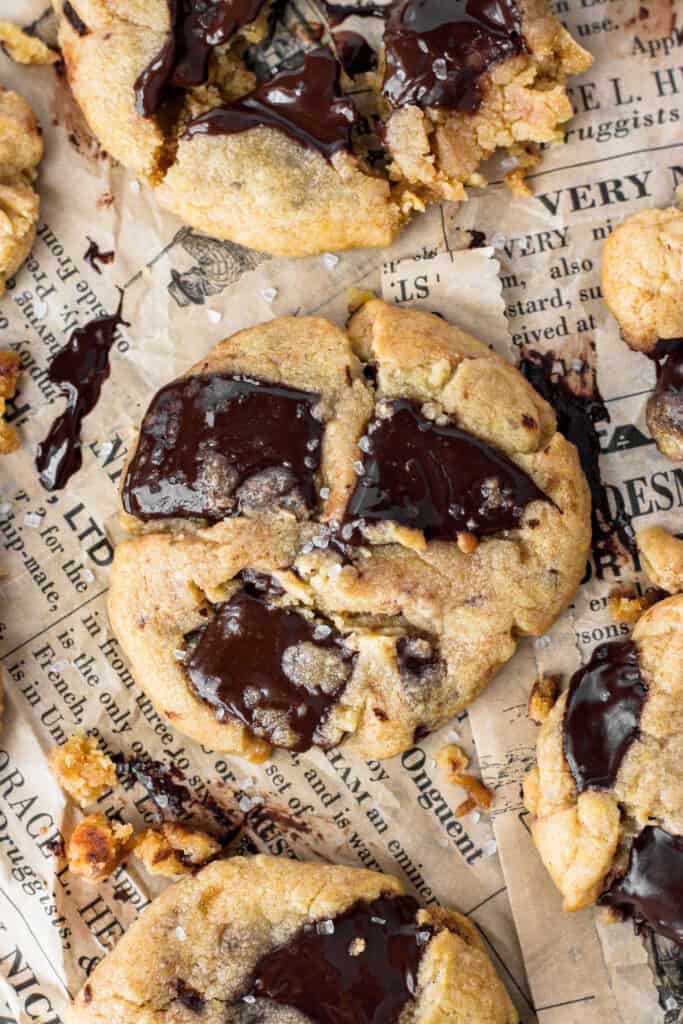 Do I need to chill the dough?
Yes! Let the dough chill in the fridge for about 30 minutes before baking. This helps the cookies from spreading too thin when you bake them!
Can I substitute the bread flour?
I'm going to go with no here. The cookies texture is partly due to having the bread flour in combination with the all purpose flour. It helps keep these softer baked and not crunchy!
What's the best chocolate to use for chocolate chunks?
You'll want to look in the candy aisle where they sell bars of dark chocolate, like Lindt and Ghirardelli. I like a percentage dark chocolate range between 70%-78%. This will give you that perfect rich dark chocolate flavor without the bitterness that our dark chocolate would give you.
How do I get those pools of dark chocolate?
When these come out of the oven, I like to bang the pan on the counter a few times (make sure you have a kitchen towel down to protect the counter while you do this). The banging will help the cookies settle a bit, allowing the chocolate to pool towards the top. Then, take a spatula and lightly press down on the tops of any cookies that you want the chocolate to come to the top!
If you like these cookies you might also like:
Cookie Dough Pie
Chewy Molasses Cookies
Easy Doctored Box Brownies
Banana Coffee Cake
No Bake Chocolate Cheesecake
Chocolate Mousse with Kahlua
Print
Salted Chocolate Chunk Cookies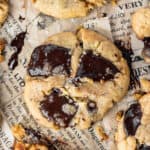 Salted Chocolate Chunk Cookies combine the warm and fragrant flavors of brown butter in a soft baked cookie. Pools of dark chocolate make these extra decadent. Top with a sprinkle of sea salt for the perfect finish!
Author:
Prep Time:

45 minutes

Cook Time:

9 minutes

Total Time:

54 minutes

Yield:

30

–

33

cookies

1

x
Category:

Baking

Method:

Baking

Cuisine:

Dessert
1 cup salted butter
2 tablespoons vegetable oil
1 1/2 cups dark brown sugar
1/2 cup white sugar
2 large eggs
2 teaspoons vanilla extract
1 1/2 cup all purpose flour
1 cup bread flour
1 teaspoon baking soda
1 teaspoon sea salt plus extra for topping after the cookies bake
2 3.5oz Lindt chocolate bars 78% Dark Chocolate, chopped
Instructions
1. Start by making the browned butter, place the butter in a sauce pan or pot and melt. Once the butter is melted, turn the heat up until the butter simmers and cook 4-5 minutes. Whisk constantly and keep an eye on this because butter can burn fast. You don't want a roaring boil, you want a light bubbly simmer. What you're doing is browning the milk proteins in the butter. You'll notice it will get a rich nutty smell and the color will start to turn a caramel brown. I've found 4 minutes has worked well for me. Once browned, pour butter into a heat safe bowl and let it cool slightly. (Now, here's where the exactness comes in). Pour the butter into a measuring cup, you should be right at 3/4 cup. If you have too much, pour out until you measure 3/4 cup. If you find you have less than this, add a little vegetable oil until you are measuring 3/4 cup.
3. With your browned butter in a bowl, whisk in the 2 tablespoons of vegetable oil, bot sugars, and the vanilla. Whisk in each egg one at a time. (make sure the mixture is not too hot at this point so you don't scramble the egg!) In a separate bowl, whisk together the flours, baking soda, and sea salt. Gradually add the flour mixture to the butter mixture. Lastly, stir in the chopping chocolate.
4. Form your cookie dough balls and place on baking sheet, chill for 30 min. While the dough is chilling, preheat the oven to 350. Once chilled, bake for 9 minutes. When they come out of the oven, lightly bang the cookie sheet a few times on the counter, shake it back and forth, to encourage the cookie to settle flat and the melty dark chocolate to spread and pool. I also took my spatula and very very gently give a small press to the tops. Let cool on the sheet for 5 minutes before moving to a plate.
5. Sprinkle the warm cookies with extra sea salt, making sure to get some in the chocolate pools!
These are incredible warm! I loved heating them up in the microwave the next day.
Keywords: brown butter chocolate chunk cookies