So you're here because you're searching for a fudgy brownie but you want it to be super easy, right? These easy doctored box brownies only need one extra ingredient to transform regular old box brownies into the fudgiest most decadent brownie ever!
Recipe at a Glance
Prep time: 10 minutes
Bake time: 33 – 35 minutes
Notes: It doesn't get much easier than this! Adding one simple ingredient will get you the fudgy brownie you've been searching for!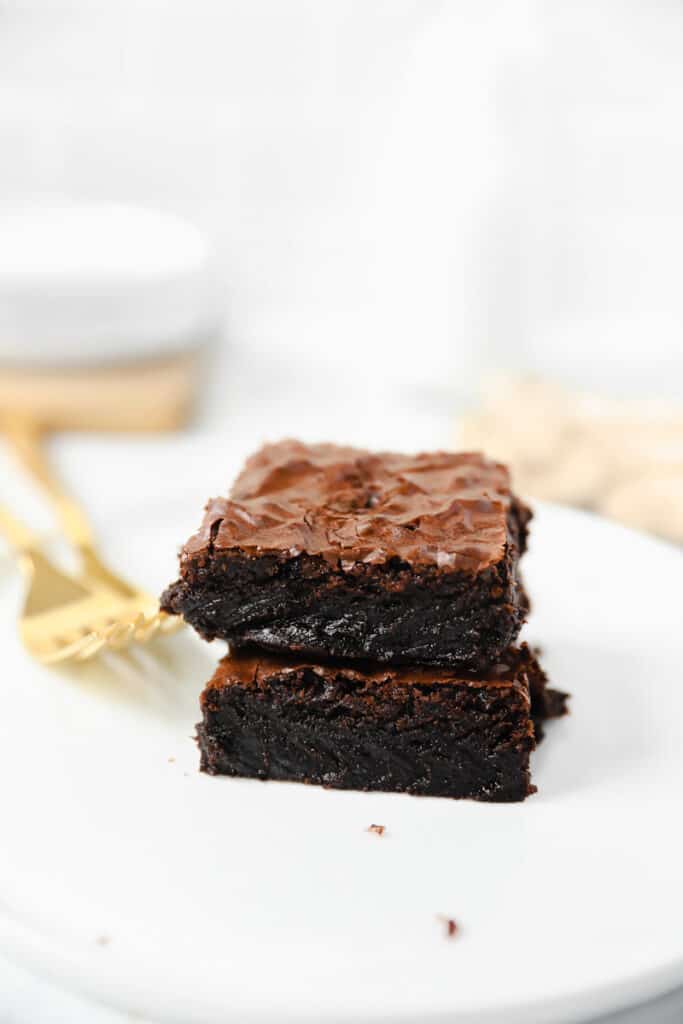 How to doctor brownie mix
Ready for this extra special secret ingredient? Drum roll please…..
MOLASSSES!
Trust me on this. Just doctoring the box of brownie mix with 3 tablespoons of molasses is going to be the best thing that has happened to your brownie baking game.
I got the inspiration to try this after making these Chewy Molasses Cookies. The recipe said that the molasses help keep the cookies super moist and chewy. That's when I had that 'light bulb' moment…Maybe, if I add molasses to my brownie mix it will do the same thing to my brownies?
And oh boy was it just the right trick!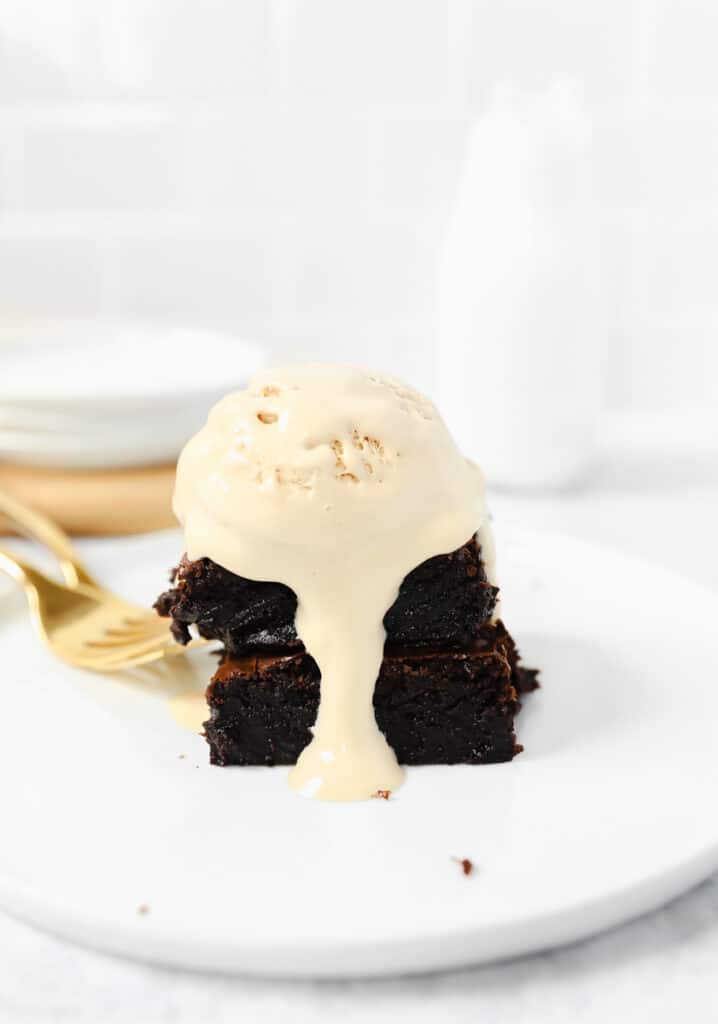 Molasses in brownies
Molasses is an incredible ingredient to add to a baking recipe, especially one that's chocolate. By adding molasses you're adding extra moisture with will make the baked goodie chewy and moist.
Even though molasses is sugar, it's deep caramel flavor doesn't add too much sweetness to the taste. Instead of making the brownies taste sweeter it's enhancing the flavor of the chocolate making that taste deeper and richer.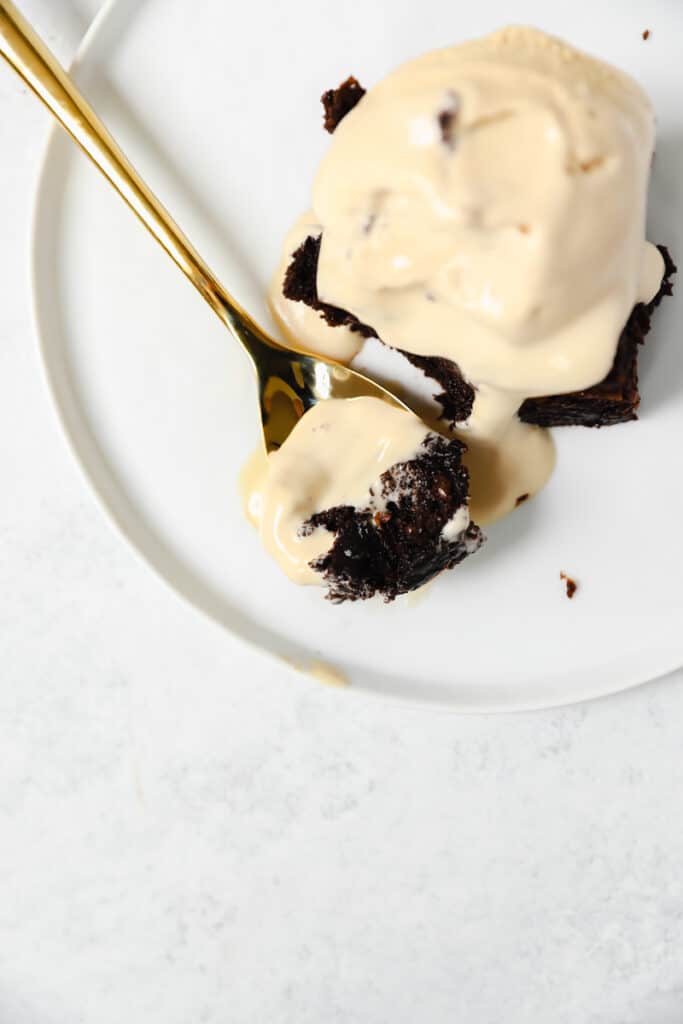 Ingredients
Here's what you need!
So easy right? Just 5 ingredients and you're ready to bake. That's the beauty of a doctored brownie mix recipe. It means the complexity of baking is removed. You can make these and enjoy the fudgy brownie you've always wanted!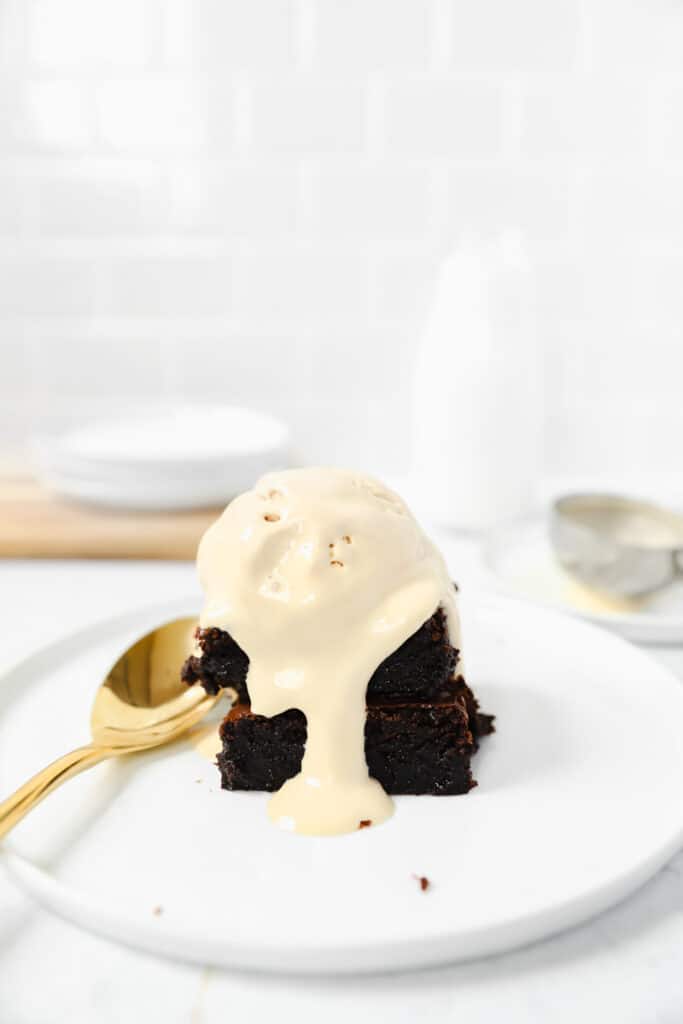 Want more chocolate and easy baking recipes? Check out some of my other recipes here on the blog!
Oreo Cookie Brownies
No Bake Chocolate Cheesecake
Cookie Dough Pie
Salted Chocolate Chunk Cookies
Chocolate Mousse with Kahlua
Chocolate Espresso Muffins
Gingerbread Brownies
Or, browse through my collection of dessert recipes.
Print
Doctored Boxed Brownies
Make the fudgiest brownies ever with this easy doctored box brownie recipe! Just add one extra ingredient to doctor the brownie mix and make the richest, fudgiest brownies you've ever had!
Author:
Prep Time:

10 minutes

Cook Time:

33 minutes

Total Time:

43 minutes

Category:

Chocolate

Method:

Baking

Cuisine:

American
-1 box of dark chocolate brownie mix
-Oil, water, and egg as called for on fudge brownie box (you need there to be the instructions that call for 1/4 cup water, 1/2 vegetable oil, and 2 eggs! Important to get the right consistency)
-3 tablespoons molasses
Instructions
1. Preheat oven to 350 degrees. Spray a 9×9 baking dish with cooking spray. 2. Prepare the brownie batter as called for on the package with the oil, water, and eggs. Stir to combine. Stir in the 3 tablespoons of molasses. 3. Bake for 33-35 minutes. Let cool before cutting, then serve and enjoy!
Notes
Let these cool before cutting. Because these are moist and fudgy they are soft after the come out of the oven. Using a plastic knife helps in the cutting so that you're not breaking them apart as you cut with a metal knife.
Keywords: doctored boxed brownies