So you're here because you're searching for the an easy fudgy brownie, right?
Well let me tell you, you're in the right place. I have for you the best recipe for doctored brownie mix that will give you the fudgiest brownie you've ever had!
These fudgy box brownies only need one extra ingredient that's going to be a game changer in your brownie world. Ready to know what it is???
Molasses.
Yes, by making molasses to brownie mix you'll make the best doctored up boxed brownie ever! Easy, quick, inexpensive, and fudgy!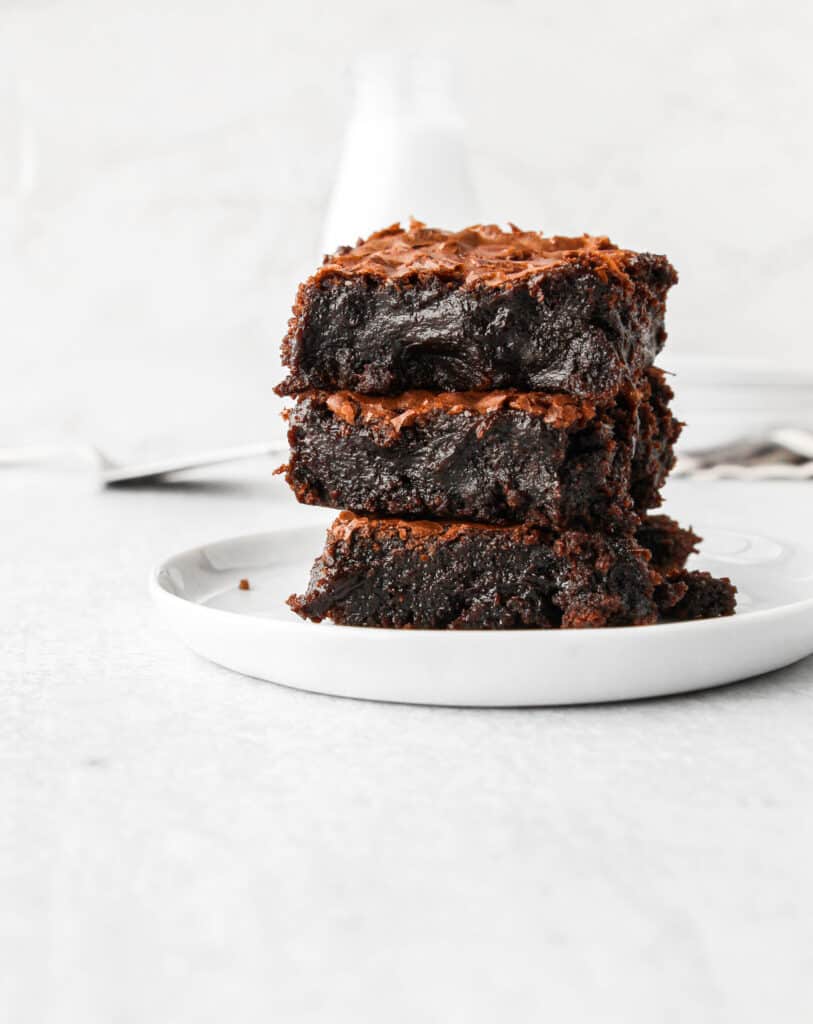 Cakey brownie vs fudgy brownies
It's the ever popular battle of the best brownie: cakey or fudgy.
Cakey brownies are a little lighter and airier. Exactly like their name describes, their texture is more like a cake. It might have more air pockets, softer texture, and it's more crumbly.
Fudge brownies are dense, rich, and moist. There's a decadence to them that you don't get in a cake brownie. If you're here reading this recipe I'm going to assume you're team fudge brownie like me!
I've always been 100% all-in on the fudgy side. Don't ever put a cakey brownie in front of me. I won't have it. I'm all about the rich, dense, moist fudgy brownie.
How to doctor brownie mix
There's lots of fun ways to doctor box brownie mix. You can add things like coffee, chocolate chips, even pretzel pieces!
But for me, my goal was to figure out how I can quickly and easily doctor up some brownie mix and get me the best fudge brownie I've ever had. I know I needed to find something that could be added to the existing ingredients without throwing the whole thing out of whack!
I got the idea to try to add molasses from making Chewy Molasses Cookies.
The recipe said that the molasses help keep the cookies super moist and chewy. That's when I had that 'light bulb' moment.
Maybe, if I add molasses to my brownie mix it will do the same thing to my brownies?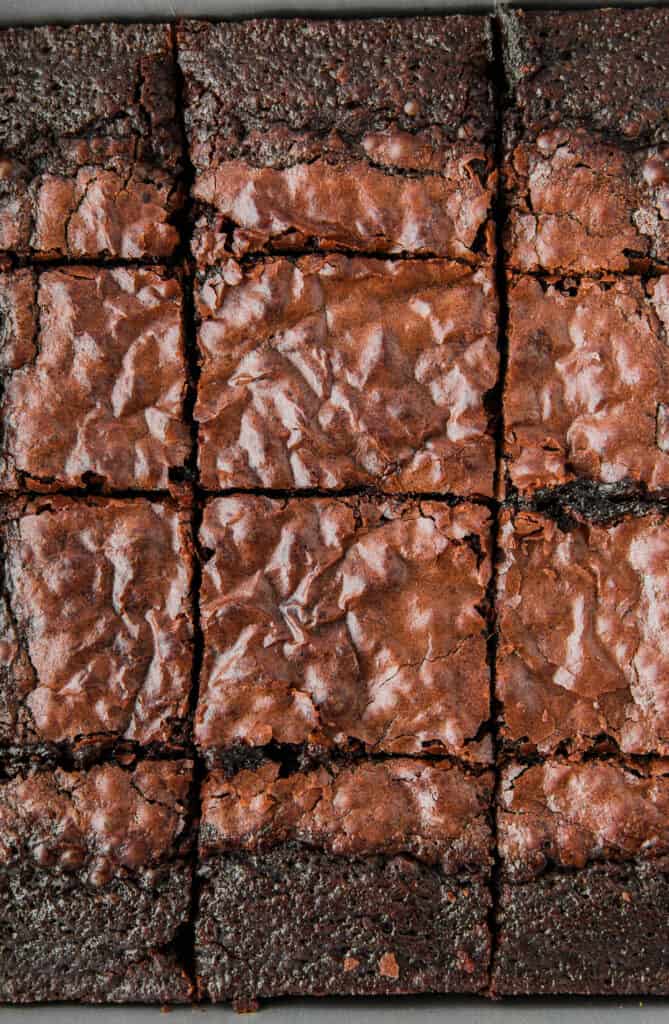 Molasses in brownies
Molasses is an incredible ingredient to add to a baking recipe, especially one that's chocolate. By adding molasses you're adding extra moisture with will make the baked goodie chewy and moist.
Even though molasses is sugar, it's deep caramel flavor doesn't add much sweetness to the taste. Instead of making the brownies taste sweeter it's enhancing the flavor of the chocolate making that taste deeper and richer.
That's the beauty of what molasses can do in brownies! First, it gives you that consistency you're searching for, that super fudge moist brownie. Second, it gives the chocolate in the brownie mix an extra richness. So what you create is an over the top chocolate richness, extra fudgy consistency, and a boxed brownie that is unlike any you've had before.
Ingredients
Here's what you need!
Another reason why I love this recipe so much? YOU can make this. The person reading this who isn't a skilled baker. The person reading this who burns cookies.
That's the beauty of a doctored brownie mix recipe. It means the complexity of baking is removed. You can make these and enjoy the fudgy brownie you've always wanted!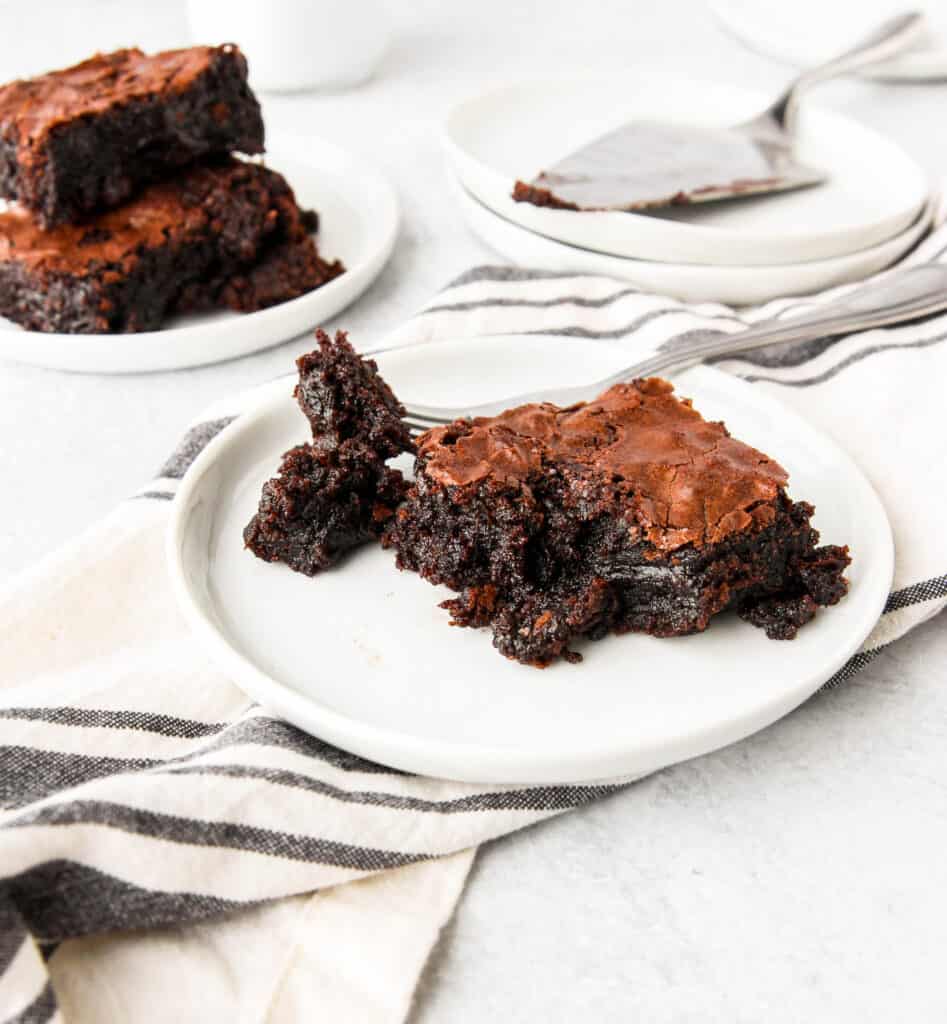 So you like chocolate? Check out some of my other chocolate recipes!
Oreo Cookie Brownies
No Bake Chocolate Cheesecake
Cookie Dough Pie
Salted Chocolate Chunk Cookies
Chocolate Mousse with Kahlua
Or, browse through my collection of dessert recipes.
Print
Doctored Boxed Brownies
The easiest way to make super fudgy, incredibly moist and dense brownies. Doctored boxed brownies means even non-bakers can bake an irresistible brownie. The simple addition of molasses means more moisture, deeper flavor, and the fudge brownie consistency.
Author:
Prep Time:

10 minutes

Cook Time:

33 minutes

Total Time:

43 minutes

Category:

Chocolate

Method:

Baking

Cuisine:

American
-1 box of dark chocolate brownie mix
-Oil, water, and egg as called for on fudge brownie box (you need there to be the instructions that call for 1/4 cup water, 1/2 vegetable oil, and 2 eggs! Important to get the right consistency)
-3 tablespoons molasses
Instructions
1. Preheat oven to 350 degrees. Spray a 9×9 baking dish with cooking spray. 2. Prepare the brownie batter as called for on the package with the oil, water, and eggs. Stir to combine. Stir in the 3 tablespoons of molasses. 3. Bake for 33-35 minutes. Let cool before cutting, then serve and enjoy!
Notes
Let these cool before cutting. Because these are moist and fudgy they are soft after the come out of the oven. Using a plastic knife helps in the cutting so that you're not breaking them apart as you cut with a metal knife.
Keywords: chocolate, brownies, fudge brownies, fudgy brownies, doctored boxed brownies, doctored brownie mix