We all know banana bread. It's a classic. If you've got bananas that have ripened and you need to use them up fast, banana bread is the typical go-to. But I've gotta say, Banana Coffee Cake is way better.
The game changer is the cinnamon crumble topping. It's what takes this from a typical banana bread to a sweet and cinnamon banana coffee cake!
Super thick and packed with banana flavor, give this recipe a try next time you have super ripe bananas!
Recipe at a Glance
Prep Time: 15 minutes
Bake Time: 60 minutes
Notes: I recommend using 4 very ripe bananas so you really get the banana flavor. For me, 3 bananas just isn't enough!
This post was updated February 14, 2021 to update the photos.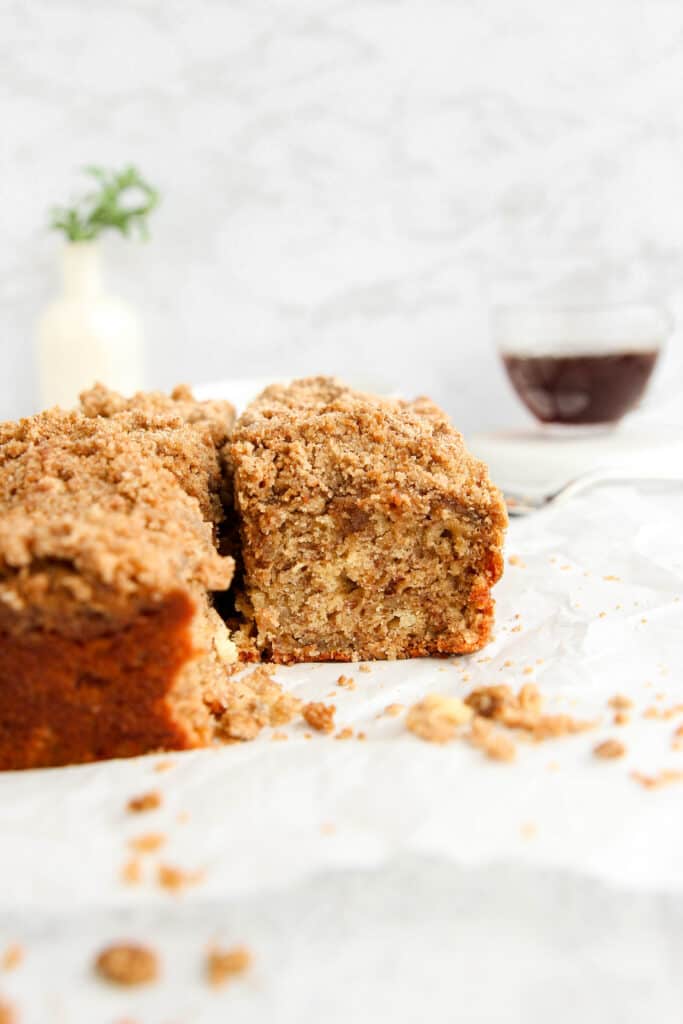 I love a baked good in the morning with coffee. There's something comforting about it. It reminds me of sitting in a coffee shop and enjoying something freshly baked, not from a package.
This banana coffee cake is the perfect thing for a morning treat with coffee. The crumble topping has just the right amount of butter, cinnamon, and sugar to make a sweet topping, and it's best way to use all those ripe bananas!
This recipe is also great if you're getting just a little bit bored with banana bread. Haven't we all baked enough banana bread? Well with this, you're taking it a level up! The buttery cinnamon topping adding a bit of crumble each bite is just the upgrade banana bread needs.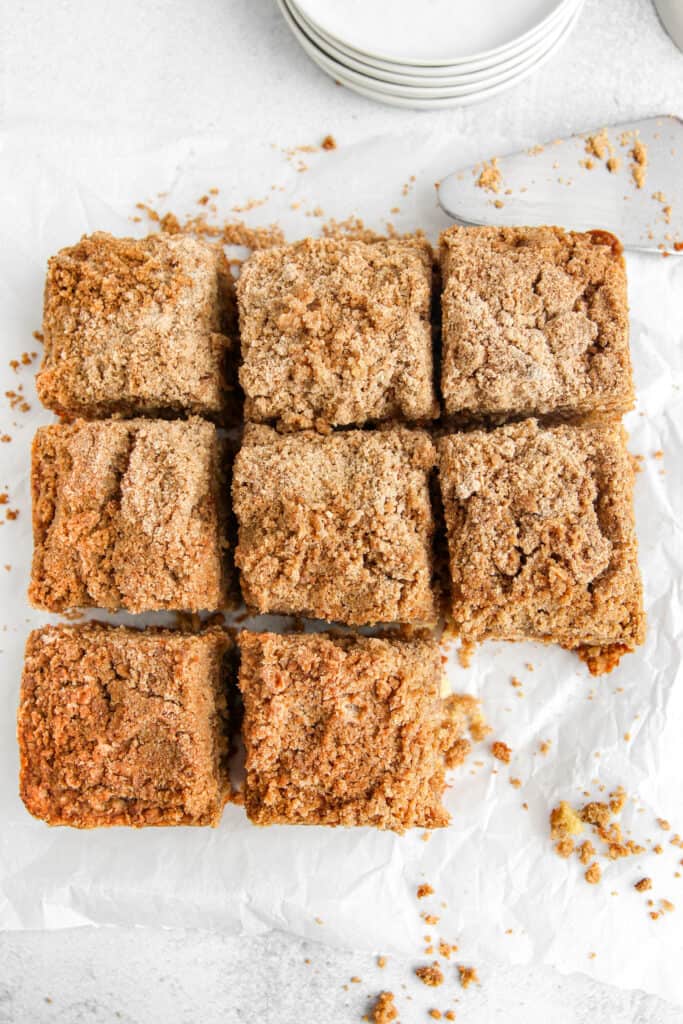 Baking Tips
Use 4 bananas. I see a lot of banana type recipes that will say "3-4 bananas". Use the 4. To me, 3 bananas just isn't enough of the banana flavor I like.
When you've made the crumble topping, it's going to look like WAY too much. Even when you're adding it to the top of the coffee cake, it's going to look like a lot. Trust me, use it all over the top. Really pile it on. As it bakes, the butter in the crumble is going to help it bake down and create this buttery dense crumble. That's how you get that thick coffee cake crumble on the top!
After it's baked for a few minutes, give a quick peak to make sure the crumble is melting properly. It should look wet, since the buttery in the crumble has melted. If there are any parts that look powdery and dry, add very thin (like paper thin) slices of butter to these parts. We don't want any dry floury parts!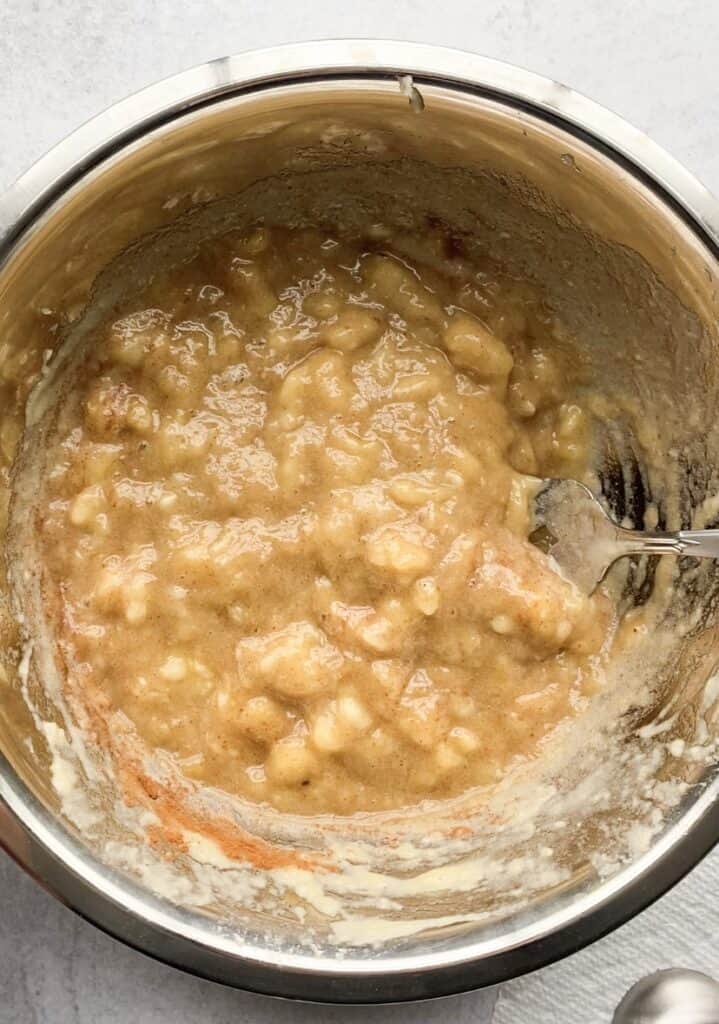 How to make banana coffee cake
Let's get baking!
Start by preheating your oven to 350 degrees, and spraying an 8×8 baking dish with cooking spray.
Mash the 4 bananas with 2 tablespoons of brown sugar, 1 and 1/2 teaspoons of vanilla, and 1/2 teaspoons cinnamon.
In another bowl, cream together 1 stick of butter and 1 cup of white sugar. Then blend in 2 eggs.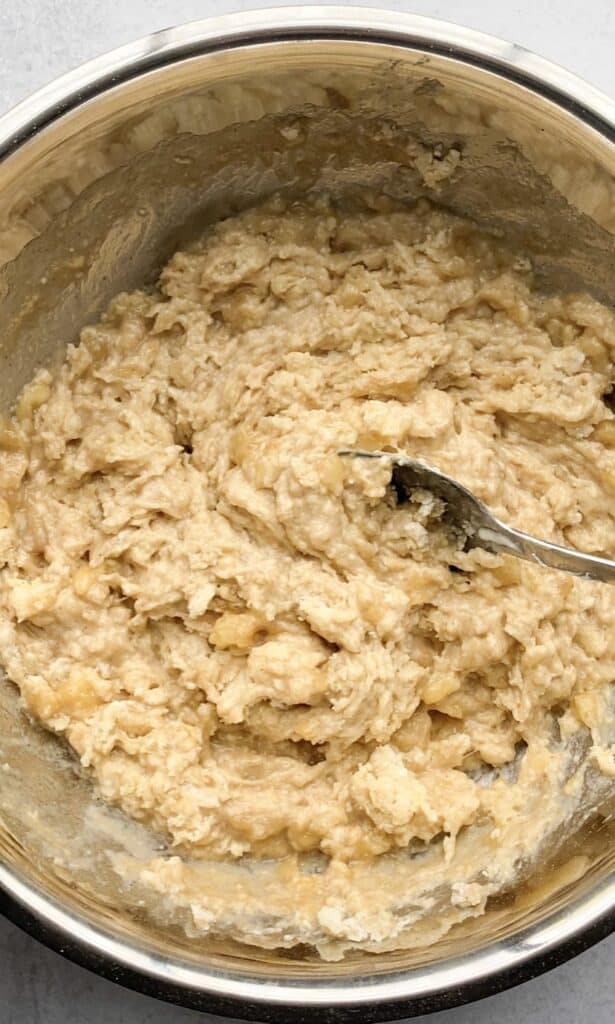 To this butter egg mixture, add in 2 cups flour, 1 teaspoon baking soda, 1/4 teaspoon salt, and 2 tablespoon sour cream.
Lastly, add this to the banana mixture and stir to combine. Pour into the prepared 8×8 pan.
Make the crumb topping by combining 1 teaspoon cinnamon, 3/4 cup flour, 1 cup brown sugar, 6 tablespoons diced butter.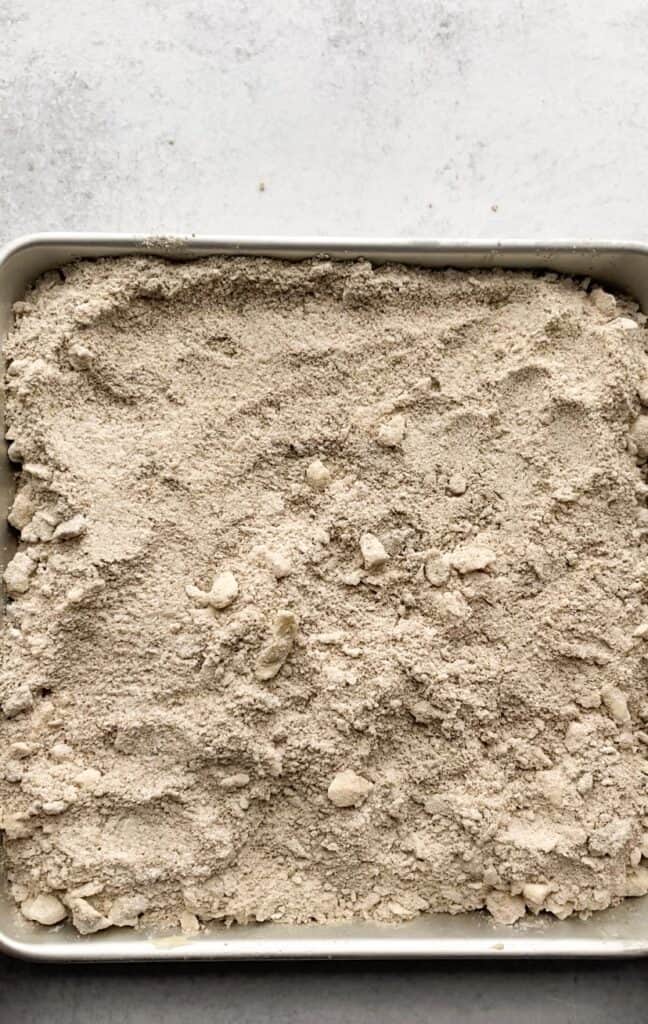 Cut the butter into the flour until you get a coarse crumb mixture then sprinkle over top the banana coffee cake mixture. Bake for 60-65 minutes!
The house is going to smell amazing with this coffee cake baking! It's an easy baking recipe that you'll love when you have those bananas sitting on the counter that need to be used NOW.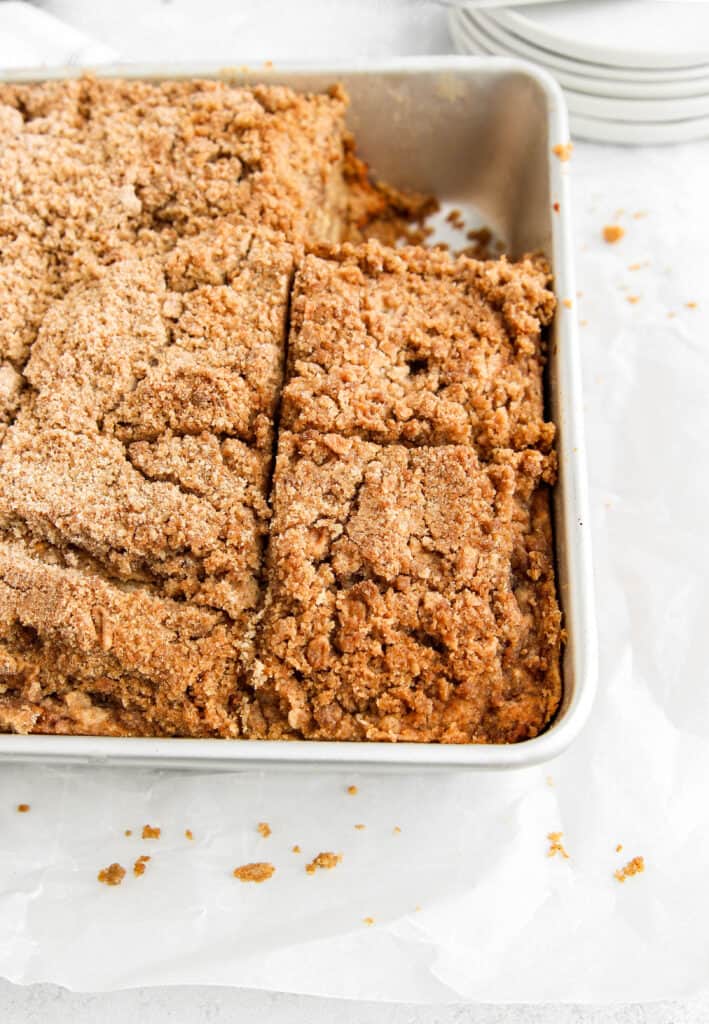 Looking for some easy baking recipes for breakfast? Check out some of my other goodies:
Copycat Panera Orange Scones
Lemon Blueberry Scones
Raspberry Scones with White Chocolate
Walnut Granola Crumble – perfect for parfaits and yogurt!
Soda breads are also super easy to make, and can be eaten at breakfast or dinner!
Classic Irish Soda Bread
Orange and Cranberry Soda Bread
And a fun dish to try is Mangu. A traditional Dominican breakfast side dish of mashed plantains!
Print
Banana Coffee Cake
Banana coffee cake is the best way to use ripe bananas! A level up from typical banana bread, the cinnamon buttery topping makes this taste like it's straight from a bakery!
Author:
Prep Time:

15 minutes

Cook Time:

60 minutes

Total Time:

75 minutes

Yield:

9 large slices

Category:

Baking

Method:

Baking

Cuisine:

American
4 very ripe bananas
2 tablespoons brown sugar
1 1/2 teaspoon vanilla extract
1/2 teaspoon cinnamon
1/2 cup butter, softened
1 cup white sugar
2 eggs
2 cups flour
1 teaspoon baking soda
1/4 teaspoon salt
2 tablespoon sour cream
For the crumb topping
1 teaspoon cinnamon
3/4 cup flour
1 cup brown sugar
6 tablespoons butter
Instructions
1. Heat oven to 350. Grease an 8×8 pan.
2. In a bowl, mash the bananas until smooth, then add brown sugar, vanilla, and cinnamon. In another bowl, cream the butter and white sugar until light and fluffy. To this butter sugar mixture, add in the eggs and beat until combined.
3. To this batter sift in the flour, baking soda, and salt. Stir until combined, then add in the sour cream and stir.
4. Pour the batter into the mashed bananas and stir until combined.
5. To make the crumb topping, combine the cinnamon, flour, and brown sugar. Cut in the butter using a pastry cutter until the mix looks like coarse crumbs. If you don't have a pastry cutter this part can be difficult to get the right texture. It would help if the butter is a tad softened and I use a large fork.
6. Sprinkle the topping onto the batter and bake for 60-65 minutes. As noted above, it will look like a lot of crumb topping, just use it all because as it bakes the butter will melt and help the mixture settle so you have a dense butter crumb topping. If after baking there is excess crumb topping looking dry, you can add a little extra melted butter to that area as it finishes baking. Allow to cool for about 10 minutes before eating.
Keywords: banana coffee cake



Adapted from: Link