Ever year I make Irish Soda Bread for St. Patrick's Day. And every year, I remember how good it is and ask myself why I only make it once a year. I wanted to start making different variations with added citrus or fruits, which is what I have here with this Orange Cranberry Soda Bread!
A perfect blend of a little sweat bread dough, a little sweet from the dried cranberries, and the fresh citrus from orange zest. The finishing touch is spreading some homemade orange honey butter on the slice!
Why it's called soda bread
So when I was young, I was really excited when I heard we would eat soda bread. I actually thought it was called soda bread because it was made with soda. Maybe Sprite? Maybe club soda? How cool! Yea, no lol.
You can imagine how bummed my little self was when I learned it's called soda bread not because it's made with bubbly drinking soda, but because the leavening ingredient is baking soda. Cue the sad trombone sound.
But even though there's no wildly exciting secret ingredient, soda breads are a deliciously sweet bread that are so easy to make. Their unique flavor and simplicity in making it is why I knew I needed to make more variations, and not always make just a traditional Irish Soda Bread.
If you want to read a little more about soda bread and like history, you'll want to check out this article from The Society for the Preservation of Irish Soda Bread. It notes that the earliest records of soda ash in breads is the American Indians. The Irish began using it in their breads in the 1830's, when yeast wasn't as easy to come by for their bread.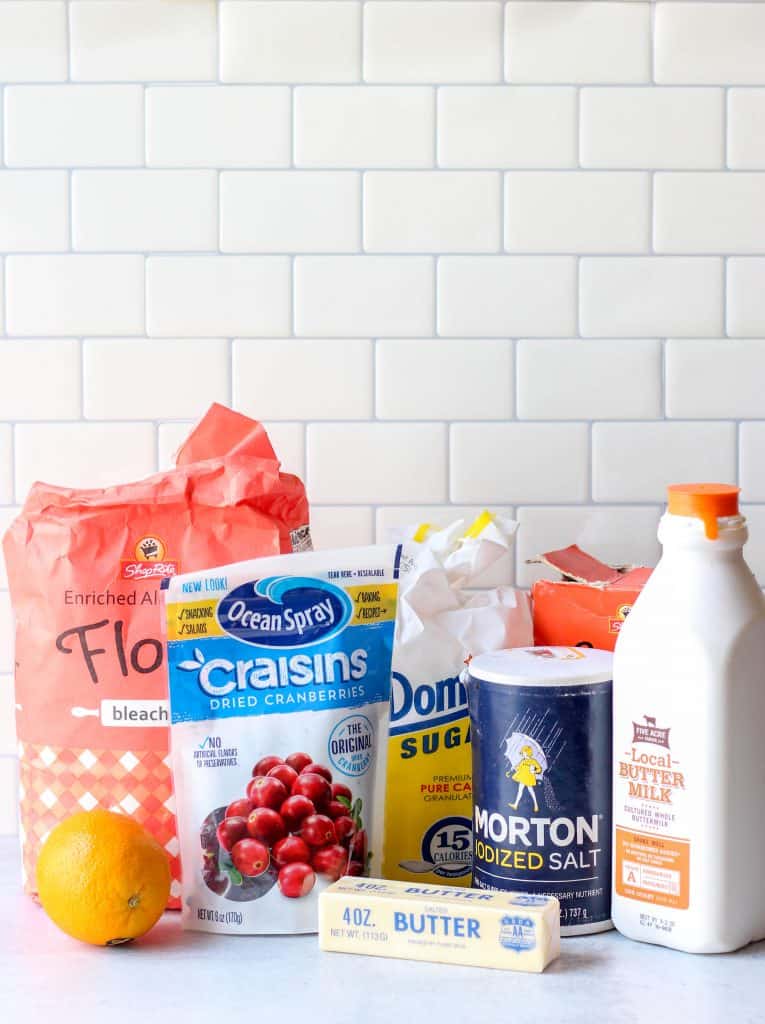 Ingredients
Here's what you need to have on hand to make the orange cranberry soda bread! In the photo above there should be an egg too, I totally forgot to grab it from the fridge for the pic, sorry egg!
Salted butter
All purpose flour
White sugar
Baking soda
Dried cranberries
An orange
An egg
Buttermilk
Salt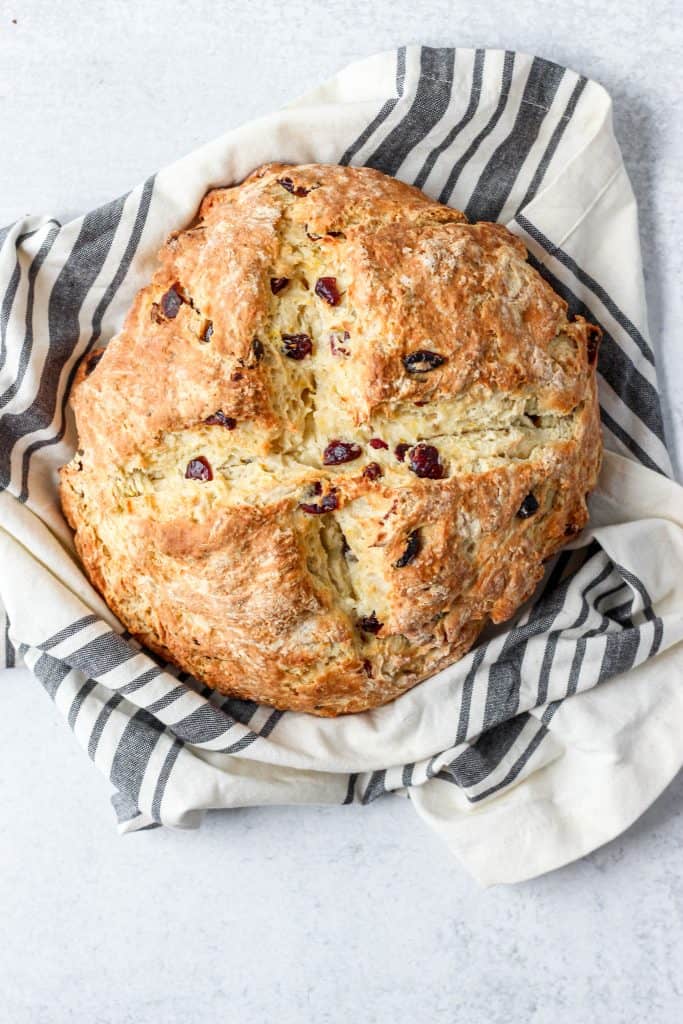 Look at this gorgeous baked bread! I love the rustic look of a soda bread. It's not supposed to be smooth and perfect. It's supposed to have ridges, and peaks, nooks and crannies, and the "X" cut across the top. I look at it and see something warm, comforting, and homey.
Even though this has sweet cranberries and the orange zest, this isn't sweet like a scone. I think it has just enough sweet to be a nice treat, while still maintaining it's 'bread' qualities and not venturing over into scone or muffin territory.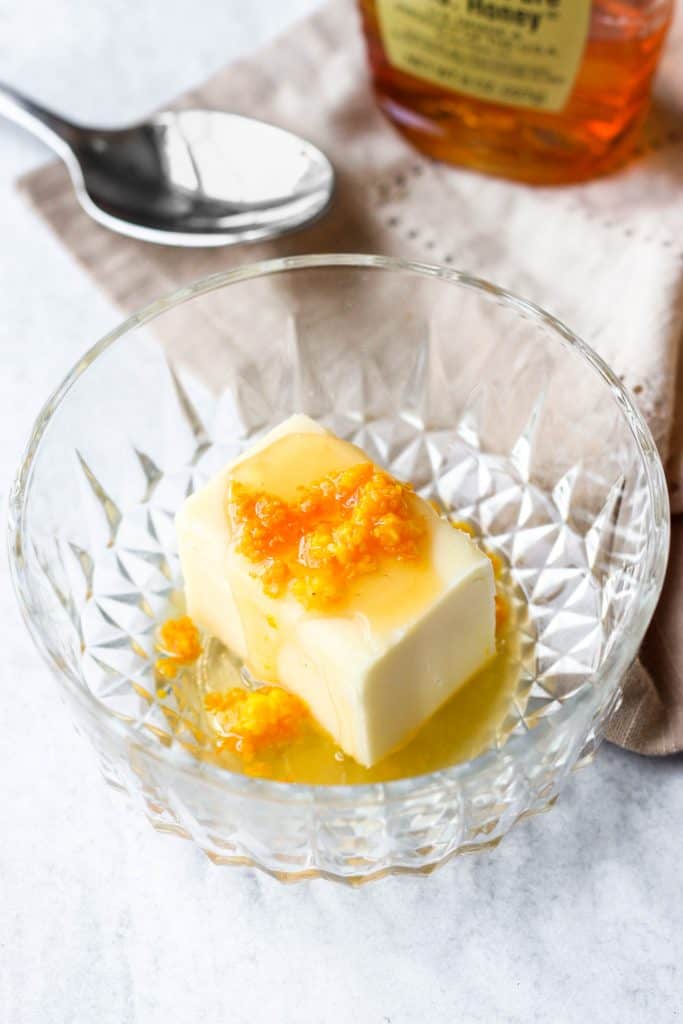 Orange Honey Butter
Now let's talk about the butter.
You can use regular salted butter on this, but if you want to really take this to the next level you'll want to make my Orange Honey Butter. You only need:
3 tablespoons salted butter, softened (not melted, just nice and soft and easy to stir)
1 teaspoon fresh squeezed orange juice
1 teaspoon honey
1/2 teaspoon orange zest
Mix everything together, and spread on this bread or things like pancakes, waffles, biscuits, or French toast!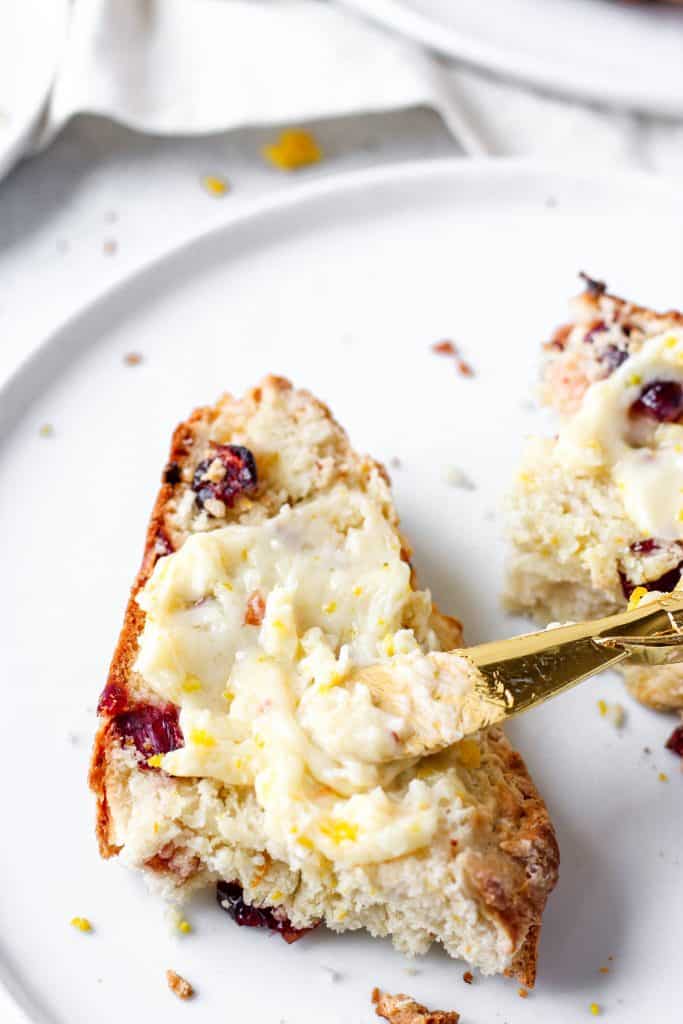 Follow me on Instagram at A Seasoned Greeting for more food photos, cooking tips, and recipe ideas!
Print
Orange Cranberry Soda Bread
A light and sweet soda bread recipe. Made with orange zest, dried cranberries, and topped with an orange butter
Author:
Prep Time:

15 minutes

Cook Time:

50 minutes

Total Time:

1 hour 5 minutes

Yield:

1 loaf

Category:

Baking

Method:

Baking

Cuisine:

Irish American
4 cups all purpose flour
4 tablespoons white sugar
1 and 1/2 teaspoons salt
1 teaspoon baking soda
5 tablespoons cold butter, cut into pieces about half an inch big
1 and 3/4 cup buttermilk
1 egg
2 and 1/2 tablespoons orange zest
1 cup dried cranberries
Instructions
1. Heat oven to 375. Lightly spray your baking sheet with cooking spray so it doesn't stick.
2. In a large bowl, combine the the flour, sugar, baking soda, orange zest and salt. Add the butter using a pastry cutter cut in the butter.
3. Lightly beat the egg and the buttermilk together in a medium bowl, then gently stir into the dry ingredients. Last, stir in the cranberries.
4. Flour your countertop and your hands. Dump the dough on the flour and lightly knead a few times until you get a round loaf. It will be very sticky at first so make sure you have enough flour so it doesn't stick to your hands.
5. Place the loaf onto the baking sheet and cut an 'X' into the top with a serrated knife. Bake for 50-55 minutes. Allow to cool slightly until it's safe to cut, then top with the Orange Honey Butter.
Keywords: orange cranberry soda bread