Have you ever made quesadillas at home? They're so easy to make, and you can get creative adding in your favorite ingredients! These corn and red pepper quesadillas are loaded with pan roasted corn, diced red peppers, slices of white onion, and lots of Pepper Jack cheese.
Once you see how easy it is to make quesadillas at home, you'll want to make more versions of quesadillas for dinners during the week! These are also kid friendly, and if your kids are old enough they can even help assemble the quesadillas and have some fun in the kitchen. Move over make your own pizza night, quesadilla night is the new family favorite!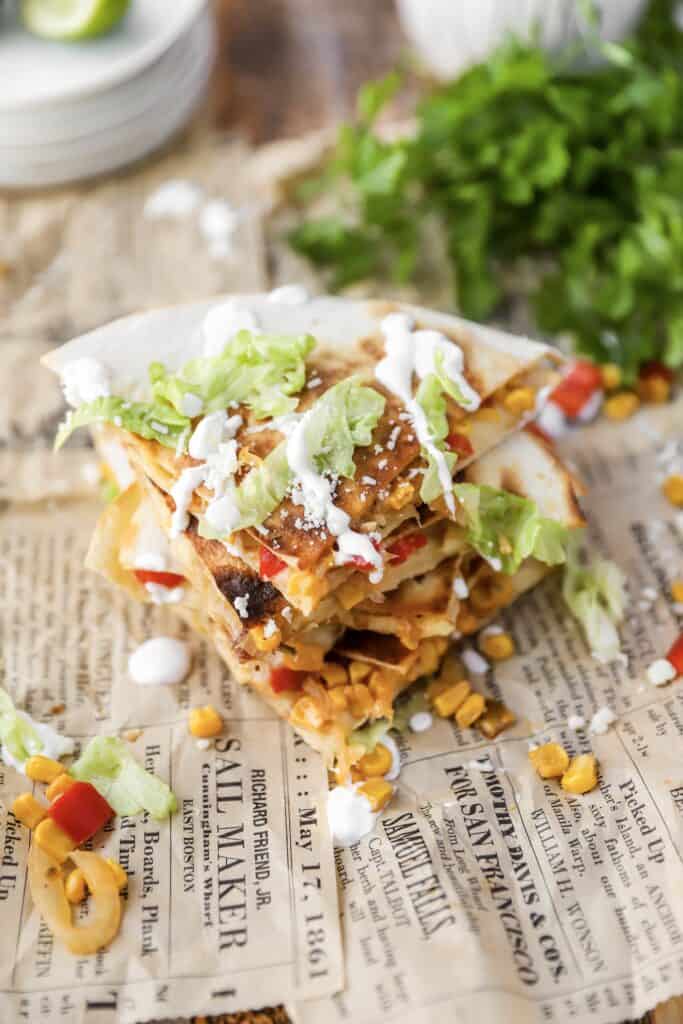 Ingredients for the quesadillas
Quesadillas are so easy to make, and you don't need any fancy or expensive kitchen gadget to make them! Nope, just your regular old frying pan is all you need.
Here are the ingredients you'll need for this recipe:
Flour tortillas. If you want to make more quesadillas, grab the taco size flour tortillas. But, if you'd rather just a few large quesadillas then buy the burrito size. The burrito size you'll be able to make 3 large quesadillas, while the taco sized tortillas will yield about 8 smaller quesadillas. I've also always used flour tortillas, not corn. Flour tortillas crisp up better and I prefer their texture.
Corn. Each time I make these I've used a 15oz can of corn. You can also use frozen corn if that's all you have. Just make sure to cook the frozen corn first! And if you're feeling extra ambitious, you can use fresh corn cut from the cob.
Red peppers. Two large red peppers is all you need!
White onion. You'll use half of a large white onion. Slice it thin to add some extra texture to the quesadillas.
Pepper Jack cheese. I love using Pepper Jack cheese in my quesadillas. It adds a nice extra hit of spice. You'll need to buy an 8 oz block of the cheese and grate it yourself. If you don't already have a box grater, you can buy one like this.
Olive oil, salt, garlic powder, cayenne pepper, black pepper, and a lime. These seasonings will add a nice blend of spice, and the lime juice adds a little hint of citrus.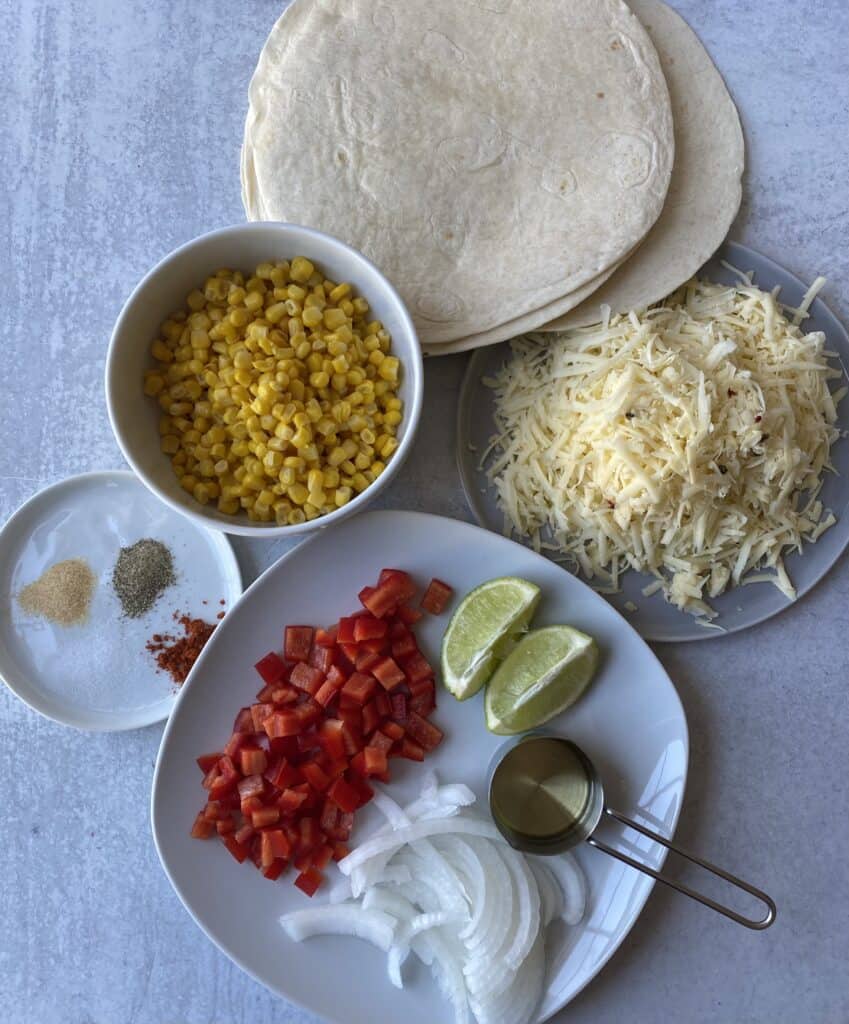 How to make quesadillas
These corn and red pepper quesadillas are so easy to make. Do extra gadgets needed! Just your large pan and a spatula.
Once you've pan roasted the corn, red peppers, and onions it's time to start assembling the quesadillas on your pan. I like mine on the crispier side, but if you like a softer quesadilla just cook each side for a little less.
First, heat your pan over medium heat. Place one of the tortillas on the pan and cook for 2 minutes. If you're using the smaller taco sized tortillas you probably can make two quesadillas at a time!
Next, once the first tortillas has cooked for 2 minutes, flip it over and cook another 1:30 – 2 minutes. While this side is cooking, top the tortilla with cheese and the corn and red pepper filling.
Last, top the mixture with another tortilla, carefully flip it over using a spatula to cook this side for a final 1:30 – 2 minutes. Keep checking the underside and remove from the pan when it's the right amount of doneness for you!
There's another method you could also use. This second method is after you flip the tortilla for the first time, only fill one side of the tortilla with the cheese and corn and red pepper filling mixture, then fold other side on top, like you're making a taco. This will make a folded quesadilla rather than a large circular one like below.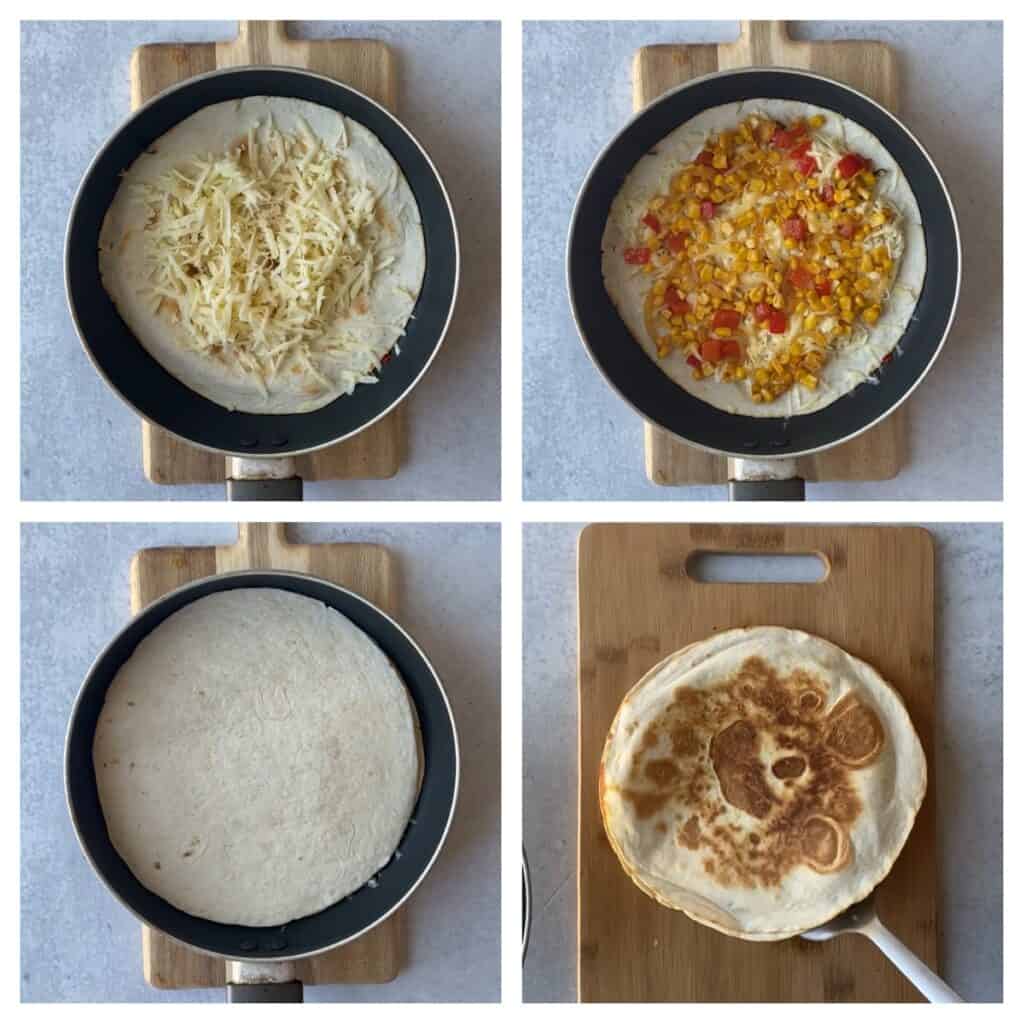 You can eat the quesadillas plain, or add some toppings! I love a little sour cream or Mexican crema if you can find it, Cotija cheese, and a little shredded lettuce. If you love having a taco Tuesday in your house, make a night for quesadillas! Does Quesadilla Mondays have a ring to it?
Like this recipe? I also have more recipes that are inspired by Mexican flavors and ingredients!

Crunchy Taco Meatballs. These are like tacos in a meatball! And the toasted Panko is what gives these a little bit of crunch.
One of my all time favorite chowders is my Creamy Mexican Corn Chowder. So comforting, and a perfect cold weather dinner!
Another cold weather soup, Creamy Chicken Tortilla Soup. Loaded with tons of ingredients, this is a filling dinner and the leftovers are just as good!
Can't decide between enchiladas or tacos? Have both with Enchilada Tacos! Make a super easy enchilada sauce and serve in chicken tacos.
Fajitas but make it pasta? No problem…Fajita Pasta Bake is just that! Fajitas spices and fixings all combined in a cheesy pasta bake.
Serve these Taco Stuffed Sweet Potatoes on your next taco Tuesday!
And a few fun snacks for some weekend snacking!
Mexican Street Corn Fries are better than nachos! Sweet potato waffle fries loaded with all the delicious flavors of Mexican Street Corn.
A crispy smashed potato that can be a snack, appetizer, or side dish! Taco Smashed Potatoes are seasoned with taco spices, then topped with a chipotle sauce and Queso Fresco.
Move over Guac, let's make some Whipped Avocado! A smooth and creamy avocado dip that's perfect as a dip or add to tacos!
And, if you're looking for a versatile spice blend you'll need this Sazon Recipe. A blend of spices that works on beef, chicken, even potatoes!
Last but not least, if you want to try something new for breakfast try this Dominican Mangu. Mangu is made from mashed green plantains and is eaten with pickled red onions, fried white cheese and fried salami.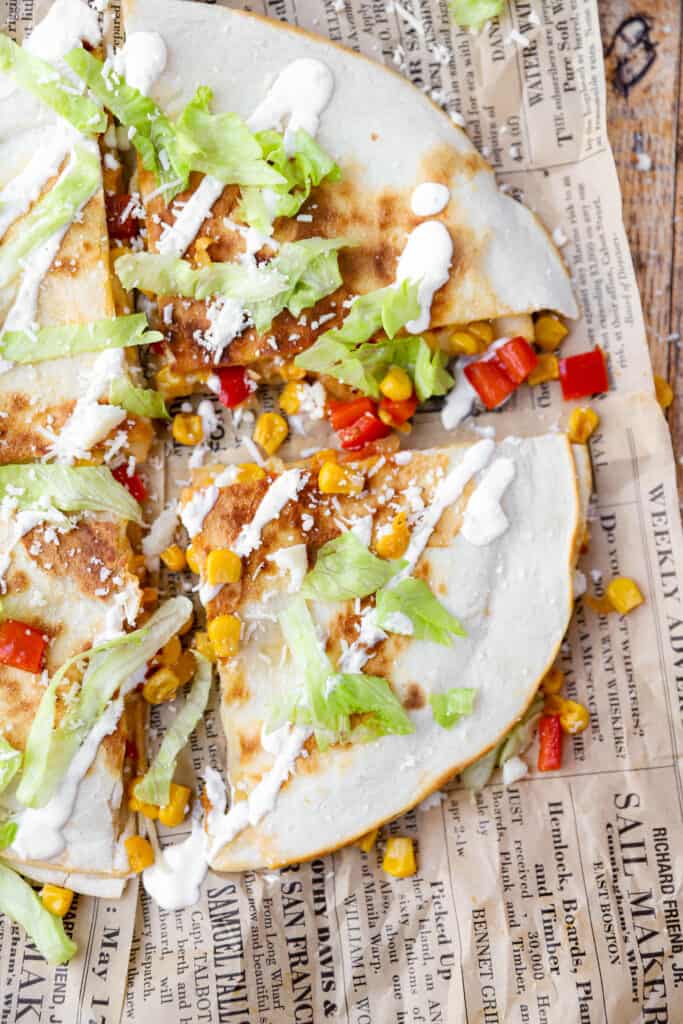 Print
Corn and Red Pepper Quesadilla
An easy quesadilla made with pan roasted corn, red peppers, onions, and lots of Pepper Jack cheese. An easy dinner perfect for a busy weeknight!
Author:
Prep Time:

10

Cook Time:

25

Total Time:

35 minutes

Yield:

3-8 quesadillas depending on tortilla size used

Category:

Vegetarian

Method:

Saute

Cuisine:

Mexican
Flour tortillas (Burrito size will yield 3 quesadillas, taco sized tortillas will yield about 8 quesadillas)
1 tablespoon extra virgin olive oil
1 15oz can  of corn, drained (or you can use cooked frozen corn, or even fresh corn if you have it)
2 red peppers, diced
1/2 of a large white onion, sliced thin
1/2 tsp salt
1/4 teaspoon garlic powder
1/4 teaspoon cayenne pepper
1/8 teaspoon black pepper
1 8oz block pepper jack cheese, grated
1 lime, cut into wedges
Instructions
1. In a medium pan over medium heat and the tablespoon of extra virgin olive oil. Add the sliced onions, saute 5 minutes. Add the red peppers, corn, salt, garlic powder, cayenne, and black pepper. Saute 15 minutes, gradually raising the heat until the corn gets a lightly browned crisp, don't stir too often so that the onions, corn, and peppers can brown. If it's sticking to the bottom of the pan, add water a teaspoon at a time to deglaze the pan and stir. After the 15 minutes, pour mixture into a bowl and squeeze two lime wedges over top and stir. Clean the pan to begin making the quesadillas. 
2. Heat the cleaned pan over medium heat. Place a tortilla in the pan and cook for 1:30-2 minutes to brown. If you like a softer quesadilla only cook for about 1-1:30 minutes. Once it's as browned as you like it, carefully flip the tortilla over and cook that side how you like it (I do 2 minutes because I like mine crispier). While this side is toasting, assemble by layering the cheese and then the corn and red pepper mixture. Top with another tortilla. Flip to toast this final side, cooking about 1:30 – 2 minutes, checking to see when it's gotten as browned as you like it. Remove, slice into triangles and enjoy! Repeat until all the cheese and corn red pepper mixture has been used. 
Top with crema or sour cream, Cotija cheese and shredded lettuce if you'd like!
Keywords: corn and red pepper quesadilla