A cheesy baked potato is making it's way to your dinner table. These veggie twice baked potatoes are filled with white Cheddar cheese, broccoli, orange and red bell peppers and corn. A colorful meal that you can enjoy as the main dish or serve as a side to chicken, steaks, or fish!
Ok so first, I know that not all the ingredients here are actually veggies. I know corn is a grain, and the bell peppers are technically fruits, so the only veggie here is the broccoli. But Veggie Twice Baked Potatoes flows much better than veggie, fruit and grain twice baked potatoes don't you think?
So let's dive in and get to making these easy twice baked potatoes!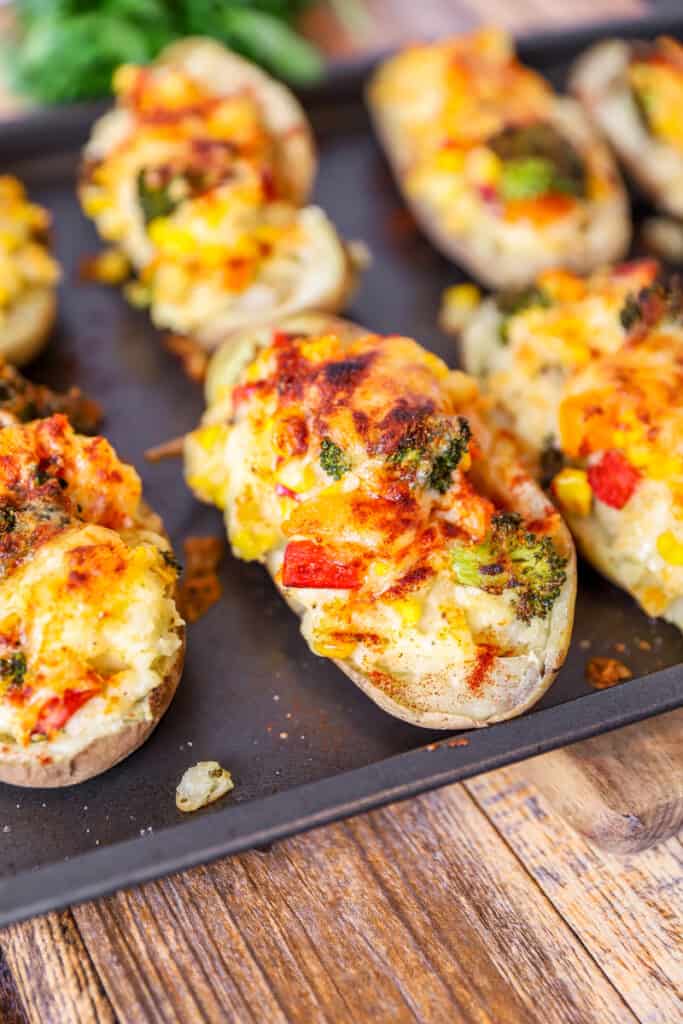 Ingredients
Potatoes. You'll need 4 medium baking potatoes. I say medium because potatoes that are too big could take too long to bake, and too small won't be as abundant when you're filling them.
White Cheddar Cheese. I use white Cheddar here, like this sharp Cheddar! I like the flavor it gives and since we already have lots of color from the corn, broccoli and peppers I wasn't looking to dampen that by using a yellow Cheddar. So white Cheddar you get all the flavor without any color competition!
Fillings. You'll need cream cheese, butter, sour cream and milk to make these potatoes super smooth and creamy!
Veggies. And grains and fruits. You'll need a medium crown of broccoli, half of a red pepper, half of an orange pepper, and 1/2 cup of cooked corn. You can use cooked frozen corn, canned corn, or fresh.
Seasonings. Salt, pepper, garlic powder, and smoked paprika.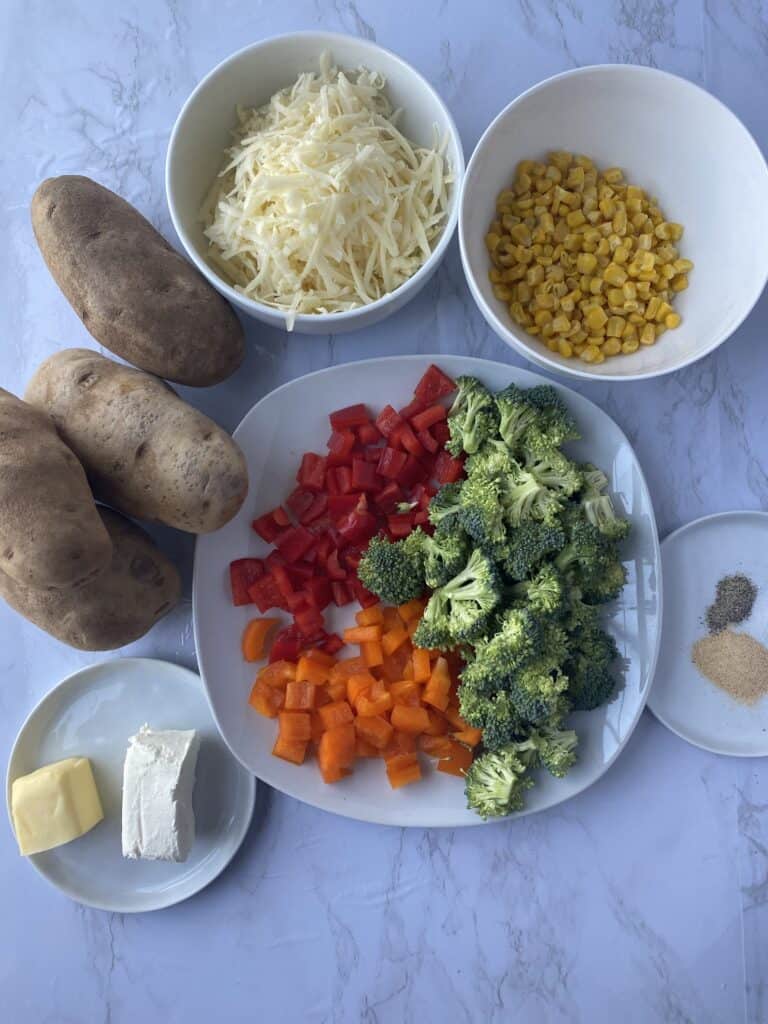 How to prepare the potatoes
So for this recipe I microwave to "bake" the potatoes. Why? Well, my goal here is to make an easy recipe you can have for dinner in less time. Baking potatoes in the oven takes about an hour, and I don't know about you but on a busy weeknight that's just too long for me!
Using the microwave let's you cook these in a fraction of the time. Just gently scrub clean the potatoes, prick them several times each with a fork, then microwave for 13-15 minutes. I like to check them around the 14 minute mark, if they can be pricked easily with a knife they are done!
I don't recommend cooking longer than 15 minutes, otherwise they can get very dry and crumbly and basically unusable.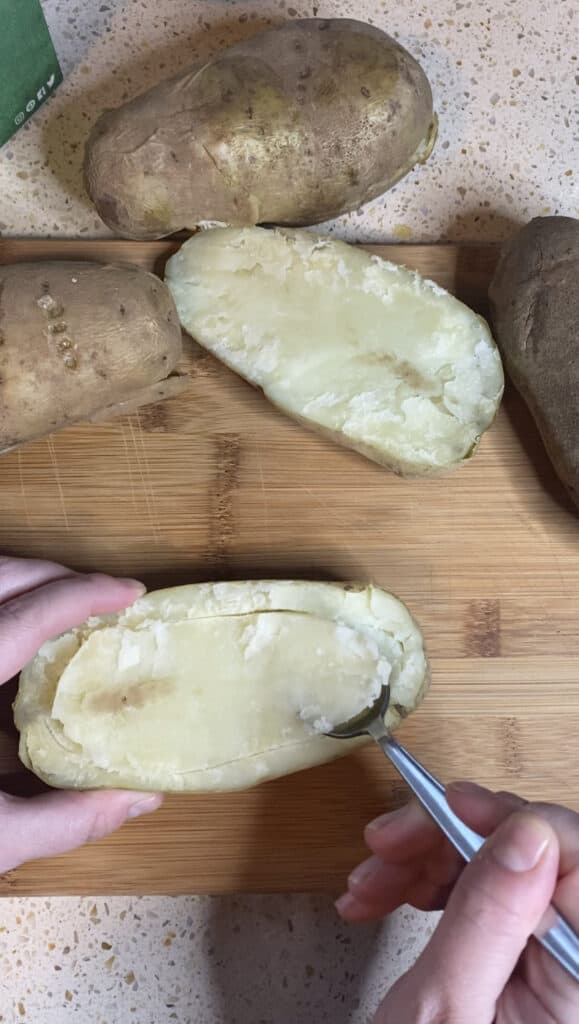 I wanted to show you how you scoop out the center of the cooked potato. This is a technique that's easier to show than to explain!
First. After the potatoes have cooked, carefully remove them from the microwave and carefully cut them length-wise. They're going to be super hot and steamy to be careful!
Next. Use a knife and cut all along the edge, leaving a bit of the potato along the edge for some stability. While you want to make sure the potato skin stays intact, don't worry if the skin splits. These don't have to be perfect and the potato filling can help disguise any imperfections.
Last. Use a spoon and gently scoop out the interior and add it to the bowl with cream cheese and butter. The heat of the potatoes will help to start melting the butter and cream cheese.
If there's any part of the potato that's a bit hard to scoop, I also find it helps to use your knife and score the potato into pieces and scoop out the pieces.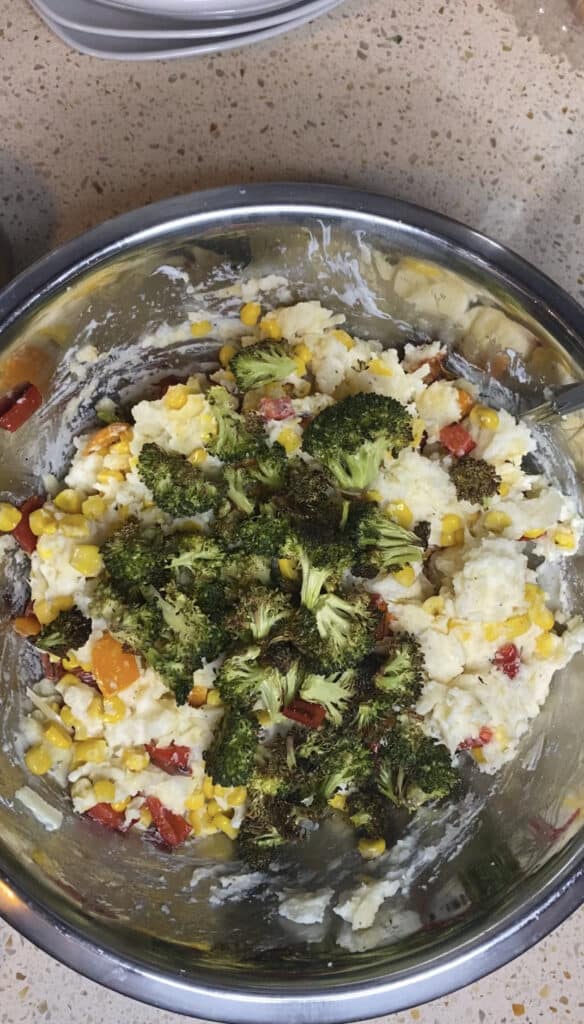 This recipes uses 1/2 each of a red bell pepper and an orange bell pepper, and 1/2 cup of corn. I have some recipes you can make during the week to use any leftover peppers and corn!
Fajita Pasta Bake is a cheesy pasta bake that uses orange peppers and corn. Once of my favorite pasta bakes!
These quesadillas use corn, red peppers, and lots of pepper jack cheese.
More ideas to use leftover corn, I've got this delicious Mexican Corn Chowder and these Mexican Street Corn Waffle Fries!
These Sweet Potato Home Fries use red peppers, but they'd also be delicious adding in the orange peppers too!
Last, if you're looking for more potato-centered dishes I've got these Taco Stuffed Sweet Potatoes, Taco Smashed Potatoes, and these adorable Gruyere and Bacon Potato Bites!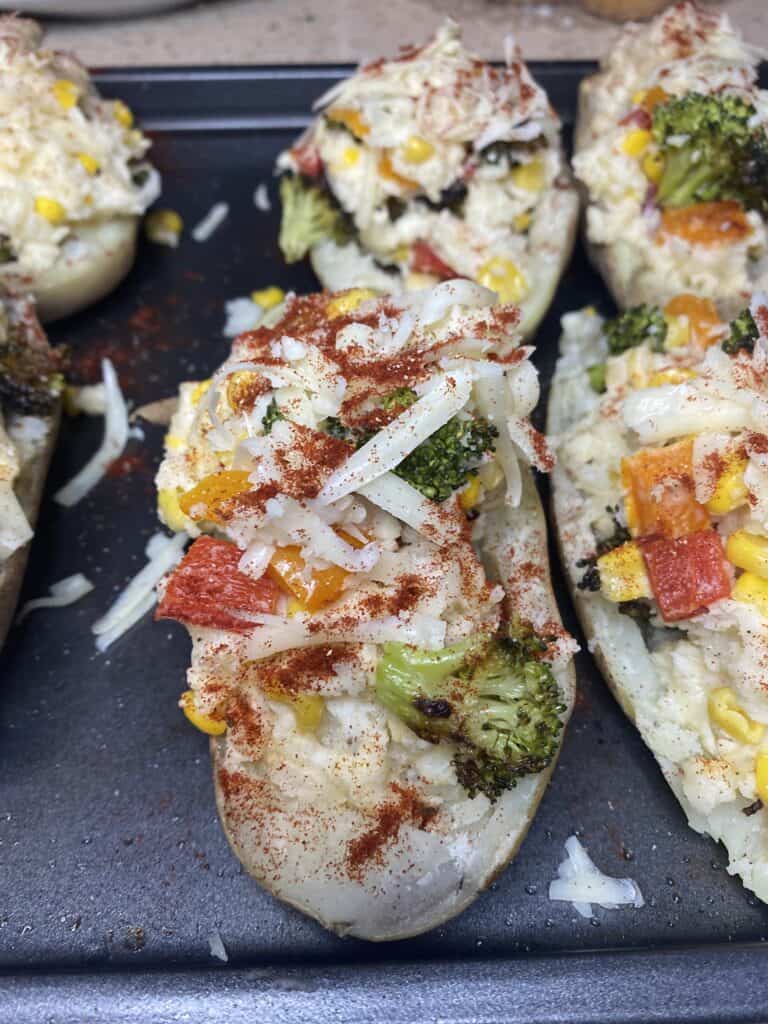 Cooking tips
You can switch up the ingredients if you'd like. Try carrots or zucchini to make these even more veggie packed!
You can make these as smooth as you'd like, if you want a completely smooth interior like mashed potatoes just keep mashing until you get the texture you like.
Store the leftovers in an air tight container and save for up to 3 days. Reheat in the microwave or oven for a quick lunch or leftover dinner!
Want a sauce on the side? Try sour cream, ranch, or ketchup.
Want to add some heat? Add a few dashes of cayenne pepper with the smoked paprika for little extra kick.
Very important- do not skip pricking the potatoes with a fork! The potatoes can burst in the microwave if you miss this step.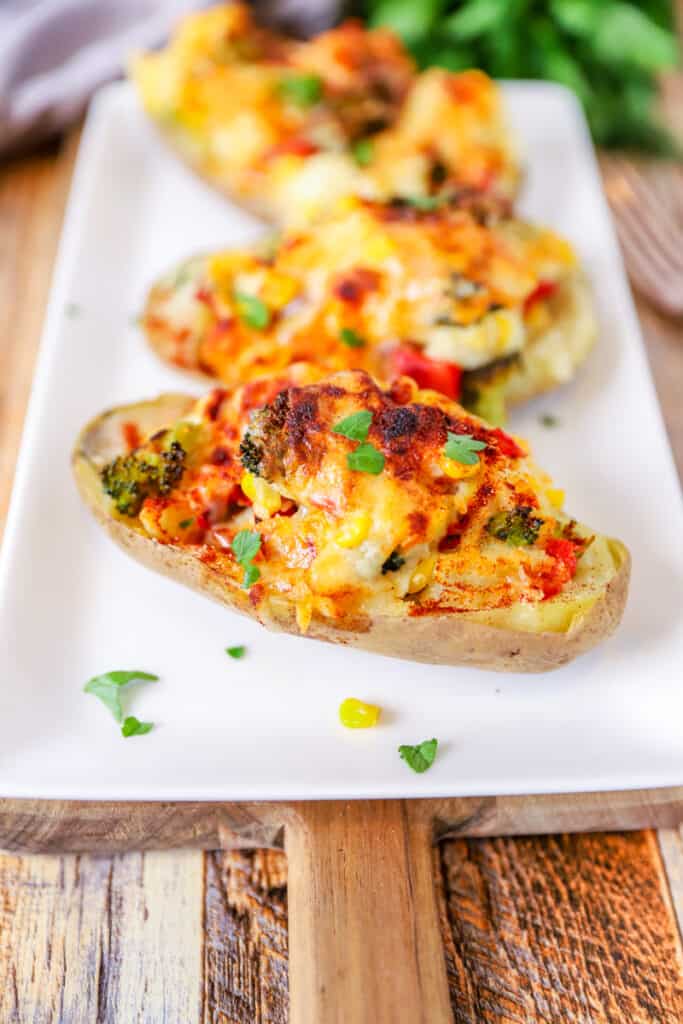 Want more recipes, food photography, and cooking tips? Follow me on Instagram!
If you make these or any of my recipes, make sure to tag me so I can see your delicious meals!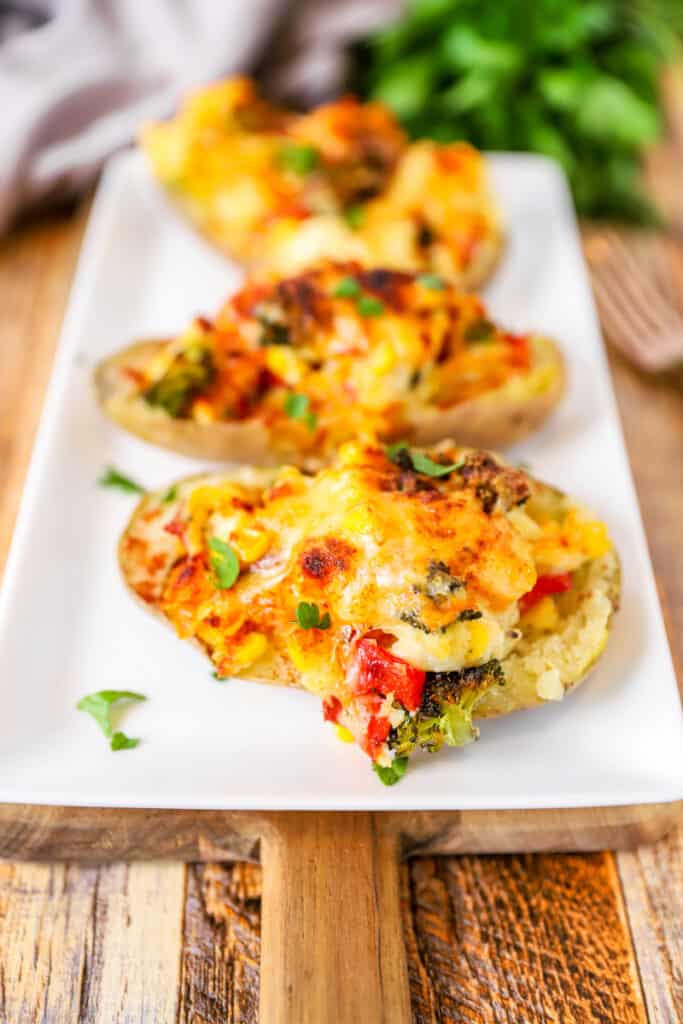 Print
Veggie Twice Baked Potatoes
A cheesy twice baked potato filled with roasted broccoli, red and orange bell peppers, and corn. A colorful way to incorporate veggies into dinner!
Author:
Prep Time:

15 minutes

Cook Time:

45 minutes

Total Time:

1 hour

Yield:

8 servings

Category:

Main Dish

Method:

Bake

Cuisine:

American
4 Idaho potatoes
1 and 1/2 cups grated white Cheddar cheese
2 ounces butter
3 ounces cream cheese
3 ounces sour cream
1/4 cup milk or light cream
1 large head of broccoli
1/2 red bell pepper
1/2 orange bell pepper
1/2 cup corn (could be cooked frozen corn, canned, or fresh)
1/4 teaspoon salt
1/2 teaspoon garlic powder
1/4 teaspoon pepper
Olive oil
Smoked paprika
Instructions
1. Gently wash, scrub, and dry the potatoes to clean them. Prick each potato several times with a fork, then microwave for 13 – 14 minutes. Make sure to remember to prick holes in the potato to allow the steam out!! If a knife can be inserted easily they're done!
2. While the potatoes are cooking, preheat the oven to 425 degrees. Chop the broccoli, removing most of the stalk, and dice both of the halves of bell peppers. Pour into a baking sheet, drizzle with a little olive oil and sprinkle with a little salt. Bake for 25 minutes, then remove from the oven and reduce the oven temperature to 350 degrees.
3. To a large bowl add the butter and the cream cheese. When the potatoes are done carefully remove them from the microwave. Carefully slice them open length-wise and cut all along the perimeter leave a little bit of potato along the edge. Scoop out the interior potato and add it to the bowl with the butter and the cream cheese. Repeat until all potatoes have been scooped, you should have 8 empty potato skins. It's ok if the skin breaks on some, they don't have to be perfect! See above in the post for instructions on how to cut and scoop the potatoes.
4. Mash the potatoes a bit, add the sour cream and pour in the milk and continue to mash. Season with the salt, pepper, and garlic powder and stir to combine. Mash these to the texture you want, I like my twice baked potatoes to be a bit chunkier than mashed potatoes, but if you want totally smooth keep mashing until all the lumps are gone! Mix in 1 cup of the Cheddar cheese, and lastly add in all the roasted veggies and the corn and gently stir until everything is blended.
5. Fill the potato shells with this mixture, top each potato with a little more Cheddar cheese, and sprinkle each with some smoked paprika. Bake for 15 minutes, then place under the broiler for a 1-3 minutes until the cheese gets browned.
Serve with sour cream, ketchup, or ranch!
Keywords: veggie twice baked poatoes