Pasta salad gets an upgrade with this Mexican Corn Pasta Salad! Pan roasted corn seasoned with chili powder, lime crema dressing, and Cotija cheese…this is the perfect pasta salad to summer grilling like chicken, steaks, burgers, fish and more!
Recipe at a Glance
Prep time: 15 minutes
Cook time: 25 minutes
Notes: The prep time will be for grating the Cotija, slicing and dicing the garlic and onions, and zesting and juicing the limes. After that the recipe is quite easy in assembling everything together to make this spicy and zesty pasta salad.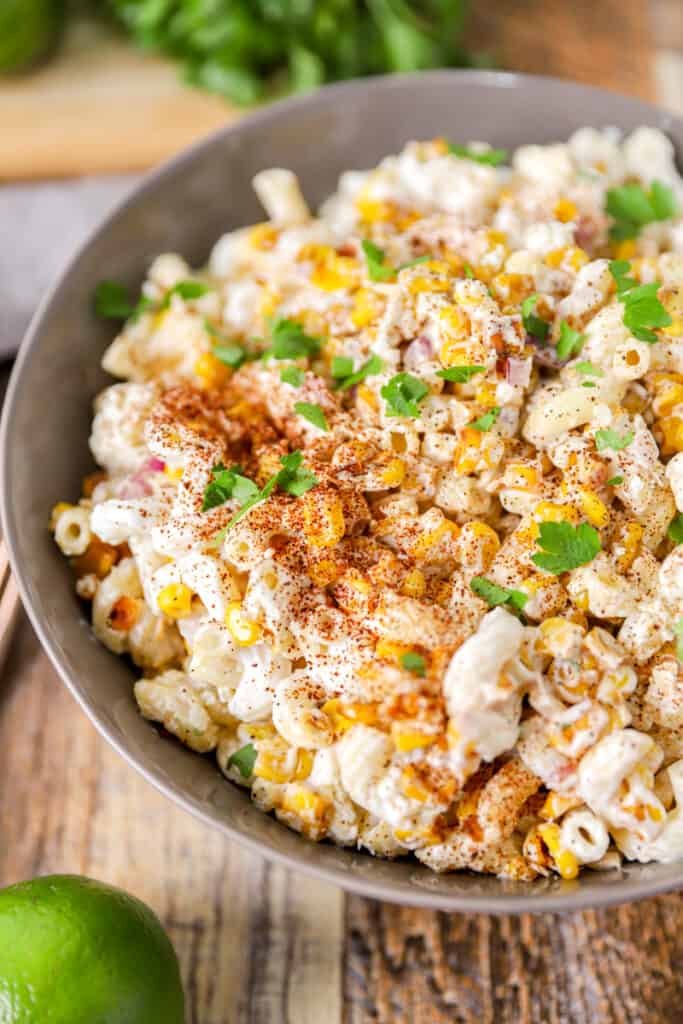 Ingredients
Here's what you'll need to whip this up this pasta salad that's inspired by the flavors of Mexican street corn!
Macaroni. You can use any short pasta noodle you like, bot I love a good macaroni shape for a pasta salad! Other ideas would be rotini, mini bowtie, or even shells.
Corn. This recipe I use two bags of 10oz frozen corn. Cook it in the microwave according to package instructions.
Cotija. This is a somewhat hard and salty Mexican cheese. You can buy it already grated, or buy a triangular shaped block of it and grate it yourself. I prefer to buy the block and just grate it myself.
Limes. You'll need at least two limes, you'll use some of the zest and 5 tablespoons of juice.
Red onions and garlic. The red onions add a nice bit of crunch to the pasta salad, adding texture.
Seasonings. To season the corn you'll need salt, pepper, garlic powder, chili powder and cayenne pepper. Some butter to melt as well!
Crema and sour cream. I love Mexican crema. It's smoother than sour cream and less tart. I use both in this recipe for the smoothness the crema provides, but then include 1/2 cup of the sour cream for the extra flavor it provides!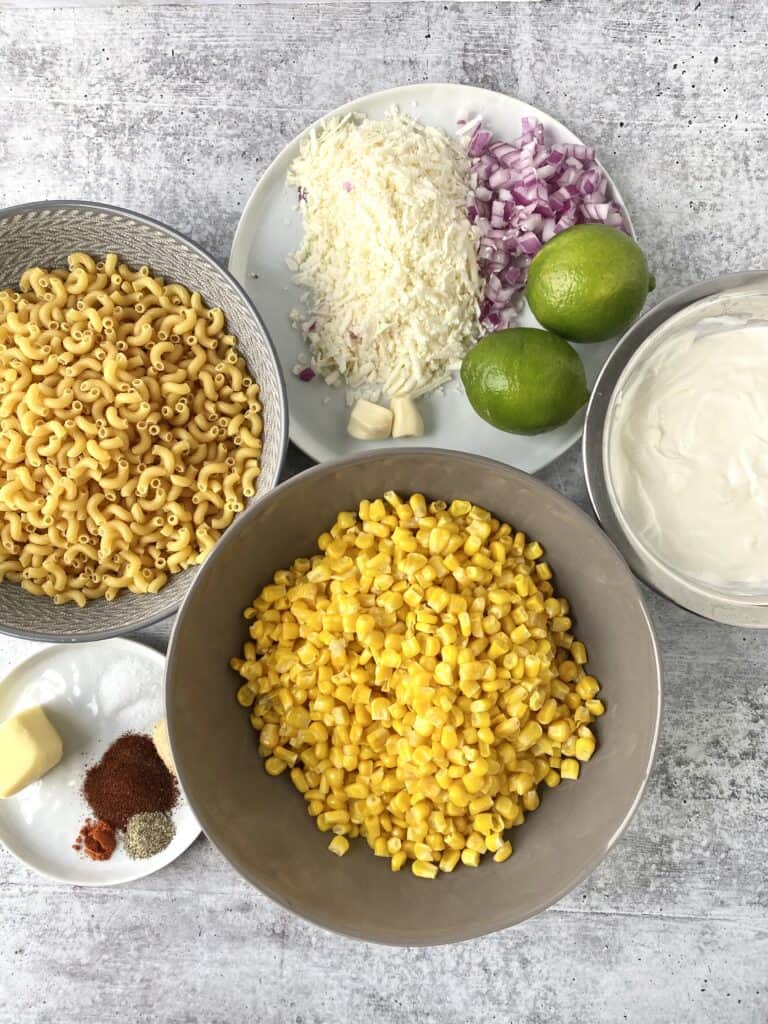 How to pan roast corn
The best part of this recipe is the pan roasted corn. For me, this is what really makes this a pasta salad inspired by the delicious flavors of Mexican corn. The corn needs to be treated as the star here, we can't just throw the cooked corn into the salad and call it a day.
Oh no, once you try this recipe you'll see what I'm talking about!
First. Add the butter to the pan and allow it to melt.
Next. Add the corn and stir to get it all coated in the better. Then add all the seasonings and stir again to blend int.
Finally. Cook on medium high for 10 minutes. Stir occasionally, but you want to allow the corn to get nice and browned! Make sure to scrape up the caramelizing pan sauce, SO much flavor. Add the grated garlic for the final minute of cooking the corn.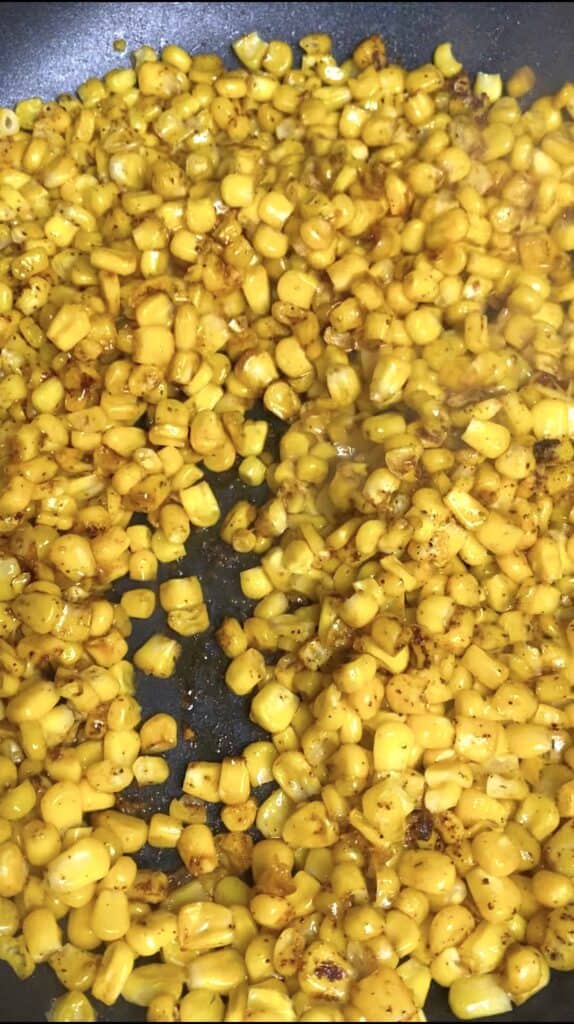 The dressing is super easy to make! Just mix all of the dressing ingredients together, then pour of the cooked noodles. That's it!
It's a creamy lime-infused crema that also could be delicious as a dip! I go light on the salt in the dressing since the Cotija cheese is quite salty. Nothing worse than something that's way too salty!
So go easy on the salt in the dressing, and after you've added the Cotija to the final pasta salad you can add more salt then if you'd like.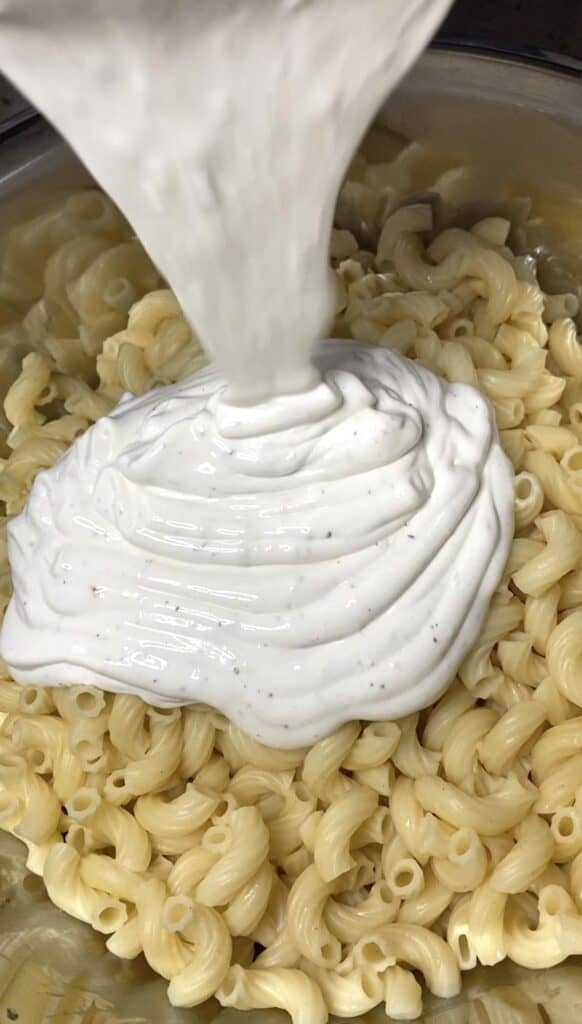 Looking for more recipes inspired by Mexican flavors and ingredients? Check out some of my other favorite recipes!

Creamy Mexican Corn Chowder
Mexican Corn Waffle Fries
Red Pepper and Corn Quesadillas
Walking Taco Casserole
More pasta salad recipes? If you like spicy you'll love my Buffalo Chicken Pasta Salad or this French Dressing Pasta Salad.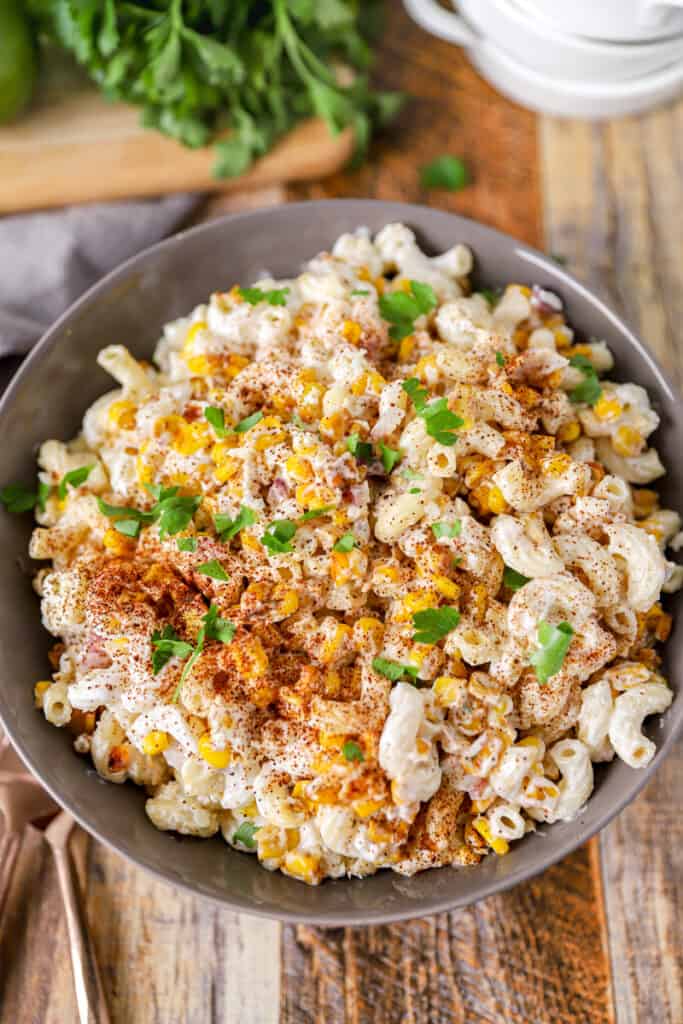 Cooking Tips
You can use any short pasta noodle you'd like, but I love a macaroni shape in this pasta salad!
I use 1/4 teaspoon of cayenne pepper, but if you like things spicier you can increase that a little at a time until you get the heat level you're looking for.
This is best eaten the day you make it for the creamiest pasta salad, but you can also make it a day ahead. I'd recommend not storing it for more than a day or it gets less creamy and doesn't have the same texture to the dressing.
Don't increase the salt amounts until after the whole pasta salad is made including the Cotija cheese. Cotija is quite salty, so if you increase the salt in the corn or the dressing before adding the cheese you could risk making the dish overall way too salty.
Since this recipe is inspired by Mexican corn, the crema and Cotija should not be substituted with alternatives. Make sure to add these to your shopping list so you have them in the fridge!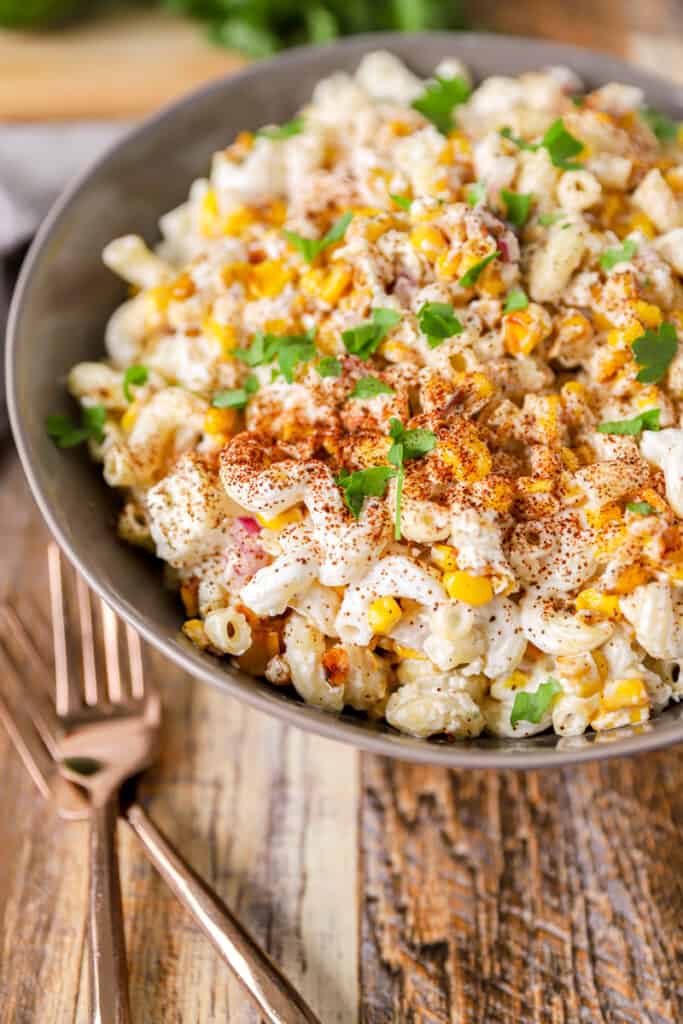 Want more recipes, cooking tips, and behind the scenes of my food photography? Follow me on Instagram!
If you make this recipe, or any of my recipes, let me know! I love seeing your delicious creations.
Print
Mexican Corn Pasta Salad
This Mexican corn pasta salad is packed with seasoned and pan roasted corn, crisp red onions, and a lime crema dressing. The perfect dish at any cookout or party!
Author:
Prep Time:

15 minutes

Cook Time:

25 minutes

Total Time:

40 minutes

Yield:

6-8 servings

Category:

Side Dishes

Method:

Saute

Cuisine:

Mexican American
2 and 1/2 cups macaroni noodles
2 10 oz bags of frozen corn, cooked according to package instructions
1/2 cup grated Cotija cheese
1/2 cup finely diced red onions
2 tablespoons butter
2 garlic cloves, grated or minced
1 teaspoon chili powder
1/4 teaspoons salt
1/4 teaspoon pepper
1/4 teaspoon garlic powder
1/8 teaspoon cayenne pepper
For the dressing
1 cup Mexican crema
1/2 cup sour cream
5 tablespoons fresh lime juice
2 teaspoon lime zest
1/4 teaspoon salt
1/4 teaspoon pepper
Instructions
1. Cook the macaroni noodles according to box instructions. Once cooked, strain into a bowl and place in the fridge until you're done with the rest of the recipe.
2. While the pasta is boiling, prepare the corn. In a large pan melt the butter, then add the cooked corn. Season with the chili powder, garlic powder, salt, pepper, and cayenne pepper. Stir so the corn is coated in the spices and butter, then cook on medium high heat for 10 minutes, stirring occasionally. Add the grated garlic for the final minute of cooking. You want the corn the get brown, with some little charred bits forming at the bottom of the pan. Once cooked, pour into a bowl.
3. To make the dressing, mix the crema, sour cream , lime juice and zest, salt, and pepper.
4. To assemble the pasta salad, pour the dressing over the noodles and stir to coat all of the macaroni. Add the corn, diced red onions, and Cotija…stir to combine. 
When serving you can add more Cotija and a squeeze of lime wedge! Enjoy!
Notes
If you like things spicy, you can increase the cayenne pepper from 1/8 teaspoon to 1/4 teaspoon! I recommend eating this within 1 day of making it for the best consistency of the crema sauce. 
You could use canned or fresh corn if you'd like! You'll need about 2 and 1/2 cups of corn if you'd like to substitute for the frozen corn.
Keywords: Mexican corn pasta salad