Of all the perfect flavor duos what can be more crowd pleasing then peanut butter and dark chocolate? The Peanut Butter Chocolate Chip muffins are a delectable treat with coffee and could be your new favorite morning muffin!
Recipe at a Glance
Prep time: 15 minutes
Cook time: 27 – 30 minutes
Notes: These aren't your average peanut butter muffins! These get topped with a peanut streusel to add a nice little crunchy to each bite.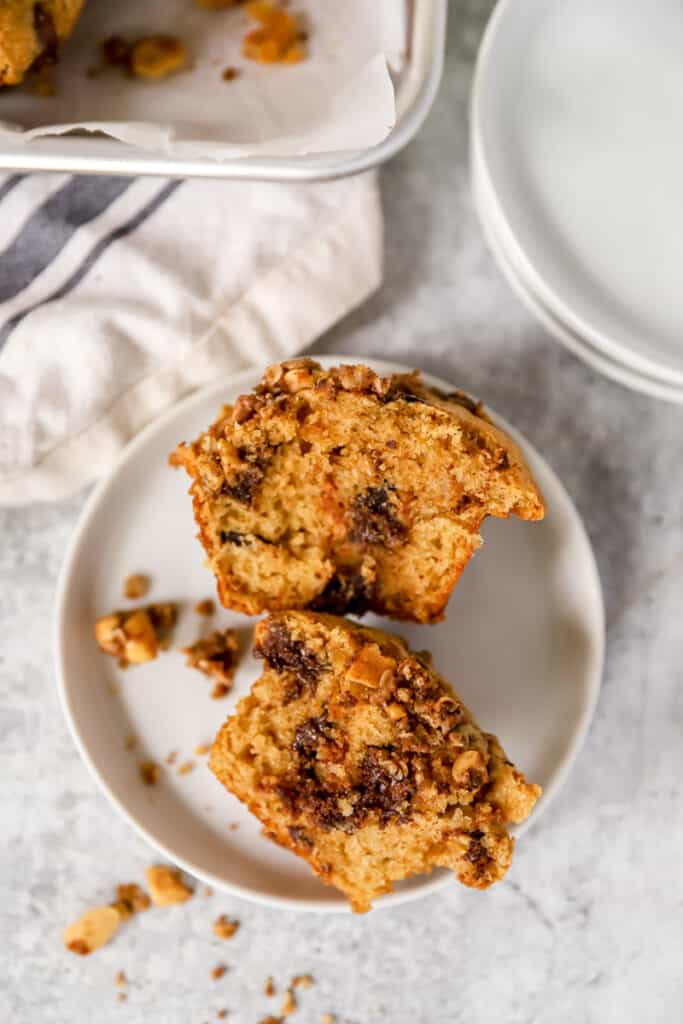 Muffins are one of my favorite breakfast treats to create. They're a little balance between note quite a dessert, but also let's you get a little hint of sweet in the morning.
I've been on a bit of a muffin kick lately with my recipe brainstorming! Checkout some of my recent muffin creations:
Pumpkin Molasses Muffins
Apple Pie Muffins
Pumpkin Chocolate Chip Muffins
Chocolate Espresso Muffins
Let's talk about this peanut streusel topping. This is what's going to take this over-the-top and let's you know this isn't your basic peanut butter muffin!
Just rough chop some cocktail peanuts and mix that with flour, sugar, butter, oats, and a bit of a surprise secret ingredient: cinnamon! Adding a bit of cinnamon adds a welcomed hint of warmth and helps bring out the rich peanut flavor. It also helps balance the muffins and keeps them from being too sweet.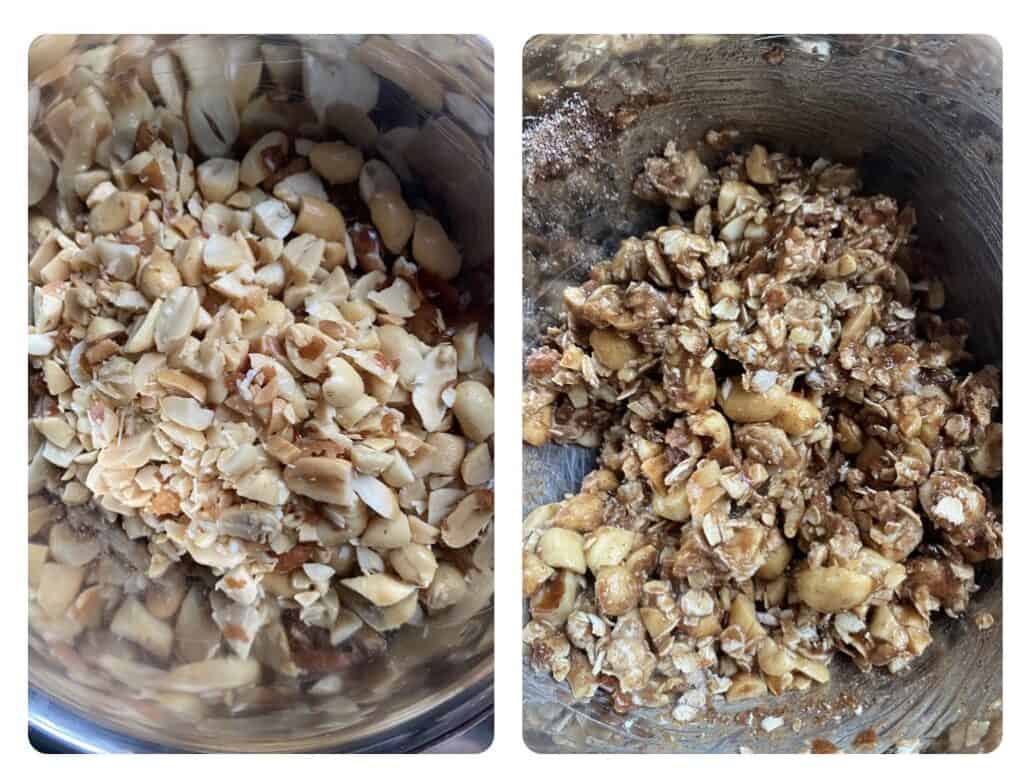 Fill your muffin tins all the way to the top for a big muffin with that ideal muffin top! Depending on how big you like your muffins this recipe will get you between 15-18 muffins.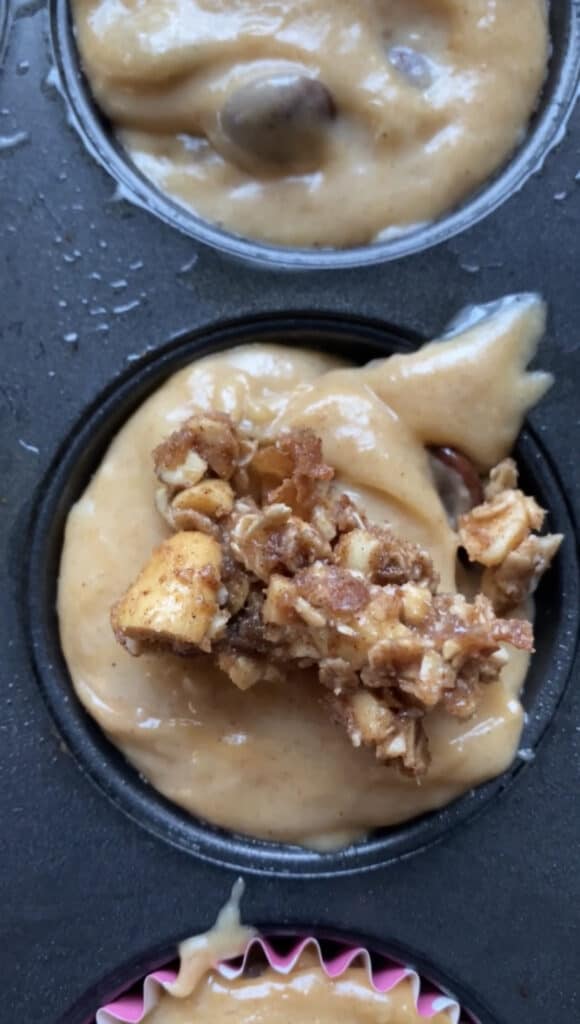 Baking Tips
If you don't have any muffin liners make sure you use cooking spray and spray the baking pan generously.
Even if you're using muffin liners, spray the top of the pan where the muffin top will eventually bake. The last thing you want is a muffin top that sticks to the pan!
I love the rich flavor of dark chocolate morsels. You can substitute with semi-sweet if you want, but I'd stay away from milk chocolate.
Don't overmix the batter! Gently mix just enough so all the ingredients are incorporated.
For the best texture, I found that baking for about 26-27 minutes was perfect! Any longer than that and they came out a bit dry.
Store these in an air tight container, or cover them very tightly with some foil. The longer they are exposed to air the muffins tops and streusel can become a bit dry.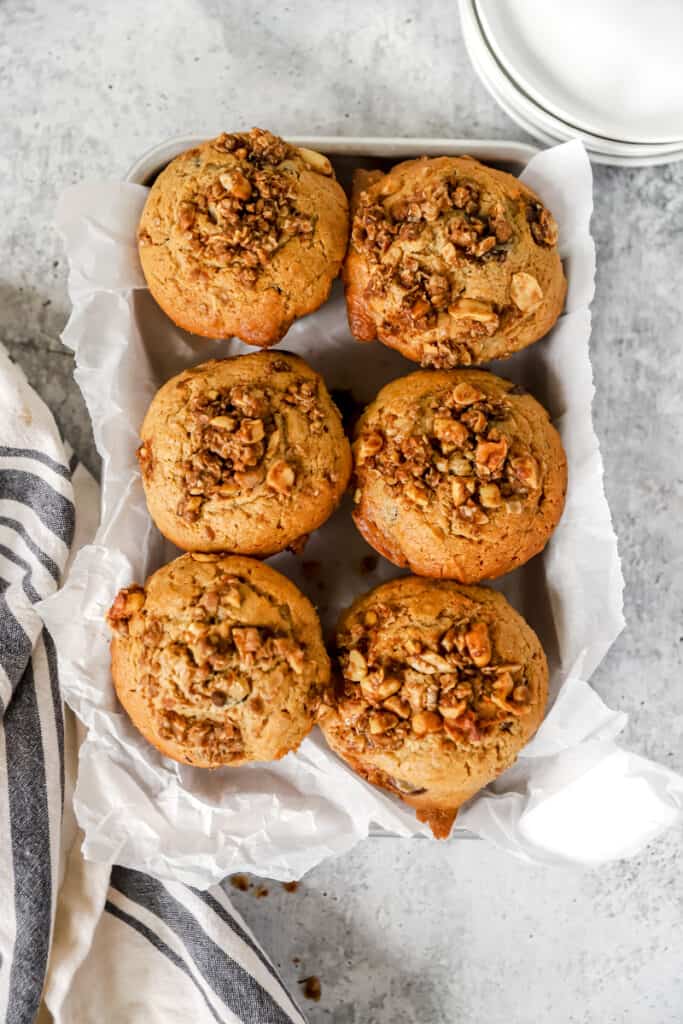 Want more recipes, food photos, and cooking tips? Make sure to follow me on Instagram!
Print
Peanut Butter Chocolate Chip Muffins
The best flavor combination with smooth peanut butter and rich dark chocolate. The peanut streusel give these muffins the perfect amount of crunch and texture.
Author:
Prep Time:

15 minutes

Cook Time:

25 minutes

Total Time:

40 minutes

Yield:

15 -18 muffins

Category:

Baking

Method:

Bake

Cuisine:

American
2 cups all purpose flour
1 cup white sugar
1 teaspoon baking soda
1 teaspoon baking powder
1 teaspoon cinnamon
1 teaspoon salt
4 tablespoons dark brown sugar
2 eggs
1/2 cup vegetable oil
1/2 sour cream
1 cup half & half
1 cup smooth peanut butter
2 teaspoons vanilla extract
1 and 1/2 cups dark chocolate morsels
For the Peanut Streusel
4 tablespoons butter, melted
4 tablespoons dark brown sugar
2 teaspoons cinnamon
5 tablespoons quick oats
2 tablespoons all purpose flour
1/3 cup peanuts, roughly chopped
Instructions
1. Preheat your oven to 350 degrees and prepare your muffin tin either by using muffin liners or spraying generously with cooking spray. Even if you're using muffin liners I like to lightly spray the top of the pan so that the large muffin tops don't stick.
2. To make the streusel, in a small bowl combine the melted butter, quick oats, flour, cinnamon, sugar, and chopped peanuts. Set aside.
3. In a large bowl combine the flour, white sugar, baking powder, baking soda, cinnamon, and salt.
4. In another bowl, first beat the egg with the sour cream. Then stir in the brown sugar, oil, half & half, peanut butter, and vanilla extract.
5. Pour the wet batter into the dry ingredients and gently stir a few times. Add in the dark chocolate chips and gently stir a few more times to blend the chocolate throughout the batter.
6. Fill each muffin cup to the top, top with some of the streusel, then bake for 25 – 27 minutes.
7. Allow to cool about 10-15 minutes before removing from the pan, then enjoy!
Keywords: peanut butter chocolate chip muffins