Dredging and breading chicken is an easy chicken preparation that will take basic chicken and turn it into perfectly golden brown and crispy! A few basic pantry and fridge ingredients is all you need and you're on your way.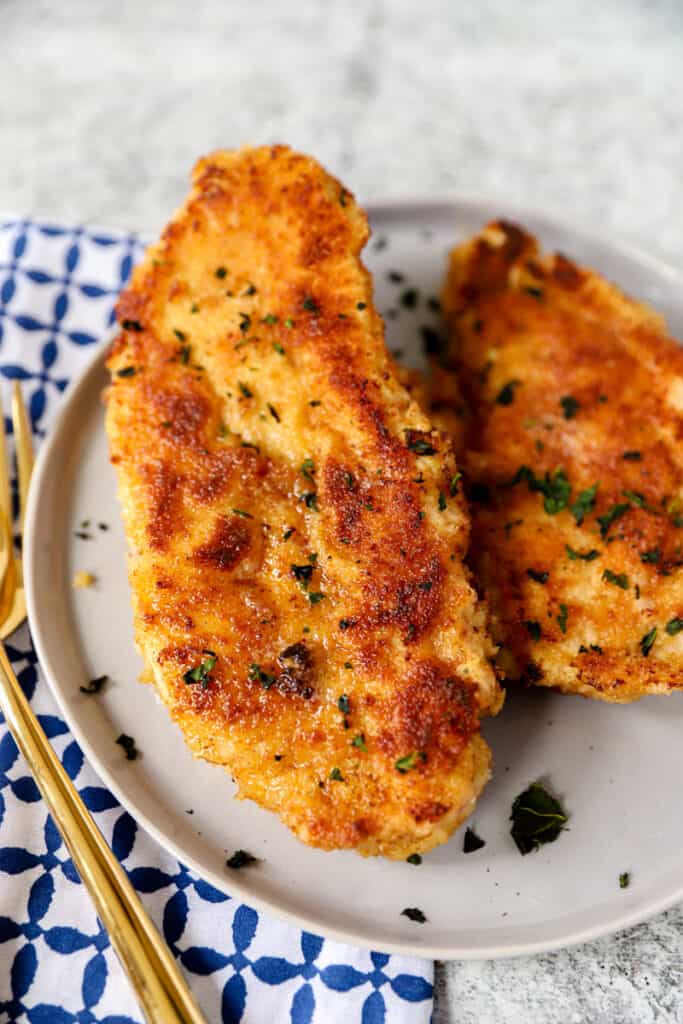 What you will need
Here's what you'll need from your pantry, fridge, and kitchen!
Kitchen supplies
Bowls or trays to hold the ingredients. I'm fine using a few of my bowls, but you can also get these trays made specifically for breading meats!
To cut down on the mess, I like to use tongs to hold the meat as you transfer it from bowl to bowl.
Ingredients
All purpose flour
Salt, pepper, garlic powder (I'm a firm believe in seasoning the flour!)
Egg
Whole milk, half & half, or light cream
Plain or seasoned breadcrumbs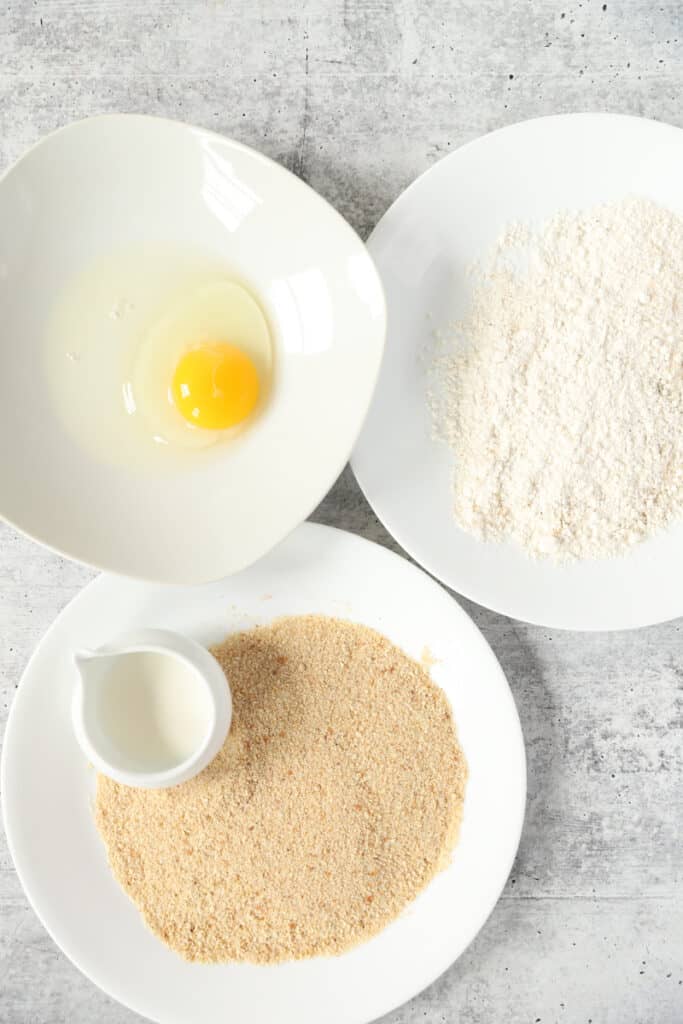 Step 1: Butterfly the chicken
Butterflying chicken is the process where you slice the meat all the way through, as if you're opening a book. If you want a super big piece of chicken you can leave the piece whole, or do what I like to do where I complete the slice to create two pieces of chicken.
After you have your sliced chicken, use a meat tenderizer to pound it out to an even thickness.
I've also created this tutorial with a few more instructions on how to butterfly a chicken breast.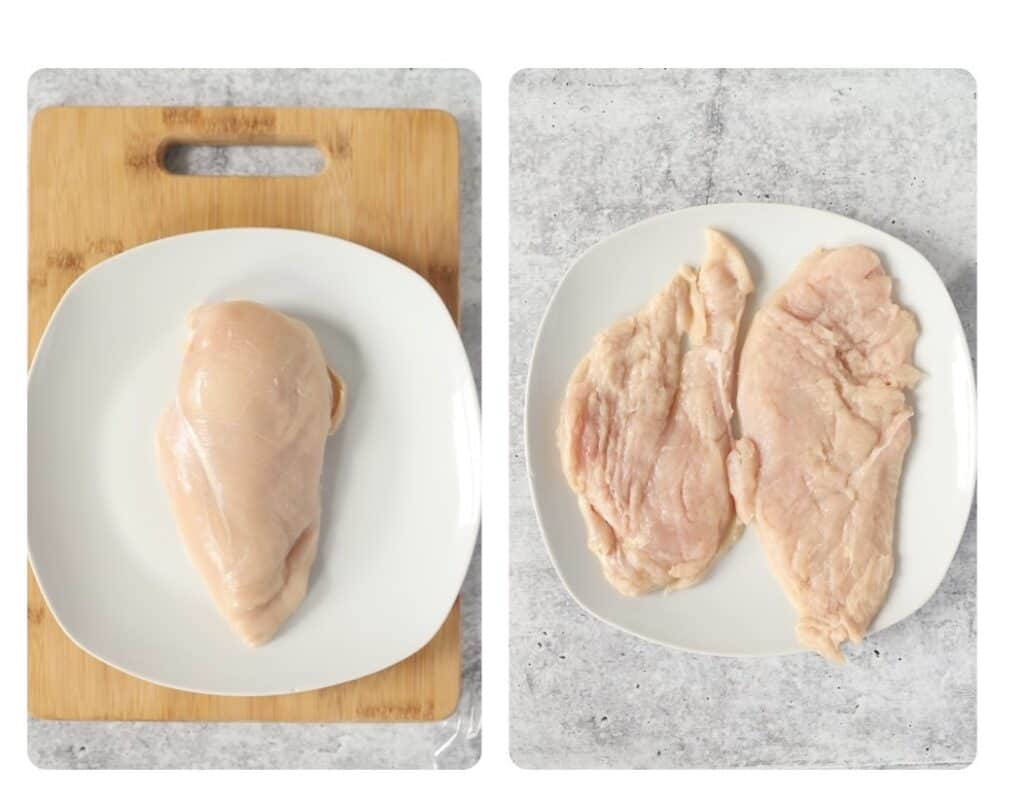 Step 2: Dredge in seasoned flour
When you're dredging chicken, always prepare the flour too! I usually use about 1/2 cup – 2/3 cup of the all purpose flour, add a teaspoon of garlic powder, a teaspoon of salt, and a generous dash of pepper.
This really helps to make sure your cooked chicken is seasoned and flavorful. Plus, some recipes only call for dredged chicken, which means the process stops here…and the last thing you want is the taste of basic bland flour!
My recipes for Cajun Chicken, Creamy Chicken Marsala, and Creamy Chicken Piccata use only dredged chicken, not breaded. So to make those recipes you'd coat your butterflied chicken in this seasoned flour then go right into cooking.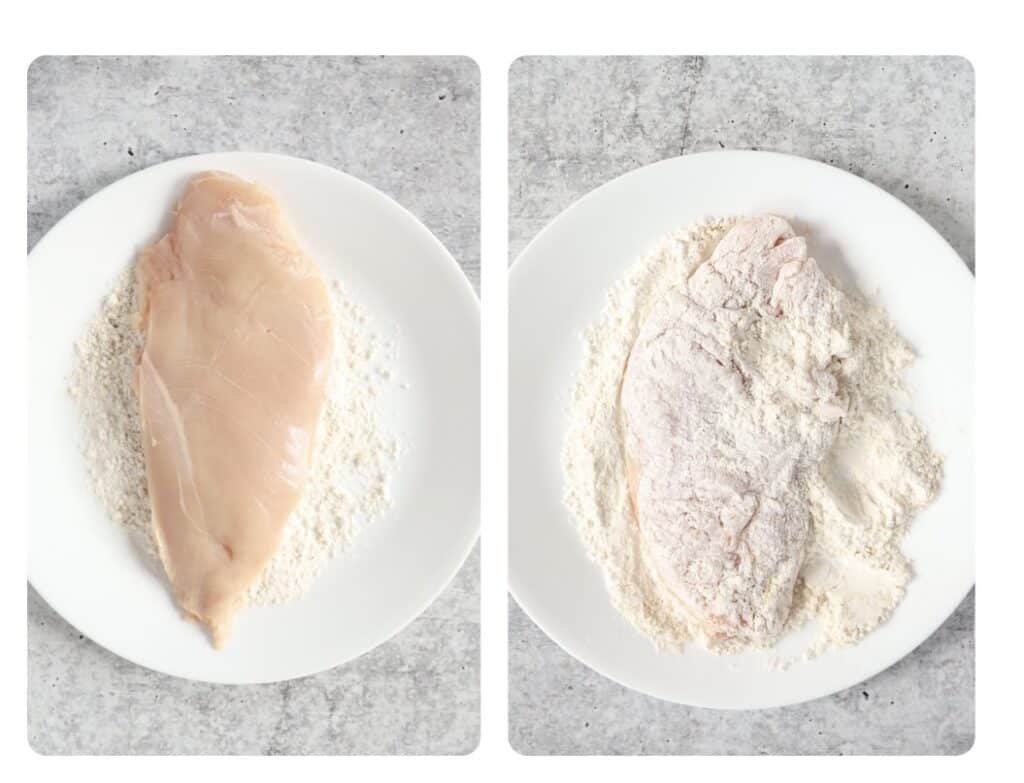 Step 3: Egg wash
Lightly beat together 1 egg with 1 tablespoon of whole milk, half & half, or light cream. Using a milk based ingredient instead of just plain old water will really help you get a deeper golden brown coating. If you're breading more than two pieces of chicken you'll need to use 2 eggs and 2 tablespoons of the milk.
Once you've got the egg wash whisked up, you'll give your flour dredged chicken a quick dip. Make sure all of the chicken is coated well!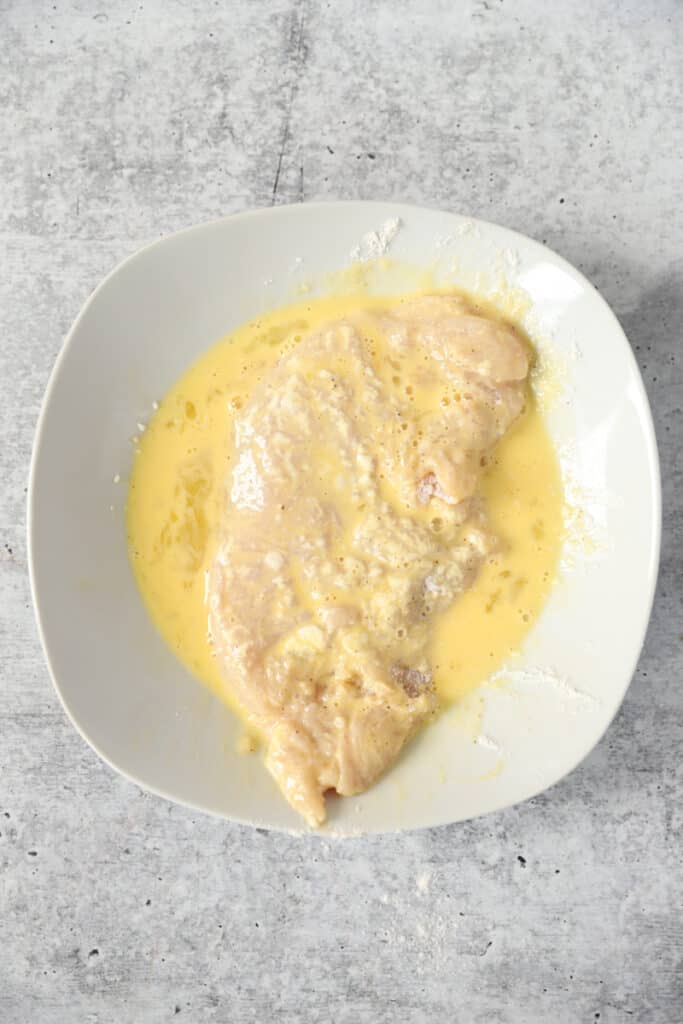 Step 4: Breadcrumbs
Lastly, it's time to add your egg wash coated chicken into the breadcrumbs. You can use plain or seasoned breadcrumbs. I prefer to use plain, and then season it myself with whatever spices are going into the final fish.
Really press down on the chicken to make sure the whole piece is coated well and coated evenly.
Transfer to a clean plate and repeat this process for the remaining pieces of chicken, then you're ready to cook!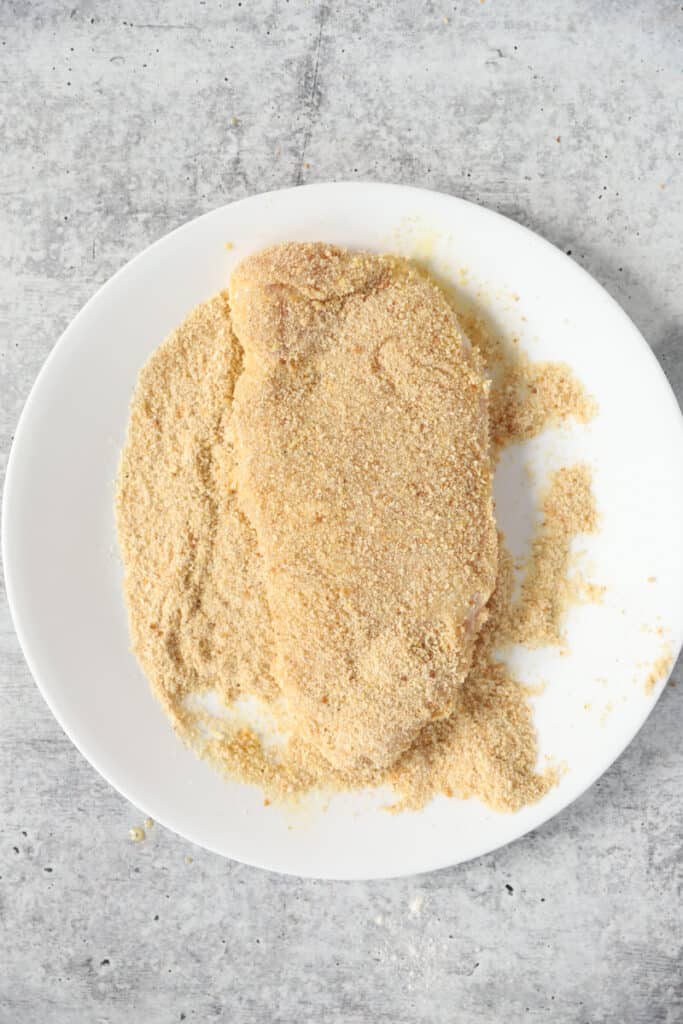 You're ready to cook the chicken with whatever seasonings, spices, and sauces you'd like!
Depending on the thickness of your chicken, I find that around 5 minutes per side is just right. You'll want to make sure the internal temperature is 165 degrees, use a digital thermometer to avoid under or over cooking the chicken.
I use breaded chicken like this when I make my Pesto Chicken Parm and Roasted Red Pepper Chicken Parm!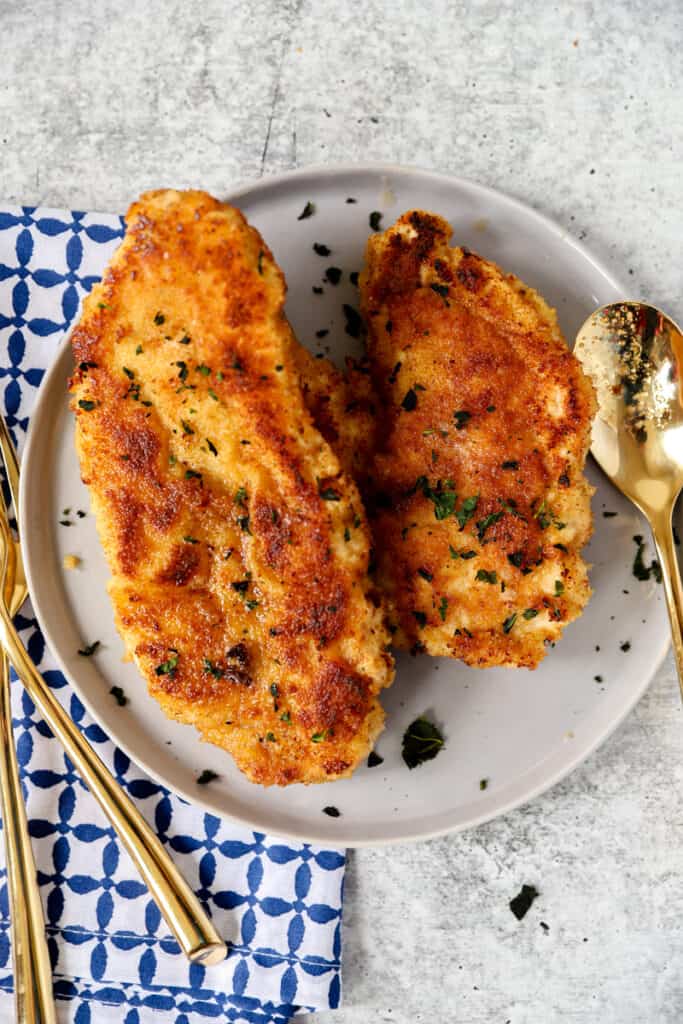 Print
How to Dredge and Bread Chicken
Dredging and breading chicken is an easy technique for golden crispy chicken! Season with your favorite spices for an versatile chicken dinner.
Author:
Prep Time:

10 minutes

Total Time:

10 minutes

Yield:

2 servings

Category:

Main Dish
1 chicken breast, butterflied and sliced into two pieces
1/2 cup all purpose flour
1 teaspoon garlic powder
1 teaspoon salt
1/4 teaspoon black pepper
1 egg
1 tablespoon half & half (or whole milk or light cream)
Breadcrumbs (add a generous amount to a plate, add more if needed)
For cooking
1 tablespoon butter
3 tablespoons olive oil
Instructions
1. In a small bowl, whisk together the egg and half & half.
2. In a large bowl or platter, season the flour with the salt, pepper, and garlic powder. To another bowl or platter add a generous amount of breadcrumbs.
3. Coat the chicken in the seasoned flour, then the egg wash, and lastly the breadcrumbs.
4. To cook, in a large pan add the butter and olive oil over medium heat. Cook the chicken for about 5 minutes per side depending on it's thickness, or until internal temperature is 165 degrees. Add whatever seasonings, spices, or sauces to complete the dish.
Notes
I don't give an exact amount for the breadcrumbs since it really depends on the size of the chicken and I like to avoid excess waste. Just add a generous amount to the plate, and add more as needed for additional pieces of chicken.
Keywords: how to dredge chicken