Thanksgiving dinner isn't quite complete without a vibrant green bean casserole. And if you're not a fan of mushrooms, this is the green bean casserole for you!
Tons of sautéed onions, a white wine cream sauce, Panko Parmesan topping, and no mushrooms! A rich casserole dish that is loaded with warm flavors.
If you're planning a holiday or Thanksgiving party, I've got more recipes you might want to check out!
More greens beans? Check out these Green Beans with Almonds and Lemon, so fresh and light!
Need appetizers? Whipped Feta has a refreshing flavor perfect with crackers and chips. These Brie Bites combine buttery Brie, crispy bacon, and a homemade raspberry sauce.
An by far one of my top appetizers is this Cream Cheese Salsa Dip! Just 5 ingredients and 10 minutes to make this crowd pleaser.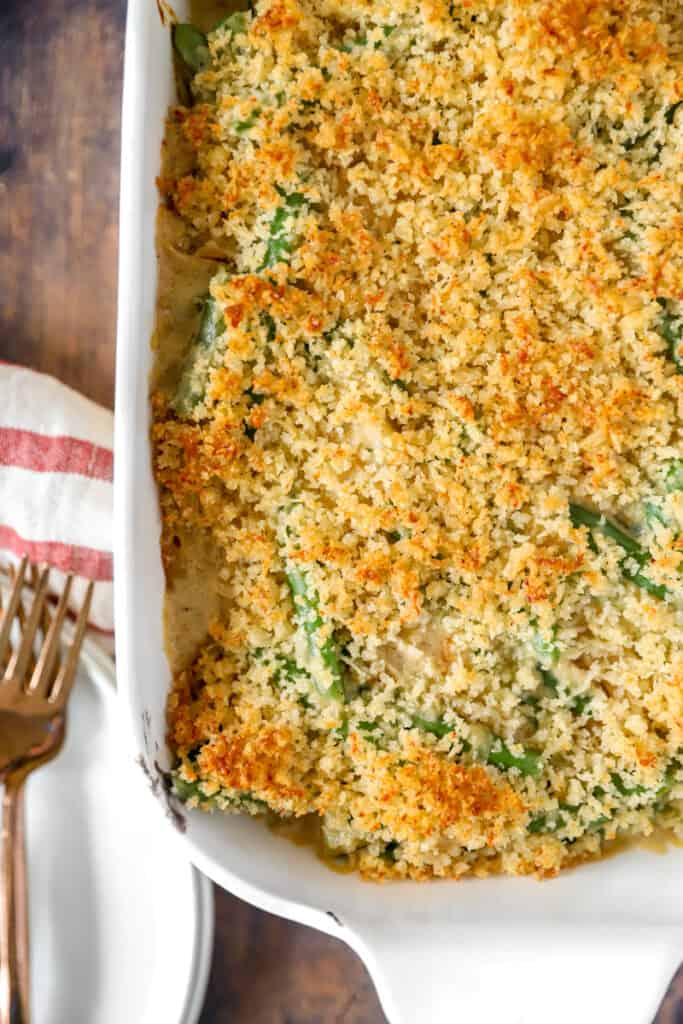 How to blanch green beans
Have you used the cooking method of blanching before?
If not, let me explain what it is and why we do it!
So blanching is the method of boiling then turning off heat and immediately straining that ingredient into a bowl of ice water.
The ice water, or ice bath, acts as a cooking stop. Once the ingredient hits the cold water the cooking process stops immediately. Much faster than simply turning off the burner heat which removes the direct heat but the ingredient would still continue to cook from the residual heat. So when you blanch, you cook only for the exact amount of time needed and then immediately stop the cooking.
We do this for something like these green beans because we want them to be cooked, but not over cooked. So for this recipe you'll boil the green beans for 6 minutes, then put them into their ice bath to stop the cooking.
I love how vibrantly green these get after blanching! On a Thanksgiving dinner table where many dishes will be beige and ivory, this green bean casserole is going to add a much needed pop of color.
And don't think just because this has no mushrooms that this is lacking in flavor.
This is anything BUT short on flavor. Onions, garlic, white wine, and Parmesan cheese. These rich warm flavors in a creamy sauce covering the crispy green beans is something I could eat at every Sunday dinner.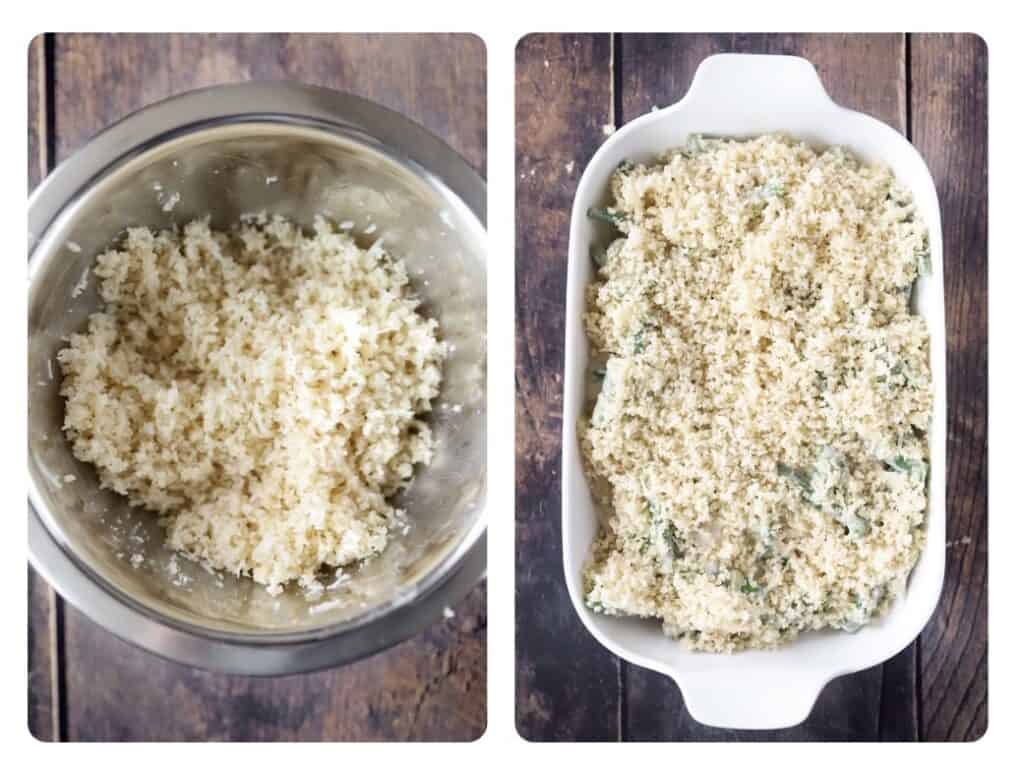 I baked this at 400 degrees for 15 minutes and it was the perfectly browned topping I was looking for!
Want a crispier topping? Bake for an additional few minutes! Just make sure to keep an eye on it since things can go from nice and browned to sadly burned pretty quickly.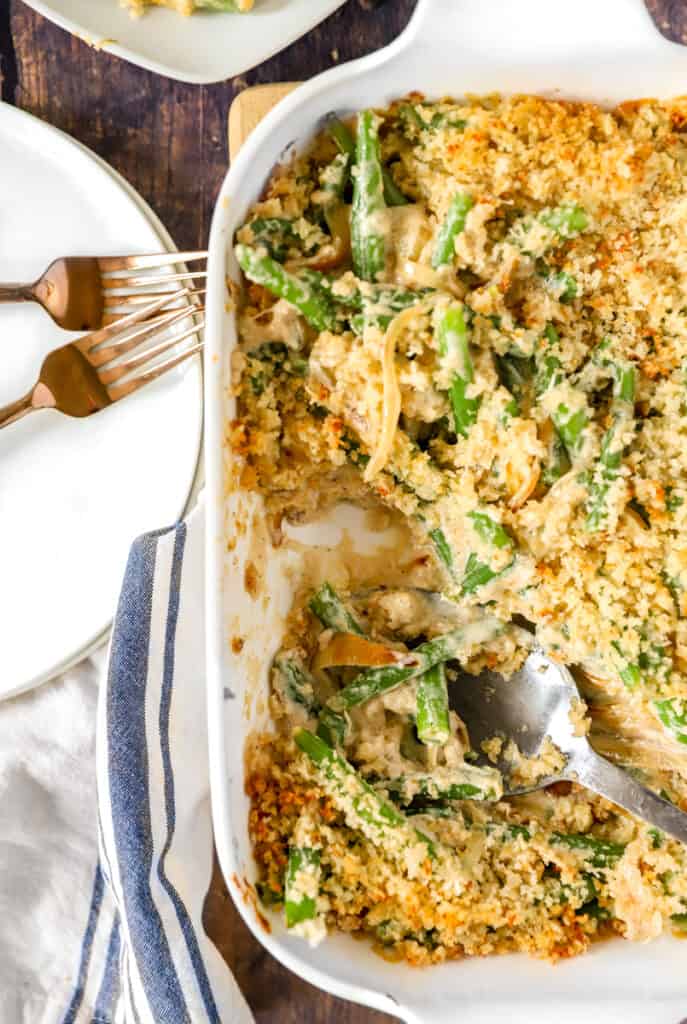 Have you been searching for a no mushroom green bean casserole? Let me know in the comments!
Print
No Mushroom Green Bean Casserole
A green bean casserole without mushrooms! Crispy fresh green beans, flavorful onions, and a white wine cream sauce topped with garlic Parmesan Panko. This is the green bean casserole that needs to be on your Holiday table!
1 pound fresh green beans, ends trimmed then cut in half
2 medium white onions, sliced
4 tablespoons butter, divided (you'll use 2 tablespoons to sauté the onions, then add the other 2 tablespoons to make a roux)
3 cloves of garlic, grated or minced
1 and 1/2 cups light cream
1/3 cup fresh grated Parmesan cheese
1/3 cup white wine, like a Pinot Grigio or Sauvignon Blanc
2 tablespoons flour
1/2 teaspoon salt
1/2 teaspoon black pepper
For the Panko topping
3/4 cup Panko
3 tablespoons butter, melted
1/4 cup fresh grated Parmesan cheese
1/4 teaspoon garlic powder
Instructions
1. Blanch the prepared green beans by boiling them for 6 minutes, then immediately straining them into a bowl of ice water. Leave in the ice water bath for 1 minute, then strain again, remove any ice cubes, and place in a bowl until you're ready to assemble the casserole.
2. To make the Panko topping, combine the melted butter, the Panko, garlic powder, and Parmesan cheese. Set aside.
3. Preheat your oven to 400 degrees. Make the cream sauce by melting 2 tablespoons of butter and adding the sliced onions. Cook on medium high for 20 minutes until browned, stirring occasionally. If they are starting to burn, reduce the heat. You want these to be a nice golden brown color. During the last minute of cooking the onions, add the garlic and cook for that final minute.
4. Next, push the onions to one side of the pan and add the remaining 2 tablespoons of butter and stir until melted. Add the garlic and cook 1 minute.
5. Whisk in the 2 tablespoons of flour and cook for about 30 seconds before adding the cream and white wine. Cook until it simmers, then add the Parmesan cheese, salt and pepper. Cook for an additional 5-7 minutes until the sauce thickens. Then remove from heat.
6. To assemble to casserole, add the green beans into the pan with the cream sauce and stir until the green beans are completely coated in the sauce. Pour into a casserole baking dish, top with the Panko, then bake for 15 minutes.
Serve and enjoy!