If you want to be the most adored person at your next pool party or BBQ, be the person that brings that pasta salad.
I think we can all agree that a cool and creamy loaded pasta salad is a basic requirement at any summer party. The meats always get all the attention: the burgers, the dogs, steaks, chicken wings. The men huddled around the grill, taking inventory of how many burgers there are, how many need toe be cheeseburgers…and who wants a dog? But you know where you'll find me? Yes, the bar area but I mean other than that…you'll find me hovered over the fixins. The pasta salad, the side dishes. That to me is what I gravitate to. I swear I could do without the grilled meats and be totally happy and full off the assortment of side dishes and appetizers at a party. That's why for me, it's so important to have a pasta salad such as this one at a summer party.
A sweet and tangy sauce of mayo, mustard, sugar, vinegar and dill drench every cork-screw rotini noodle…and take a look at all that color going on! Red onions, red peppers, bright green beans, and vibrant yellow Cheddar cheese make this an inviting dish you just want to dig in and take a heaping spoonful for your plate. Since this is a mayo-based dressing keep this in the fridge until your ready to serve, and put back in the fridge if there are any leftovers. I doubt there would be leftovers since this is so good, but you never know, and it's best to keep leftover mayo chilled.
Make this for your next summer get-together!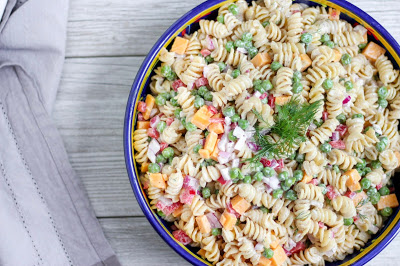 Print
Easy Summer Pasta Salad
A delicious loaded pasta salad perfect for summer!
Author:
Prep Time:

15 minutes

Cook Time:

20 minutes

Total Time:

35 minutes

Yield:

8-10 servings
1 box rotini pasta
1 cup mayo
3 tablespoons Dijon mustard
2 tablespoons white vinegar
2 and 1/2 tablespoons sugar
1/4 cup fresh dill, lightly chopped
1 teaspoon salt
1 teaspoon pepper
1 and 1/2 cups cooked frozen peas
1 red pepper, diced small
1 cup diced red onion
6oz sharp Cheddar cheesed, cut into small chunks
Instructions
1. Cook the pasta according to box directions. The strain, drizzle with a little olive oil and stir to prevent from sticking, pour into a large mixing bowl.
2. To make the dressing, in a bowl combine the mayo, mustard, sugar, vinegar, chopped dill, salt and pepper.
3. To assemble the pasta salad, pour the dressing over the pasta and stir until all the noodles are covered in the dressing. Then add in the diced red onion, diced red pepper, cooked peas, and Cheddar cheese. Stir until everything is well distributed throughout the pasta. Garnish with a little fresh dill. Store in the fridge until ready to serve.
Adapted from: Eating on a Dime