Taco pasta salad combines all your favorite flavors of tacos in a creamy meatless pasta salad! You'll love this not just for summer cookouts, but any time of the year. My recipe includes the taco fixings I like the most, but you can make this your own and add as much or as little as you'd like!
The best bite is topped with a little extra fresh lime juice and a generous crumble of cotija cheese.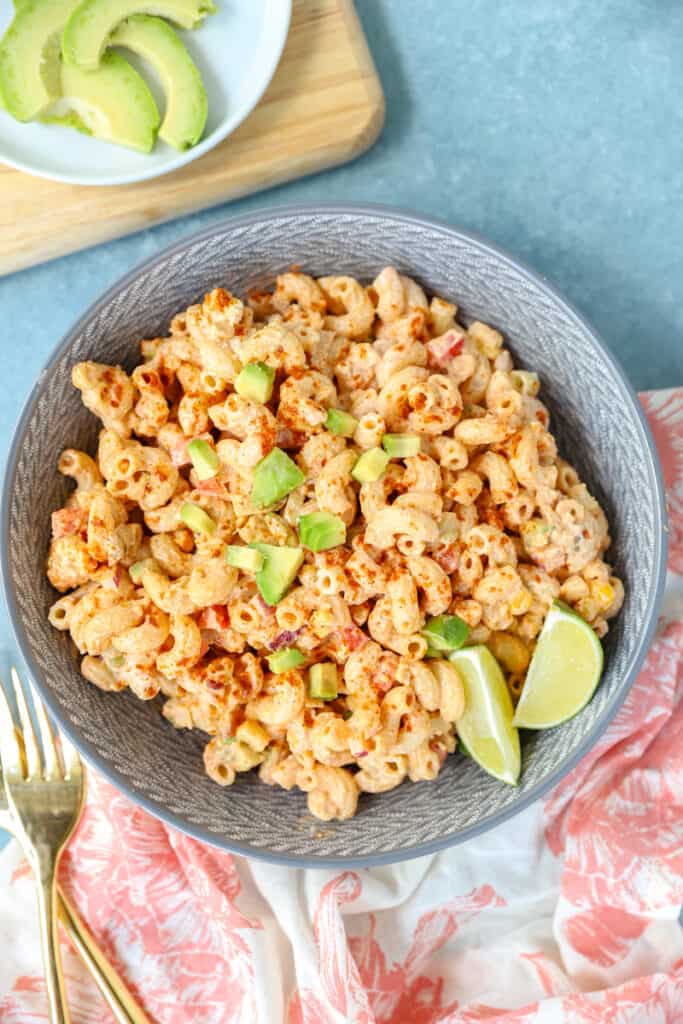 What makes a great pasta salad
Sure pasta salads are looked at as a side dish, not the main star. They take up a small portion of your plate next to the burgers, hot dogs, chicken, or steak. They'll share a table with other side dishes and play the part of the supporting culinary.
But just because the pasta salad is the side doesn't mean it shouldn't get the same recipe balance as the main dish! So that's why when I set out to create this taco pasta salad I was keeping in mind the balance of flavors of textures.
A great pasta salad must have a flavorful creamy sauce that generously coats every noodle, a balance of textures that includes some crunch to pair with the soft macaroni noodles, and eye-pleasing pops of color so that the whole dish isn't too bland looking! I think this taco pasta salad checks all of those boxes, and would definitely be a hit at your next cookout or even just as a side for a weeknight dinner!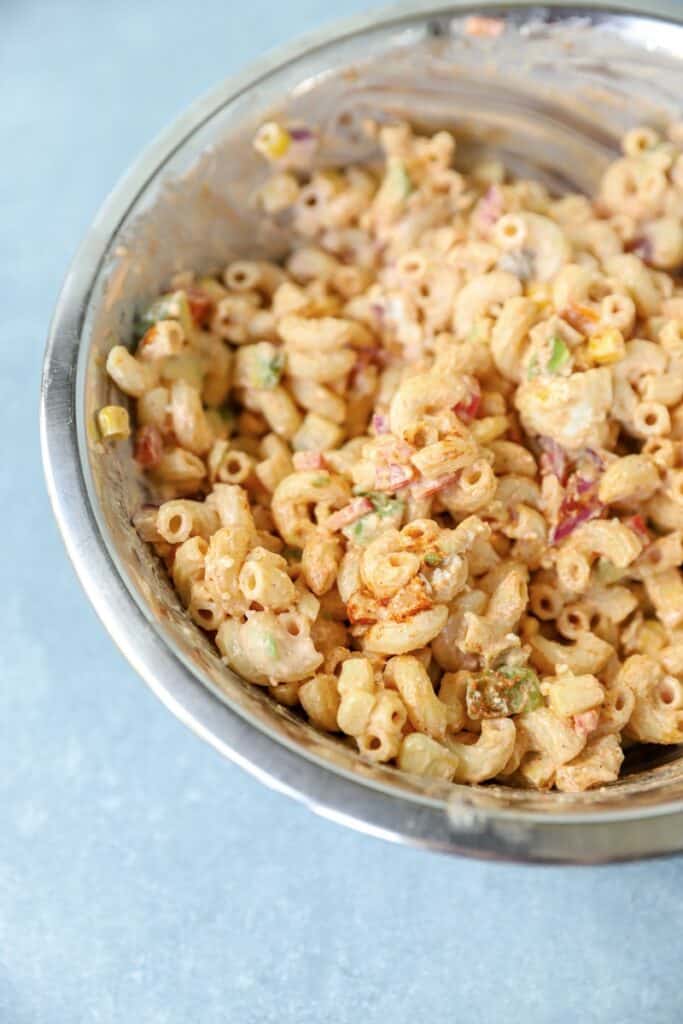 Ingredient Ideas
For this recipe I added corn, red peppers, queso fresco, red onions, and avocado! If you want to make this super duper loaded some other things you might want to add are:
Black beans or pinto beans
Tomatoes
Jalapeños or other spicy peppers
Top with crushed tortilla chips
And while I really like to keep this meatless so that's is quick and easy to assemble, if you wanted to add a meat you could add some chopped rotisserie chicken!
Recipe Tips
While many other taco inspired recipes typically use a yellow cheese like Cheddar or shredded Mexican blends, I really liked using queso freso and cotija cheeses here. They are absolutely two of my favorite Mexican cheeses, and they both serve important flavor purposes here! The queso fresco is cool and creamy and the cotija adds a salty finish. There are a few different brands of these, but these are my favorite queso fresco and cotija to buy!
I use a mild salsa for the sauce, but if you want to make this spicy use a spicy salsa and you can add a few dashes or cayenne pepper or chipotle powder as well.
I recommend making this the day you want to eat it. I don't recommend trying to make this a day or two ahead of time. The longer the pasta salad sits in the fridge the less "saucy" it becomes.
If you end of with some leftovers, store in an airtight container for up to 3 days in the fridge.
You can freshen up any leftovers by mixing up a smaller portion of the sauce and mixing it into the noodles to bring it back to it's saucy goodness!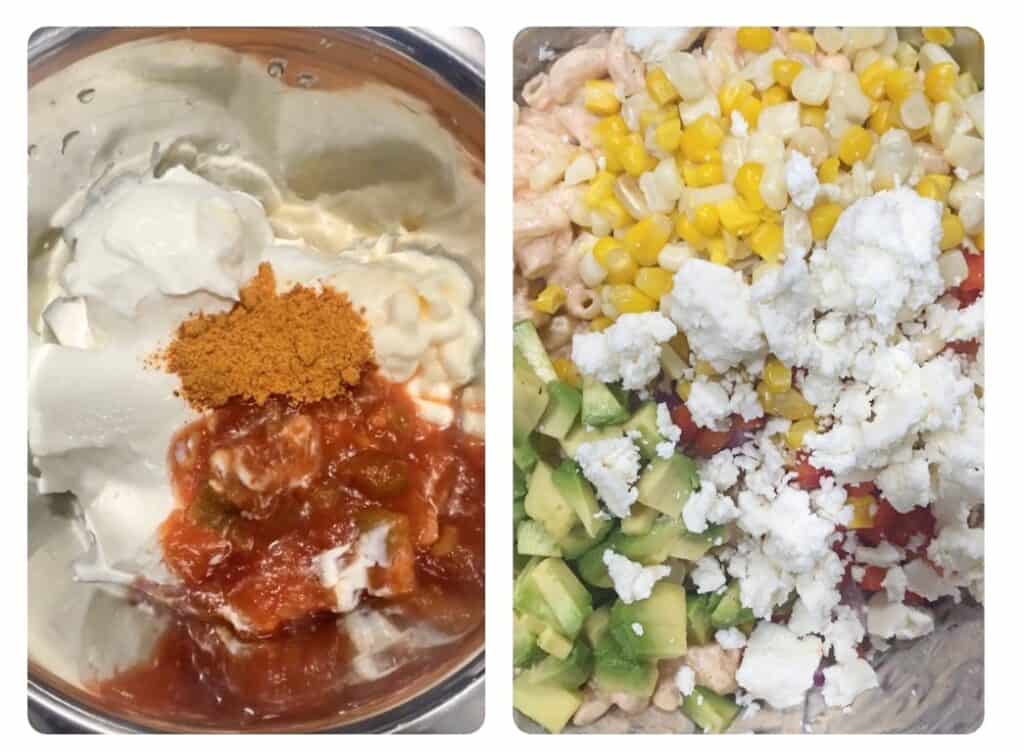 Want more pasta salads? Checkout these other ideas!
French Dressing Pasta Salad
Mexican Corn Pasta Salad
Buffalo Chicken Pasta Salad
And if it's more taco inspired recipes you're after, check these out!
Hot Taco Dip
Baked Chicken Tacos
Sweet Potato Taco Bowls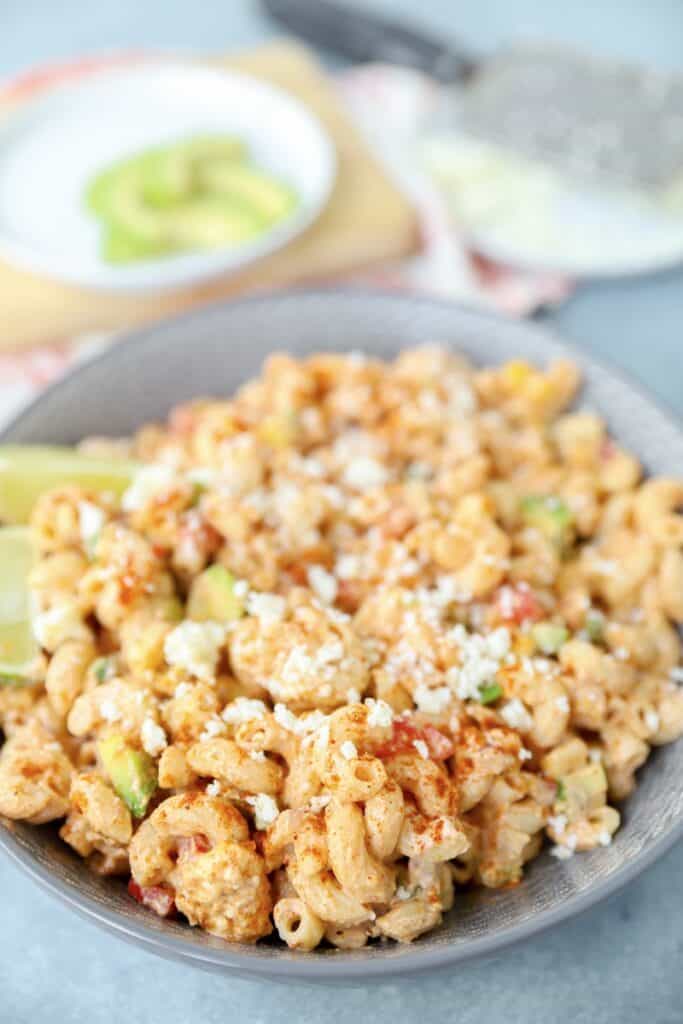 Print
Taco Pasta Salad
This isn't your typical taco pasta salad! This is loaded with corn, onions, peppers, avocados and queso fresco and generously coasted with a taco seasoned sauce! The crumbled cotija cheese adds the best finishing flavor!
Author:
Prep Time:

10 minutes

Cook Time:

90 minutes

Total Time:

1 hour 40 minutes

Yield:

6 servings

Category:

Side Dishes

Method:

Mix

Cuisine:

Mexican American
2 and 1/4 cups elbow noodles, uncooked
1 cup sour cream
1/2 cup mayo
1/2 cup salsa
3 tablespoons taco seasoning
3 tablespoons fresh squeeze lime juice
3/4 cup finely diced red onions
1 cup cooked corn
1 cup crumbled queso fresco
1/2 cup finely diced red pepper
1/3 cup diced avocado
Cotija cheese for garnishing
Lime wedges for garnishing
Instructions
1. Cook the macaroni noodles according to box instructions. Drain the pasta into a colander, then cool by rinsing the noodles under cold water.
2. Make the dressing by combining the sour cream, mayo, lime juice, taco seasoning and salsa.
3. Assemble the pasta salad by pouring the sauce onto the noodles and gently stirring. Add the onions, peppers, queso fresco, avocado, and corn and stir so everything is well blended and coasted in the taco sauce.
4. Refrigerate for 1 – 2 hours before serving.
5. To serve, garnish with the crumbled cotija cheese, a few dashes of taco seasoning for color, and extra lime wedges for a squeeze of fresh lime juice over top.
Enjoy!
Notes
This pasta salad is best eaten the day you make it. I don't recommend making this a day ahead since the sauce will become much less "saucy" the longer it sits in the fridge.
Keywords: taco pasta salad