Taco bowls are one of my favorite "make your own" type dinners. These sweet potato taco bowls are the perfect vegetarian dinner idea that's easy, filling, and loaded with everyone's favorite taco ingredients!
Just set out the seasoned sweet potatoes and some bowls with all the necessary fixing for tacos and let everyone build their own bowl. An easy dinner to pull together on a busy weeknight!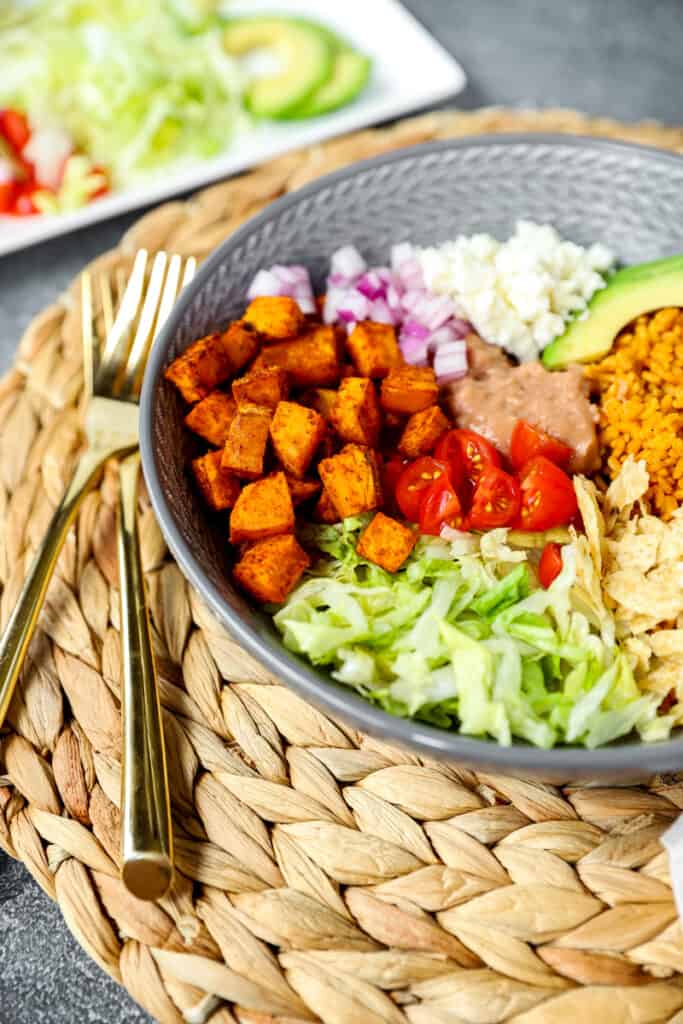 To make the seasoned sweet potatoes you can either use the taco seasoning from the packet, or you can mix up your own taco seasoning from spices in your pantry.
For me, it's just easier to use some of the packet seasoning. We all know those busy weeknights where even the thought of measuring spice after spice can send me to my phone to order takeout. So for nights like that, the taco seasoning packets can save dinner time! You'll need to use 2 tablespoons of seasoning, so make sure you have enough on hand!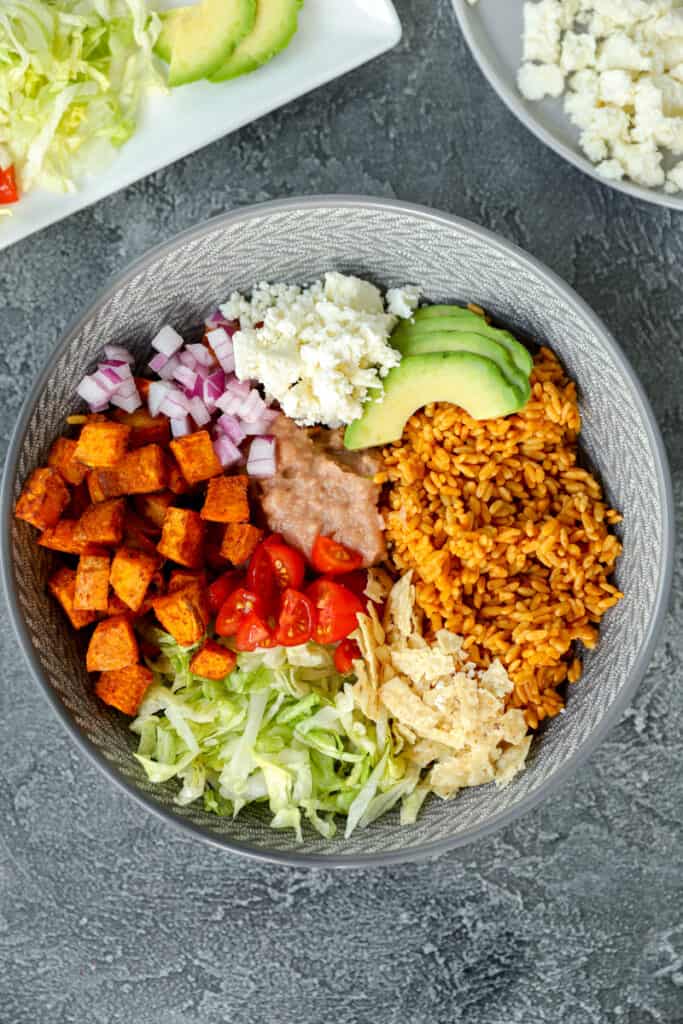 What to add to a sweet potato bowl
Once you have the seasoned sweet potatoes cooked you're ready to start building your bowl! I'll start with the ingredients I added to my bowl and include a few other ideas to make these an epic vegetarian taco bowl dinner.
Cotija Cheese. Of course, cheese is a MUST. I know Cheddar is a familiar option, but I really recommend using a Mexican cheese here. Cotija is going to add a nice salty sharp flavor to the bowl, while Queso Fresco would be a mild soft cheese option. Here is the brand I always reach for for Mexican cheeses!
Beans. Your choice here! You could use black beans, pinto beans, or a refried beans. My absolute favorite are these refried black beans.
Chips. Crunch is a must here! With all the other ingredients being pretty soft textured, adding some crushed chips will add a nice little crunch to the dish.
Rice. You could also use quinoa if you wanted, but I prefer rice in my taco bowls. I recently came across this vegetable based Spanish rice and I'm obsessed! You could also use white rice, brown rice, or Jasmine rice.
Lettuce, tomato, avocado. Nothing special here. Just slice, dice, and add to the bowl.
Other ideas to really load these up!
Corn
Cilantro
Jalapeño or other peppers
Salsa
What's even better about these bowls? They make awesome leftovers! Just portion out all the leftovers and you've got lunch or dinner for the next day.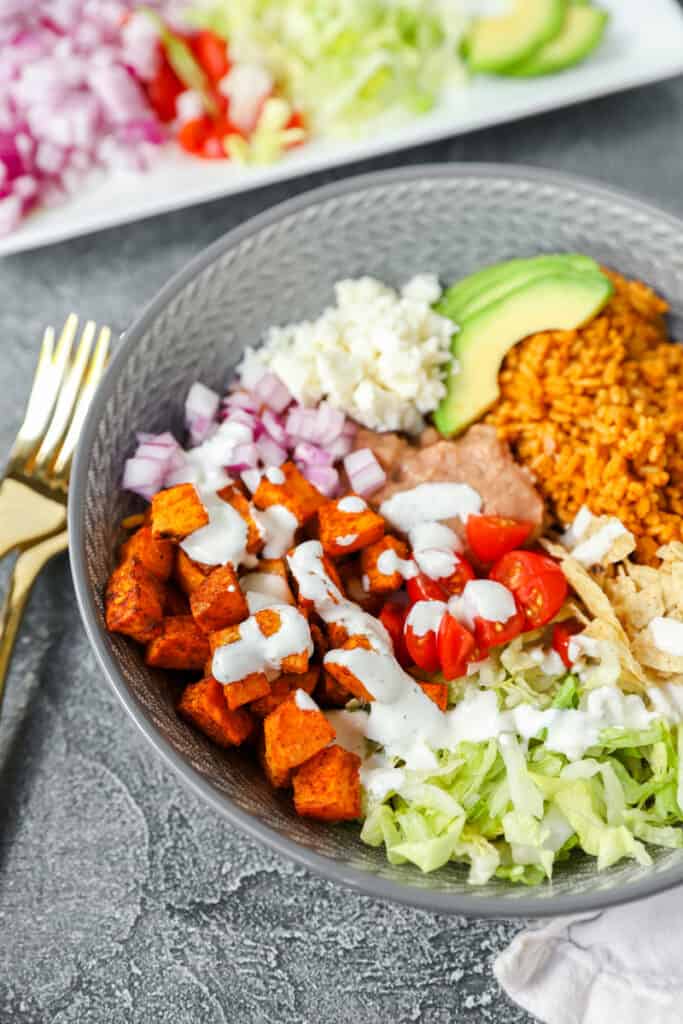 More taco inspired recipes
Check out some of my other recipes inspired by taco flavors and ingredients!
Crunchy Taco Meatballs
Baked Chicken Tacos
Hot Taco Dip
Taco Smashed Potatoes
Chicken Burrito Bowls
Walking Taco Casseroles
More sweet potato recipes
Got sweet potatoes? Check out these recipes!
Taco Stuffed Sweet Potatoes
Chickpea Stuffed Sweet Potatoes
Roasted Broccoli and Sweet Potato Rice Bowls
Sweet Potato Home Fries
Print
Sweet Potato Taco Bowl
All your favorite flavors of a taco in this vegetarian bowl! Taco seasoned sweet potatoes, cheese, chips, beans and more! Loaded with flavor and perfect for a busy weeknight.
Author:
Prep Time:

15 minutes

Cook Time:

30 minutes

Total Time:

45 minutes

Yield:

4 servings

Category:

Main Dish

Method:

Baking

Cuisine:

Mexican American
2 medium sweet potatoes
2 tablespoons olive oil
2 tablespoons taco seasoning
1/2 teaspoon garlic powder
Taco Bowl Ingredients
Cotija cheese
Beans
Avocado slices or guac
Lettuce, onions, tomatoes
Crushed chips
Rice or quinoa
Instructions
1. Preheat your oven to 450 degrees.
2. Peel the sweet potatoes, dice into small pieces, and add to a bowl. Drizzle with the oil then season with the taco seasoning and garlic powder. Stir to evenly coat all the potatoes with the spices.
3. Pour onto a nonstick baking sheet and bake for 25 minutes.
4. While the potatoes are roasting, prepare all of the taco bowl ingredients.
5. To serve, add the sweet potatoes to a bowl and add any extra taco ingredients. Add sour cream, chipotle mayo, salsa, or any sauce you want!
Keywords: sweet potato taco bowl