Orange and cranberry is such a delicious breakfast combination. If you've ever had orange cranberry muffins, then you'll love these Orange Cranberry Scones!
Loaded with orange zest and dried cranberries, these scones get a delightful finishing glaze of fresh orange juice and nutmeg. Yes…nutmeg! A tiny bit a warm spice helps balance out the sweet of the orange.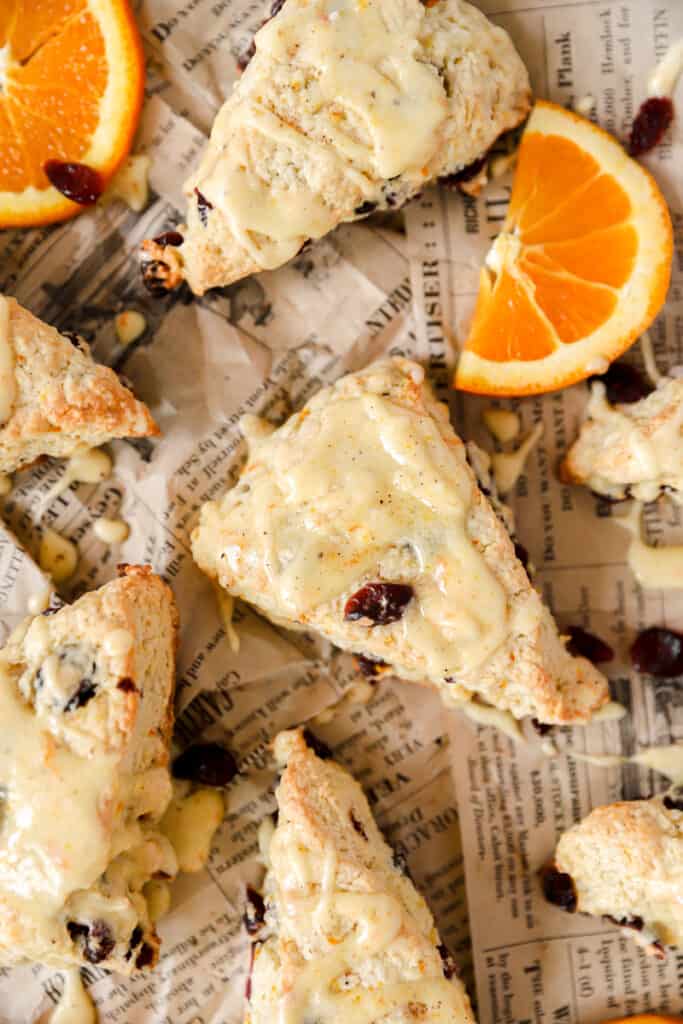 I've always been such a scone fan. Not just because they are delicious and a perfect companion to coffee, but because they are SO easy to make.
I've said this before and I'll say it again, you do not need to be a skilled baker to make scones. It's really just as simple as mixing the dry ingredients, mixing the wet ingredients, combining them together and kneading the dough, slice, then bake!
And what's even better is that scones can look a little rustic. A crack here and there or a few loose crumbles is totally OK. So give these orange cranberry scones a try and see how quick and easy they are to make!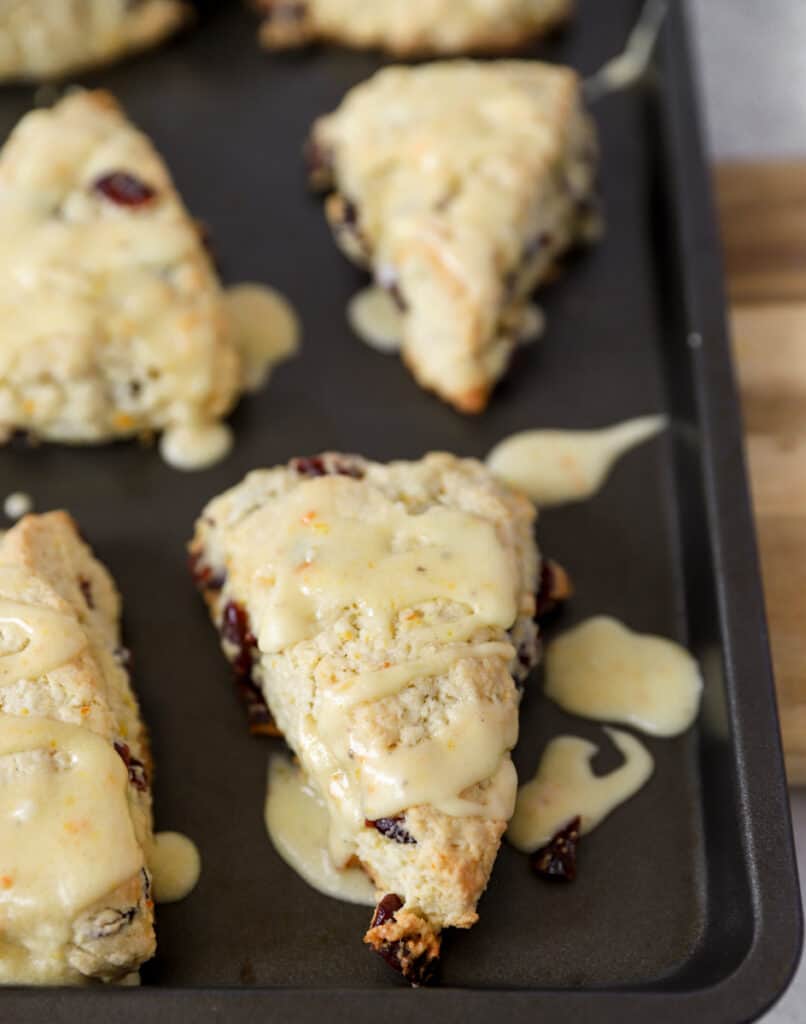 What shape to make the scones
For me, I've always make my scones as triangles. If you have a circular cutter you could make them more of a biscuit shape…but it really just comes down to preference.
I think it's just super easy to use a pizza cutter and slice a few triangles once you've kneaded the circular dough. And just look at how beautiful these look with the vibrant orange zest shining through and the deep red berries!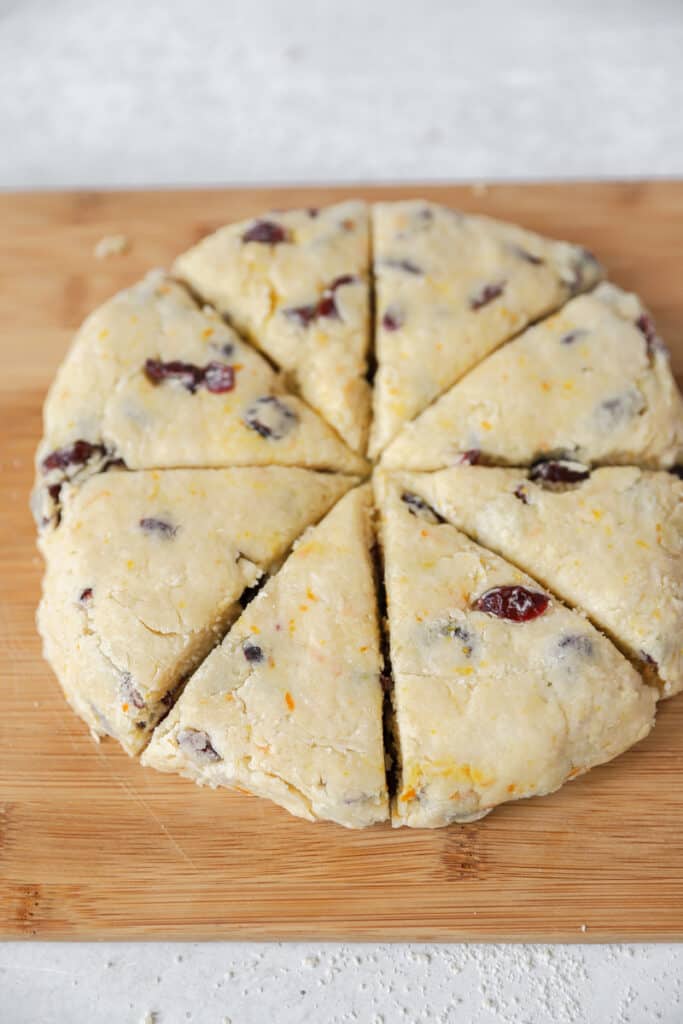 Recipes Notes
These are the dried cranberries I use. You can usually find these right next to the raisins.
I really recommend getting a pastry cutter if you don't have one. It makes cutting in the butter so much easier than just using a fork.
As your incorporating the wet ingredients into the dry, you'll need to use your hands a bit to really work everything together. There may be some dry ingredients that don't blend into the dough.
For the first day I store these on the counter, but then I recommend keeping any leftovers in the fridge. It will help the glaze stay firm.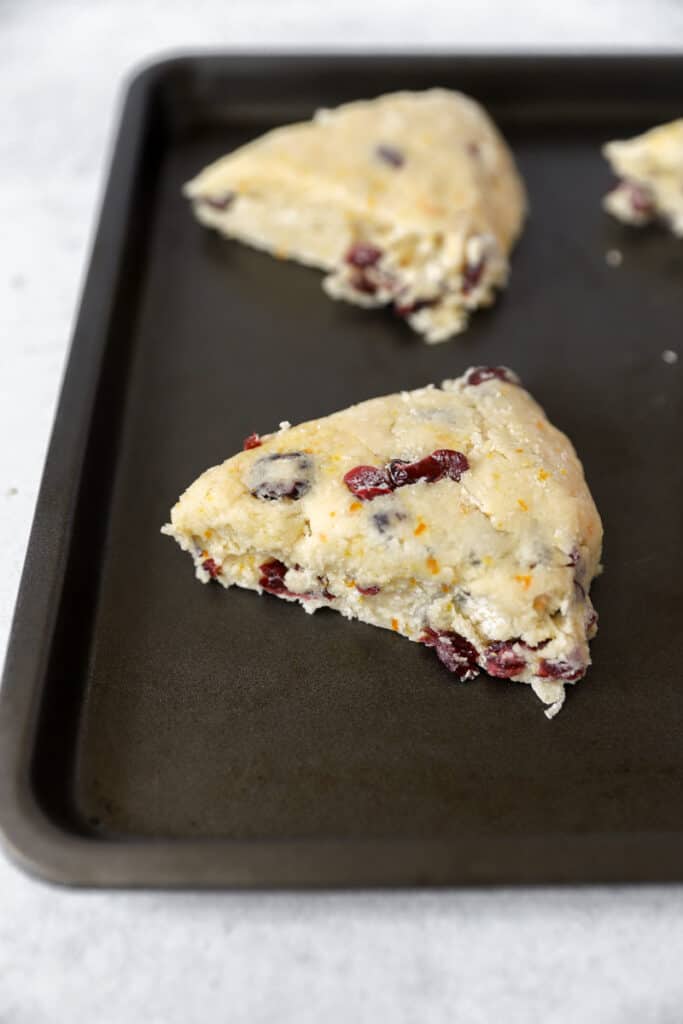 Now let's talk about this glaze. You're going to add 1/4 teaspoon of nutmeg to the orange glaze and trust me on this…it's amazing. The little bit a warm spice from the nutmeg will help balance out the sweet from the powdered sugar and orange juice.
It really elevates the flavor and gives you a welcomed expected taste that really helps blend everything together.
I even like to sprinkle just a bit more of the nutmeg on the glazed scones as well, I think the visible specs adds a nice visual touch.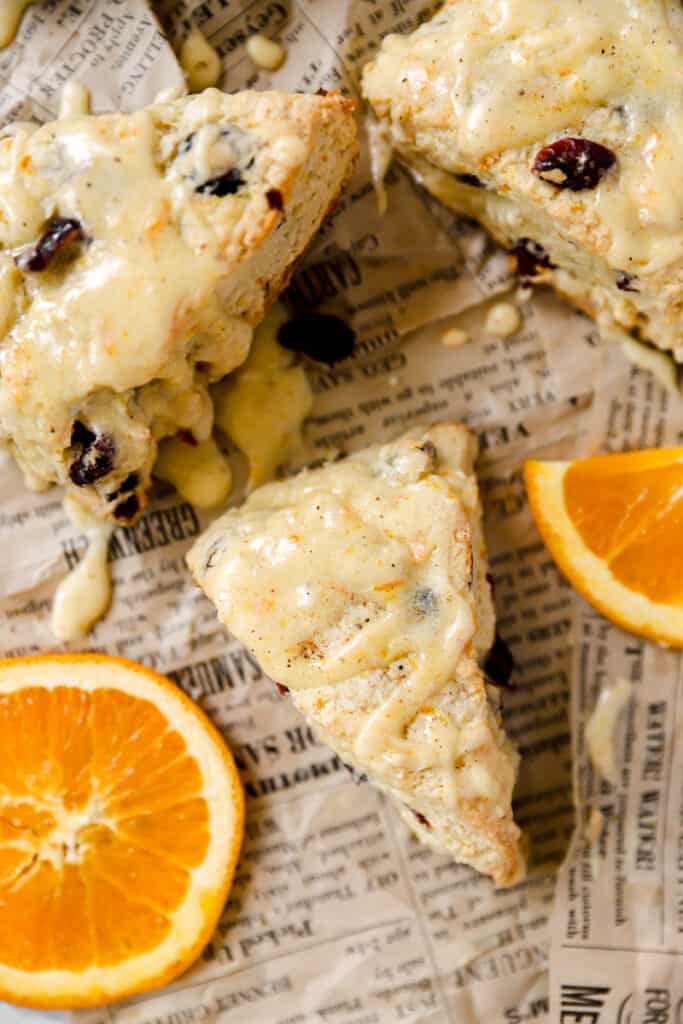 More scone recipes
Want more scones? You're in the right place! Checkout a few more recipes I have hear on the blog.
Copycat Panera Orange Scones
Lemon Blueberry Scones
Raspberry White Chocolate Scones
Jalapeño Cheddar Scones
Cinnamon Raisin Scones
Print
Orange Cranberry Scones
A bright and fresh scone loaded with orange zest and dried cranberries. These Orange Cranberry Scones get a delicious orange nutmeg glaze to make the perfect bite!
Author:
Prep Time:

15 minutes

Cook Time:

17 minutes

Total Time:

32 minutes

Yield:

8 scones

Category:

Breakfast

Method:

Baking

Cuisine:

American
2 cups all purpose flour
1 cup dried cranberries
1/3 cup + 1 tablespoon white sugar
3 teaspoons orange zest
1 teaspoon baking powder
1/2 teaspoon salt
1/4 teaspoon baking soda
8 tablespoons butter, diced
1/2 cup sour cream
1 egg
For the Glaze
1 cup powdered sugar
3 tablespoons melted butter
2 tablespoons fresh squeezed orange juice
2 teaspoons orange zest
1/4 teaspoon nutmeg
Instructions
1. Preheat the oven to 400. In a large bowl combine the flour, sugar, orange zest, baking powder, baking soda, and salt. Stir to combine the dry ingredients. Add in the diced butter, and use a pastry cutter to cut in the butter until the mixture resembles a course meal.
2. In a small bowl, whisk together the sour cream and the egg. Pour into the dry ingredients bowl and stir to combine, adding in the dried cranberries as you stir. The dough will still be course and not a wet batter.
3. Flour your hands, and use your hands to work the dough together to form a ball. This will take  a little work, and you'll need to continually incorporate in any dry ingredients that pool at the bottom of the bowl.
4. Place this scone dough on a lightly floured counter top and lightly knead to corm a circle about 7″ wide.  Use a pizza cutter to slice 8 scones.
5. Bake for 16-17 minutes.
6. To make the glaze, in a small bowl combine all of the glaze ingredients. If the mixture is too thick, add in fresh squeezed orange juice to make a thinner consistency.
7. After the scones have cooled a bit, drizzle with as much glaze as you'd like! You can store extra glaze in the fridge for a few days.
Keywords: orange cranberry scones