Chicken salad and pasta salad combine to make this epic Summertime pasta salad! Chicken salad pasta salad pairs well with just about any main dish, and whips up in about 25 minutes.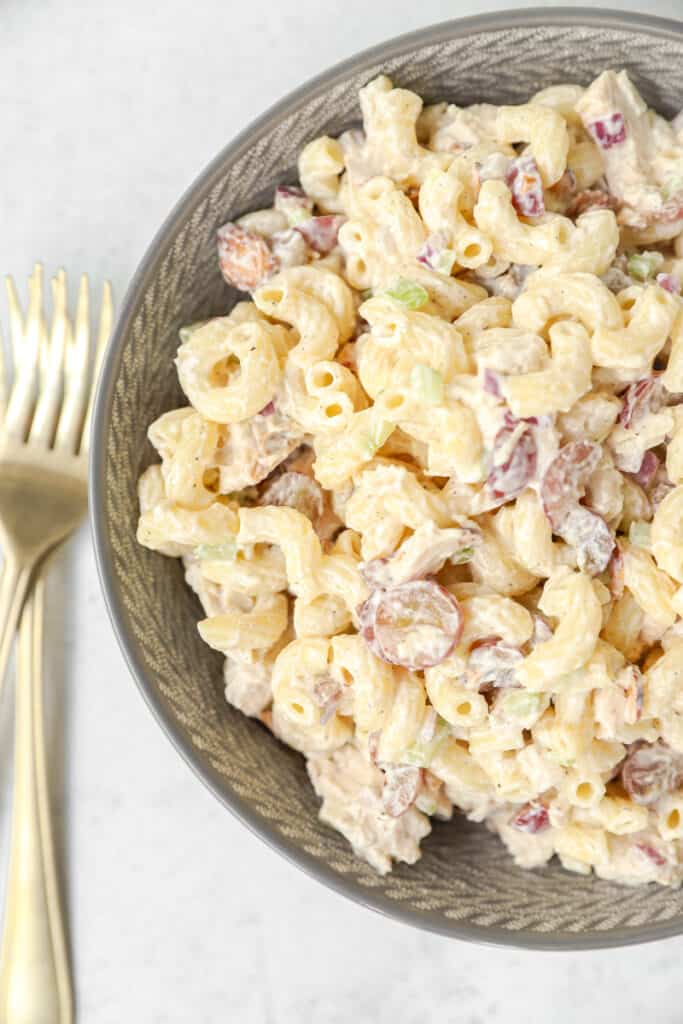 When it comes to a Summer cookout, I'm all about those sides. Sure I love a good burger, some saucy BBQ chicken, or even a steak on a charcoal grill. But really, the stars of the plate are going to be the side dishes. Deviled eggs, corn on the cob, mac and cheese, and of course an epic pasta salad.
Pasta salads are just a MUST at a cookout. A Summer BBQ dinner plate is simply not complete until you add a heaping spoonful of a pasta salad.
And what's so epic about this chicken salad pasta salad? First, the flavors compliment just about any main dish. From steak, to fish, hotdogs, and burgers…this pasta salad is flavorful but doesn't overwhelm your taste buds with a flavor that will overpower everything else on your plate.
The second thing that makes this the perfect Summer side dish it's truly a loaded pasta salad! Celery, red onions, rotisserie chicken, red grapes, and those warm toasted almonds…making every bite fully loaded with fixings!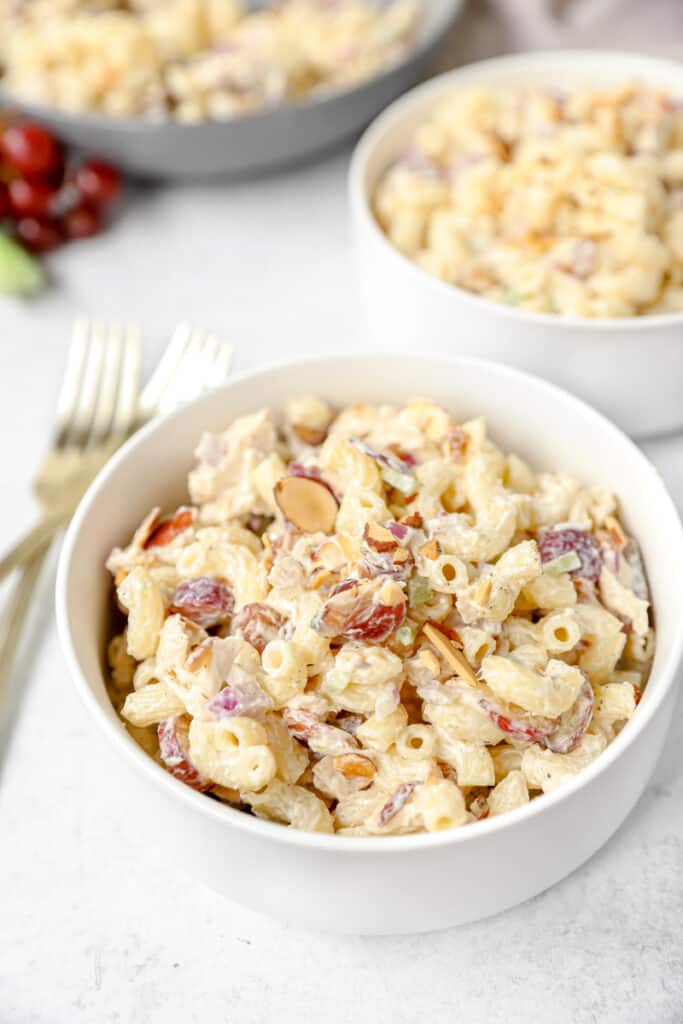 INGREDIENTS
Get your shopping list ready and check your pantry and cupboards! Here's what you'll need to whip up this pasta salad.
Macaroni noodles, or small pasta noodle of your choice
Rotisserie chicken, or 2 cups cooked chicken breast. I prefer rotisserie to make this super easy!
Celery
Red onions
Seedless red grapes, or red grapes and remove the seeds
Sliced almonds, this is the bag of almonds I used
Mayo
Sour cream
Apple cider vinegar
White sugar
Salt and pepper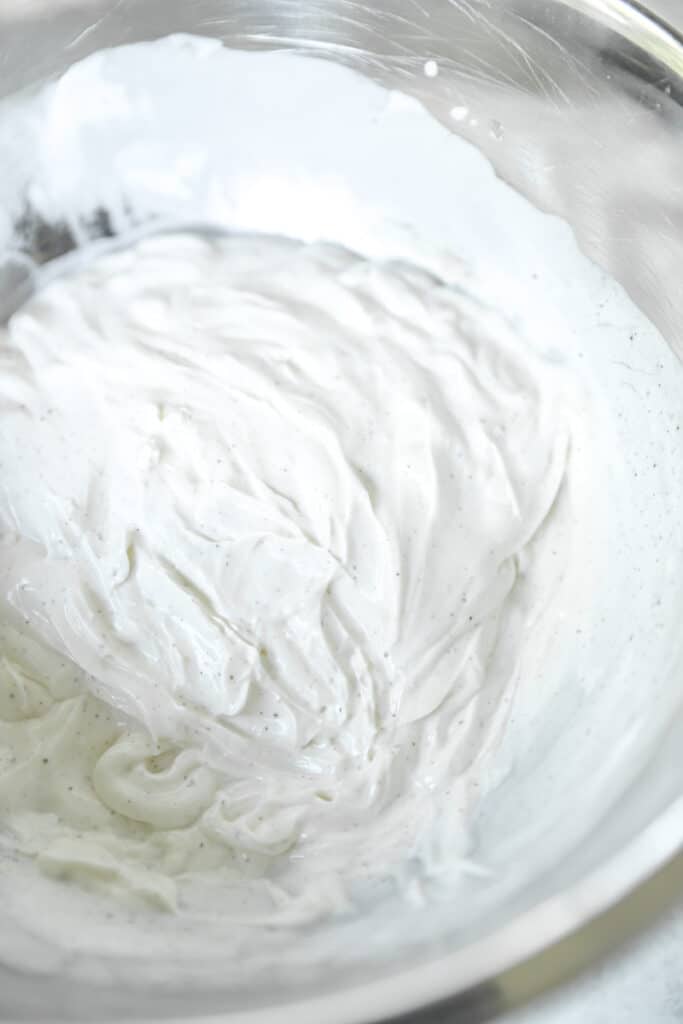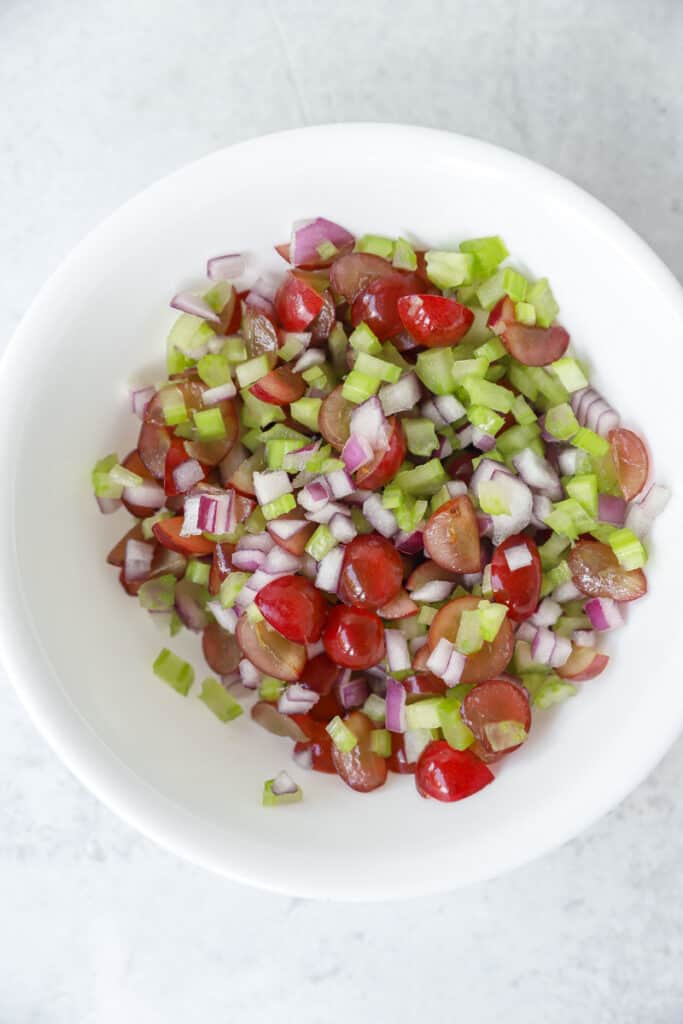 HOW TO STORE AND SERVE THE PASTA SALAD
Pasta salads have the best quality and texture when served right away. They tend to not be as creamy the longer they sit in the fridge. So my first recommendation is make this the morning of the day you want to serve it, and keep it in the fridge.
If you can't make this the morning of, make it a day ahead and just before you're ready to serve give it another spoonful or so of the mayo to bring that creaminess back to life. Garnish with some extra toasted almonds for a beautiful presentation!
Always be mindful of leaving food out too long on a buffet table. Once everyone has eaten, get this right back in the fridge!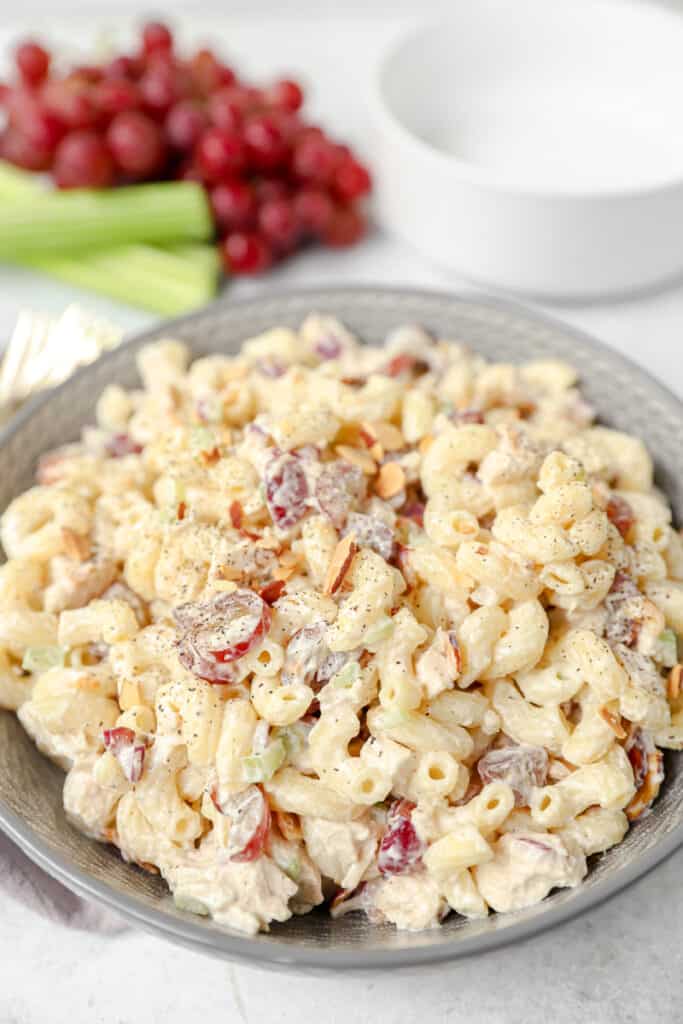 RECIPE TIPS
Using a rotisserie chicken keeps this quick and easy! You can cook and shred chicken breast if you'd like.
I used 1/3 cup each of the diced red onions and celery. Want a more loaded pasta salad? Kick that up to 1/2 cup each!
For the grapes you want seedless red grapes. You could substitute green seedless, or just remove the seeds from the red grapes if you can't find seedless. I had to do that, and it was just a quick flick of the knife as I was quartering them.
If it loses some of it's creaminess after being in the fridge, just add a bit more mayo and stir. Taste and add more salt and pepper if needed.
Enjoy leftovers within 3 days for best freshness!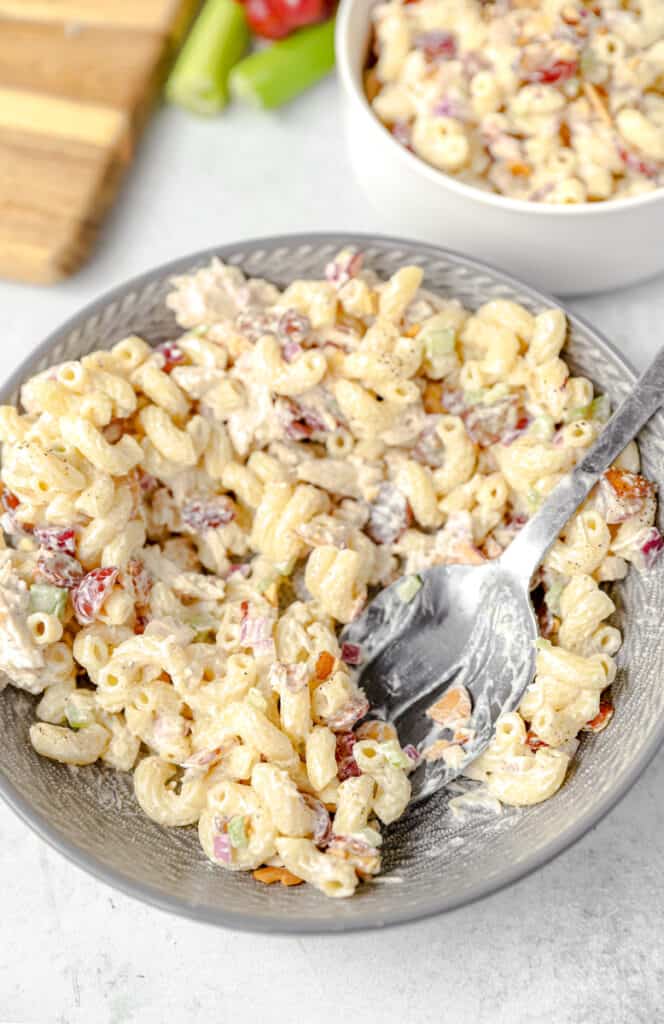 Want more pasta salads to browse? Checkout some of my other recipes!
Buffalo chicken pasta salad
Mexican corn pasta salad
Taco pasta salad
French dressing pasta salad
I also have this pasta salad recipe roundup with over 20 recipes to choose!
Print
Chicken Salad Pasta Salad
Chicken salad and pasta salad combine to make this epic Summertime pasta salad! Chicken salad pasta salad pairs well with just about any main dish, and whips up in about 25 minutes.
Author:
Prep Time:

15 minutes

Cook Time:

10 minutes

Total Time:

25 minutes

Yield:

8 servings

Category:

Side Dishes

Method:

Mix

Cuisine:

American
2 cups dry macaroni noodles
2 cups chopped rotisserie chicken
3/4 cup halved or quartered red grapes, seedless or remove the seeds
2.25oz bag sliced almonds
1/3 cup finely diced celery
1/3 cup finely diced red onions
For the dressing
3/4 cup mayo
1/2 cup sour cream
2 teaspoons apple cider vinegar
1 teaspoon white sugar
1/2 teaspoon salt
1/2 teaspoons pepper
Instructions
1. Cook the macaroni according to package directions. Strain and rinse well with cold water to cool. Set aside.
2. While the pasta is cooking, preheat the oven to 350 degrees. Add the sliced almonds to a baking sheet and bake 5 – 7 minutes until nice and toasted. Measure 1/2 cup to mix into the salad, any extra almonds can be used for garnishing.
3. In a small bowl, whisk together the mayo, sour cream, sugar, apple cider vinegar, salt, and pepper.
4. To the cool noodles, add the dressing, the diced celery and onions, the sliced grapes, and chopped chicken. Stir well to combine. Add the 1/2 cup of almonds and stir to blend throughout that pasta salad.
Garnish with any additional toasted almonds and serve immediately, or keep chilled until you're ready to eat!
Keywords: chicken salad pasta salad