Chicken teriyaki burgers are going to be your new favorite chicken burger recipe! A tender ground chicken burger topped with a homemade teriyaki sauce then garnished with a cool and slightly creamy slaw…you'll be wanting these for dinner every week!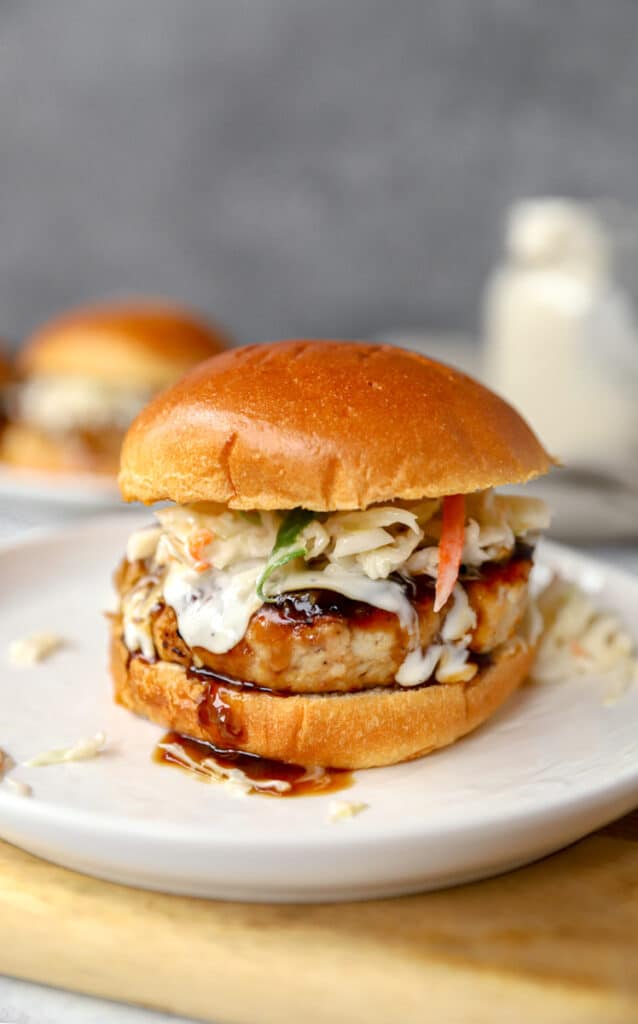 HOW TO SEASON GROUND CHICKEN
So here's the thing about cooking with ground chicken…it needs A LOT of seasoning to make sure it's not bland. Trust me on this, what you think is a good amount of seasoning, you'll probably want to double it then that's enough for ground chicken.
Since it's such a lean meat, it doesn't have that extra help from fat like ground beef does in a typical beef burger. So we need to help it along to make sure we don't end up with a burger lacking in flavor and a huge dinner disappointment.
For this recipe I use 3 teaspoons of garlic powder, then some ginger, salt, and onion powder. In my BBQ chicken burger I use ample amounts of garlic powder, smoked paprika, and even chicken bouillon powder!
Now that we know how to keep ground chicken super flavorful we need to talk about the next very important thing: how to keep ground chicken moist.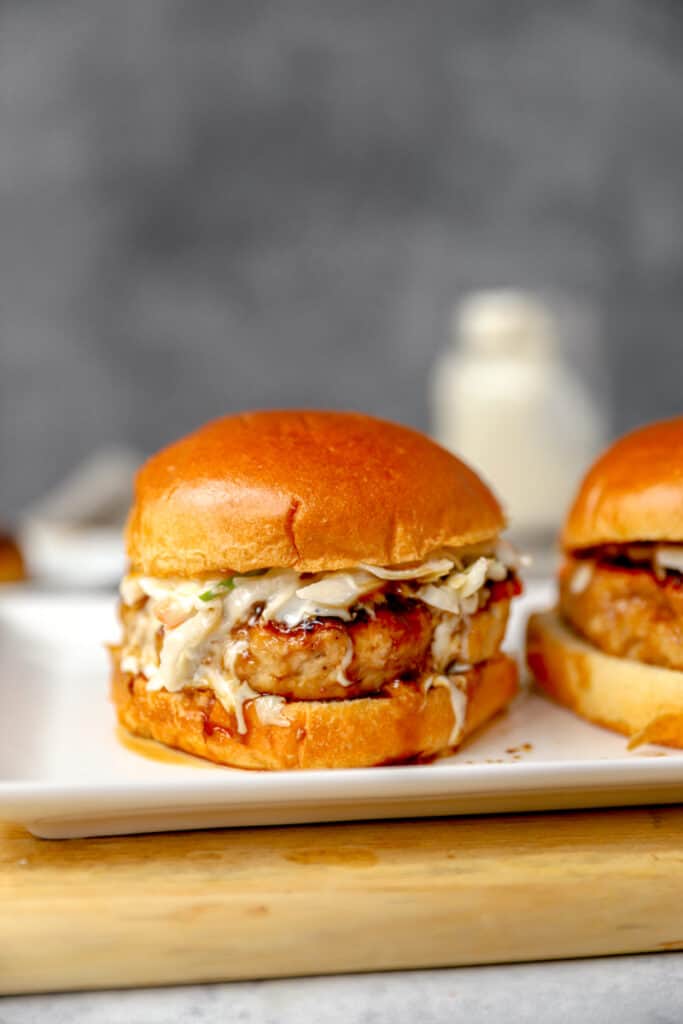 HOW TO KEEP CHICKEN BURGERS MOIST
As I said above, since ground chicken is super lean, we don't have that help from fat like in ground beef to keep the burgers moist. So what do we do? Well, we need to add some moisture back in!
In recipes like my Chicken Parm Meatballs I actually add some water right into the mixture and that does the trick. But for these chicken teriyaki burgers we're going to add some of that homemade teriyaki sauce right into the burger mix!
Just by adding 3 tablespoons of the teriyaki sauce to the ground chicken we'll avoid a dry sad burger. These are SO tender, I know the word "moist" is a little cringe for some people but that's exactly what these are…and you're going to love every bite!
And really important, I highly recommend getting yourself a digital meat thermometer! This is the thermometer I use, and it really helps prevent you from over or under cooking your meat!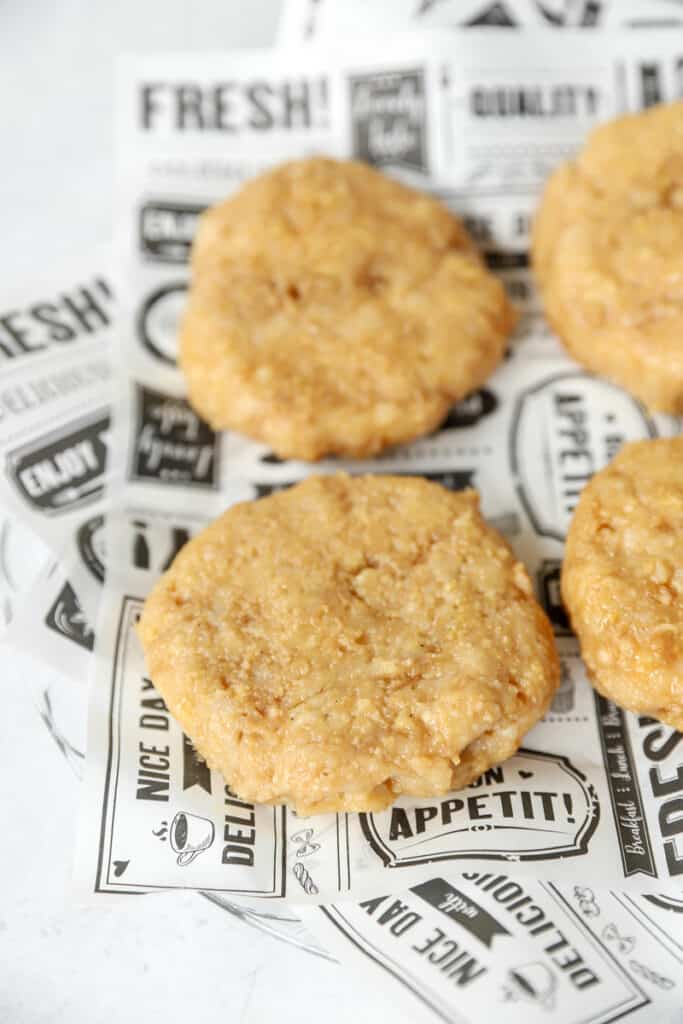 INGREDIENTS
I know this list looks long, but hang in there with me. A lot of these items are things you probably already have in your spice rack or pantry right now…and even water is an ingredient here so it's really not that daunting once we break it down.
This recipe is made in three parts: burger, sauce, slaw.
FOR THE BURGER
Ground chicken
Brioche buns
Panko breadcrumbs
An egg
Garlic powder, onion powder, ground ginger, salt
FOR THE TERIYAKI SAUCE
Low sodium soy sauce
Water
Dark brown sugar
Honey
Garlic
Cooking oil
Ground ginger
Cornstarch
FOR THE SLAW
Coleslaw mix, you can find this in the bagged salad aisle
Mayo
Apple cider vinegar
Sugar
Salt and pepper
So how many do you have right now? For me I'd just have to buy the chicken, buns, and slaw and I'd be ready to cook!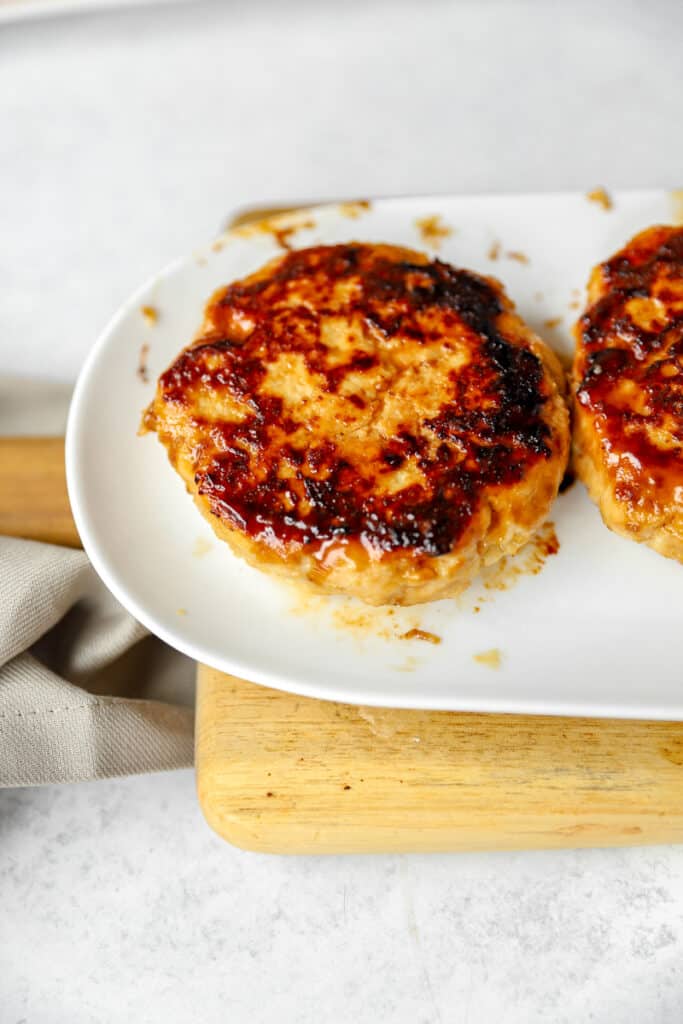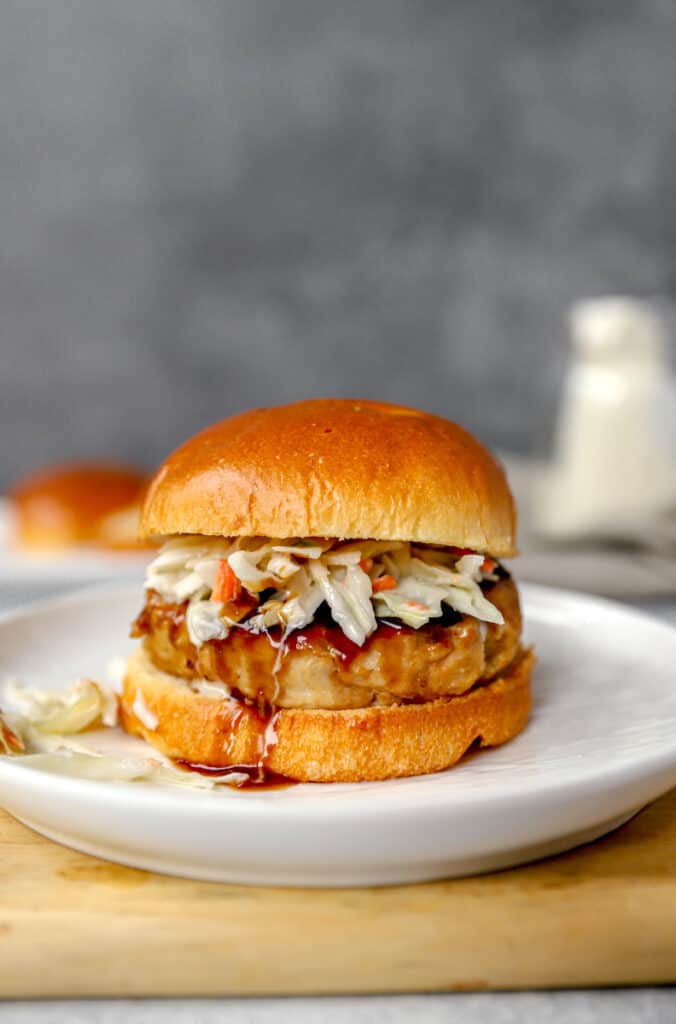 For more burger recipes, check out these other delicious dinners!
BBQ Chicken Burgers
Buffalo Chicken Burgers
French Onion Burgers
And for one of my favorite twists on a teriyaki sauce, try these Orange Teriyaki Meatballs!
Print
Chicken Teriyaki Burgers
Make these super flavorful chicken burgers with a homemade teriyaki sauce and an easy slaw topping and then serve on brioche buns! These could be an delicious weeknight dinner.
Author:
Prep Time:

15 minutes

Cook Time:

25 minutes

Total Time:

40 minutes

Yield:

4 burgers

Category:

Main Dish

Method:

Saute
For the burgers
1 pound ground chicken
4 brioche buns
1/2 cup panko breadcrumbs
1 egg
3 tablespoons teriyaki sauce (recipe below)
3 teaspoons garlic powder
1/2 teaspoon salt
1/2 teaspoon ground ginger
1/2 teaspoon onion powder
1 tablespoon cooking oil (I used avocado oil)
For the teriyaki sauce
1/4 cup low sodium soy sauce
1/2 cup water
1 tablespoon dark brown sugar
1 tablespoon honey
1/2 tablespoon avocado oil or olive oil
2 cloves of garlic, grated
1/2 teaspoon ground ginger
2 teaspoons cornstarch mixed with 3 teaspoons of water
For the slaw
2 cups coleslaw mix
2 tablespoons mayo
2 teaspoons apple cider vinegar
1 teaspoon white sugar
1/8 teaspoon salt
Dash of pepper to taste
Instructions
1. Start by seasoning the ground chicken. To a large bowl add the ground chicken then sprinkle with the garlic powder, ginger, onion powder and salt. Add the panko and the egg and gently mix to combine. Cover and place in the fridge while you make the teriyaki sauce.
2. In a large non-stick pan (because you'll cook the burgers in here too), heat the oil over medium heat then add the grated garlic and cook for 1 minute. Add the soy sauce, water, brown sugar, honey, and ginger and stir to combine everything and dissolve the sugar into the sauce. Last, add the cornstarch and water mixture and whisk to blend completely into the sauce. Simmer on medium-low for 5 minutes. The sauce will be thicker than water, but not thick like a gravy.
3. Reserve about 1/3 cup of the teriyaki sauce to baste the burgers as they cook, remove the ground chicken from the fridge and add 3 tablespoons of the teriyaki sauce, then pour the remaining sauce into a bowl that will be used as a garnish for the cooked burgers. Then wipe the pan clean.
4. Mix the 3 tablespoons of sauce into the chicken burgers, making sure the sauce isn't too hot to touch. Form 4 equal sized patties, pressing a small indent into the center of the patties to prevent them from puffing up when they cook.
5. To the cleaned pan add the 1 tablespoon of cooking oil and heat over medium heat. Add the chicken burgers and cook for 6 minutes, then flip burgers, brush with the reserved 1/3 cup of teriyaki sauce and cook for an additional 5 minutes. Use a digital meat thermometer to confirm internal temperature has reached 165 degrees.
6. While the burgers are cooking, make the slaw. Combine the slaw mix, mayo, apple cider vinegar, sugar, salt, and pepper. Stir and set aside until the burgers are finished.
7. To assemble, add one chicken burger to the bottom piece of a brioche bun, add some of the reserved teriyaki sauce (from the bowl that has never touched raw chicken), add some slaw, then the top brioche bun.
Savor every bite! I like to dip in some ranch too!
Keywords: chicken teriyaki burgers