Chocolate orange muffins are a delightful start to the day! A rich chocolate muffin batter combines with an orange cream cheese filling for that delicious chocolate orange flavor combination.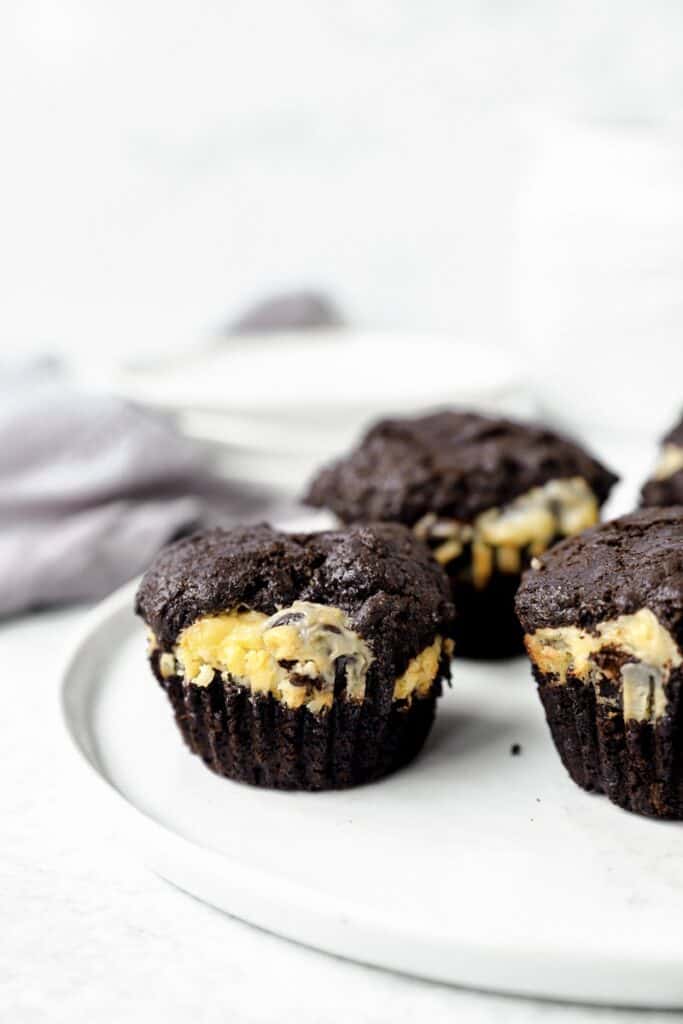 These are actually my version of a cupcake treat my mom would make for us growing up. Not quite sure where she got the original recipe, but they were called Goblin's Delight Cupcakes and were a Halloween treat with that color combination of orange in the filling and the dark chocolate muffin!
Now there's a few things I just don't make here on the blog, and cakes and cupcakes are two of those things. BUT…I'm not a stranger to a muffin recipe so I went to the drawing board to take those "Goblin Cupcakes" and turn them into a rich morning chocolate orange muffin.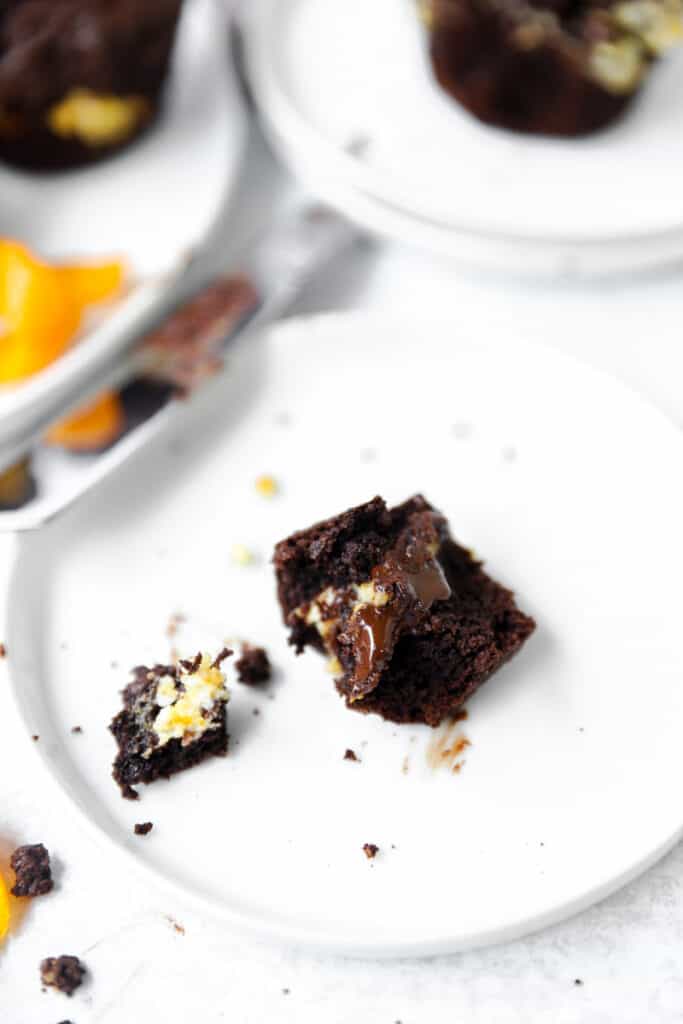 NATURAL ORANGE FOOD COLORING
The original recipe for the cupcake version of these muffins got the orange color to the cream cheese filling by using a few drops of red and orange food dye. Now, I don't completely abstain from artificial food dyes but if I could find I away around them here I wanted to give it a try!
I tested these muffins a few ways using mango juice, peach nectar, orange juice, and carrot juice. Have a guess which was the winner?
Carrot juice!
Are you surprised? Here's the deal…while the mango, peach, and orange juice all tinted the color, the carrot juice was the only one that didn't alter the flavor of the cream cheese filling. Trust me, there is NO flavor change with the carrot juice.
You might be thinking, "ummm these are orange flavored muffins what's the problem with the orange juice?". So here's the deal, I wanted the fresh light orange flavor you get from the orange zest and when I added the juice to the cream cheese it gave me this "creamsicle" flavor that was not at all the vibe I was going for here.
Here is the carrot juice I used, and there is also this brand of carrot juice usually found in the produce area of your grocery store near then natural juices. Since you'll have a good bit of the bottle left over, check out this article on how you can use up leftover carrot juices in sauces, soups, and more!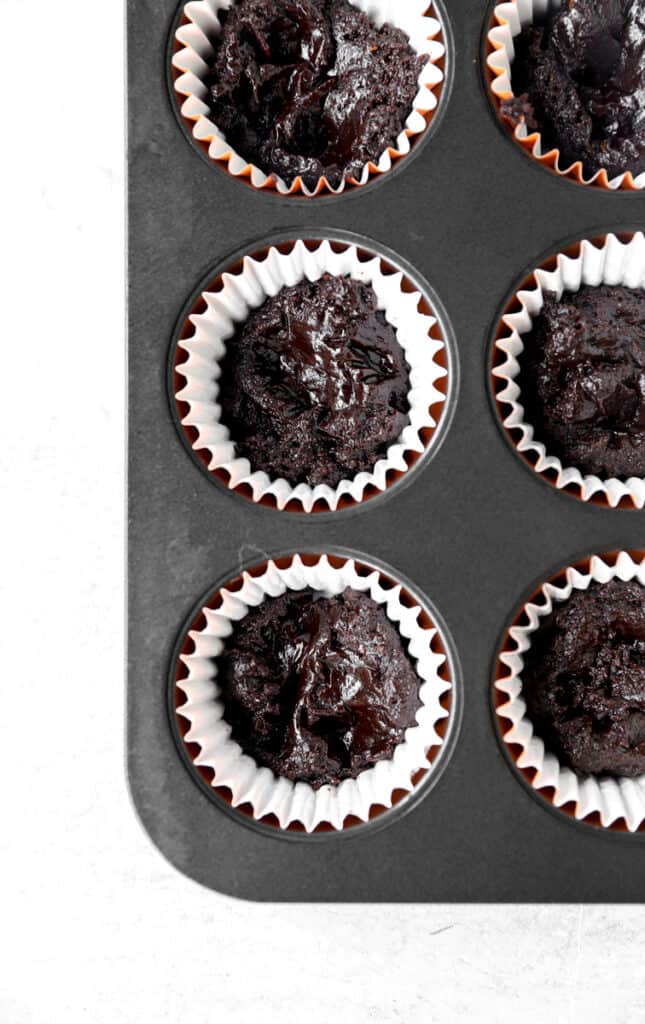 BAKING TIPS
The chocolate batter is intended to be rich and thick. If you're having trouble mixing, or incorporating all the dry ingredients into the wet ingredients you can add a bit more of the half & half to add some more moisture.
As I mentioned above, I used some carrot juice to naturally tint the cream cheese filling orange. If you'd prefer, you can use a few drops of red and yellow food dye instead.
I love a big tall muffin, so I fill my muffin liners all the way to the top!
I found about 2-3 tablespoons was enough of the cream cheese filling for each muffin. You don't want too much where it will make the muffin fall apart, but you want enough so that you really get that gorgeous filling in each bite.
I found 27 minutes was good for the bake time. Don't bake too long or you'll end up with dry crumbly muffins.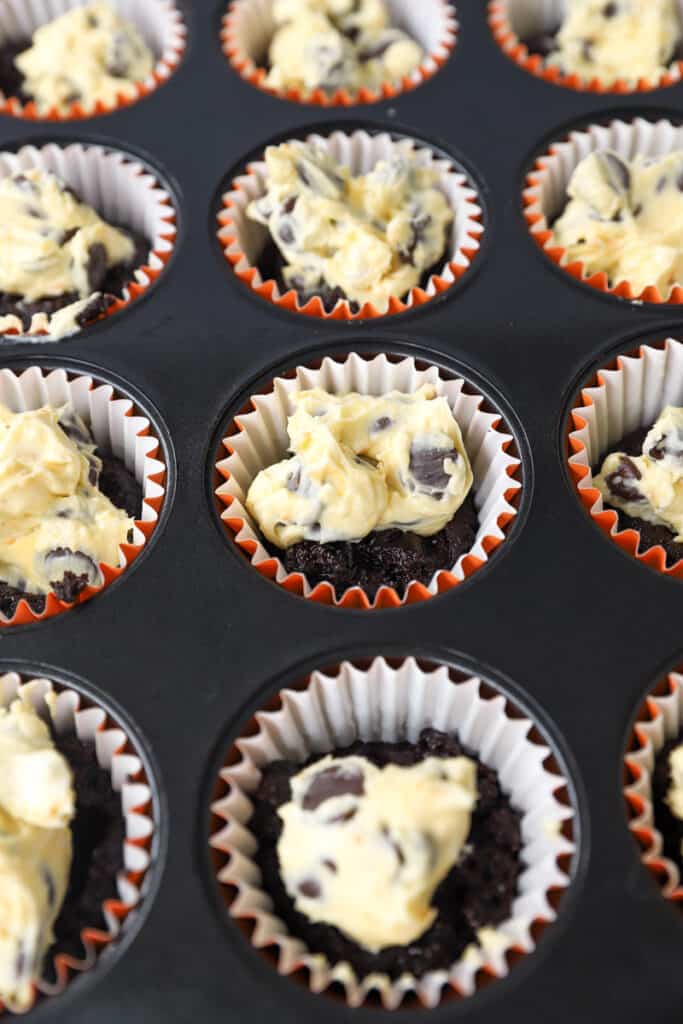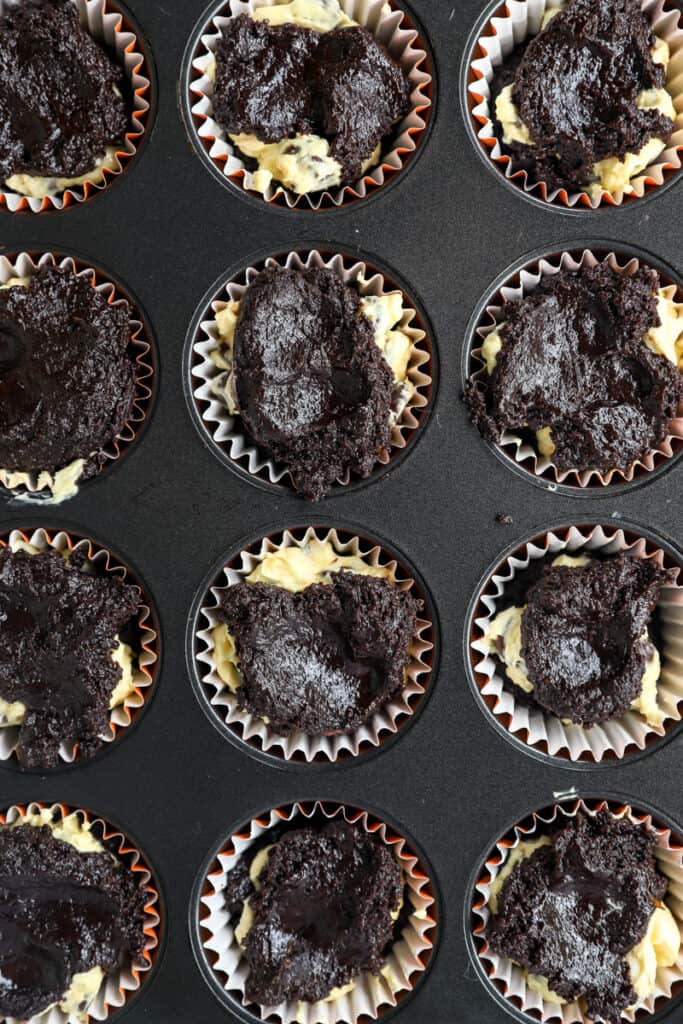 HOW TO STORE THE MUFFINS
Because these have cream cheese in them, they will eventually need to be stored in the fridge.
Normally what I do is let them sit out the day I bake them and allow them to come to room temperature. Then, keep them stored in the fridge. I actually love that cool cream cheese filling bite you get right out of the fridge. But, if you like a warmer muffin just let it sit out and allow it to come back to room temperature before enjoying!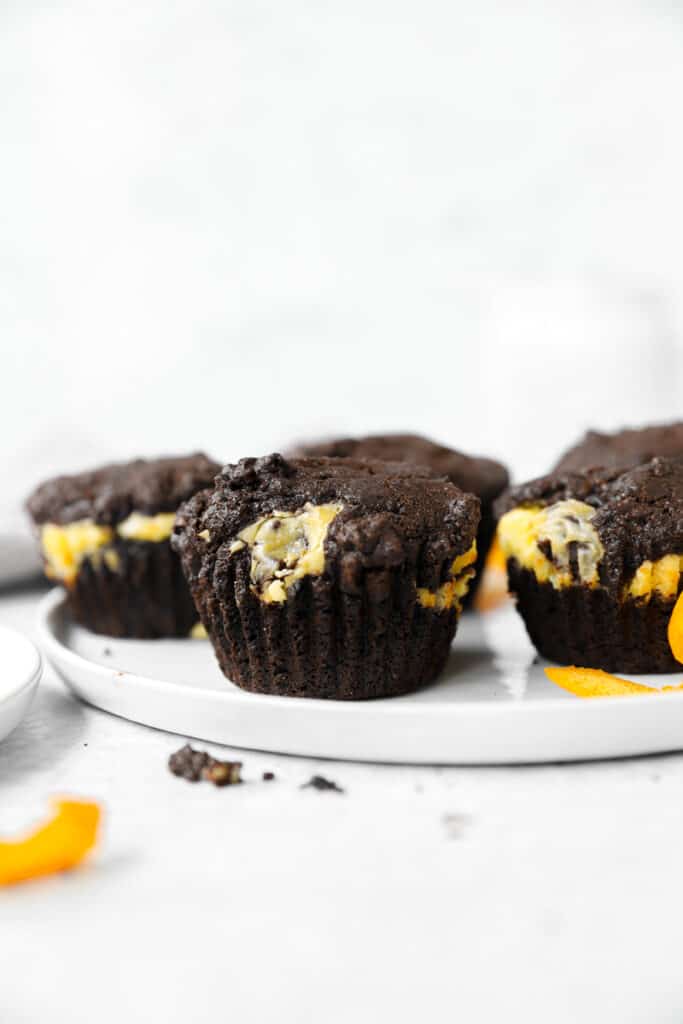 Want more muffin recipes? Here are some more of my favorites on the blog!
Pumpkin Carrot Cake Muffins
Pumpkin Dark Chocolate Muffins
Chocolate Espresso Muffins
Peanut Butter Muffins
Apple Muffins
Plus a few more can be found here in my muffin collection!
Print
Chocolate Orange Muffins
Chocolate orange muffins are a decadent rich chocolate muffin infused with orange flavor! The orange cream cheese filling adds a cool and creamy bite!
2 cups all purpose flour
1/2 cup white sugar
1/2 cup cocoa powder
1/2 cup vegetable oil
1/2 cup half & half
1/2 cup dark brown sugar
1/4 cup sour cream
1 and 1/2 teaspoons baking soda
1 teaspoon orange zest
1 teaspoon vanilla extract
1/2 teaspoon salt
1 egg
For the Orange Cream Cheese
7 ounces softened cream cheese
2 tablespoons bottled carrot juice (for color, you can sub with a few drops of red + orange food coloring if you prefer)
1/4 cup powdered sugar
3/4 cup dark chocolate morsels
2 teaspoons orange zest
1/8 teaspoon salt
Instructions
1. Make the orange cream cheese filling by combining the cream cheese, carrot juice (or food coloring), powdered sugar, salt, and orange zest. Stir to combine then add the chocolate morsels and stir until blended throughout the filling. Set aside as you prepare the muffins.
2. Preheat the oven to 350 and prepare the muffin pan with liners or well greased. In a larger bowl combine the flour, cocoa, white sugar, baking soda, and salt.
3. In another bowl, combine the oil, sour cream, half & half, brown sugar, vanilla, egg, and orange zest.
4. Add the wet ingredients into the dry ingredients bowl and stir to combine. The batter should be thick, but if it's too thick add a few tablespoons of the half & half to loosen it up.
5. Begin to layer the muffins in the pan by filling each holder half way with the chocolate batter, add about 2 generous tablespoons of the filling, then top with more chocolate batter….filling the holder all the way to the top.
6. Bake for 27 minutes, allow to cool slightly then savor every bite.
Notes
After coming to room temperature, these should be stored in the fridge. You can allow the muffin to come back to room temperature before eating, or eat them right out the the fridge. I love them warm the day I bake them, but the also really love that cool orange cream cheese once these are chilled!