The flavors of a pumpkin muffin and carrot cake combined into a soft spiced muffin! And these aren't just any pumpkin carrot muffins, these are filled with a sweetened cream cheese with pecans to really make these like mini carrot cakes.
Just a warning, the word "moist" will be used throughout this post. Use the jump to recipe button to go right to the recipe!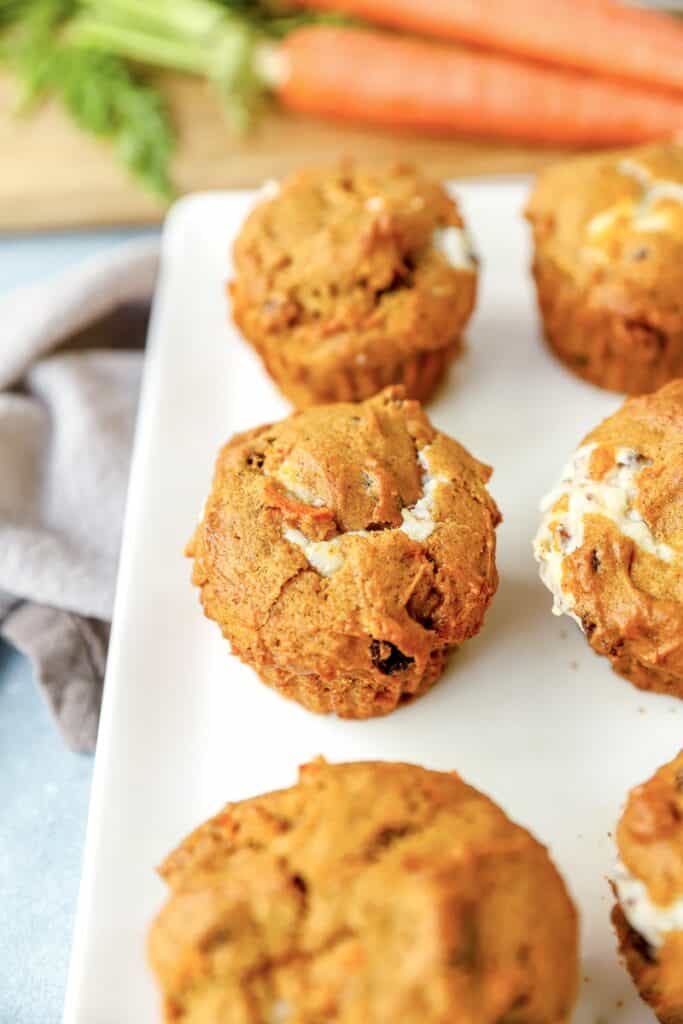 Now when you eat these carrot muffins in the morning you can officially say you're eating vegetables for breakfast. See how easy it is to work more veggies into your day? Just throw them into a spiced muffin. I'm only partially kidding here, but it does make me feel a little accomplished that I managed to get a little serving a vegetable before going about my day!
INGREDIENTS
Check your fridge and pantry for these ingredients, and get anything you need added to your grocery list!
Dry ingredients
All purpose flour
White and brown sugar
Baking soda
Cinnamon, ginger, cloves
Salt
Raisins
Shredded carrots
Wet ingredients
Egg
Vegetable oil
Canned pumpkin
Vanilla extract
For the cream cheese filling
Cream cheese
Powdered sugar
Crushed pecans
Milk or half & half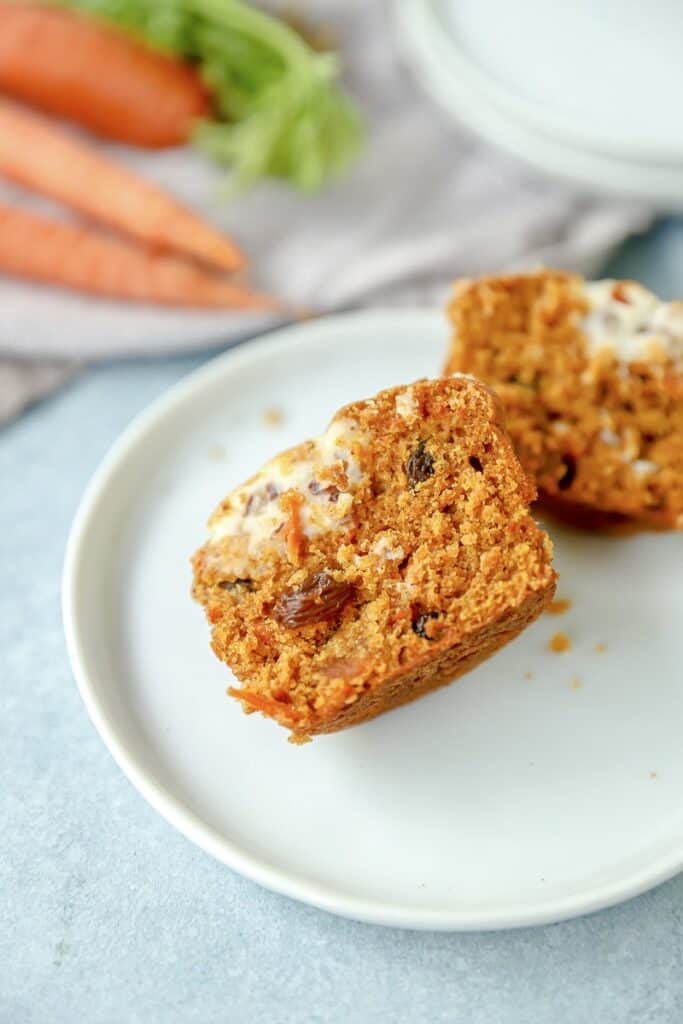 HOW TO FILL THE MUFFINS
The best part of these muffins isn't just the perfectly pumpkin spiced batter, it's this sweet pecan cream cheese filling!
First, I love using grease-resistant liners. I love how sturdy they are and hold up better than traditional liners.
Start by filling the liner about 1/2 of the way with the batter. Next, add about 2 tablespoons of the cream cheese filling. Then top with more of the muffin batter to fill to the top.
Ideally when these bake some of the cream cheese filling will peak out of the top. It lets you know these aren't just any old pumpkin carrot muffin, but one that has a little treat inside!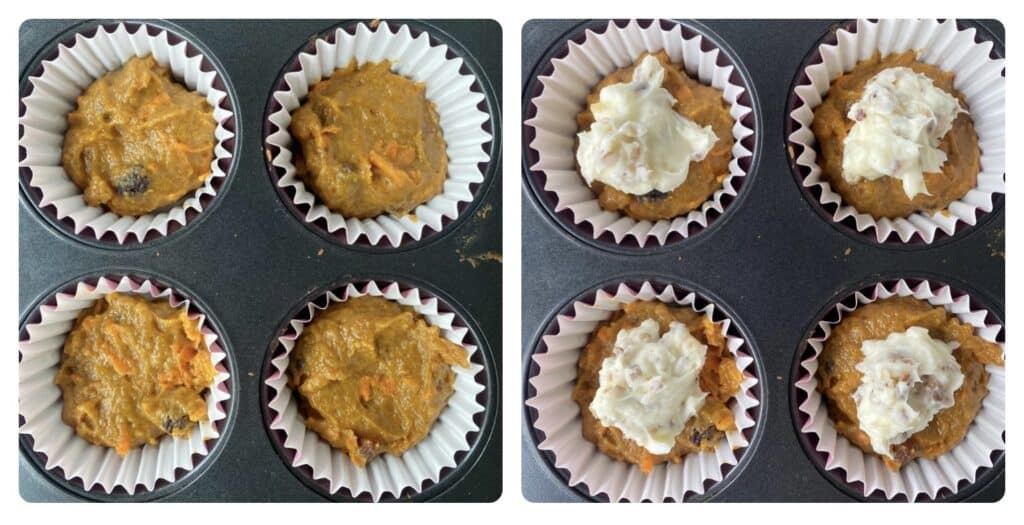 WHAT CARROTS TO USE
While you can buy a bag of shredded carrots from the grocery store, I don't recommend using those in this recipe. You need to use a box grater like this one, and shredded the carrots yourself.
Why? It really comes town to texture and consistency. When you shred fresh carrots yourself with the box grater the pieces have way more moisture and are a bit thinner and softer. With the bagged carrots I find they are drier, longer, and crispier…not what we need here.
It's a bit more elbow grease to do the grating but trust me the end result is worth it!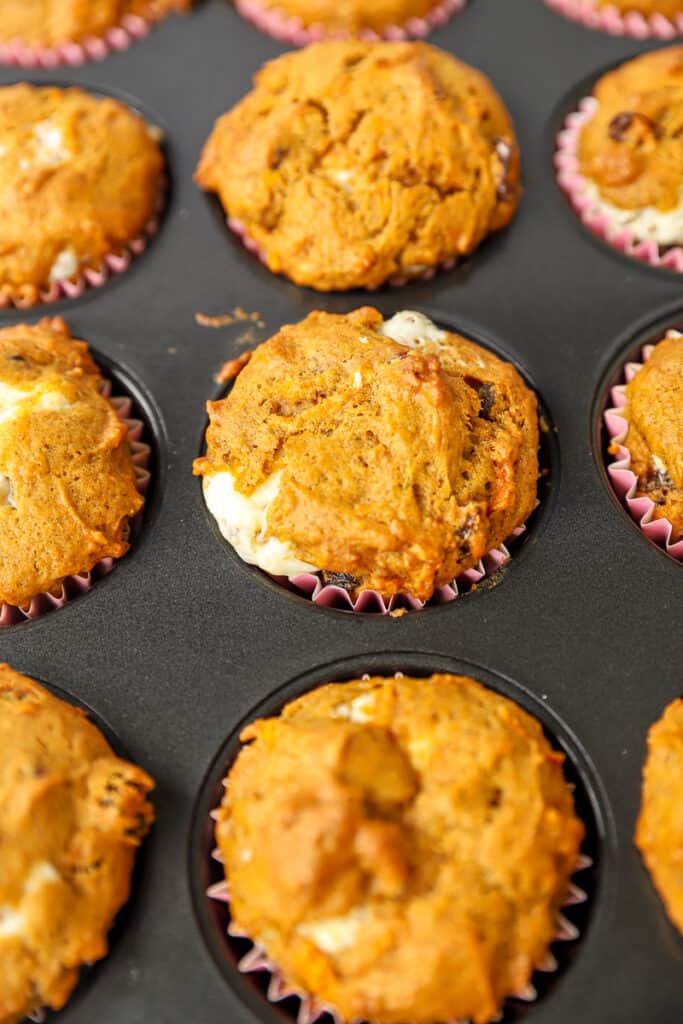 RECIPE TIPS
Measure carefully, especially with the flour. Too much flour could create a drier muffin.
Don't overmix. Mix just enough to incorporate the ingredients together, but there's no need to keep mixing beyond that. Overmixing can lead to tough muffins…no thank you!
Use grease-resistant liners. Not only are they available in lots of cute patters and fun colors, but it helps cut down on the cleaning of the muffin pan!
For a tall muffin with an appealing muffin top, fill to the top of the muffin pan. Some may recommend only 2/3 of the way to the top…but I go all the way for a nice generous muffin.
Shred the carrots yourself, the bagged carrots aren't quite the right texture and consistency needed for a perfect pumpkin carrot cake muffin.
Use canned pure pumpkin, not pumpkin pie filling.
Allow these to cool a bit before digging in!
HOW TO STORE THE MUFFINS
These muffins are moist enough where you can store them in the fridge and they won't dry out. Plus, the cool cream cheese center is such a delicious treat.
Also, the food safety recommendation is to keep cream cheese baked treats in the fridge!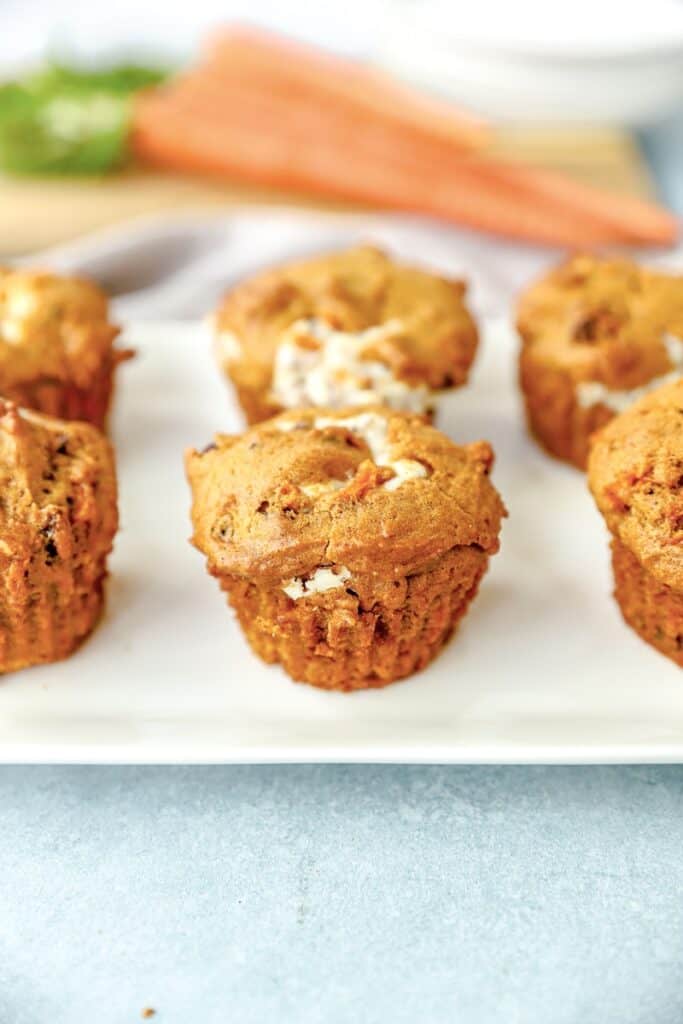 What more muffins? Check out some more favorites!
Pumpkin Streusel Muffins
Pumpkin Apple Muffins
Apple Muffins
Pumpkin Dark Chocolate Muffins
Pumpkin Blueberry Muffins
Print
Pumpkin Carrot Cake Muffins
Pumpkin and carrot cake combined into a moist spiced muffin! These are filled with a sweetened cream cheese to really make these like mini carrot cakes.
Author:
Prep Time:

20 minutes

Cook Time:

30 minutes

Total Time:

50 minutes

Yield:

14 – 16 muffins

Category:

Baking

Method:

Baking

Cuisine:

American
For the muffin
2 cups all purpose flour
1 cup white sugar
1 cup grated carrots
1 cup pure pumpkin
2/3 cup raisins
1/2 cup vegetable oil
1/4 cup dark brown sugar
1 egg
3 teaspoons cinnamon
1 teaspoon baking soda
1 teaspoon salt
1 teaspoon vanilla extract
1/2 teaspoon ground ginger
1/4 teaspoon cloves
For the filling
6 ounces softened cream cheese
1/2 cup powdered sugar
4 tablespoons crushed pecans
2 teaspoons whole milk or half & half
Instructions
1. Preheat your oven to 350 degrees. Either use cupcake liners or generously prepare the pan with cooking spray so the muffins don't stick.
2. In a small bowl, combine the softened cream cheese, pecans, powdered sugar, and milk. Set aside until you're ready to fill the muffins.
3. In a large bowl combine the dry ingredients: flour, white sugar, baking soda, salt, cinnamon, ginger, and cloves.
4. In another bowl combine the wet ingredients: pumpkin, oil, egg, vanilla, and brown sugar. I like adding the brown sugar into the wet ingredients so it will more evenly incorporate into the batter.
5. Add the wet ingredients into the dry ingredients and gently stir to begin to combine. Pour in the carrots and the raisins and stir until everything is well blended but not over mixing.
6. To your prepared muffin tin fill each muffin holder about 1/2 of the way. Add about 2 tablespoons of the cream cheese filling, then top with more batter filling to the top. Bake for 27 – 30 minutes. Allow to cool before eating.
After coming to room temperature, keep leftovers stored in the fridge since these have cream cheese in them. You can let them come to room temperature again before eating them if you're not a fan of the cool muffin.
Notes
Use fresh grated carrots, but bagged shredded.
Keywords: pumpkin carrot cake muffins