I'm a firm believer that pumpkin isn't only for the Fall. Pumpkin Blueberry Muffins bright, moist and perfectly pumpkin spiced. The pops of blue from the blueberries make this not only delicious, but beautiful too!
Recipe at a Glance
Prep time: 15 minutes
Bake time: About 30 minutes
Notes: These are super easy, which is one of the reasons why I love creating muffin recipes! Just combine the dry, combine the wet, combine them together, and then bake!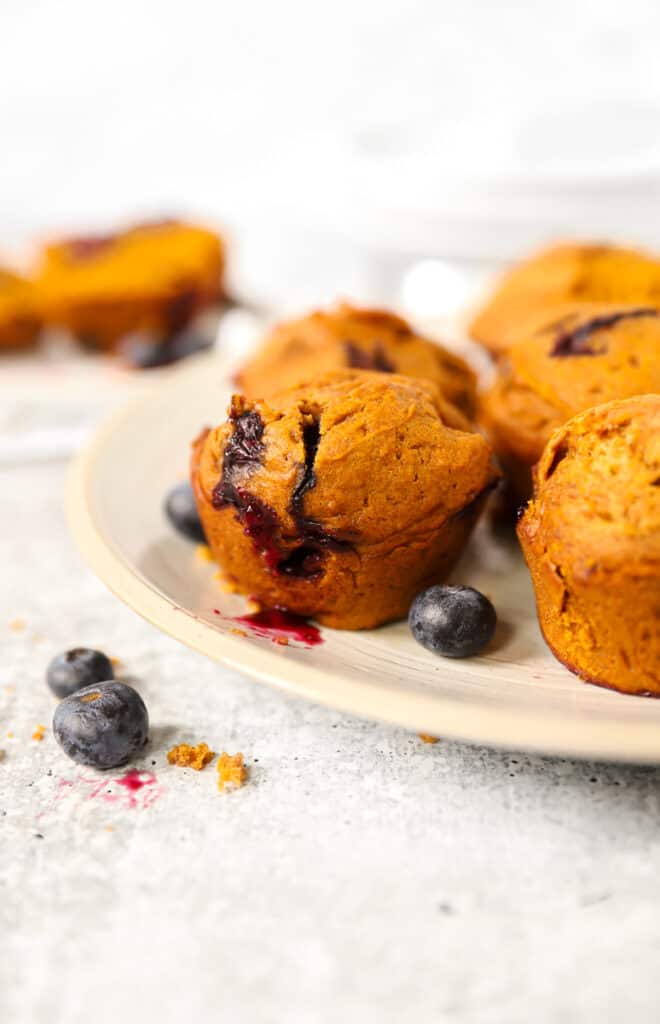 Call me basic, but I live that pumpkin spice life. Any season, any time of year. I don't care if it's 90 degrees in the middle of July, I can devour some pumpkin bread, pumpkin muffins, or even some pumpkin pancakes.
Why should Fall get to gatekeep one of the most amazing flavor combinations? Not on my watch! Keep those warm spices fully stocked in your pantry so you're always ready to whip these up.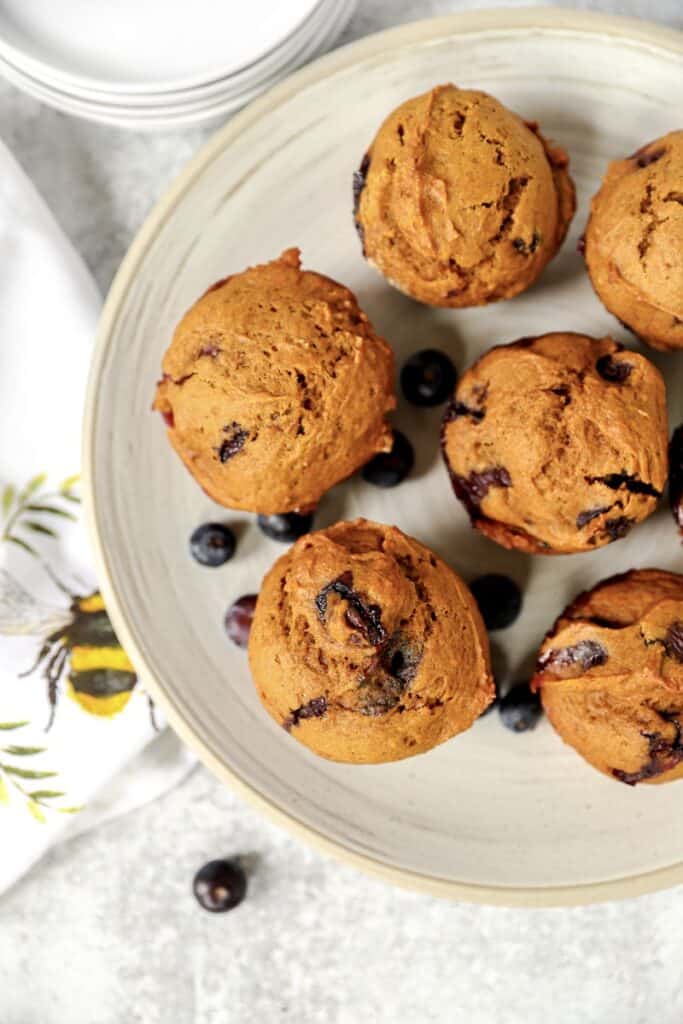 Baking tips
For any pumpkin spice recipe I make I never use the jar of the pumpkin spice blend. I always recommend using the individual spices of cinnamon, ginger, nutmeg, and cloves. This allows you to control the levels of each spice on it's own.
Try to mix the batter just enough for everything to blend together evenly. Overmixing will result in a dense and clunky muffin…no thanks!
For the pumpkin be sure to use pure pumpkin, not pumpkin pie filling. I always keep a few cans of this stocked in my pantry.
Even if you're using muffin liners, make sure to use some cooking spray and coat the top of the muffin pan. This will prevent the muffin tops from sticking to the pan!
These are best eaten within 3 days. Keep them stored in an airtight container so they don't try out and get tough.
Try to get an even amount of blueberries in each muffin. Sometimes I have to add a few into each muffin tin before baking just to make sure I don't end up with any sad muffins with 1 or 2 blueberries.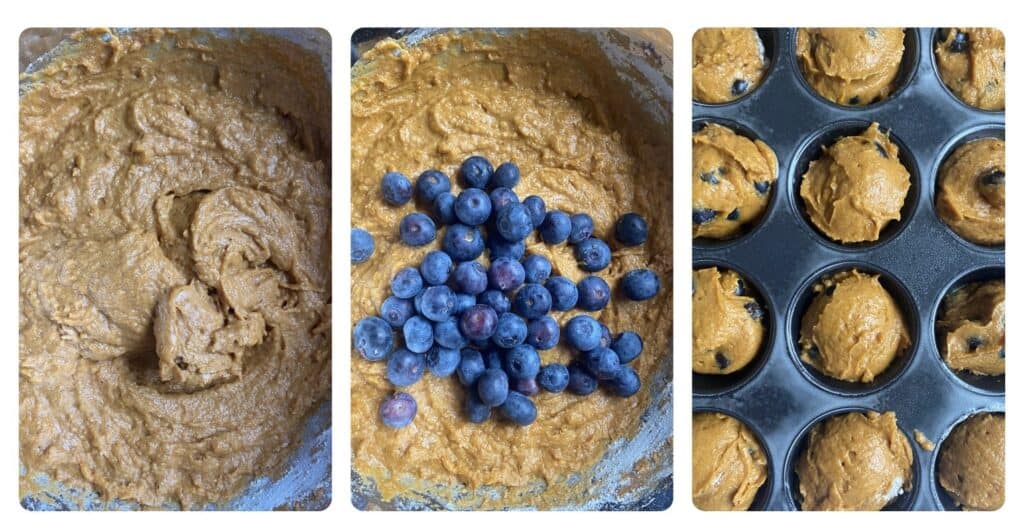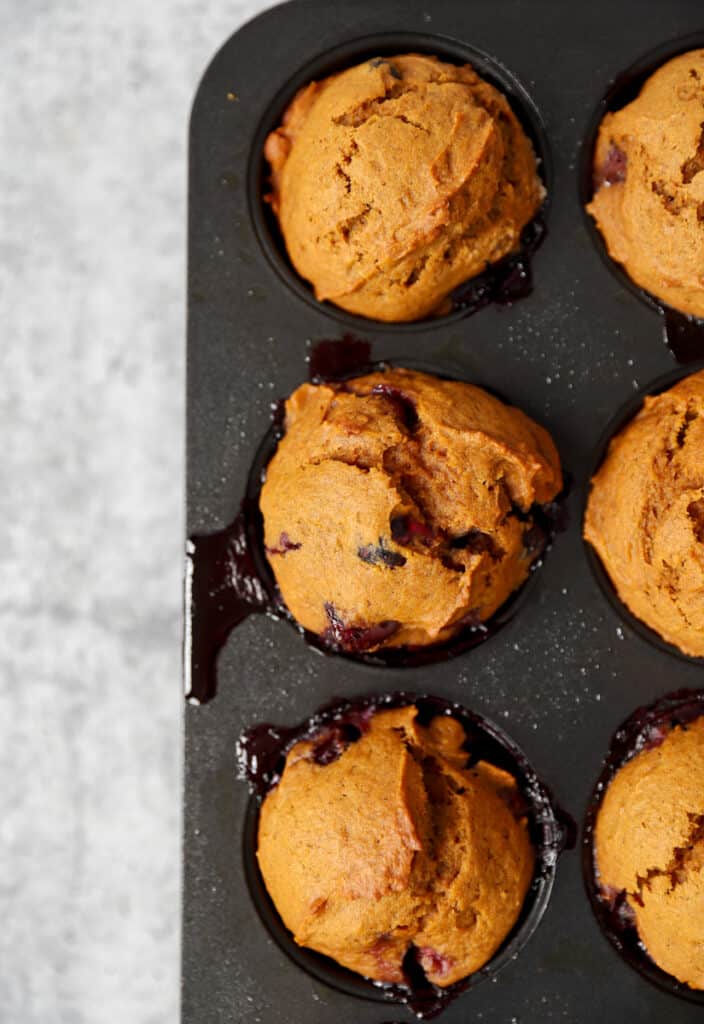 Just look at the blueberry juice and how gorgeous that is against the orange pumpkin. These will make your kitchen counter look like a gourmet bakery!
Let them cool for at least 10 minutes, then you're ready to go in for that first bite. You don't need to store these in the fridge. Cover them with foil or store them in an air tight container and enjoy them within 3 days for best texture and freshness!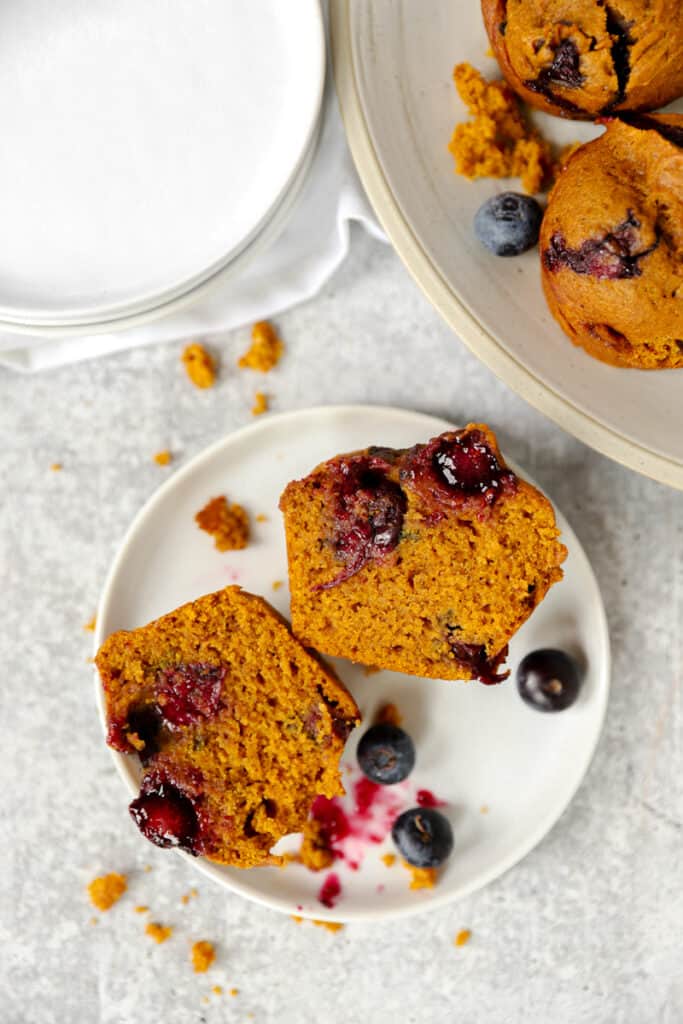 Need more pumpkin recipes?
I think you know by now I'm a big fan of pumpkin, so here are are other recipes you might like too!
Pumpkin Chocolate Chip Muffins
Pumpkin Pancakes
Pumpkin Streusel Muffins
Pumpkin Cream Sauce Pasta
More muffin recipes
Want just the muffin? Check these out…
Apple Muffins
Chocolate Espresso Muffins
Peanut Butter Chocolate Chip Muffins
Got blueberries?
Blueberry Compound Butter
Lemon Blueberry Scones
Blueberry Almond Danishes
Print
Blueberry Pumpkin Muffins
Pumpkin blueberry muffins are a warm and spiced muffin with fresh bursts of blueberry. Enjoy these in any season for that irresistible pumpkin spice flavor.
Author:
Prep Time:

15 minutes

Cook Time:

30 minutes

Total Time:

45 minutes

Yield:

14 – 16 muffins

Category:

Baking

Method:

Bake

Cuisine:

American
2 cups all purpose flour
1 cup white sugar
3 teaspoons cinnamon
1 teaspoon baking soda
3/4 teaspoon salt
1/2 teaspoon ground ginger
1/2 teaspoon nutmeg
1/4 teaspoon cloves
15 ounce can of pure pumpkin
1/4 cup dark brown sugar
2 eggs
1/2 cup vegetable oil
2 tablespoons molasses
1 and 1/2 cup fresh blueberries
Instructions
1. Preheat the oven to 350 degrees. Prepare the muffin tin by either using muffin liners or spraying generously with cooking spray. Even if you're using liners I like to spray the top of the pan with cooking spray to prevent the muffin tops from sticking.
2. In a large bowl combine the flour, white sugar, baking soda, salt, cinnamon, ginger, nutmeg, and cloves.
3. In another bowl, add the pumpkin and gently stir in the eggs.  Next add the brown sugar, vegetable oil, and molasses.
4. Pour the wet pumpkin batter into the dry ingredients and stir gently a few times to blend together. Last, add the blueberries and stir a few more times to evenly blend them throughout the batter. Try not to overmix.
5. Add the batter to the muffin pan, filling each holder to the top. Bake for 27 – 30 minutes.
Allow to cool 10 minutes then enjoy!
Keywords: pumpkin blueberry muffins