Biscuit bread pudding is the best recipe to use leftover biscuits! Think of this like a blend between a baked French toast and apple pie! For a delicious bite add ice cream and a generous drizzle of caramel sauce.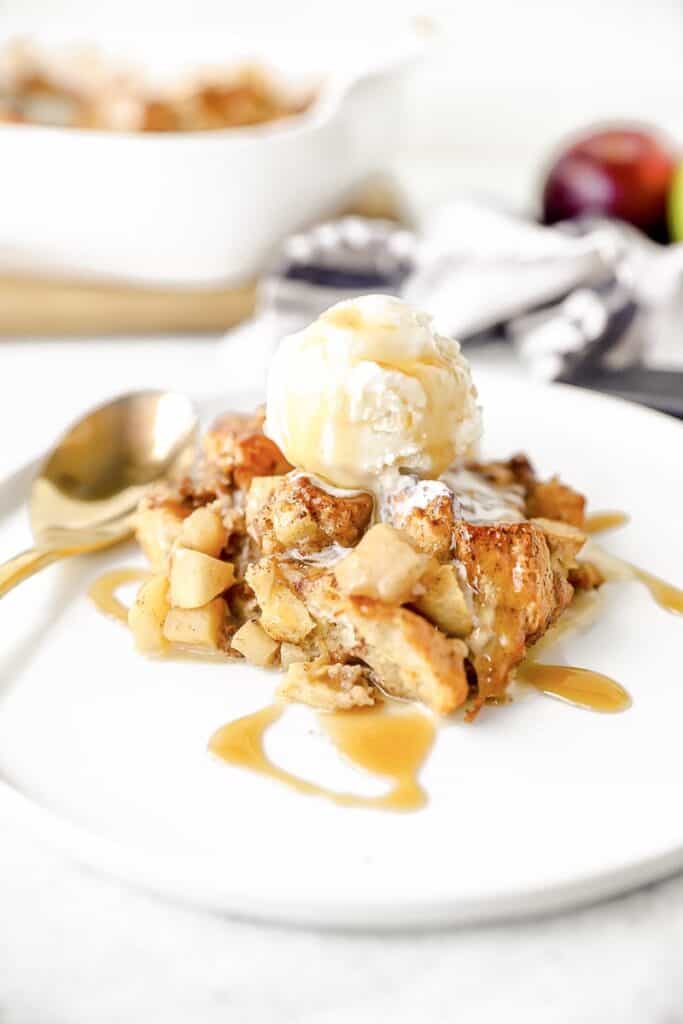 RECIPE FOR LEFTOVER BISCUITS
Let's be honest, there's only so many breakfast biscuits that can be eaten in a week. After baking up some biscuits like these, I always found myself with a few leftovers that I couldn't get through. In an effort to reduce food waste in my house, I came up with this leftover biscuit bread pudding!
Even if you don't have leftover homemade biscuits, you can check your bakery section of your grocery store! Often times they'll have packaged premade biscuits that would help make this recipe even easier.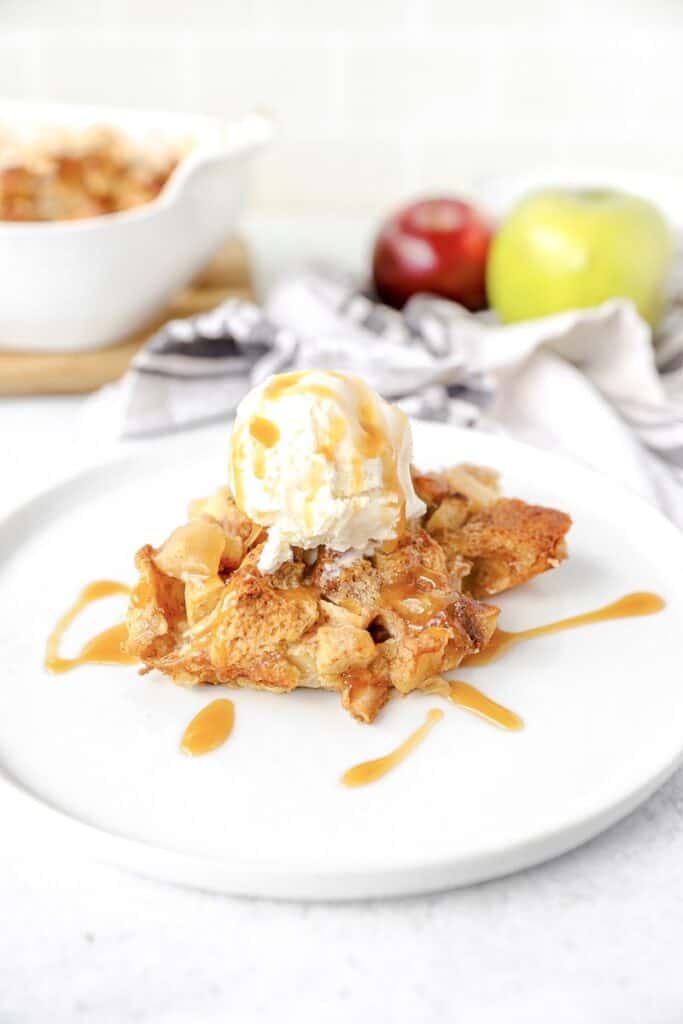 INGREDIENTS
Check your fridge and pantry, here's what you'll need to make this recipe!
Biscuits, store bought or baked
Granny Smith apples
Half & half
Vanilla extract
Cinnamon
Nutmeg
Brown and white sugars
Butter
Salt
Flour
Eggs
Now that's what you need for the main dish. If you want to make this super epic I recommend having some vanilla ice cream and caramel sauce to add to your plate of bread pudding!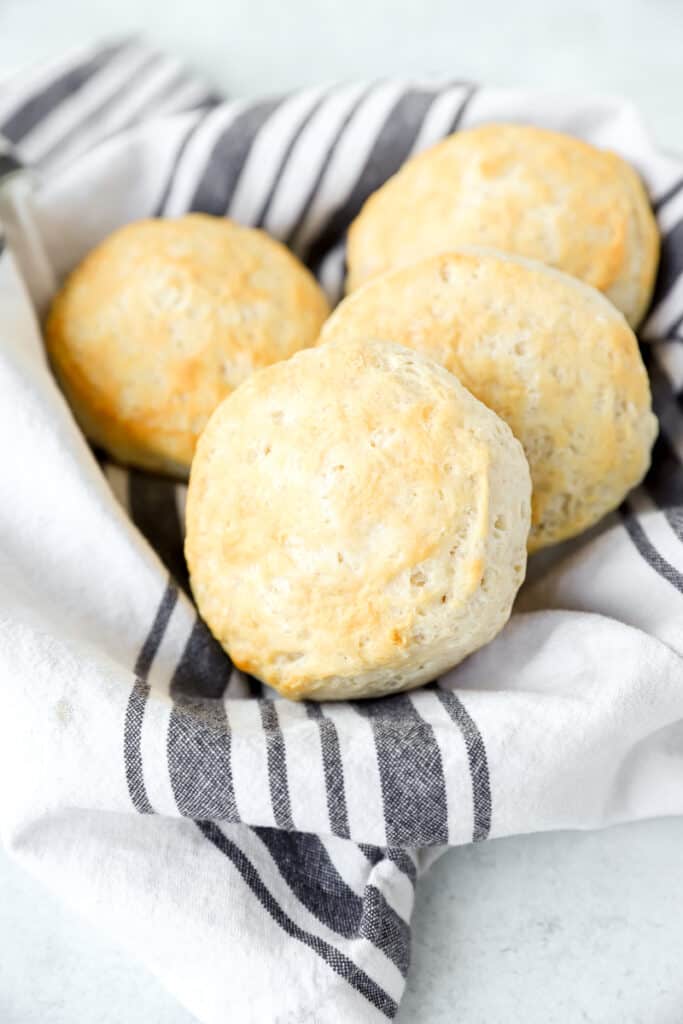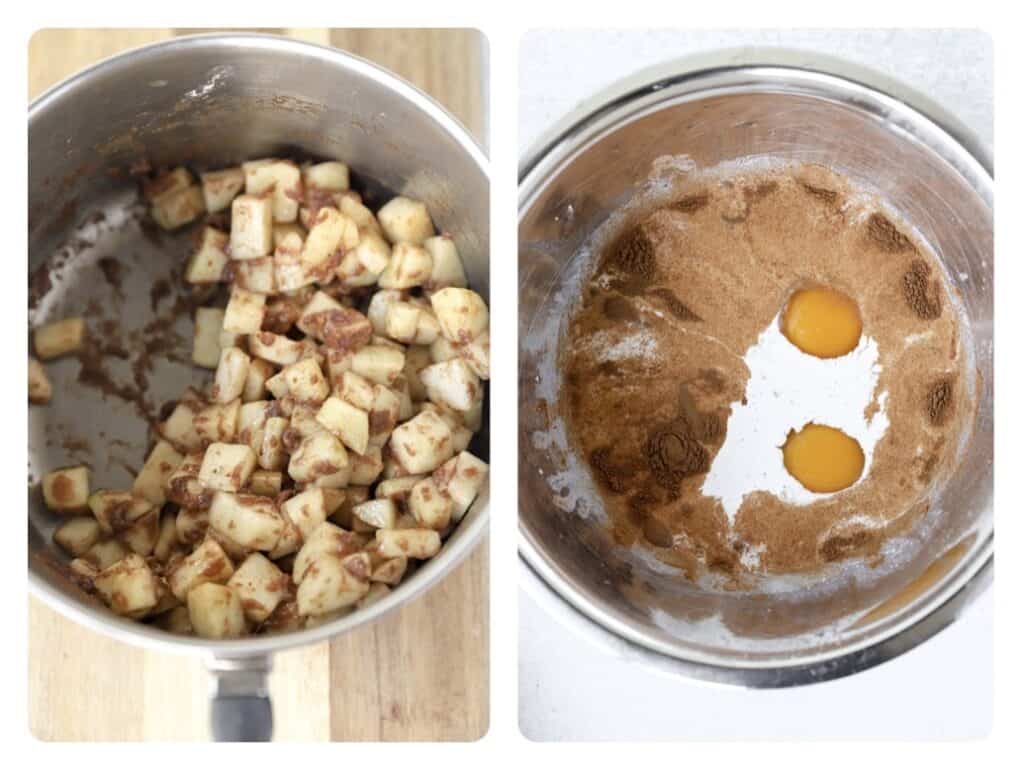 Below you'll see what the consistency of the bread pudding should look like before and after baking it. After you let the pudding rest for 15 minutes to absorb the custard there should still be excess liquid in the dish.
Once baked, it will be nicely browned on the top, and all the liquid has baked into the biscuits. The texture will be crisp on top, but pleasantly soft and slightly spongey in the center.
You also might notice the size of the baking dish. Because this is a leftover recipe, it's a bit smaller than something that would require a 9×13. I have a few smaller casserole dishes that are more 7×11. You can buy one like this baking dish, or I've also gotten several at Home Goods!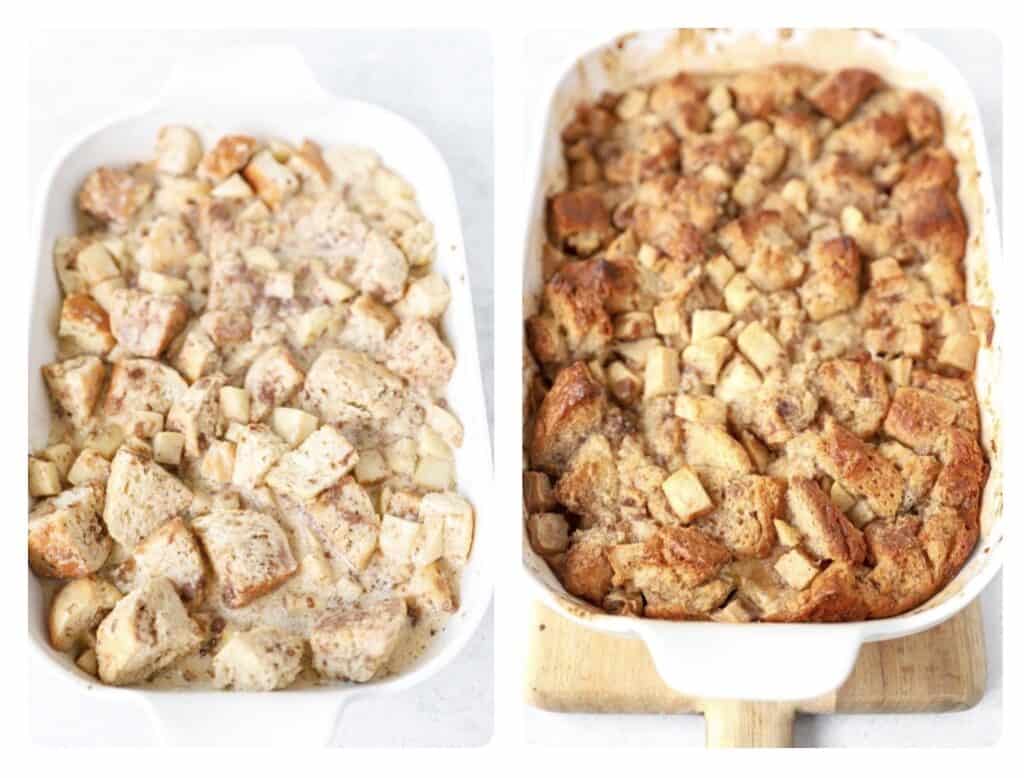 Let it cool slightly so it's easier to scoop out and serve, then top it with ice cream and caramel sauce! A little like apple pie, a little like French toast, and a whole lot of delicious!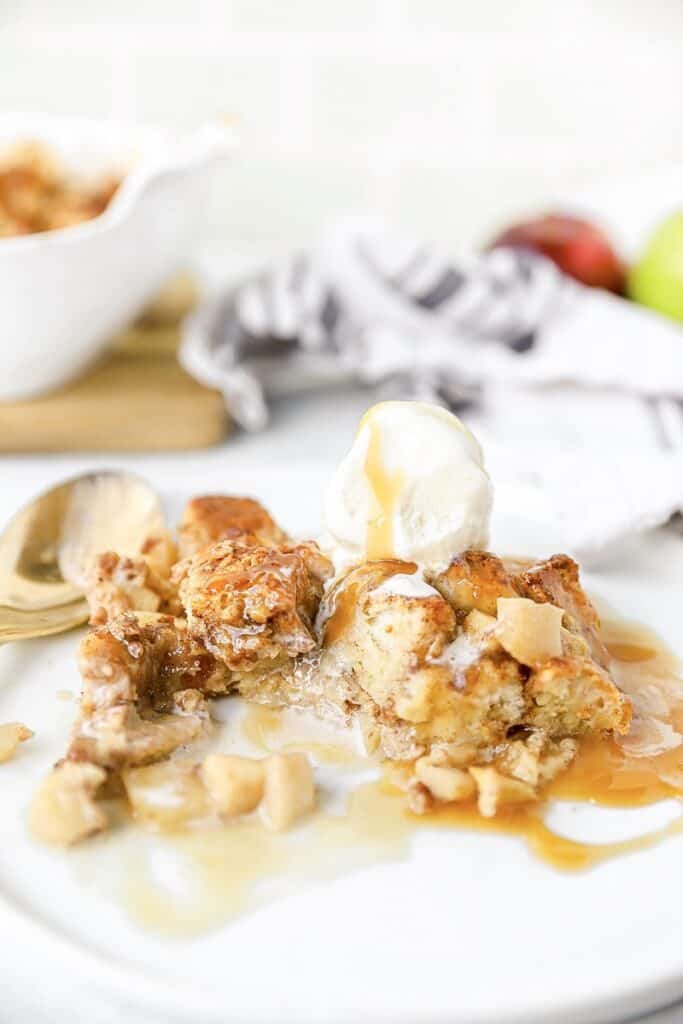 Want more apple recipes? Here are some more of my favorites!
Apple Pie Cookies
Apple Muffins
Pumpkin Apple Muffins
Apple Danishes
Thin Sliced Apple Pie
Print
Biscuit Bread Pudding
Biscuit bread pudding combines leftover biscuits with cinnamon nutmeg apples in a delicious baked dish. Top with vanilla ice cream and caramel sauce!
Author:
Prep Time:

20 minutes

Cook Time:

40 minutes

Total Time:

1 hour

Yield:

6-8 servings

Category:

Baking

Method:

Baking

Cuisine:

American
4 baked biscuits
1 and 1/4 cups half & half
1/4 cup white sugar
1/2 teaspoon vanilla extract
1/2 teaspoon cinnamon
2 eggs
2 tablespoons butter, cubed
For the apples
3 apples, peeled and diced (I used Granny Smith)
1 and 1/2 tablespoons butter
1 tablespoon all purpose flour
1 tablespoon brown sugar
1 teaspoon cinnamon
1/4 teaspoon nutmeg
1/4 teaspoon salt
Instructions
1. Preheat your oven to 350 degrees. Cut the biscuits into pieces and add to your baking dish. I used a 7×11 baking dish (so slightly smaller than a 9×13 dish). Bake for 10 minutes.
2. To prepare the apples, add the diced and peeled apples to a large bowl. Add the flour and stir to coat, then add the cinnamon, nutmeg, salt and brown sugar. 
3. Add the 2 tablespoons of butter to a pot and melt of medium-low heat. Add the cinnamon spiced apples and cook to soften the apples for 5 minutes. Stir occasionally to prevent the sugars from burning. Remove from heat and add to the casserole dish with the baked biscuit pieces making sure to evenly distribute the apples throughout the dish.
4. Prepare the custard by combining the half & half, eggs, white sugar, vanilla extract, and cinnamon. Pour into the casserole dish and stir to make sure all the biscuits pieces are generously coated. Let sit for 15 minutes for the biscuits to absorb most of the custard (there will still be some excess liquid in dish).
5. Top the pudding with the diced butter pieces, then bake at 350 degrees for 40 minutes. Allow to cool slightly then serve with vanilla ice cream and a drizzle of caramel sauce.
Keywords: biscuit bread pudding