Apple and pumpkin. The two giants of the Fall flavors. Well I'm here to give you a muffin that combines both of these epic flavors so you never have to make the choice of "Apple or pumpkin?". Pumpkin Apple Muffins are a delicious pumpkin spiced muffin batter loaded with Granny Smith apples, then topped with a cinnamon nutmeg streusel.
While I'll eat these any time of the year, these are definitely the perfect muffin for Fall.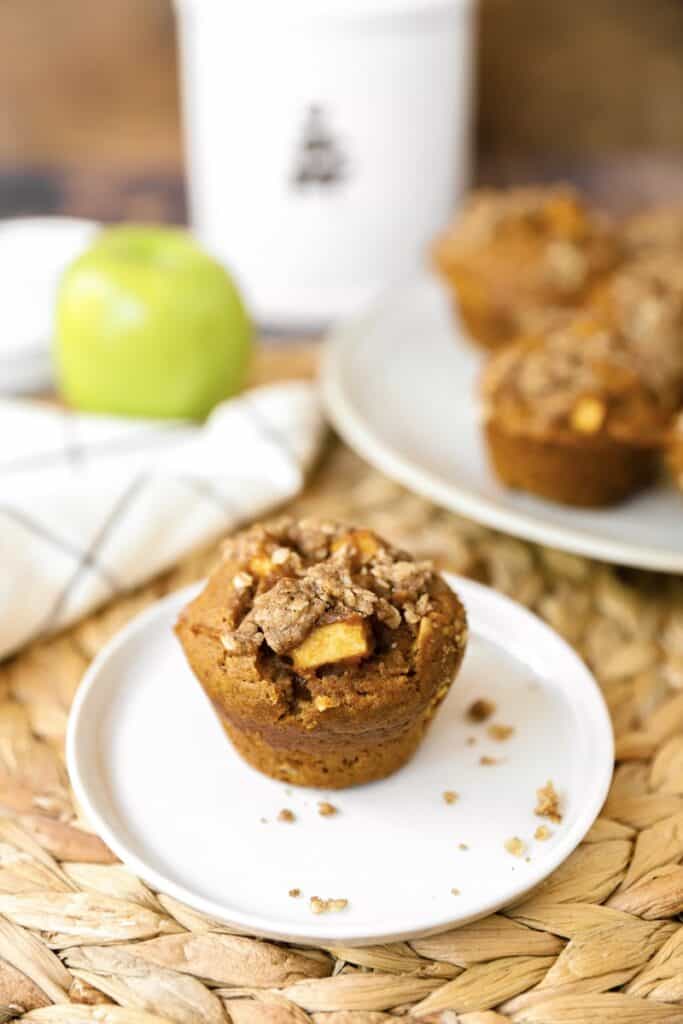 The best apples for baking
When it comes to any baked dish calling for apples I always reach for the Granny Smith. Those vibrantly green beauties give the best apple flavor and texture, you won't be disappointed!
Ok so looks aside, Granny Smith apples are the best for baking because they don't turn into mushy soft apples when exposed to the heat of baking. Some apples like Macintosh or Fuji are just way too soft, and you lose that crisp apple texture.
So trust me on this, when you're baking muffins, pies, and tarts…go Granny Smith!
Bon Appetit also has this article about 6 of the best apples for baking if you want to experiment and try a few different types of apples!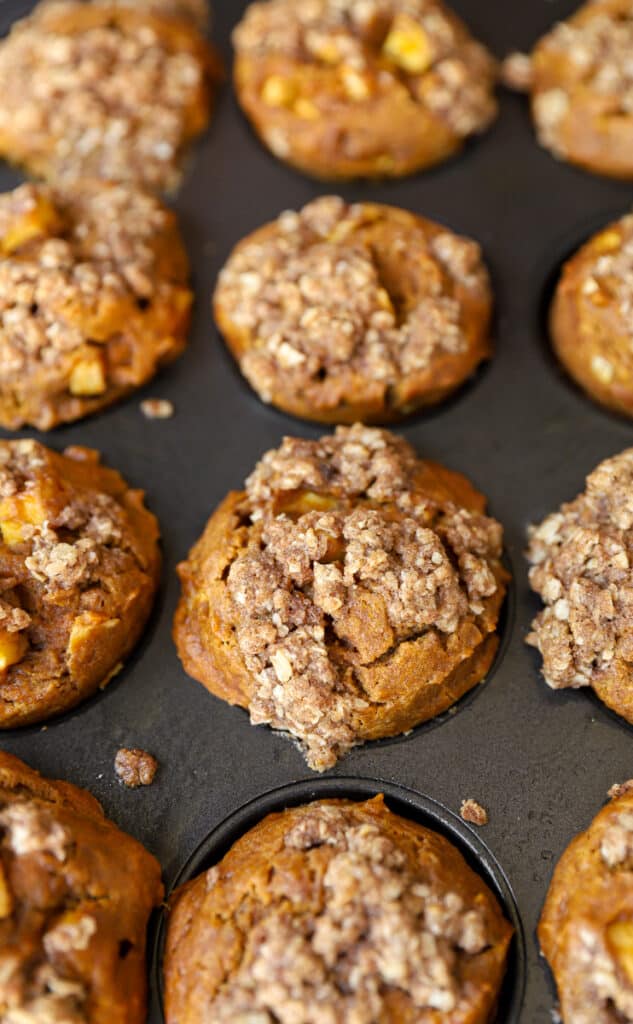 Baking Tips
Combine the dry and wet ingredients separately. This will help everything blend together evenly.
Don't add the brown sugar to the dry ingredients, add it to the wet! I always find if I add it to the dry mix it never blends in all the way and there's always a few obvious clumps.
Dice the apples small. You don't want apple pieces too big which could cause the muffin to be too crumbly if the batter to apple ratio is off.
In case you missed the paragraph above…use Granny Smith apples!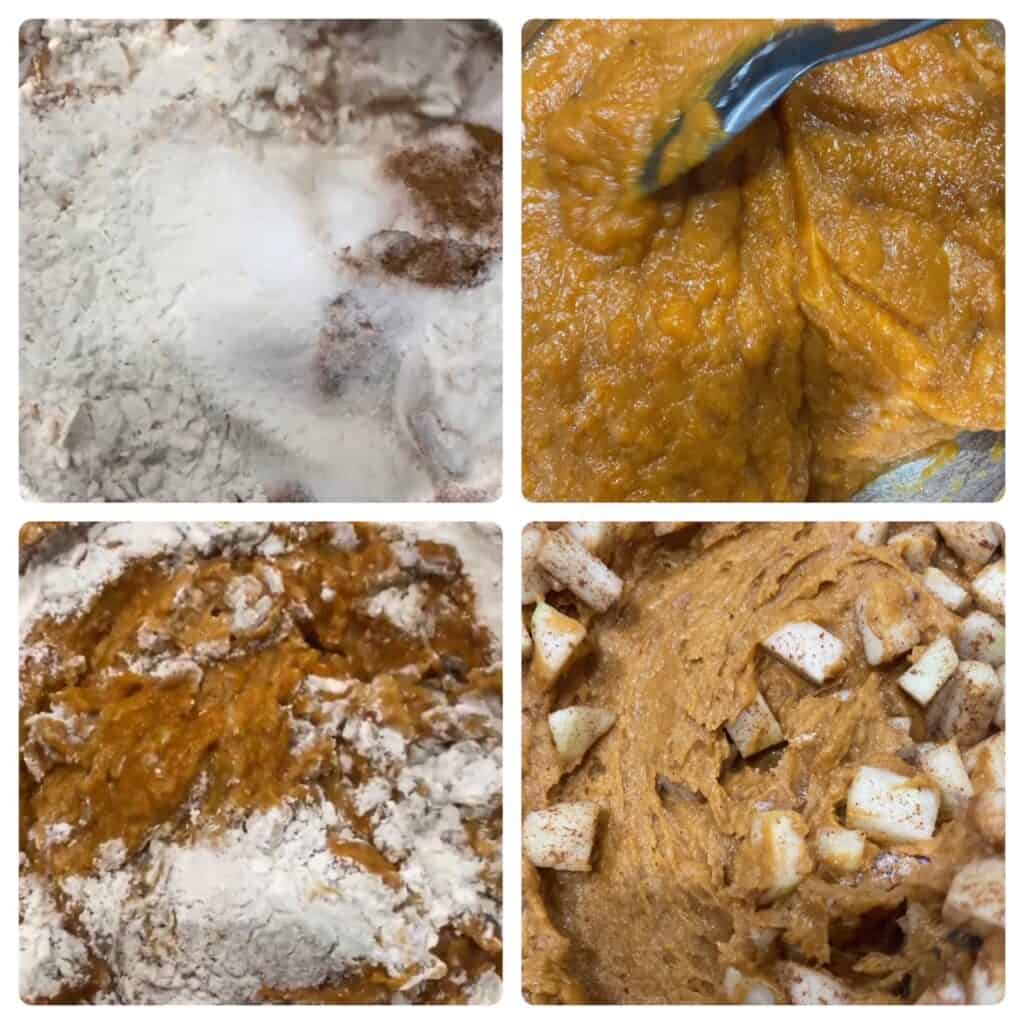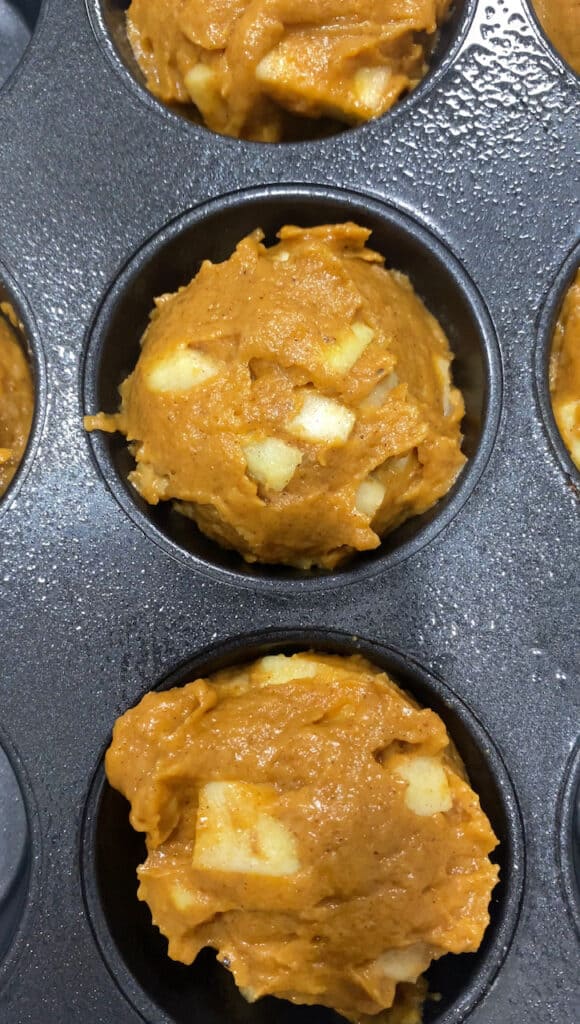 More muffin recipes
I absolutely love coming up with delicious muffin recipes! Checkout some of my other muffins you might want to try.
Pumpkin Blueberry
Pumpkin Chocolate Chip
Peanut Butter Dark Chocolate
Apple
Pumpkin Streusel
Chocolate Espresso
More apple recipes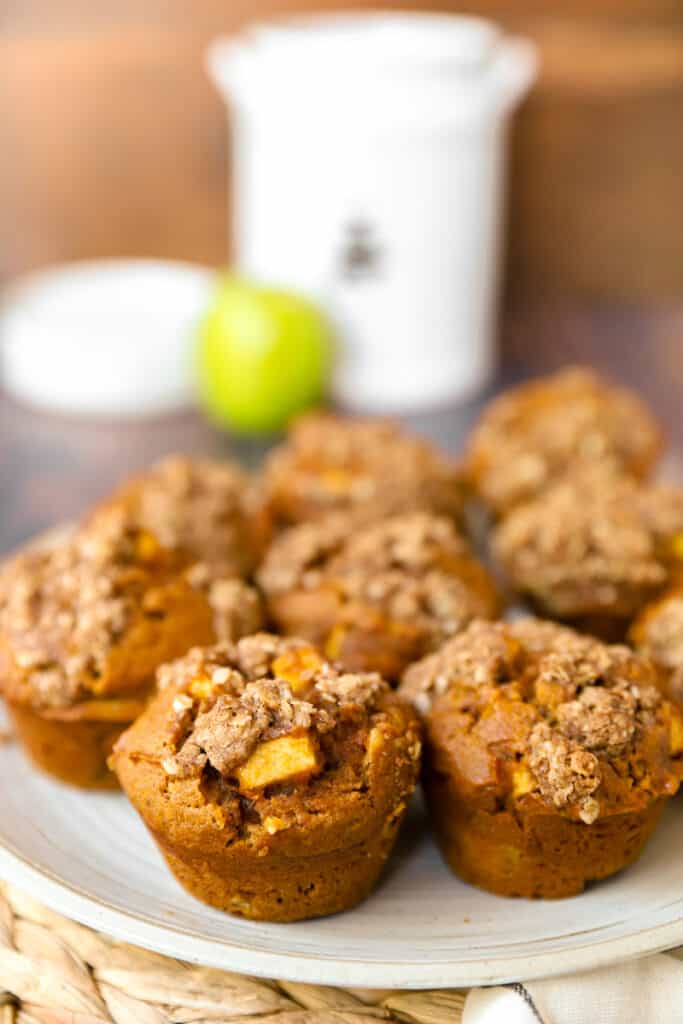 Print
Pumpkin Apple Muffins
Combine the best of both world with Pumpkin Apple Muffins! Why choose between pumpkin and apple when you can have both? Topped with a cinnamon spiced streusel for the perfect finishing bite.
Author:
Prep Time:

15 minutes

Cook Time:

30 minutes

Total Time:

45 minutes

Yield:

15 muffins

Category:

Baking

Method:

Bake

Cuisine:

American
For the Muffins
2 cups all-purpose flour
1 cup white sugar
1/4 cup dark brown sugar
3 teaspoons ground cinnamon
1 teaspoon baking soda
1/2 teaspoon ground ginger
3/4 teaspoon salt
1/4 teaspoon ground cloves
2 large eggs
1 15oz can pumpkin puree
1/2 cup vegetable oil
2 tablespoons molasses
1 cup diced Granny smith apples seasoned with 1/2 teaspoon cinnamon + 1/4 teaspoon nutmeg + 1/2 teaspoon flour
For the Streusel Topping
4 tablespoons softened butter
1 tablespoon white sugar
2 tablespoons dark brown sugar
1 teaspoon ground cinnamon
5 tablespoons quick oats
2 tablespoons all-purpose flour
1/4 teaspoon salt
Instructions
Preheat your oven to 350 degrees. In a small bowl combine the apples with the 1/2 teaspoon cinnamon, 1/4 teaspoon nutmeg, and 1/2 teaspoon flour. Set aside.
In a large bowl combine the 2 cups of all-purpose flour, 1 cup white sugar, 1 teaspoon of baking soda, 3/4 teaspoon of salt, 3 teaspoons cinnamon, 1/2 teaspoon of ginger, and 1/4 teaspoon of cloves. Use a whisk to make sure everything is combined.
In a separate large or medium bowl, lightly whisk 2 eggs, then stir in the 15oz can of pumpkin puree, 1/2 cup oil, 1/4 cup brown sugar, and the 2 tablespoons of molasses. Stir until everything has blended together.
Next, pour the pumpkin mixture into the flour mixture and stir until the wet batter has formed. Add the apples and stir until they are evenly blended throughout the batter, but don't overmix.
To make the streusel topping, combine 4 tablespoons of softened butter with 1 tablespoons of white sugar, 2 tablespoons of dark brown sugar, 5 tablespoons of quick oats, and 2 tablespoons of flour. Stir until combined.
Grease your muffin tins or line with paper muffin holders, spoon the muffin batter into each muffin holder and fill to the top for a large muffin. Top each muffin about a tablespoon of the streusel, then bake for 30 minutes.
Keywords: pumpkin apple muffins