Don't we all need those quick and easy dinner recipes that don't require and endless list of ingredients? Even as a food blogger, I'm frequently reaching for those easy dinners that let's me get a meal on the table fast. This roundup features dinner recipes that can all be made with 5 ingredients or less!
From pastas to chicken, vegetarian and casseroles…there's a little something for everyone! Find the 5 ingredients or less dinners that will make the whole family happy…and full!
Note: Salt, pepper, and water do not count towards the 5 ingredient list.
Creamy Pesto Pasta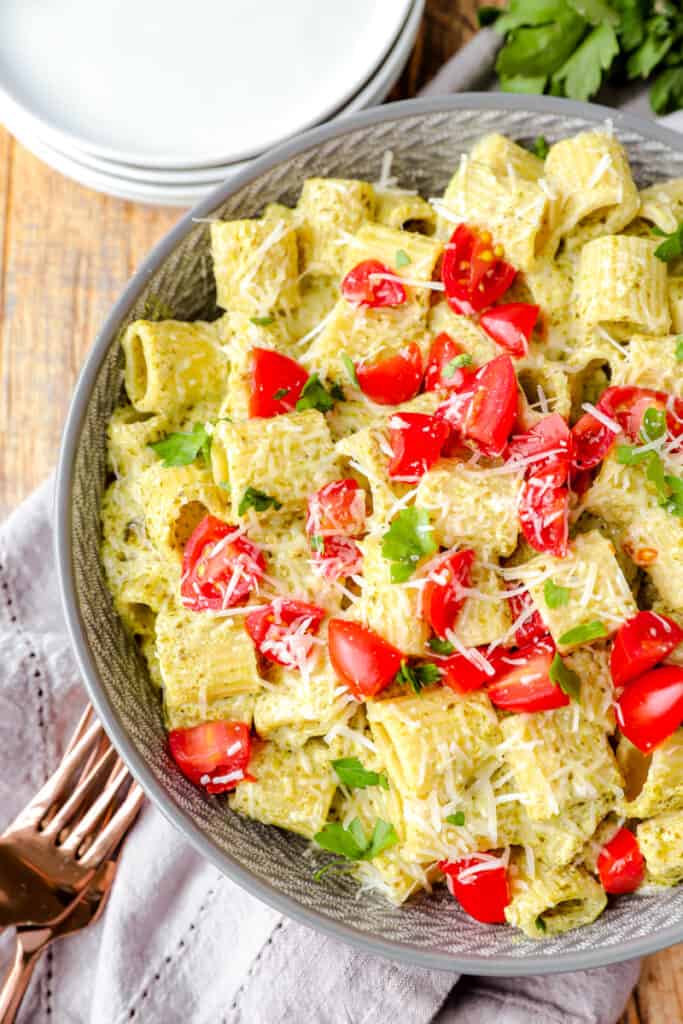 Creamy Pesto Pasta is a flavorful pasta dinner with just 5 easy ingredients. A robust jarred pesto packs so much flavor you don't need to add tons of spices and seasonings. Top with diced cherry tomatoes for a fresh finishing bite. From A Seasoned Greeting
Blue Cheese Hot Dogs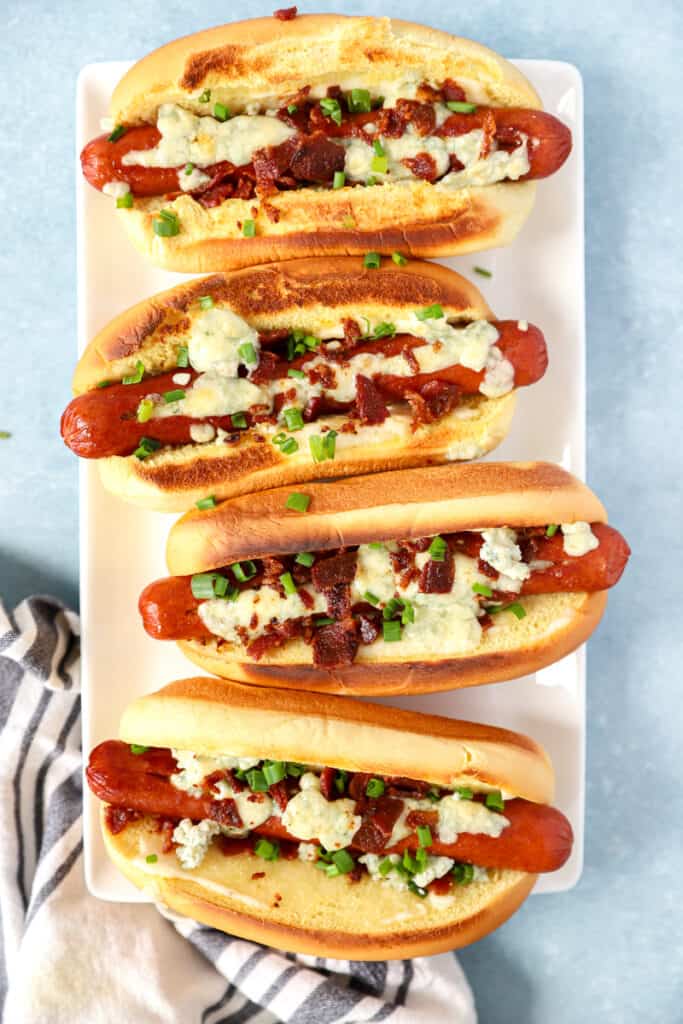 It's not quite summer until you've had a hot dog, am I right? Make these Blue Cheese Hot Dogs for a gourmet style dog perfect for the grownups table. From A Seasoned Greeting
Cacio e Pepe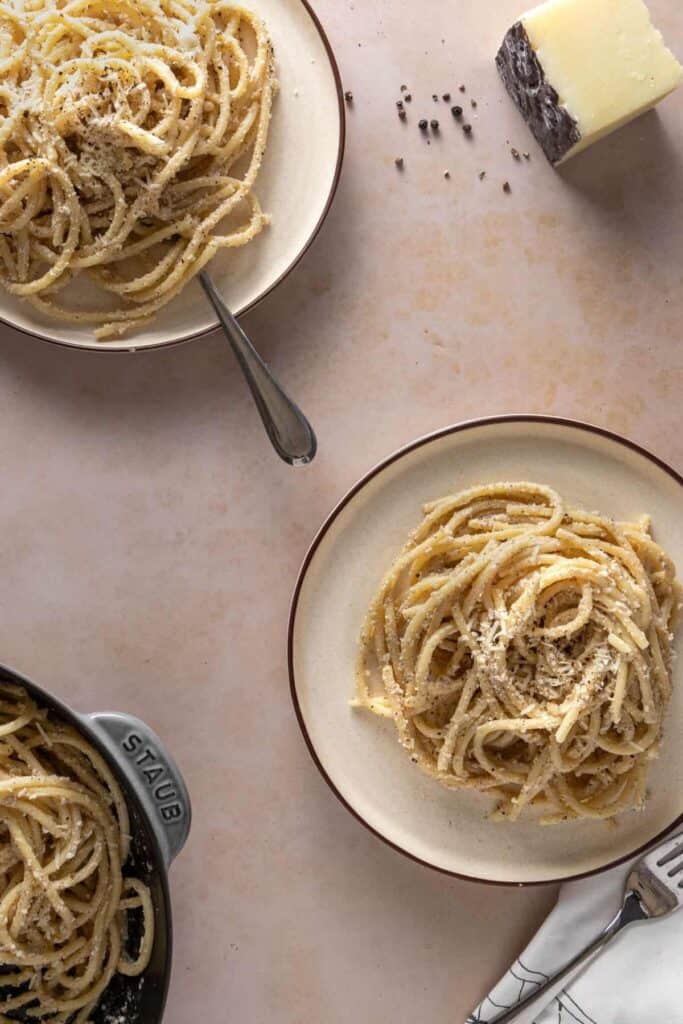 Now this is EASY. Only 4 ingredients in this Cacio e Pepe…and one of them is water! Talk about a no fuss dinner that's packed with cheesy peppery flavor. From Urban Farmie
Cheesy Broccoli Orzo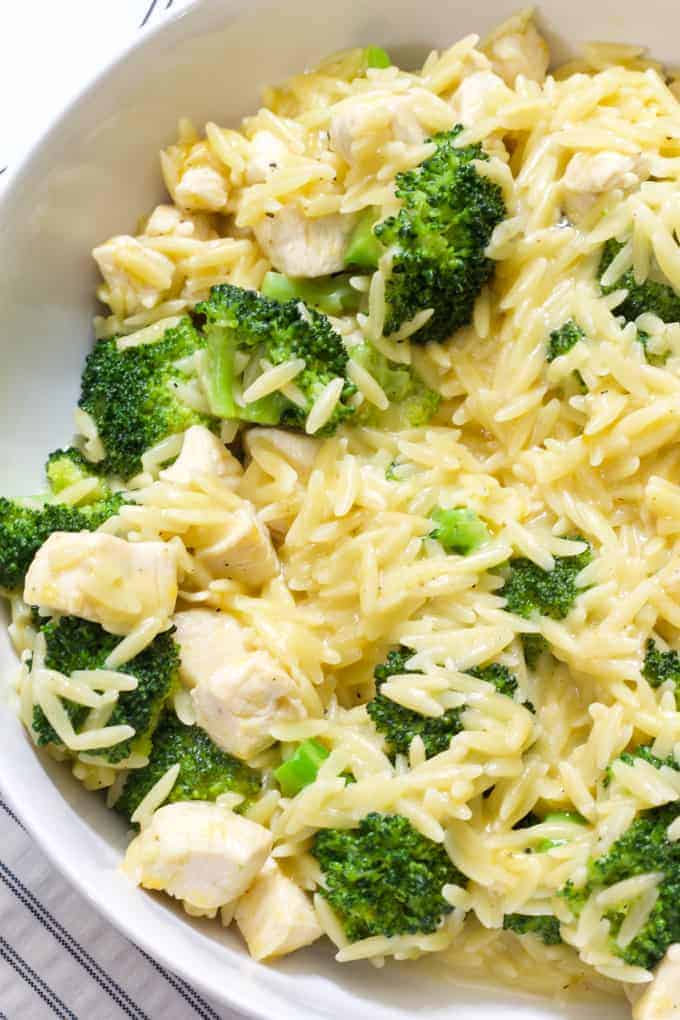 Cheesy Broccoli Orzo is the best of everything! A few ingredients (plus salt, pepper, and water), cheese, chicken…and it's a one pot dinner! This will be a delicious dinner and leftover meals. From Mindy's Cooking Obversion.
Crockpot Chicken Thighs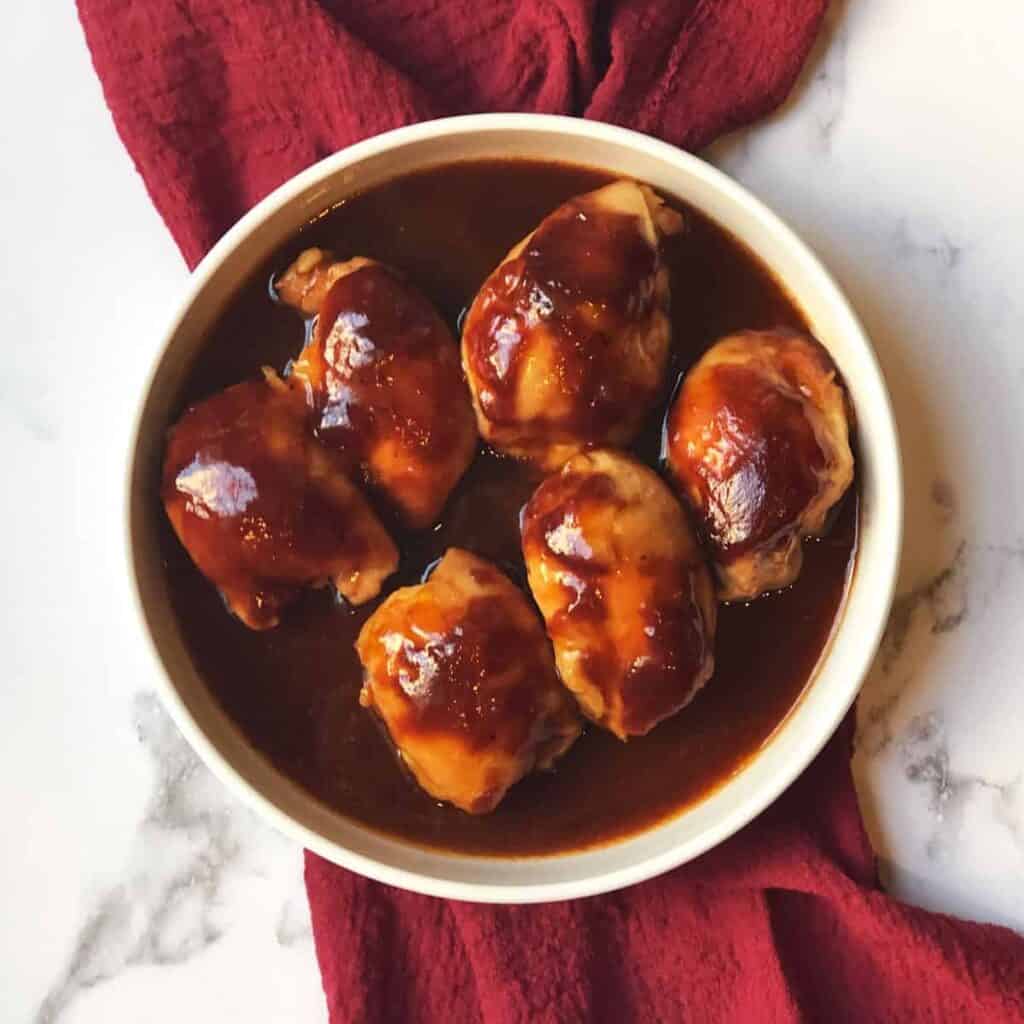 Crockpot BBQ chicken thighs doesn't need 5 ingredients…it needs only 3! Now this you can get on the dinner table, no problem! Savory, flavorful, and easy. From Two Pink Peonies
Brown Gravy Hamburger Steaks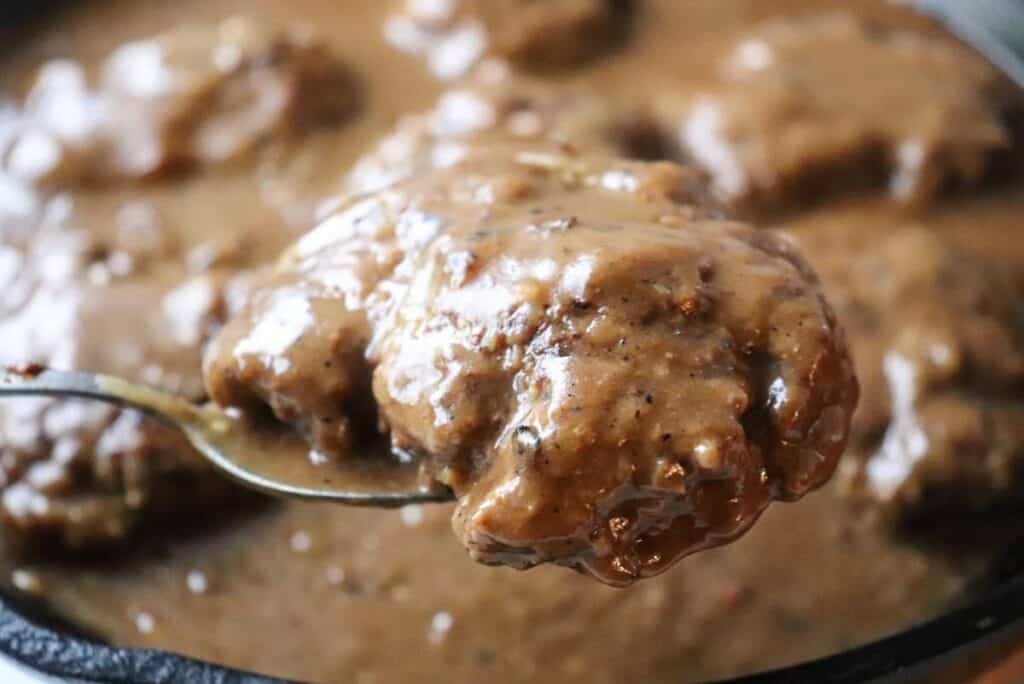 Hamburger Steaks can be quite the comfort food easy dinner. Serve with mashed potatoes and a side salad or easy veggie for a weeknight dinner. From Razzle Dazzle Life
Noodle Casserole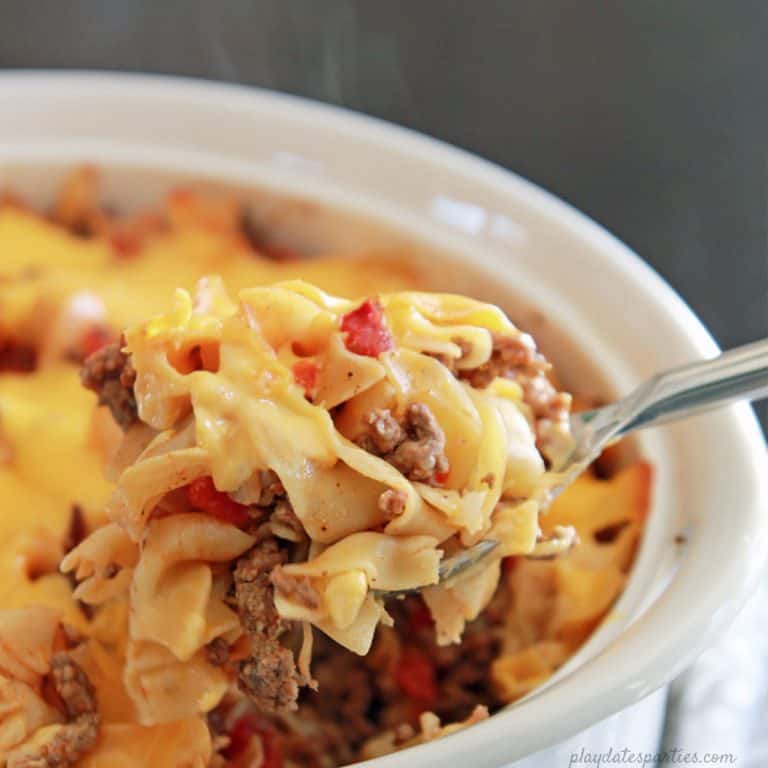 A noodle casserole is a must in your recipe collection! This is a hearty dinner that will make a weeknight just a bit easier. From Play Dates to Parties
Instant Pot Gnocchi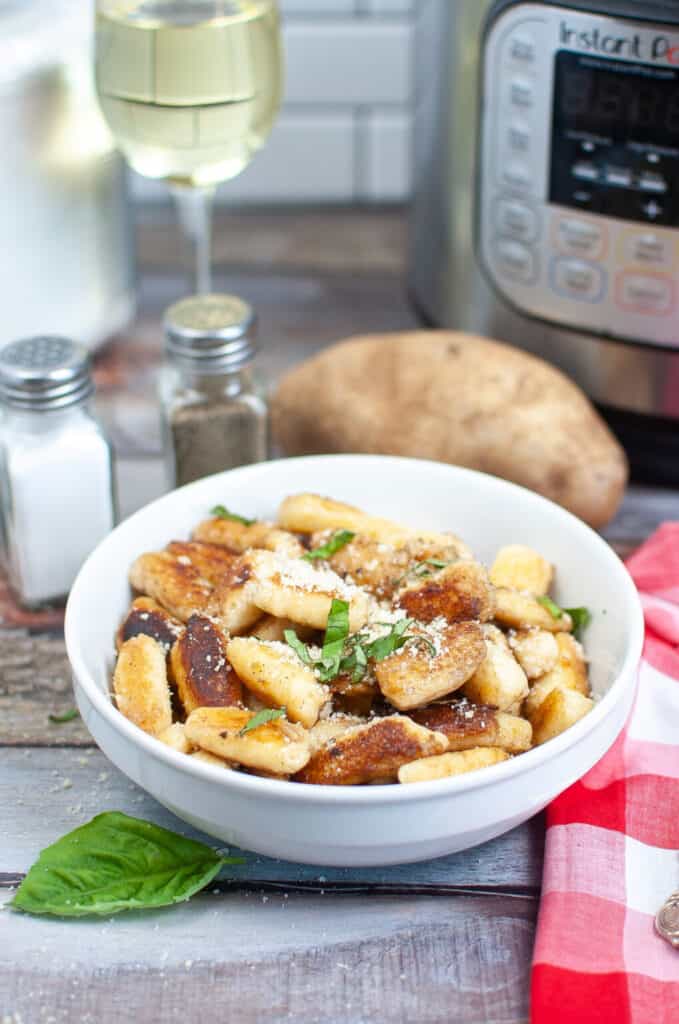 A full homemade gnocchi dinner with just 5 ingredients? Yupp! Oh, and also it's ready from start to finish in about an hour. Recipe from Thrifty Jinxy
Simple Sautéed Shrimp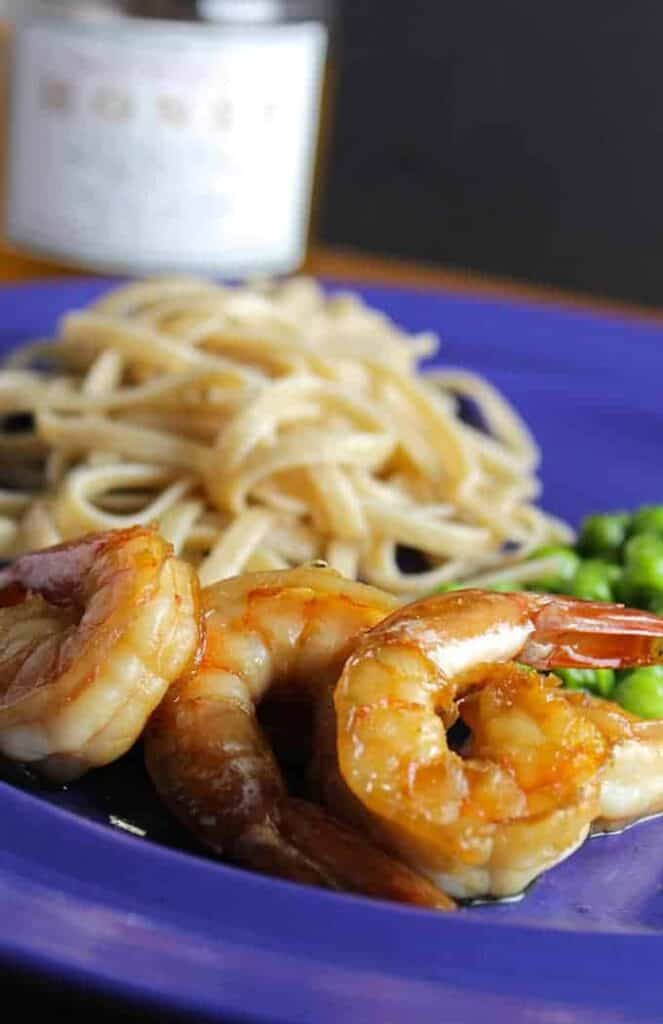 This recipe only needs 4 ingredients and you've got a delicious easy sautéed shrimp ready for dinner! From Cooking Chat Food
Caprese Sheet Pan Chicken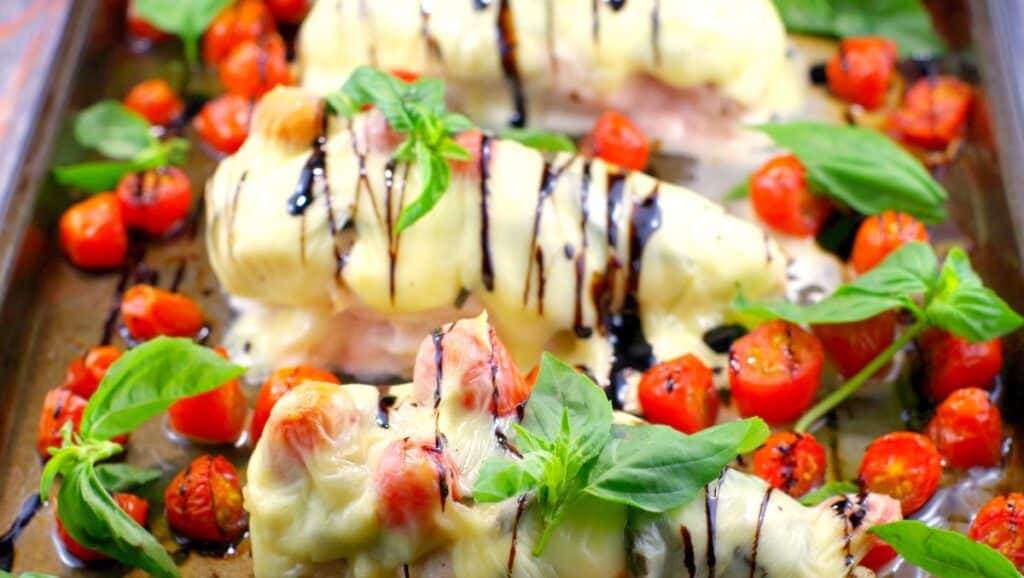 Caprese chicken is a flavorful dinner that's not just easy, but beautiful too! Vibrant colors from basil and tomatoes makes this a masterpiece for the dinner table. From Food Meanderings
Instant Pot BBQ Chicken Sliders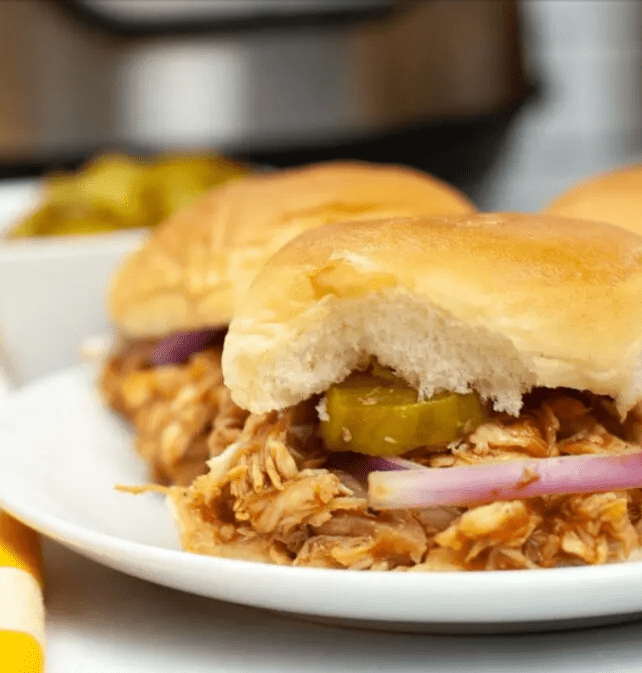 Who doesn't love a slider? Whip of these BBQ Sliders in the Instant Pot for a quick and easy dinner. From Simply Low Cal
Sweet Chili Salmon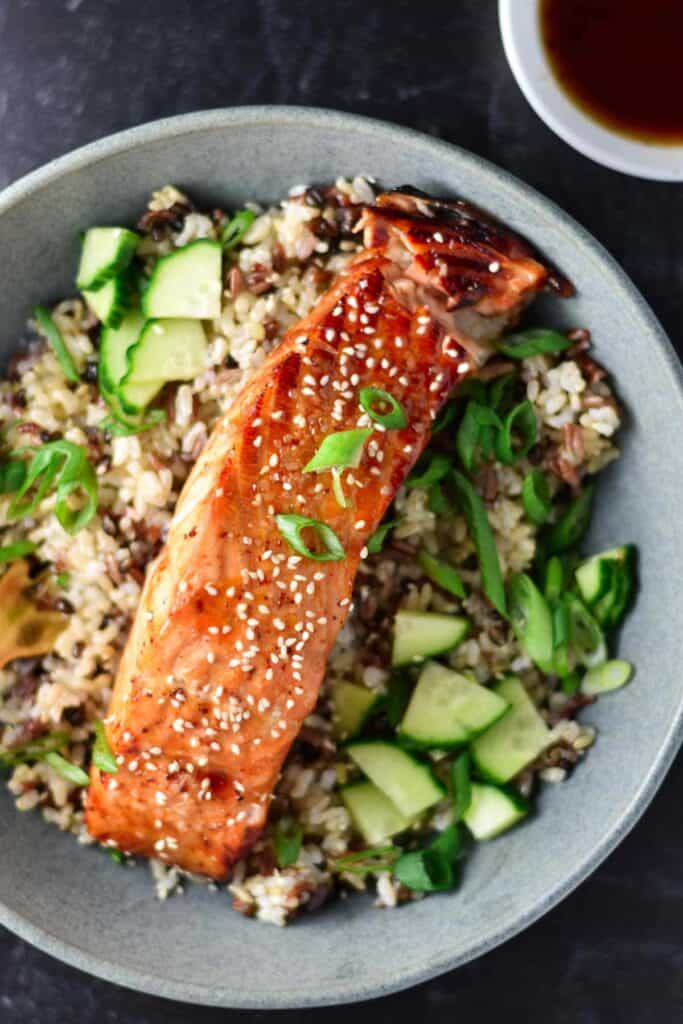 An easy and no-fuss salmon dinner. Sweet Chili Salmon will be a family favorite! From The Dizzy Cook
Pistachio Chicken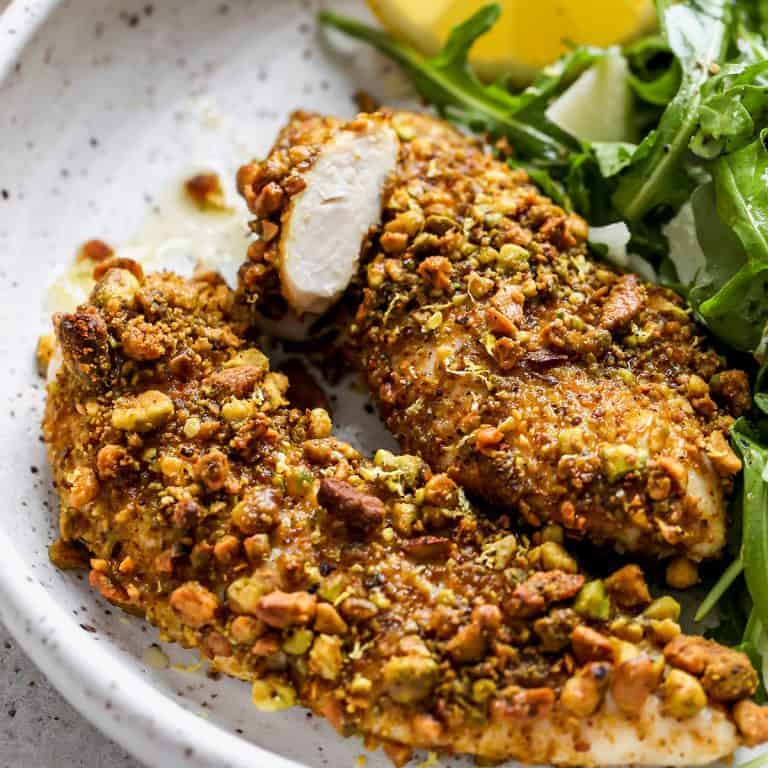 How about this for a weeknight dinner? Pistachio Crusted Chicken only needs 5 ingredients, is gluten free and keto! From Joy Food Sunshine
Simple Oven Roasted Chicken Thighs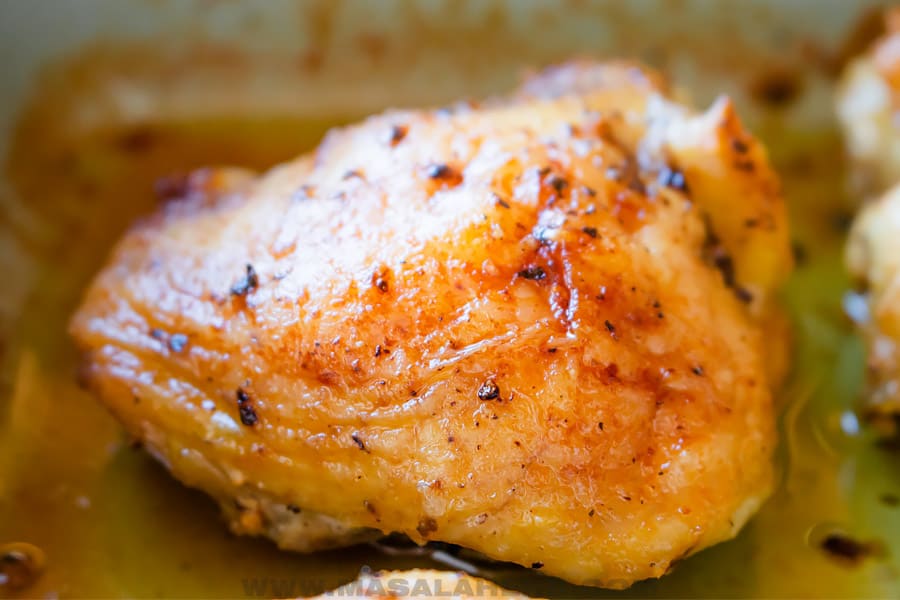 Sometimes the no-fuss easy as pie dinners are just what you need! This chicken thighs recipe just uses oil, salt, and pepper for a chicken thigh that would pair perfectly with some mashed potatoes and a salad. From Masala Herb
Slow Cooker Salsa Chicken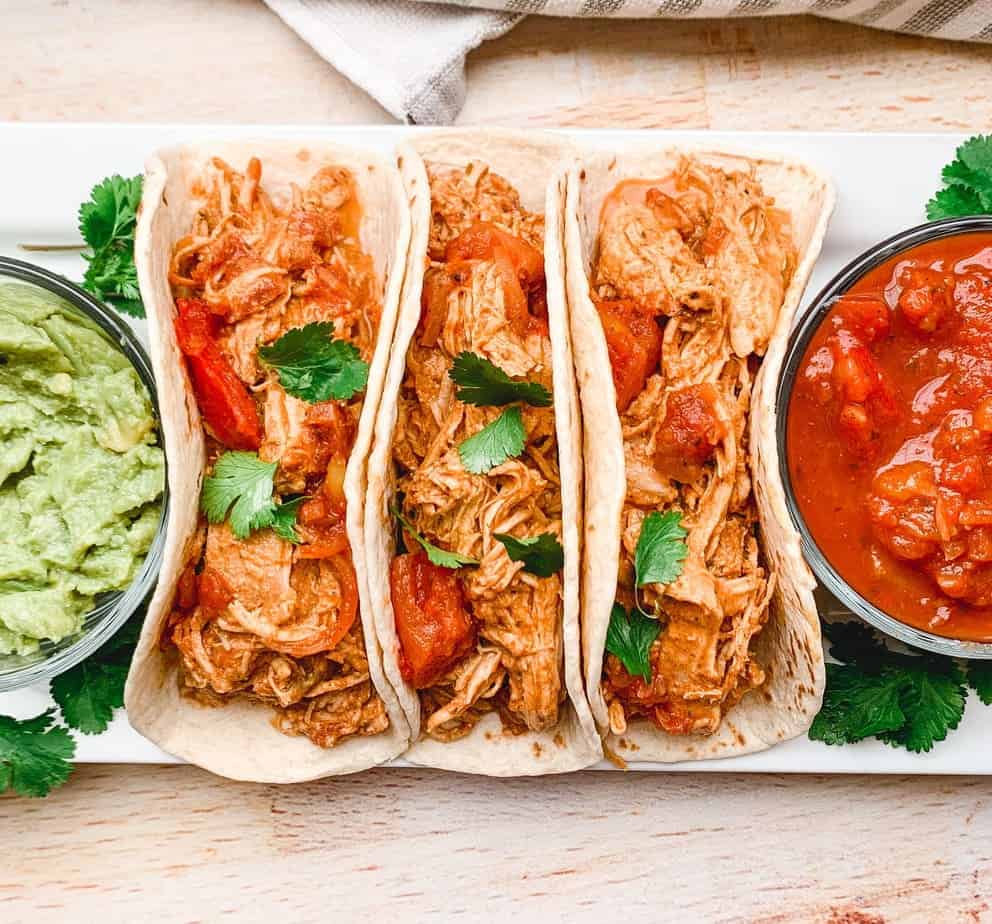 Grab your favorite jar of salsa and make this Slow Cooker Salsa Chicken! No shortage of flavor here, easy and would make for a perfect chicken taco bar. From Barefoot in the Pines
Chicken Ballotine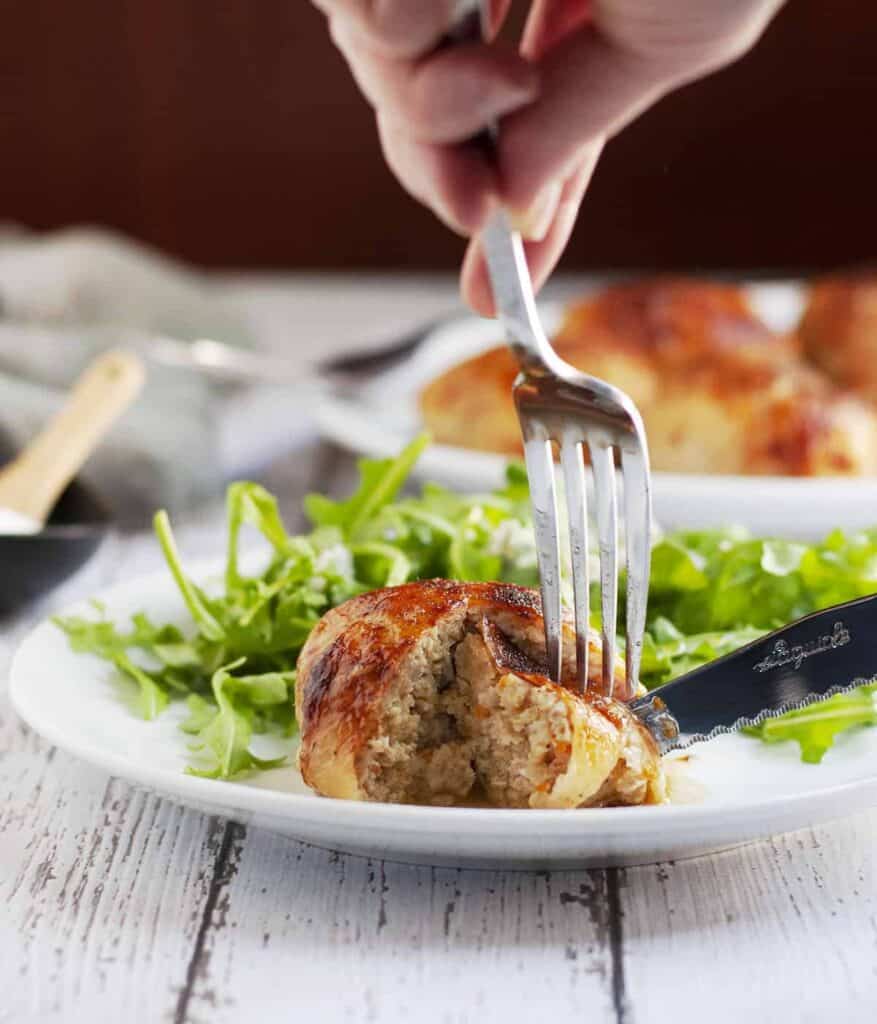 Here's something to try to change up the weeknight dinner routine. Chicken Ballotine is crispy chicken skin filled with a seasoned chicken filling. From Pinch and Swirl
BBQ Chicken Tostadas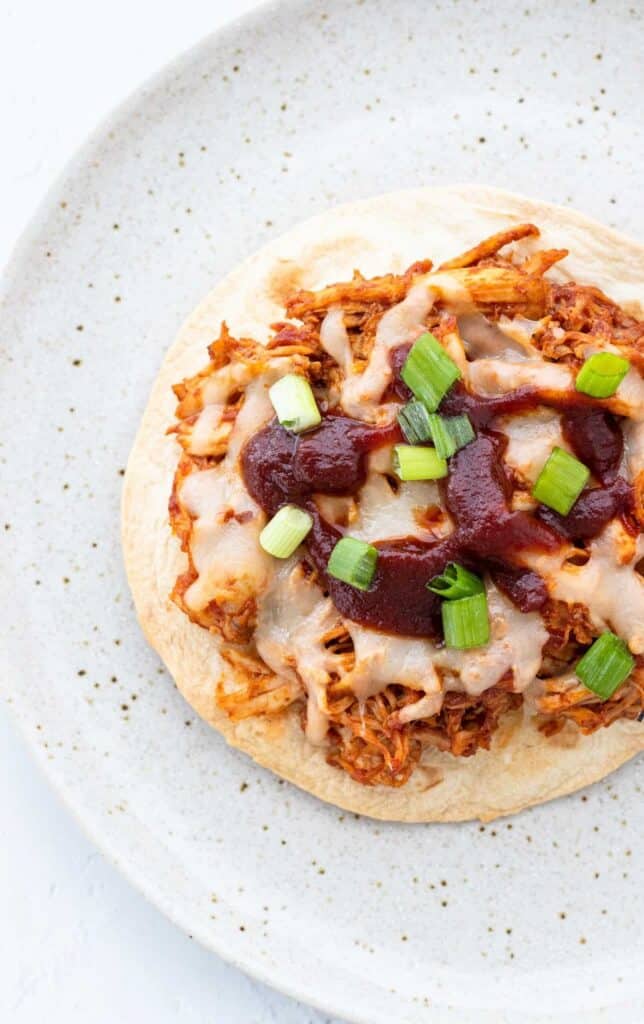 Grab your favorite bottle of BBQ sauce to these BBQ Chicken Tostadas. 4 ingredients plus some scallions and only about 15 minutes and you're ready to eat dinner! From Haute and Healthy Living
Pizza Pasta Bake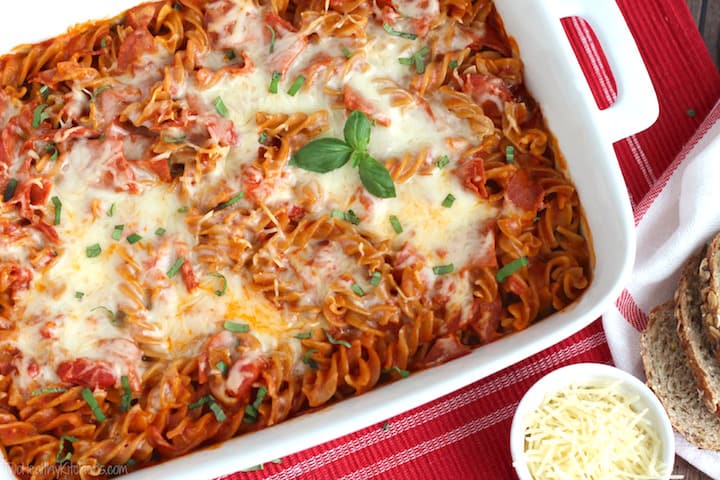 Make pizza night and Pizza Pasta night! An easy baked pasta dish that's not short on flavor. From Two Healthy Kitchens
Pesto Crusted Salmon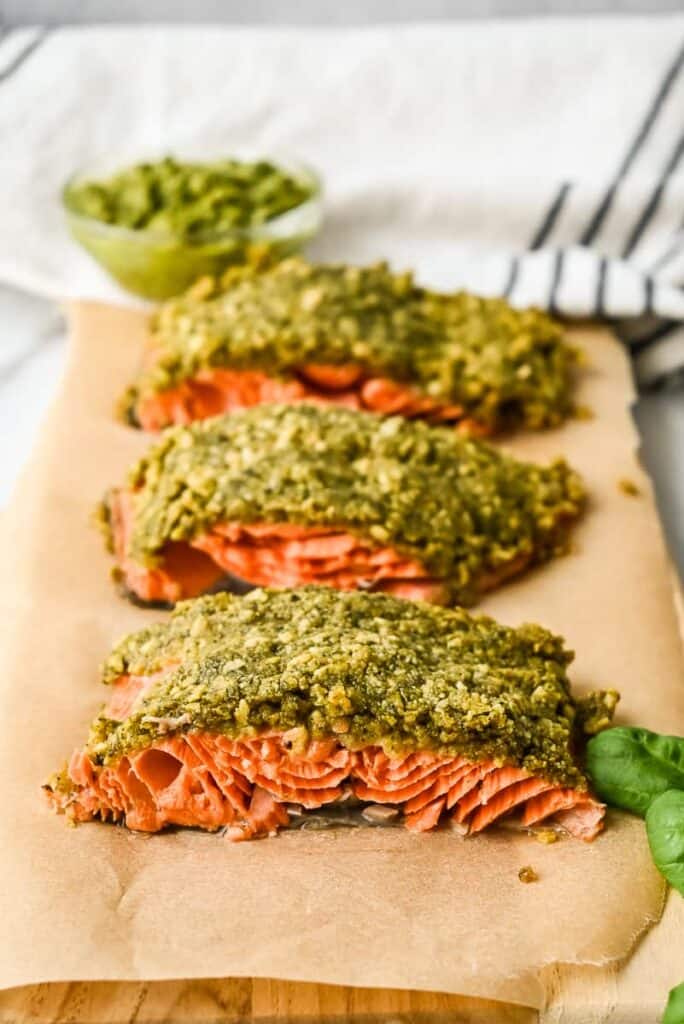 Pesto adds so much flavor to any dish. Make this Pesto Crusted Salmon for a flavorful fish dinner that's so easy you can make this on a weeknight after work! From Momma Fit Lyndsey
Crispy Garlic Butter Chicken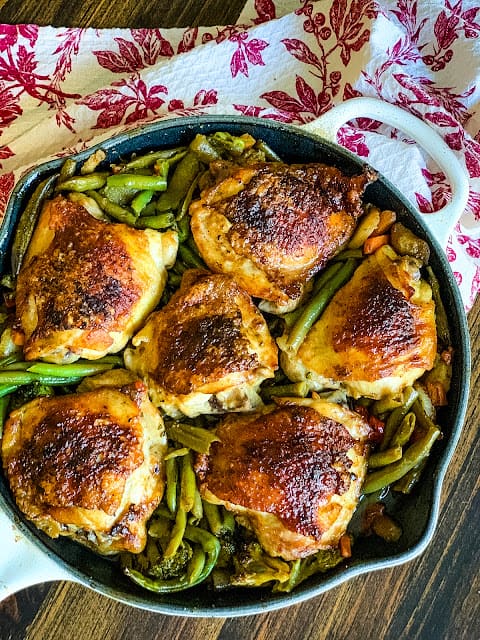 Another easy no-fuss dinner. Just add some garlic, butter, salt and pepper to chicken thighs and cook them up with some greens. Your family will love this Crispy Garlic Butter Chicken! From Cooking with K
Black Bean Croquettes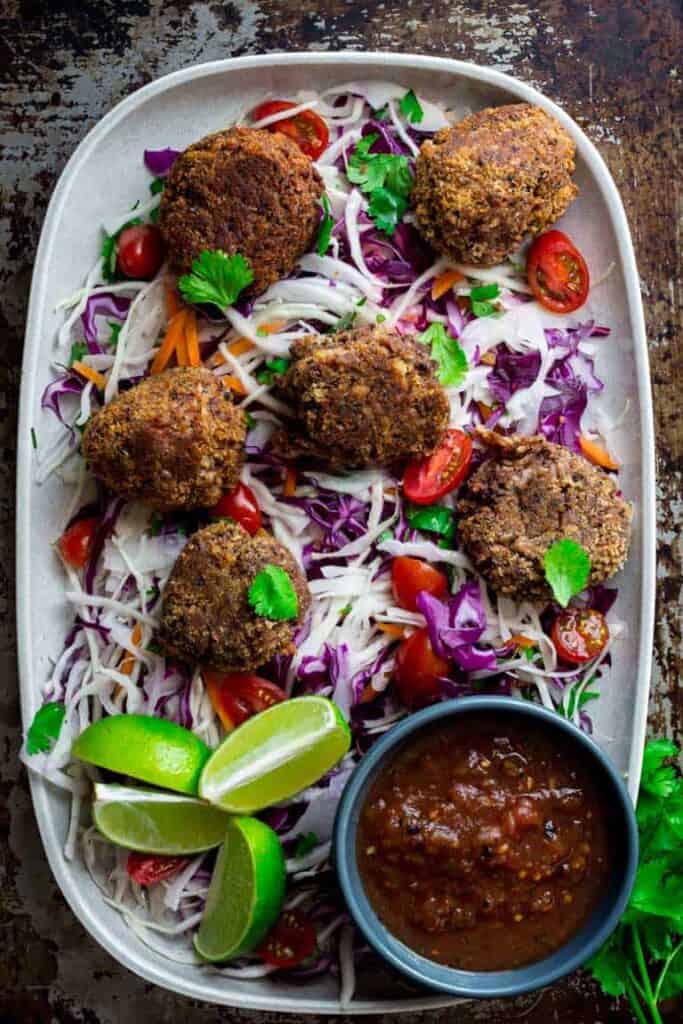 Serve as an appetizer or as a main dish, these Black Bean Croquettes are a delicious vegetarian option. From Healthy Seasonal Recipes