Thin sliced apples apple pie is bound to be your new go-to apple pie every Fall. The great thing about apple pie is it's fairly easy to make. There's no complicated batter, no doughs that need to rise to perfection, and no endless list of ingredients.
A good old fashioned classic apple pie is something you can make, even if you're not a seasoned baker or even someone who bakes on the regular.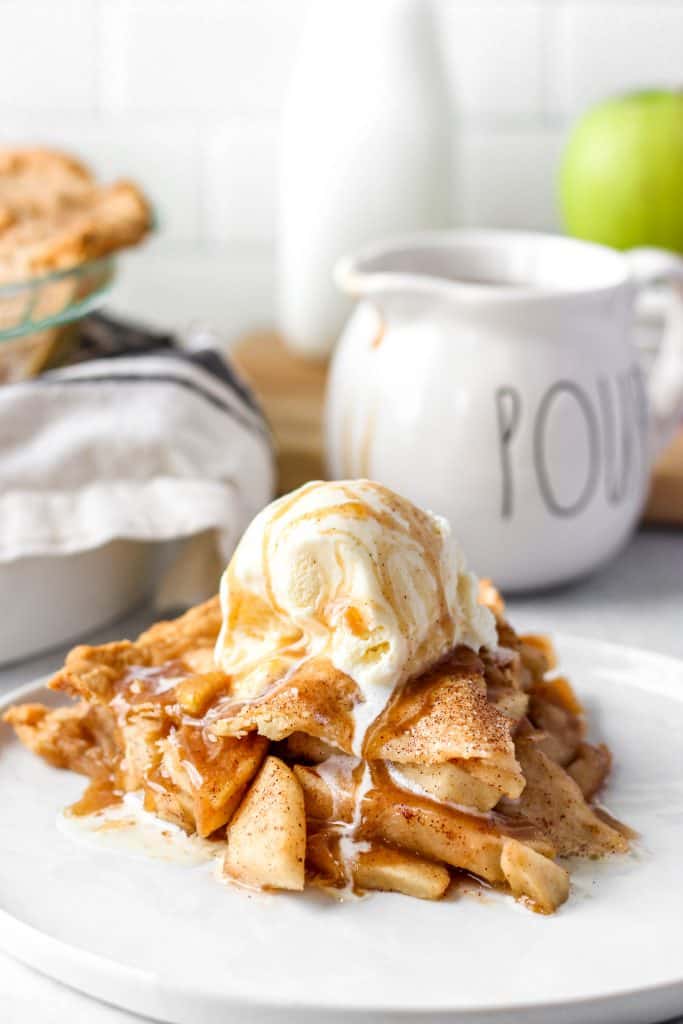 Admittedly my childhood has turned me into an apple pie snob.
My mom's go-to recipe was from the Joy of Baking and once you've tried this version, no other pie comes close. I attribute this to slicing the apples thin, this doesn't use large chunky apple pieces.
Thin sliced apples means each forkful is a dense bite of layered apples perfectly covered in sugars, cinnamon, and warm nutmeg. This really is the shining star in a world of apple pies. Check out more from Joy of Baking here!
If you're familiar with baking, you'll know that brushing pastry dough with an egg wash is the classic way get a golden brown finish. But on this apple pie it uses a finishing touch from a great-great-aunt. Here you'll actually brush the top crust with milk for that mouth-watering golden brown finish.
And of course, a generous sprinkle of cinnamon and sugar makes that flaky sweet crust that is a must have for ever apple pie.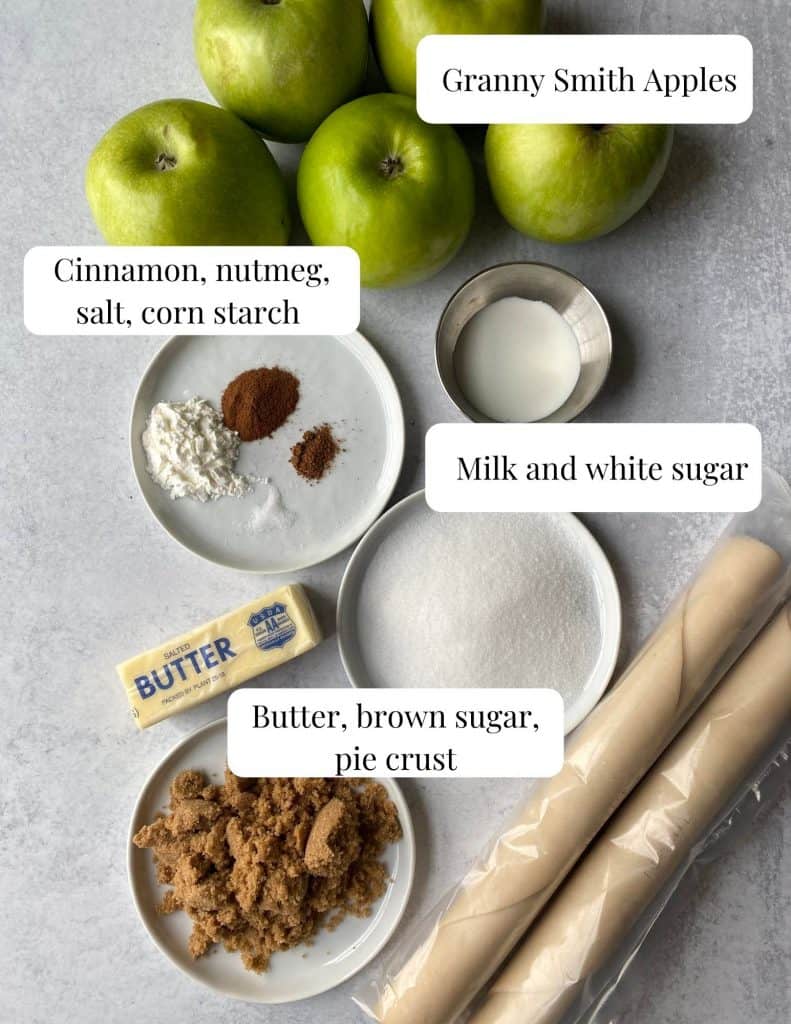 The Ingredient List
Here's what you need to grab from your pantry or add to your shopping list!
6 Granny smith apples
Refrigerated pie crusts (or you can make your own)
Salt
White sugar
Brown sugar
Corn starch
Salted butter
Milk
Cinnamon
Nutmeg
Not too bad right? Usually the only things I need to buy are the apples and the pie dough!
How to prevent runny apple pie
There is an important thing about apple pies to keep in mind.
Apples are juicy.
We know this. So when you put a whole bunch of sliced apples together with sugar then bake them you're going to have a lot of juice to deal with.
For this recipe, I chose to let my apples juice before I baked them. By this I mean I let the sliced apples with with the sugars for 25 minutes to let some of the juice drain from the apples. I then saved this juice to make a little apple juice sauce for over top the ice cream.
Don't worry, there's still plenty of sweet and sugar in this pie! But you won't end up with a soggy, watery pie!
You also want to make sure that the top crust is vented properly. Too much steam accumulating under the crust and cause excess water which makes too much juice.
Lastly, let the pie cool before cutting it. Allowing it to cool off a bit will also help prevent the pie from falling apart when you cut into it.
Read the King Arthur article about how to prevent runny apples pies.
The best apple for apple pies
Let's talk apples. There's a lot to choose from at the grocery store, so which is the best for this pie?
You'll see I use Granny Smith, always have. Why? Because they are a nice and firm apple that can withstand the temperatures of being baked and will get soft without breaking down all the way and turning into mush. So I recommend going for Granny Smith.
Some other apples that are good for pies that you might see in your store:
Golden Delicious
Pink Lady
Honey Crispy
Food52 has an article about the best 11 apples for apple pie, read it here! I'll be honest though, many of them I've never heard of.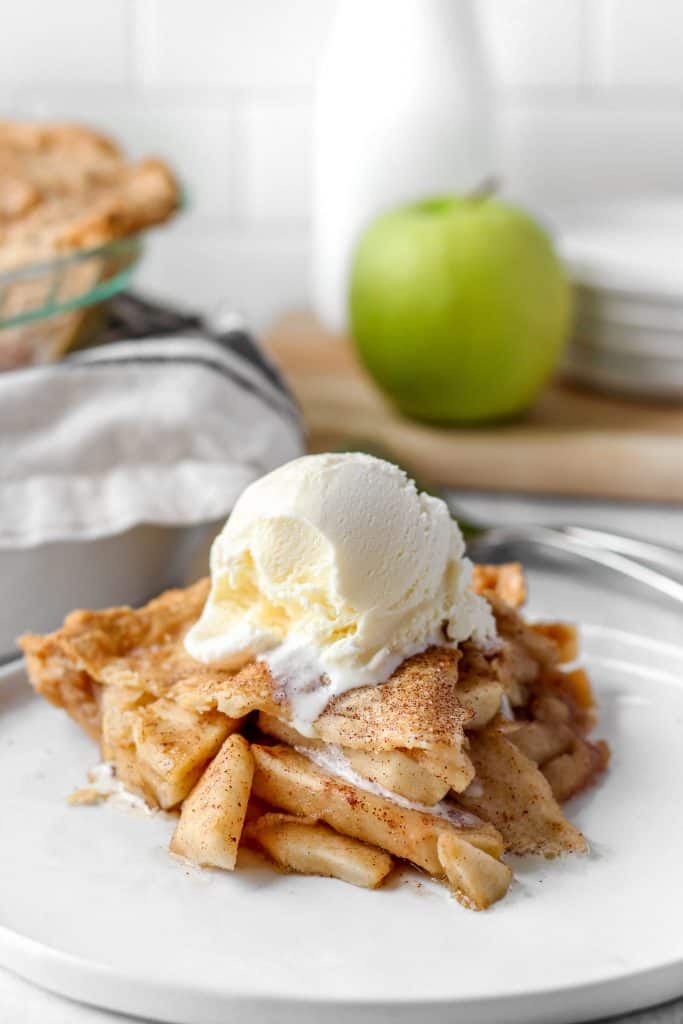 If you like Fall pies you might like this Pumpkin Pie with Coconut Whipped Cream.
Some other Fall inspired recipes you might like:
Walnut Granola
Blueberry Butter
Pumpkin Muffins with Streusel
Brown Butter Chewy Oatmeal Cookies
Print
Thin Sliced Apples Apple Pie
Thin sliced apples apple pie is a delicious twist on the classic apple pie. Each bite is a thick stack of apples drenched in cinnamon, nutmeg, and sugar. A flaky top crust sprinkled with cinnamon and sugar. Serve warm with ice cream.
Author:
Prep Time:

15 minutes

Cook Time:

50 minutes

Total Time:

1 hour 5 minutes

Yield:

1 pie

Category:

Dessert

Method:

Baking

Cuisine:

American
1 package of refrigerated pie crust
6 granny smith apples
1/2 cup white sugar
2/3 cup dark brown sugar
1/8 teaspoon salt
1/2 teaspoon ground cinnamon
1/4 teaspoon ground nutmeg
1 tablespoon corn starch
1 tablespoon salted butter, cubed
2-3 teaspoon milk
Extra cinnamon and sugar for the top of the crust
For the apple juice sauce
The reserved juice from letting the apples sit in the bowl
2 teaspoons cornstarch mixed with 2 teaspoons water
1/4 teaspoon cinnamon
Dash of nutmeg
Instructions
1. Heat the oven to 450 degrees. Line the bottom of a 9-inch pie plate with the first pie crust, prick the bottom several times with a fork.
2. In a large bowl, mix the peeled and thin sliced apple slices, the white sugar, and brown sugar. Let sit for 1 hour to allow some of juices to pool in the bottom of the bowl. After the apples have rested, using tongs or a large spoon remove the apples to another large bowl, and save the excess juices to make the sauce later.
3. In a separate smaller bowl, mix the cornstarch, salt, cinnamon, and nutmeg then pour into apples bowl and stir to combine. Spoon the apple mix into into pie late that's been lined with the first pie crust. I say spoon them in because more juices will have pooled in the bottom of this bowl and we don't want to pour that into the pie crust. Sprinkle 1 tablespoon of cubed butter over top the apples.
4. Top the apple mixture with the remaining pie crust, press the edges of the top and bottom crust together all along the pie plate. You can make a decorate edge or use a fork to seal. Lightly brush the top crust with the milk. Then take additional white sugar and cinnamon and generously sprinkle over the crust. Lastly, cut several vent holes in top. Make them wider than just a slit, you need to let the steam vent out.
4. Bake at 450 for 10 minutes. Then reduce heat to 350 and bake 40 minutes. Allow the pie to cool for at least 3 hours before slicing, this well help reduce a runny pie by cutting into it too soon!
5. While the pie is baking you can prepare the apple juice sauce. Pour all of your extra juices into a small put and add the tablespoons of cornstarch and the cinnamon and nutmeg. Bring to a boil, then reduce to simmer about 5 minutes. Pour into a bowl or jar, spoon over pie with vanilla ice cream!

Notes
It's important to let the apples rest for the hour. This will really prevent a super runny pie. There's still plenty of sugar and sweet in the pie even with these juices removed.
The apple juice sauce is optional, but a great way to use the juices and not discard them! It doesn't get very thick, don't add too much corn starch or it will start tasting chalky. Chill in the fridge to make it thicker.
The recipe for the pie was from the Joy of Baking.
Keywords: thin sliced apples apple pie