Let's make an Alfredo sauce but add a little bit of…spice. Spicy Alfredo pasta is a rich creamy sauce with plenty of red pepper flakes to pack a nice kick of heat! Serve with your favorite long pasta noodle for a filling hearty dinner.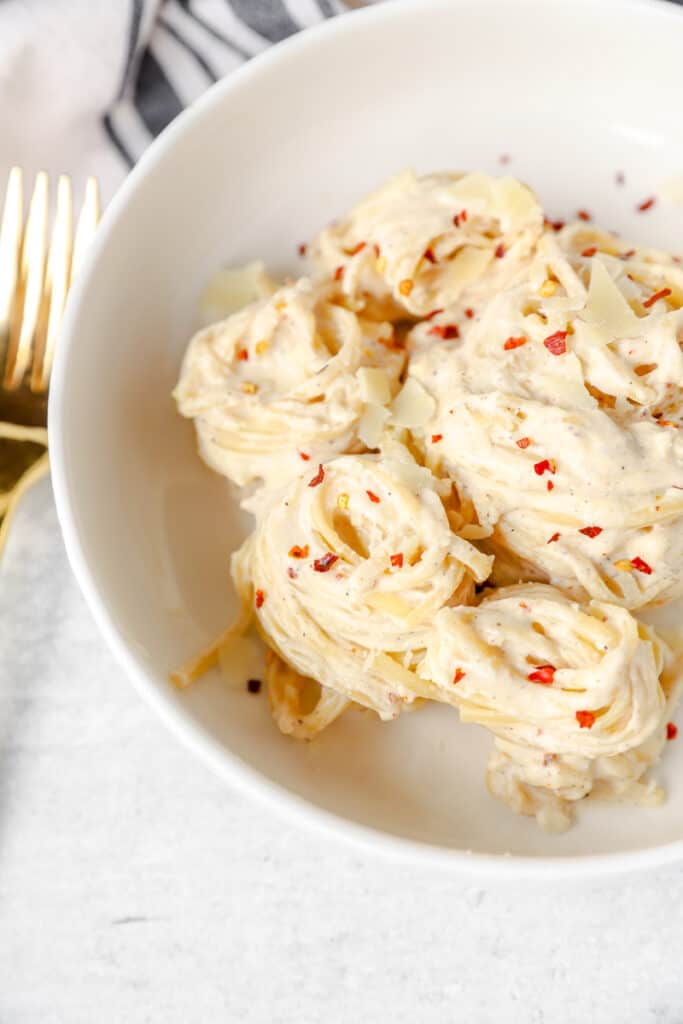 If you're looking for an epic flavorful pasta sauce you've definitely landed in the right place. Not only does this have the red pepper flakes to add the spicy, but this has another super important ingredient for a perfect Alfredo sauce. Know what it is?
Nutmeg.
Yes! Nutmeg is what you need to add to Alfredo sauce to get that warm deep flavor. And even though this isn't a traditional Alfredo sauce…you're still going to want the nutmeg! Nutmeg will set the sauce apart from just being a cream sauce to making it into Alfredo sauce. This will be that gives the sauce that added extra layer of flavor that will impress your taste buds.
Ingredients
Go check your fridge and pantry and make sure you have all these ingredients ready!
Long pasta noodles, like thin linguini or linguini
Garlic cloves
Butter and flour
Light cream
Nutmeg
Parmesan cheese
Salt and pepper
I usually have these ingredients on hand at all times! The only thing I'd probably need to sub is the light cream for half and half. I ALWAYS have plenty of half and half in the fridge for daily coffees.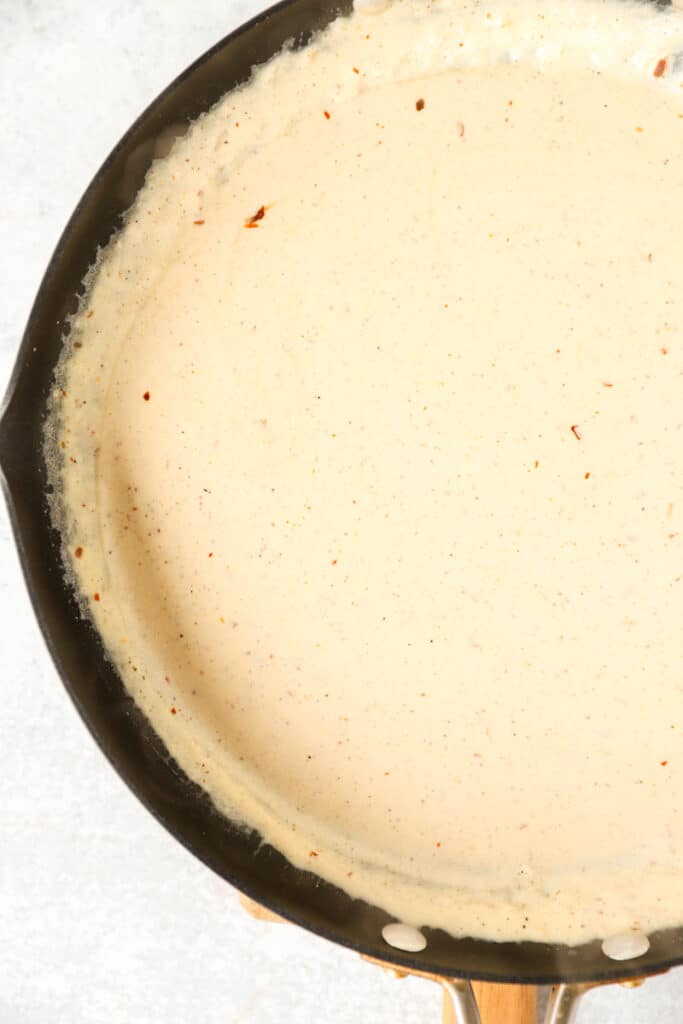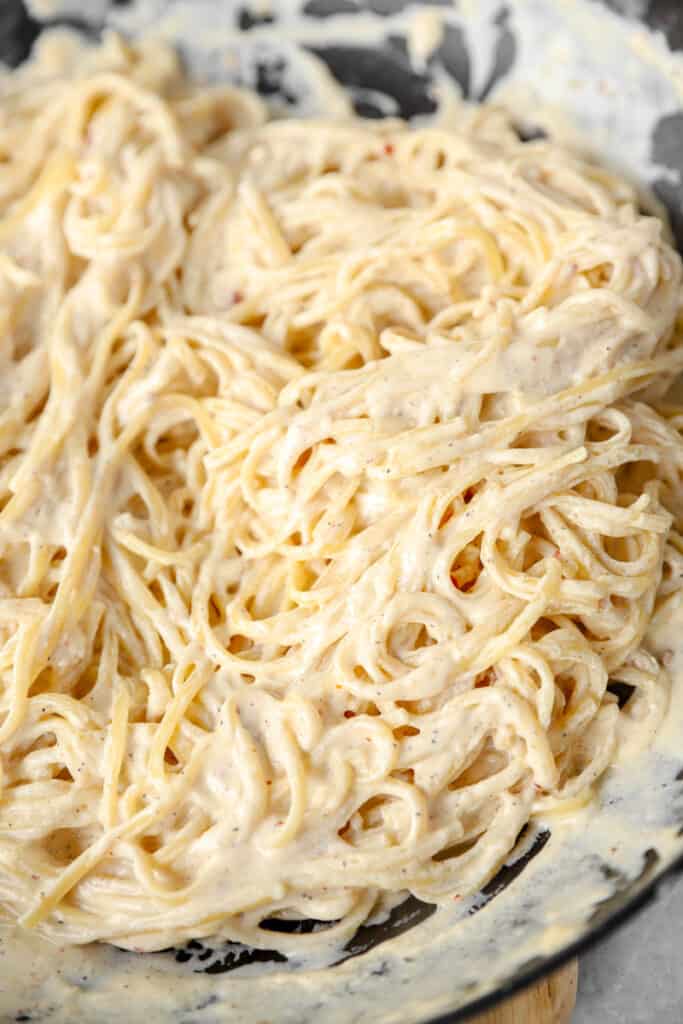 How spicy is the sauce
Ok let me try and explain how much spice we're talking here. If we go on a scale of 1 to 5, where 1 means a slight tingle and 5 means your mouth is burning I'd give this about a 3.75 or a 4.
I mean, you're going to know this is a spicy dish. The heat hits right away. Not in a hot sauce kind of way, but in that warm spicy pepper kind of way. If you want more of a subtle note of spicy and not that constant flavor reminder you can reduce the amount of red pepper flakes from 1 teaspoon to 3/4 teaspoon!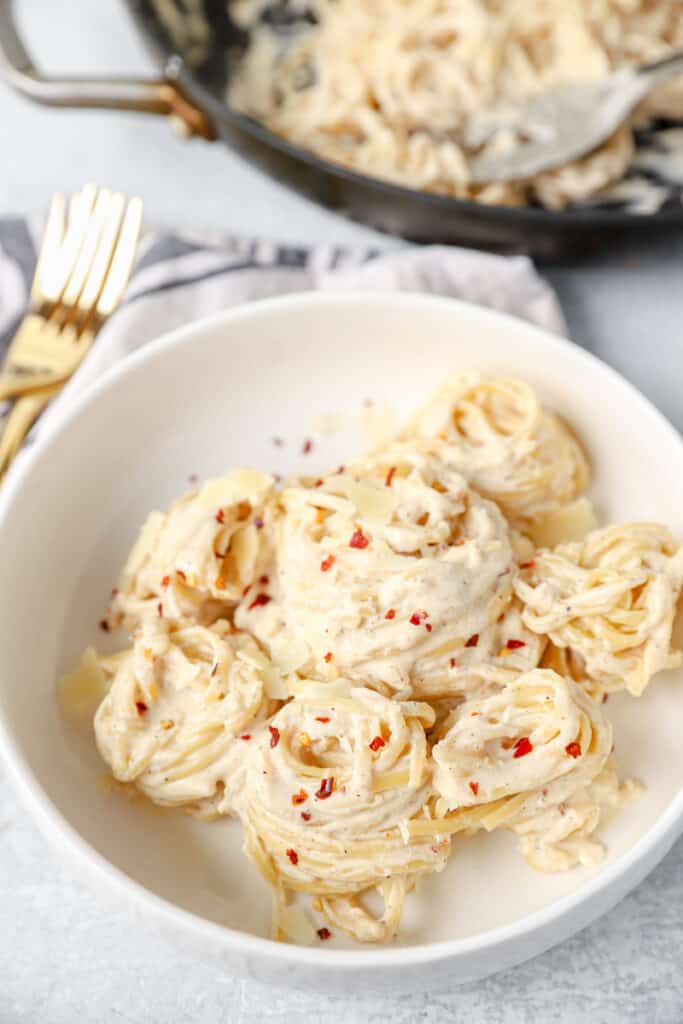 Cooking tips
Add the red pepper flakes into the melted butter. By adding the red peppers to the butter you'll really infuse the whole dish with the pepper flavors instead of just adding it into the cream sauce near the end.
Reserve about 1 cup of the pasta water from the cooking noodles. It's the best way to thin out a cream sauce and reach the perfect consistency you're looking for.
Got leftovers? Just save them in the fridge in an air tight container for up to 3 days. I typically try to eat left overs within 3 days for best freshness and quality. Cream sauces will definitely lose that creaminess after being chilled, but the flavors will still be on point!
As mentioned above, using 1 teaspoon of the crushed red pepper flakes will make this what I think is "medium high" spice level. Want it a little more mild? Just scale it baked to 3/4 teaspoon.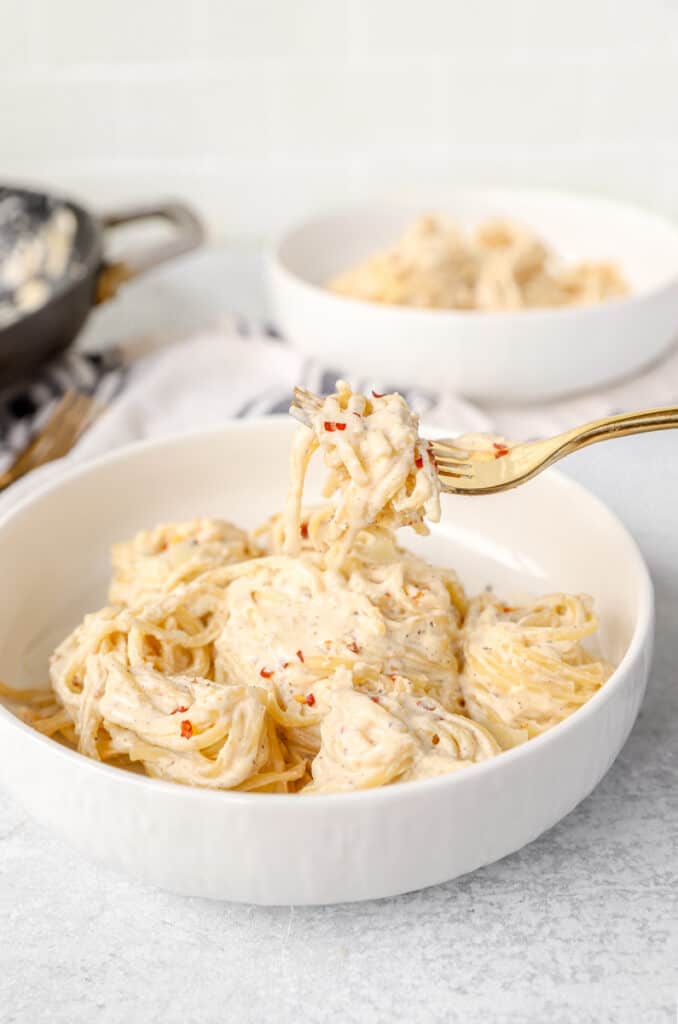 What more Alfredo sauces? Check out my other recipes!
Basil Alfredo
Tomato Alfredo
Easy Alfredo Sauce
On the search for spice? Here are some of my other spicy dishes.
Spicy Vodka Sauce
Spicy Chicken Nuggets
Creamy Cajun Chicken Pasta
Print
Spicy Alfredo Sauce
Spicy Alfredo is a delicious spin on your favorite Alfredo sauce! Loaded with crushed red pepper flakes for a nice kick of heat.
Author:
Prep Time:

10 minutes

Cook Time:

20 minutes

Total Time:

30 minutes

Yield:

4 servings

Category:

Main Dish

Method:

Saute

Cuisine:

American
Thin linguini, about 3/4 of the box
2 tablespoons butter
1 tablespoon flour
4 cloves garlic, grated
2 cups light cream
1/2 cup grated Parmesan cheese
1 teaspoon crushed red pepper flakes
1 teaspoon salt
1/2 teaspoon pepper
1/4 teaspoon nutmeg
Reserved pasta water (reserve 1 cup for thinning the sauce)
Instructions
1. Bring a large pot of salted water to boil. Once water has come to a boil add the pasta and cook. I always like to do about 3/4 of the box. Once the pasta is boiling, ladle out 1 cup of the pasta water and set aside to use in the sauce if needed.
2. In a medium pan over medium heat, melt the butter, then add the grated garlic and crushed red pepper flakes and cook for 1 minute. Then, add the flour and stir, cook for another 30 seconds. Pour in the cream and whisk so that the flour mixture blends into the cream. Simmer for about 5 minutes to thicken the cream.
3. Add in the Parmesan cheese, salt, pepper, and nutmeg. Add as much pasta water as you want to thin the sauce to the consistency you want. I usually use a little over 1/2 cup.
4. To serve, add as much of the noodles as you'd like to the sauce and stir to coat. Garnish with more Parmesan and red pepper flakes if you want even more spice.
Enjoy!
Notes
If you're worried the 1 teaspoon of crushed red pepper flakes is going to be too spicy, start with 1/2 or 3/4 teaspoon and work up from there.
Keywords: spicy alfredo sauce